Each year, the flagship day of the pre-Christmas shopping spree, Black Friday, delivers major shifts in consumer behavior. Last year's sales hit a record high of $7.4bn in online spending, indicating that the future of shopping sits firmly within the digital realm. 
To understand the major 2020 Black Friday trends and shifts*, we analyzed the biggest ecommerce websites and most popular searches globally, and took a closer look at top Amazon products, too. 
This article reveals our key findings along with some tips for how brands can embrace the potential of one of the biggest shopping days on the calendar.
*Parts of this post will be updated after Black Friday to see if some trend forecasts have been realized. 
Before we get into more detailed Black Friday stats, including the most popular Black Friday deals, here is a quick look at the highlights of the study: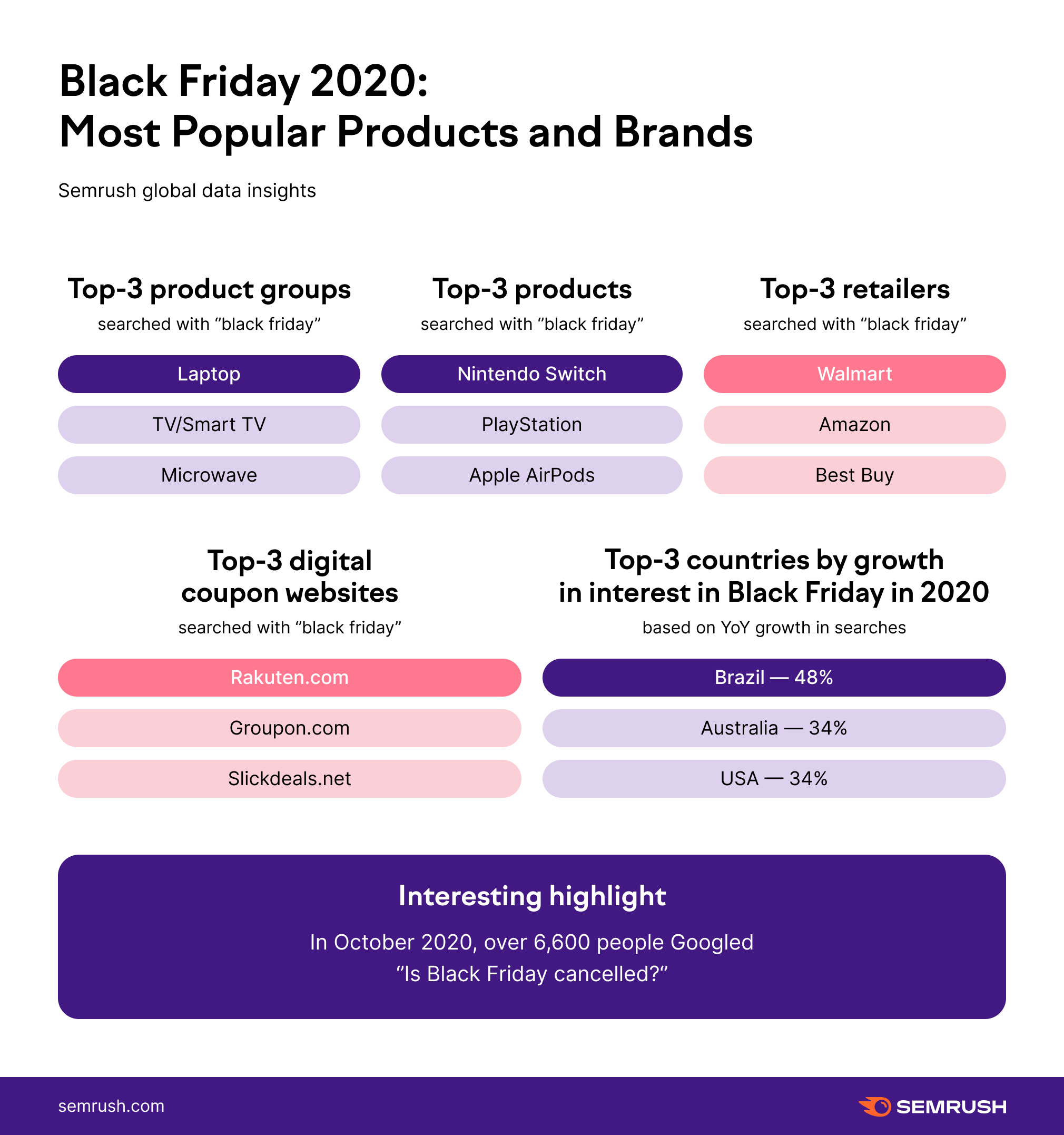 Black Friday 2020: Assessing The Pandemic Effect 
To grasp the impact of the pandemic, let's first consider some of the ecommerce trends we spotted earlier this year:
Comparing year-on-year (YoY) 2019 vs. 2020 data, "buy online'' searches increased by 50%, almost doubling during the first wave of the pandemic;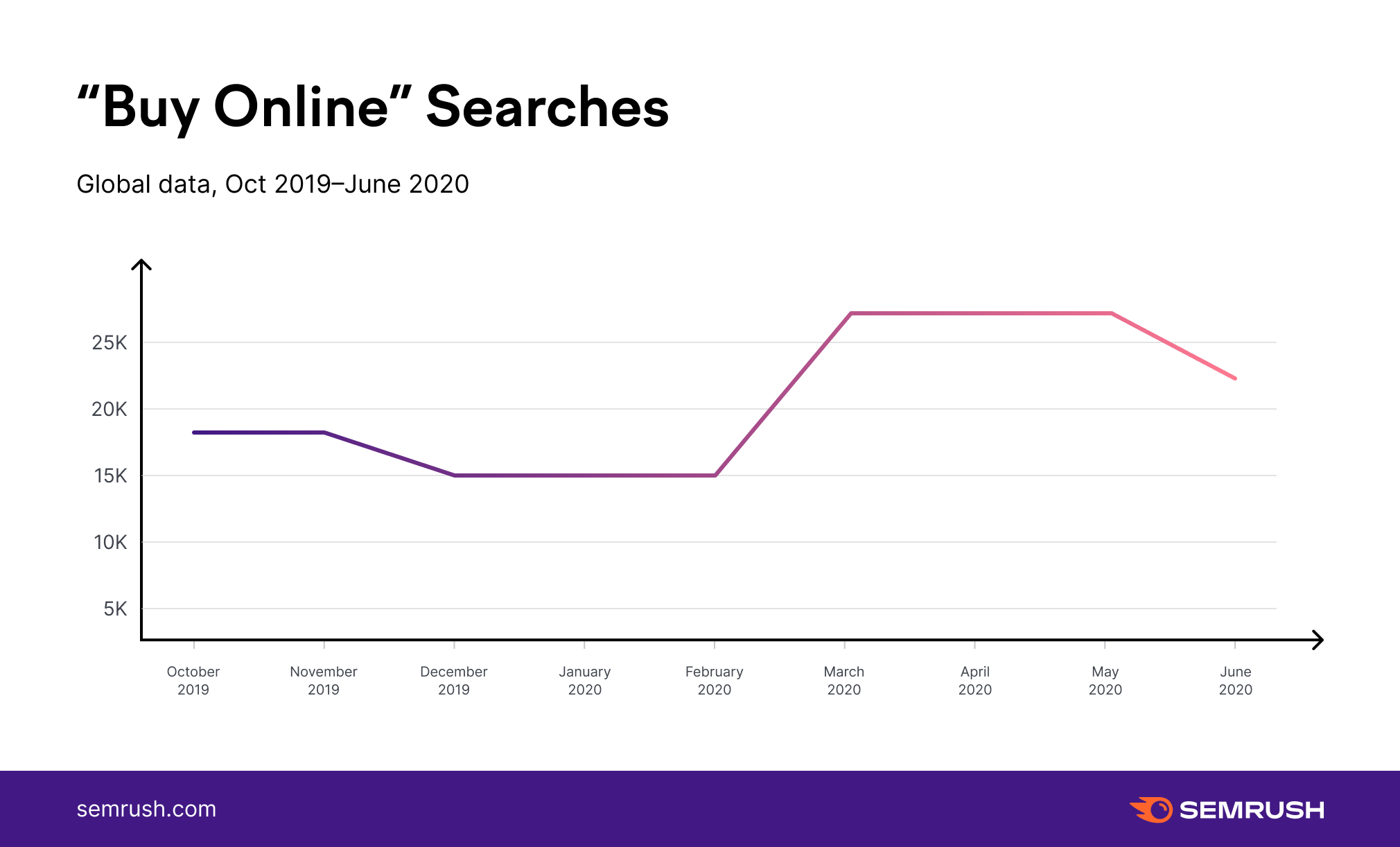 In Q1 and Q2 2020, the average YoY traffic growth for ecommerce sites reached almost 30%.
This means that, by the time we approached Fall 2020, the ecommerce market had already experienced unprecedented spikes in interest from consumers.
Add to that the fact that this year's holiday shopping season started in October and will extend into December, and we are, yet again, looking at a different Black Friday landscape altogether. 
An analysis of this year's ads revealed that Black Friday 2020 deals had indeed already been launched by some retailers in October — and this comes a year after the "black friday" search term failed to reach even the October top-35 list of the most popular keywords in 2019.
This begs the question: Is the average consumer attention span long enough to sustain such a lengthy discount period? We will crunch the numbers to answer this later in the post. 
An Accelerated Shift Towards a More Digitally Inclined Consumer
The ecommerce market has seen an influx of consumers who started shopping online for the first time this year, which is a clear indication of the pandemic effect. 
With 63% of US consumers avoiding brick-and-mortar shopping, it is unsurprising to see retailers like Target, Lowe's, and Walmart keeping their doors closed for Thanksgiving, and hosting virtual sales events instead.
According to Semrush Traffic Analytics, the average traffic volume to that particular trio of websites was up by 16% YoY in October, which accounts for millions of extra visitors.
Consumers are more and more inclined to shop online these days, so retailers must continue to adapt to win their business.
Brands are Embracing Rising Consumer Interest in Sustainable Shopping
Whether or not it is related to the pandemic, online searches for "shop sustainably" and related terms have grown by an average of over 650% YoY: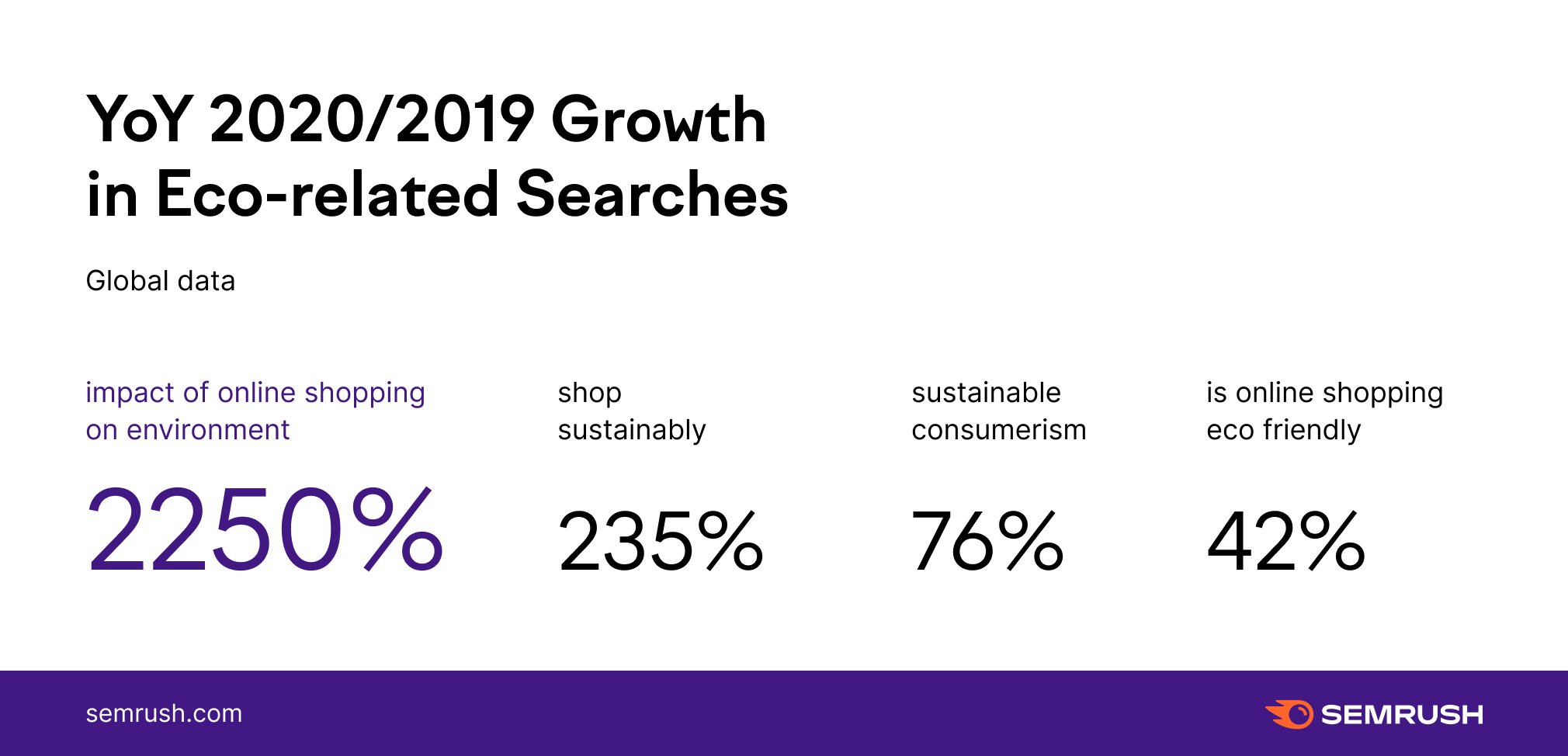 Back in 2019, the YoY increase for the same search terms was 99%, which illustrates a major shift in consumer behavior. 
This trend may affect Black Friday deals, pushing some brands to roll out alternative campaigns. For instance, IKEA will be buying back old furniture starting from Black Friday to attract environmentally-conscious consumers, and build a more sustainable market. 
Black Friday 2020: Consumer Interest Trends 
Consumer interest in Black Friday is consistently increasing every year. When we compare YoY global searches (2019 vs. 2020), there is a 14% growth of interest for the discount period. 
In countries where Black Friday has traditionally played a significant role within the retail space, the growth numbers are even higher, with Brazil, Australia, and the US leading the way:
In the US, the 2020 spike shows a significant increase in interest in Black Friday, with 2020 being the biggest year yet for "black friday" searches: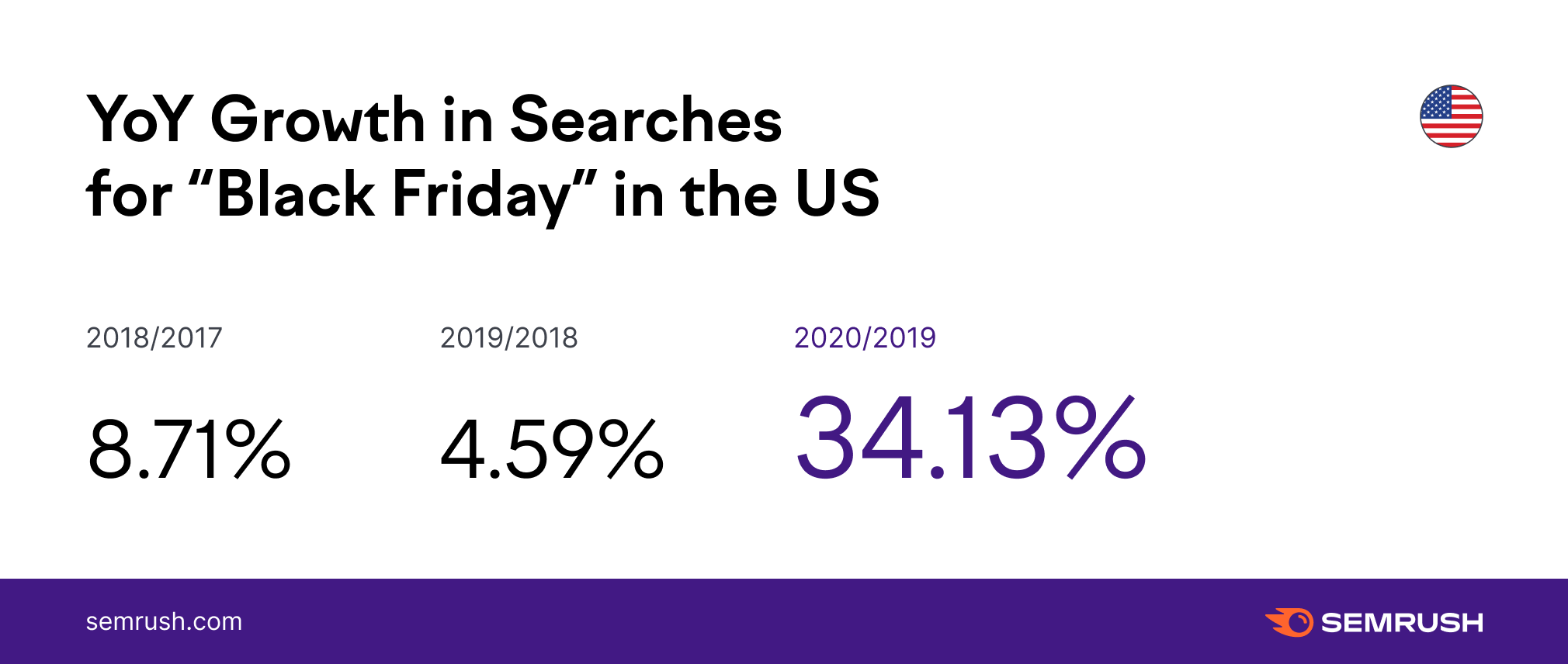 The Most Frequently Asked Questions about Black Friday 
Every year, shoppers ask the traditional questions, such as 'When is Black Friday?' and 'Why is Black Friday called Black Friday?'. 
The only two brands making it to the top 15 of most asked questions about Black Friday are Walmart and Target. The pandemic has, however, brought some new questions into the mix, which could alter the landscape.
In October 2020, over 6.6k people Googled "Is Black Friday cancelled?". AlsoAsked.com, a tool that presents Google's People Also Asked (PAA) data, is also showing similar questions, including brand- and coronavirus-related concerns:
Having analyzed the most popular Quora questions related to the event, we realized that they generally fell into the following categories (apart from the general questions we saw above):
Questions related to Black Friday marketing campaigns;

Questions about special deals on tech/web software; and

Interest in specific products and brands.
For businesses that may have something to add to the platform's Black Friday discussions, it may be worth checking Quora to get some extra visibility.
Black Friday 2020 Traffic Trends: Spotting Consumer Fatigue
Is Traffic to Top Retail Sites Up or Down on Last Year?
YoY counts for October 2019 vs. 2020 show that traffic numbers to top retail websites grew by a whopping 30% globally, which accounts for billions of visitors.
Traffic to the sites of some major retailers has hit historic highs this year, mainly due to the pandemic, so YoY estimates might not be that representative of shifting consumer behaviors. If we look at the whole of 2020 in terms of traffic numbers, October's digital footfall was down 12% from August's peak:
Top Digital Coupon Websites and the Downward Traffic Trend
Using Semrush Traffic Analytics, we compiled the following list of most visited coupon sites that cover deals on everything from consumer electronics to fashion:
Top 10 Digital Coupon Websites* 
| | |
| --- | --- |
| Website | Average monthly traffic for Jan 2018-Oct 2020, Global data |
| | 59,412,361 |
| | 55,660,222 |
| | 39,341,930 |
| | 37,833,323 |
| | 28,609,405 |
| | 19,103,705 |
| | 16,302,129 |
| | 12,109,827 |
| | 11,512,339 |
| | 9,275,213 |
*by website traffic
In addition, we spotted that Rakuten, Groupon and Slickdeals are leading the top 10 based on Black Friday-related searches (coupon website + black friday).
The traffic pattern we saw amongst the top retail sites is consistent with this, too. However, with coupon site visitors, YoY numbers for October showed a 7% decline in traffic.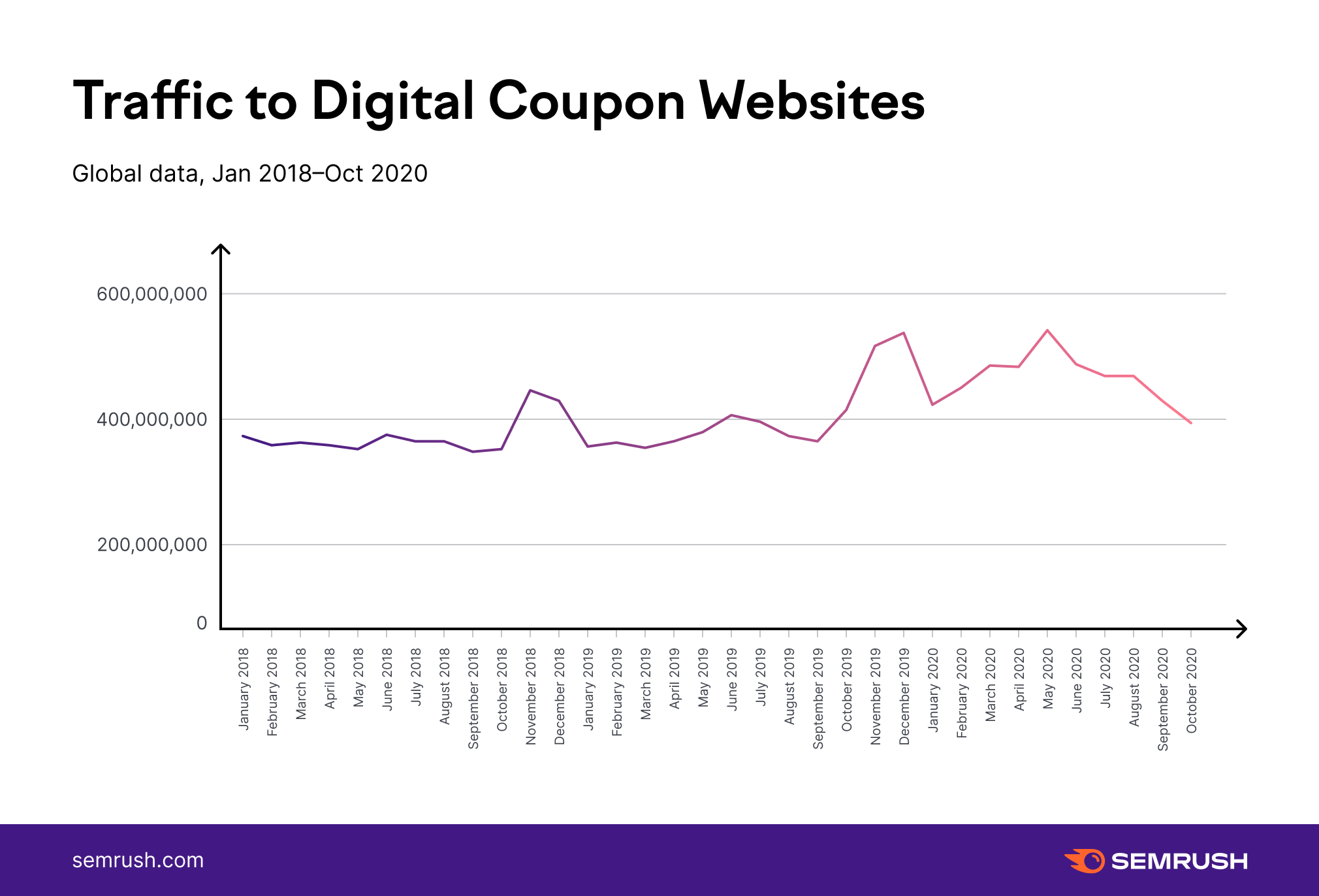 The decline may suggest that the deals brands were promoting throughout the pandemic to strengthen customer demand have actually weakened consumer interest in 'special occasion' discounts.
Black Friday 2020: Consumer Demand Trends
The overall picture for products that are attracting the highest consumer demand, reflected by top online searches for "product item + black friday", shows that electronics are undeniably consumer favorites. 
Let's take a closer look at the most popular Black Friday products and brands across the board:
Most Popular Product Groups Among Black Friday Shoppers
Until we get the data on Black Friday, we can rely on November 2019–October 2020 search trends for particular products. 
The following chart shows the top 10 most popular product categories for Black Friday worldwide: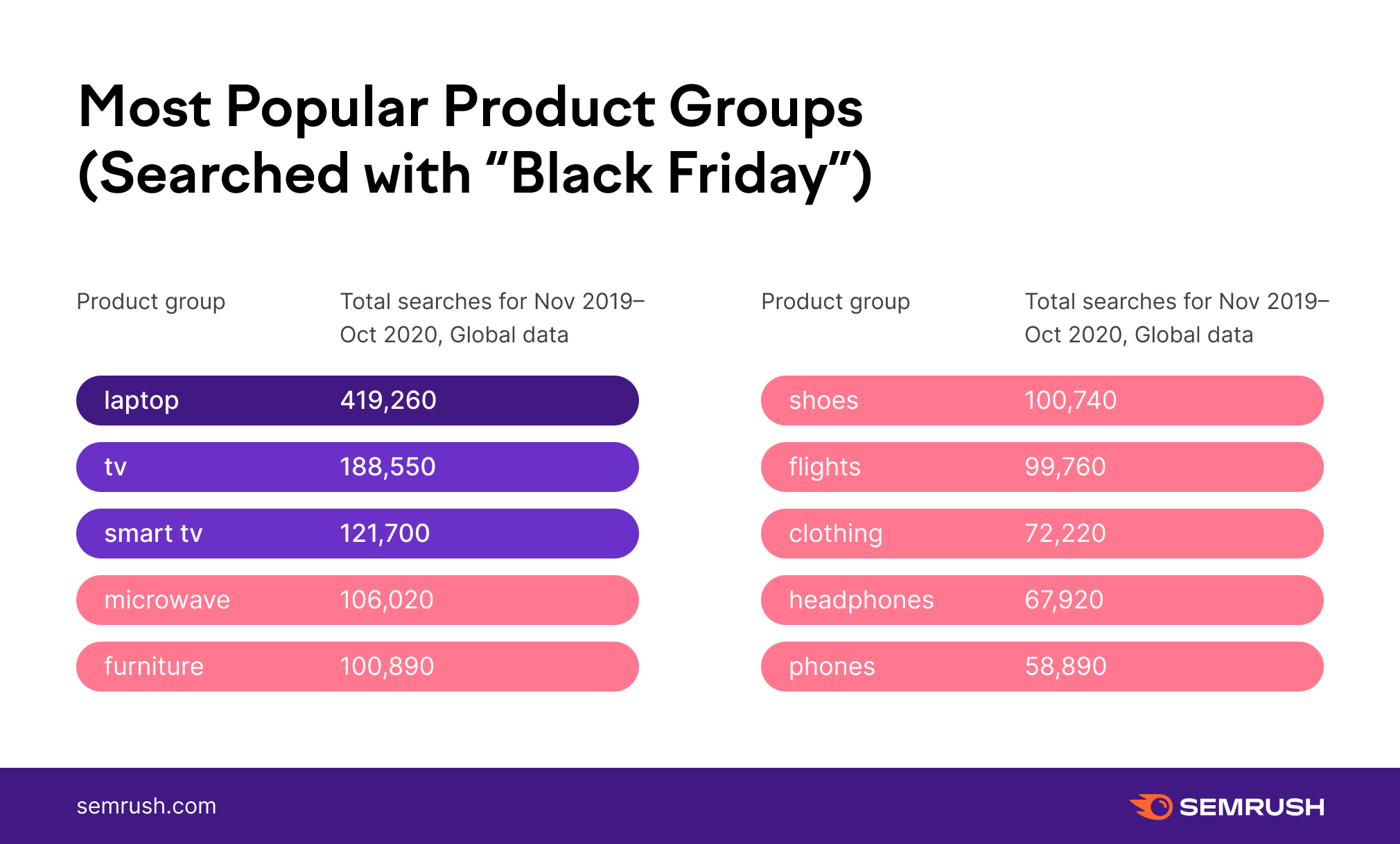 Laptops were the clear winners, with TVs attracting 55% fewer searches as the second-most popular product group. 
In 2019, flights took the fourth spot in the most searched product groups, and, despite the pandemic, they are still inside the top 10 this year. 
When we compare the top-10s between countries, we found that books appeared for non-English-speaking countries (Brazil, Spain, Italy, France, and Germany), but were missing in the US, UK, Canadian and Australian markets.
Most Popular Black Friday Products
While some of the most searched product items have stayed within the top 10 from previous years — Nintendo Switch, Airpods, PS4, Apple Watch, and others — we spotted that a few other brands have gained ground in 2020.
Pandora and Vans have entered the top 10 most popular Black Friday products list: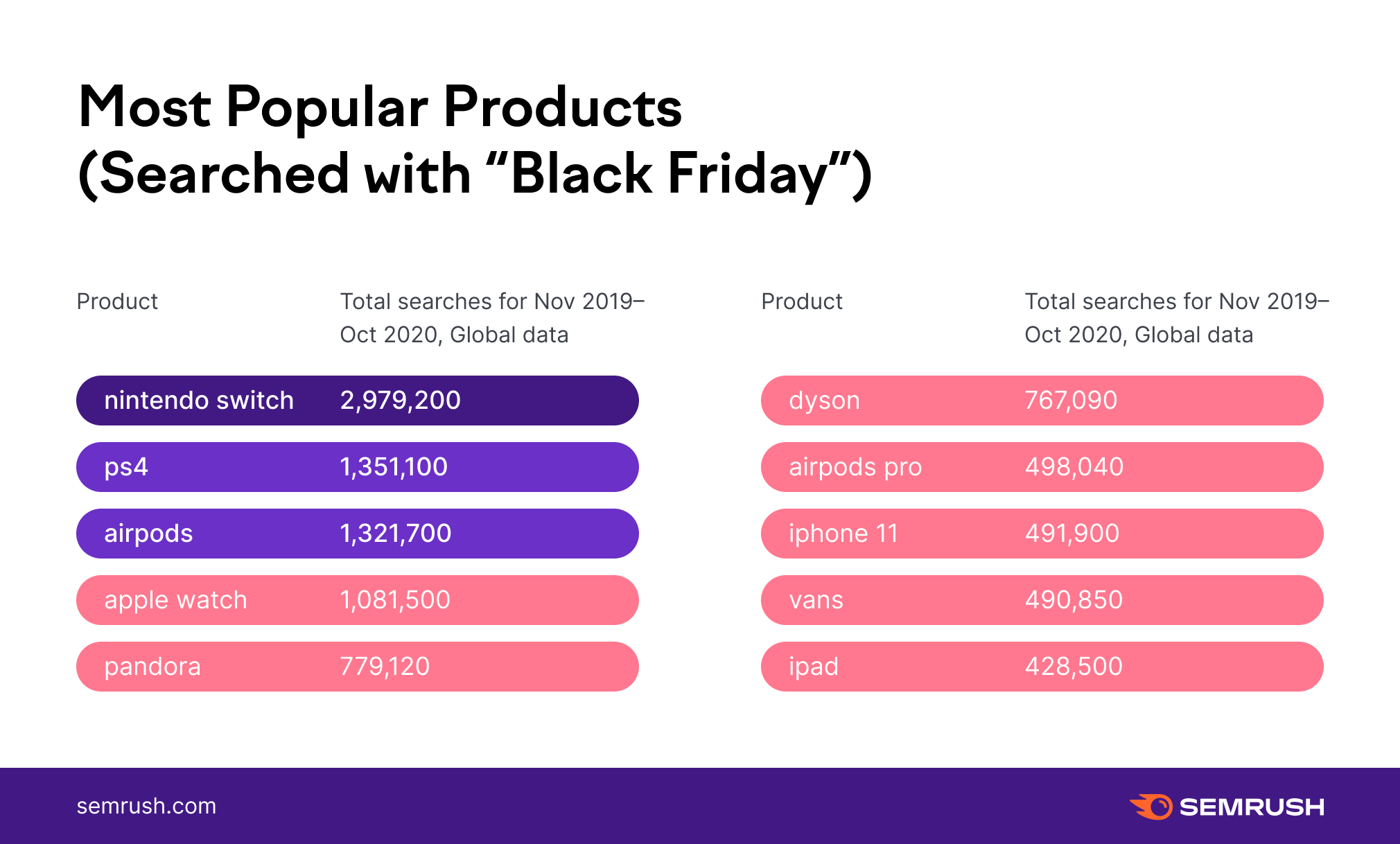 Watch this space to see if November's launches of PS5 and Xbox Series X will have an impact on Nintendo Switch's popularity among Black Friday consumers.
Most Popular Black Friday Retailers
Last year, J.C. Penney was among the most searched retailers for Black Friday shopping. This year, the brand was on the brink of bankruptcy, and has been sold in the hope that online sales can save it.
The rest of the big-box stores are holding strong positions in this space, with only a few 2020 newcomers like Nike and Kohl's: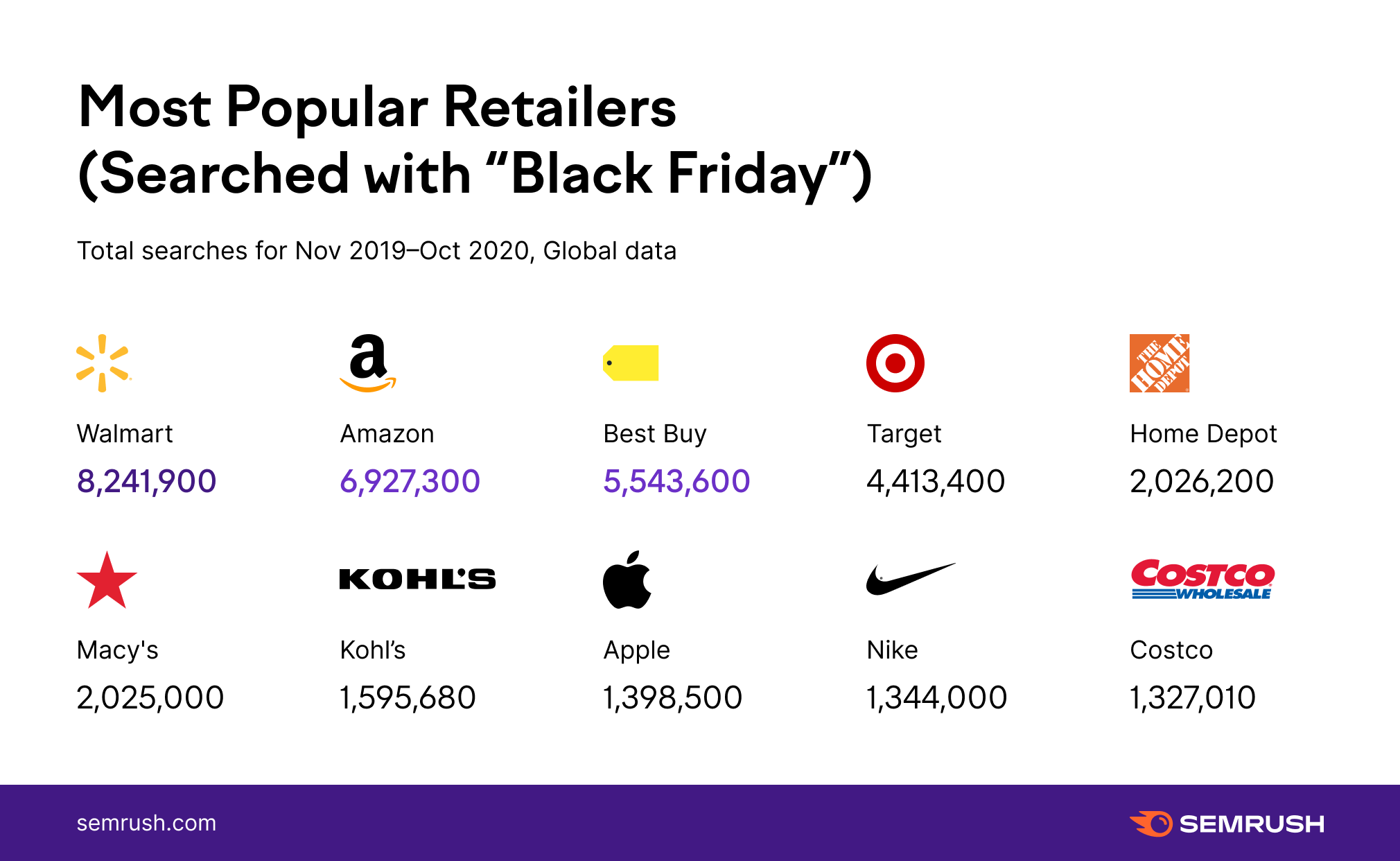 Upcoming Black Friday on Amazon
Since Amazon is a global traffic leader full of sub-brands and product pages (attracting 3.5bn average monthly visitors), we couldn't simply look at it as the second-most searched retailer among Black Friday shoppers. 
Based on October 2020 data from Sellerly Traffic Insights, a Semrush tool for Amazon sellers, we have broken down consumer demand patterns surrounding the ecommerce giant. 
Most Popular Amazon Products 
By considering the most popular products in October 2020, brands can make better data-backed predictions of which items are likely to achieve the greatest consumer interest on Amazon during Black Friday. 
Looking at Amazon's US October 2020 traffic numbers to particular pages, we can see that, on top of the consumer electronics products like AirPods, Amazon Echo devices, and PS5, Amazon shoppers actively search for the latest movie and TV show releases, with the Borat sequel and The Boys enjoying a huge share of their attention:
Top Products on Amazon.com* 
October 2020, US data

Product

Traffic 

Apple AirPods with Charging Case (Wired)

489K

Echo Show 5 — Smart display with Alexa — stay connected with video calling — Charcoal

416K

Echo Dot (3rd Gen) — Smart speaker with Alexa — Charcoal

379K

PlayStation 5 Console

355K

Fire TV Stick 4K streaming device with Alexa built in, Dolby Vision, includes Alexa Voice Remote, latest release

342K

Borat Subsequent Moviefilm

330K

Apple AirPods Pro

281K

Blink Mini — Compact indoor plug-in smart security camera, 1080 HD video, motion detection, night vision, Works with Alexa — 1 camera

269K

"The Boys"

269K

Amazon.com eGift Card

257K
*by traffic to the product pages
It's also unsurprising to see Amazon eGift cards making it to the top 10 of the most visited product pages on the platform. We can reasonably anticipate an even higher demand during the holiday season later in the year.
For October, the list of most searched Amazon products worldwide included the likes of Borat and The Boys, along with some presumably pandemic-related items like "desk" and "webcam."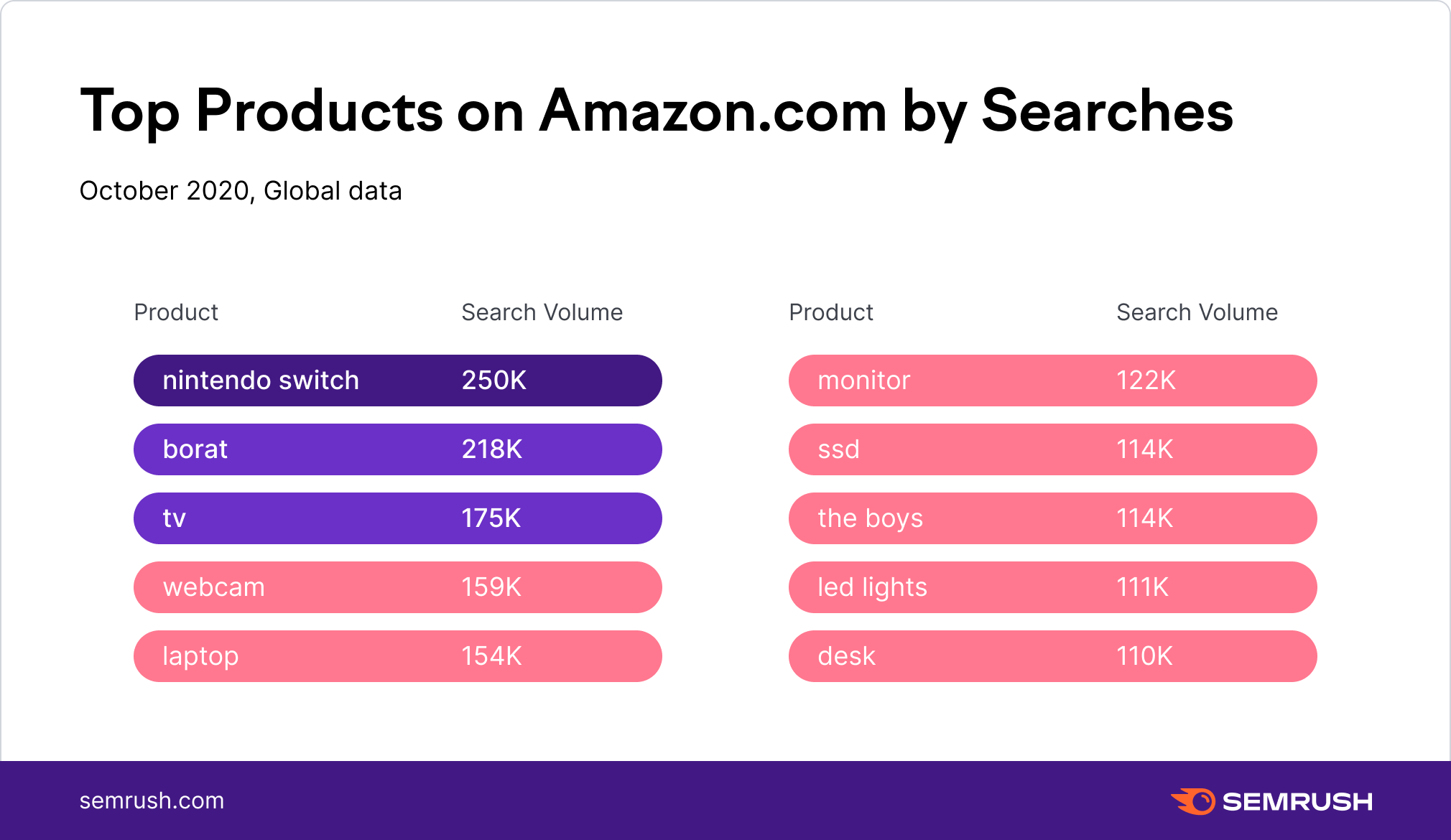 It will be interesting to see how Black Friday shoppers will affect this list, so stay tuned for our November data updates.
Black Friday 2020: Advertising Trends
Our recent ecommerce trends study showed that the online advertising market experienced an average budget cut of 20% during the pandemic, but we wanted to dig a little deeper to see if Black Friday has tempted brands back in — let's see if advertising budgets have grown in October 2020: 
Black Friday Online Advertising Spend in 2020 vs. 2019 
To look at online advertising spend in 2020, we picked around 800 ecommerce domains for an in-depth analysis. 
We compared two groups of advertisers (based on their average monthly budgets) on the chart below. It's clear from our data that retailers tend to invest in more online ads from October onwards (for obvious reasons):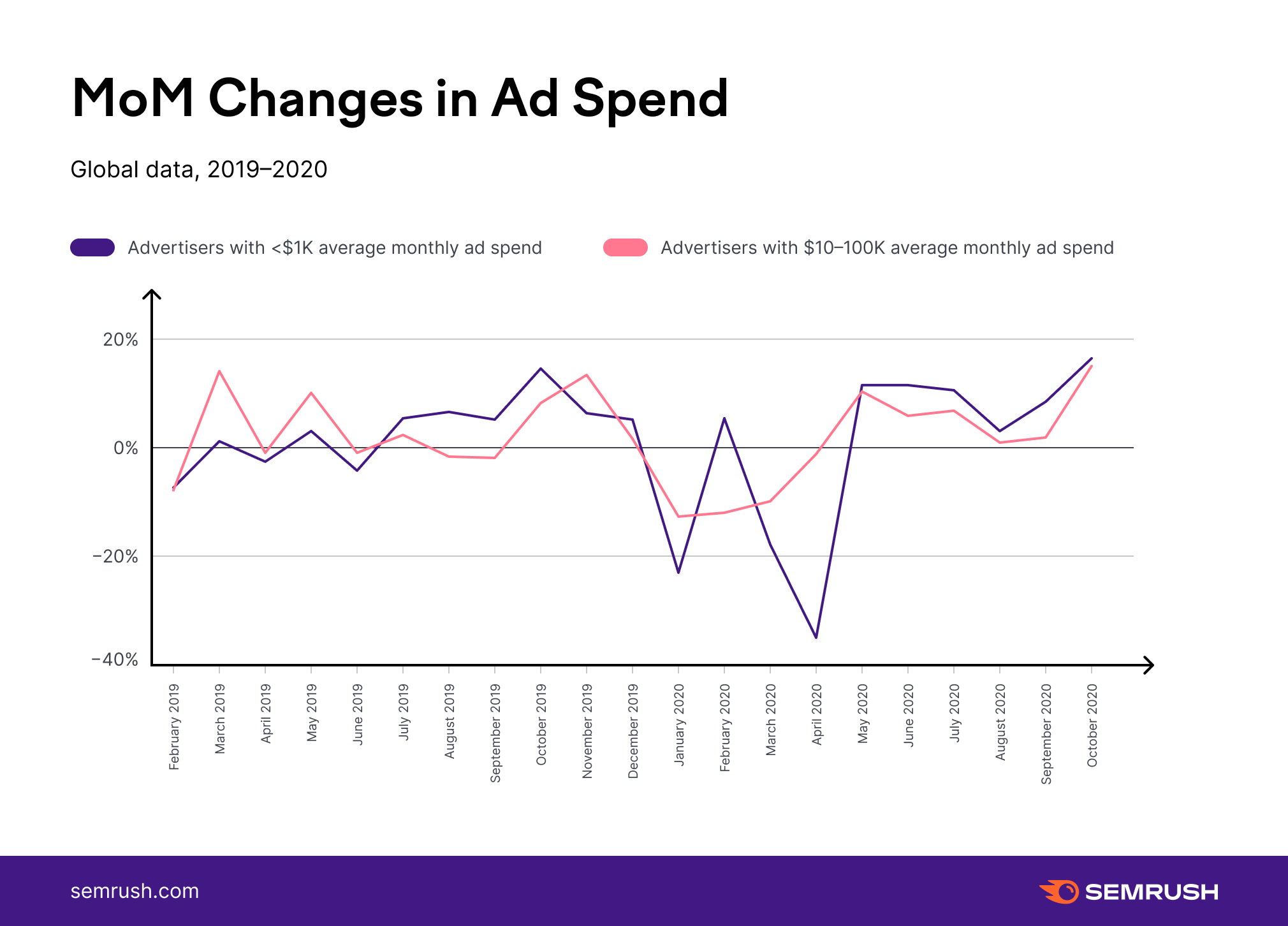 We can see from October's advertising stats that the seasonal spike is still intact, despite the drop during the first wave of the pandemic and all the uncertainties surrounding the second wave. 
When we compared October YoY (2020 vs. 2019), the data clearly showed that businesses with smaller budgets made some cuts this year to the tune of a 13% decrease in average ad spend: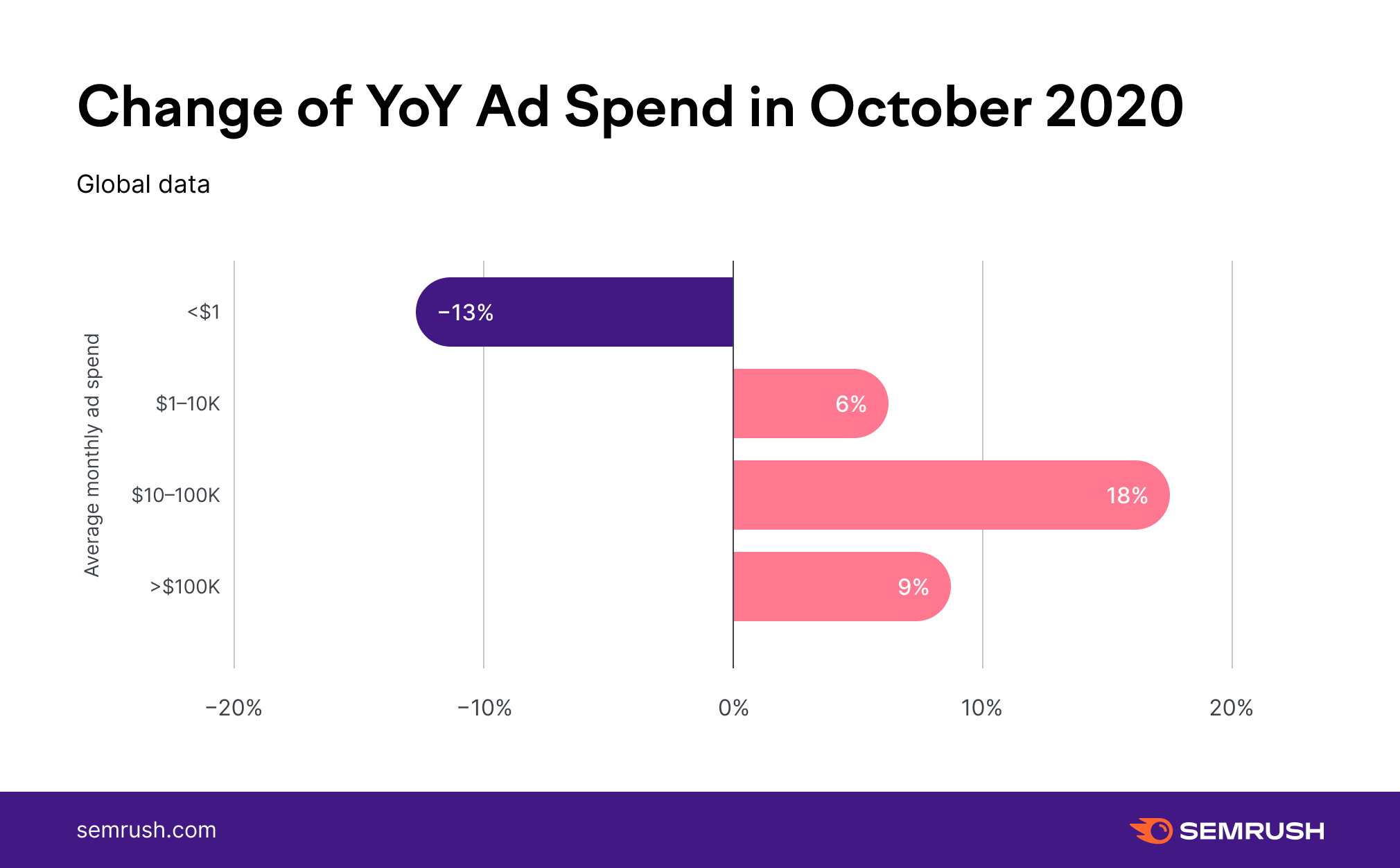 In contrast, those spending over $1,000 a month on digital ads increased their YoY budgets by an average of 11% in October, with the largest growth seen among the $10,000–$100,000 ad budget holders (18%). 
Most Expensive "Black Friday'' Keywords 
Given that we already know which products are striking the highest consumer demand, we wanted to check if any of these items made it to the list of most expensive keywords:
Dyson is the only popular product in the top 10 of the most expensive keywords. The rest of the list consists of items for which advertisers will have to pay an extravagant price;
The most expensive keyword is "samsung tablet black friday," with a CPC of $900. It seems impossible for anyone to make any profit from advertising a Samsung Galaxy tablet in this way, as the keyword costs are higher than the tablet itself;
The rest of the most expensive keyword CPCs, for instance, "yogibo black friday" ($515.42 CPC), "thermomix tm6 black friday" ($282.88 CPC), and "telus black friday deals" ($278.43 CPC), at least suggest a profit margin for Black Friday deals in 2020. 
Leveraging Marketing Opportunities around Black Friday (and Other Big Shopping Days)
When some of the key Black Friday 2020 trends are clear, brands should arm themselves with an action plan to get their campaigns started and win a share of customer attention. 
With the holiday season around the corner, we want to show how brands can leverage opportunities to take advantage of big online shopping days:
Think like your target customer 
To gain the upper hand when every other brand has a competitive deal, try to understand the specific needs of your target audience.
With its 20-billion-strong keyword database, Keyword Overview can uncover the products and brands that are most frequently searched for by online shoppers. 
Simply enter the list of products offered at your ecommerce store to gain insights into the ones that are attracting some extra attention from online users:

Compare your keywords by CPC and search volume to handpick products with the highest search volume and lowest CPC — this way, you can focus your SEO and advertising efforts on the most appropriate keywords. 
Turn your content into the key traffic-driver
Having picked your keywords, the next step for standing out during the holiday season is to craft content that meets the needs of both users and search engines.
Use Topic Research to uncover the most popular topics and most engaging headlines so you can hone your content ideas to such needs:
Once the ideation and content creation part is covered, run your text through the SEO Writing Assistant to ensure it is as optimized as possible (the tool is powered by SEO insights from top content related to your target keyword, so its results can be invaluable).
Embrace the power of voice search 
Voice search is still full of untapped potential and can offer excellent alternative opportunities to overcrowded 'traditional' traffic channels.
The how-tos from our latest voice search study can help you tap into the expanding voice market now - after all, it's only going to get bigger, better, and more competitive.
Learn more about effective marketing strategies for ecommerce to make the most of the biggest shopping days on the calendar today.