Voice search may have started as a small concept, but it is now one of the most important topics in the search industry. The ease to search with voice is second to none, and people cannot get enough of it. 
The concept of voice search started with smartphones then quickly escalated to smart speakers and voice assistants worldwide. Today we are experiencing a voice search revolution with almost every generation welcoming voice search with open arms. 
Number of Digital Voice Assistants in Use Worldwide from 2019 and 2023 (in billions)
With the nearly quantum rise in voice search that is forecast, it is critical that we create content that is optimized for it. Otherwise, we will find it difficult to gain any organic traction. Considering the fierce competition vying for search engine rankings, the road is only to get tougher in times to come. 
By the end of this article, I will make you understand the whole concept of
voice search marketing
and how to rank your site and content higher accordingly.
Voice Search: A Dialogue System
For those still in doubt, voice search is a dialogue system indeed. An improved and much-advanced one. 
What is a dialogue system?
As the name suggests, a dialogue system is a computer setup intended to dialogue with a human being. It uses different modes of communication like text, speech, gestures, etc., as input and output signals. 
Albeit every dialogue system has different components, a dialogue manager is a constant in every one of them. It analyzes the semantics and manages the dialogue strategy. 
The use of the first speaking dialogue system dates back to 1977 with constant research and development along the way. With technological advancements, we have come a long way to develop one of the most useful dialogue systems.
Automatic speech recognition (ASR) is used for feeding in input signals to voice search devices. Some of them also include text-to-speech (TTS) for sharing results. 
Activating the virtual assistant is not always required before initiating a search on a voice search device. As soon as the device has input, it will detect the language in which the query has been asked. The keywords in the query will be captured, and the query will be answered accordingly. 
Some devices with screens may display the results while all other devices will speak back to the searcher. The conversational style of any voice search device is one big reason for its popularity and demand. 
Why is Voice Search Getting Bigger?
Imagine you are in the kitchen preparing a new dish and get confused with the recipe steps. Like everyone else, you probably don't want to use your smartphone with your not-so-clean hands.
Think of something that can help? You can undoubtedly use your voice search assistant to repeat the whole recipe to you and proceed with your cooking merrily.
There are dozens of situations and examples like the above one where voice search saves the day for us.
Some prominent reasons as to why voice search is slowly becoming the talk of the town are:
Voice Search is Faster and Easier 
There is not a shadow of a doubt, that voice search is faster than traditional methods of searching for a query; this is what makes it the number one reason for people adopting the trend.
Main reasons for global mobile users to access voice search: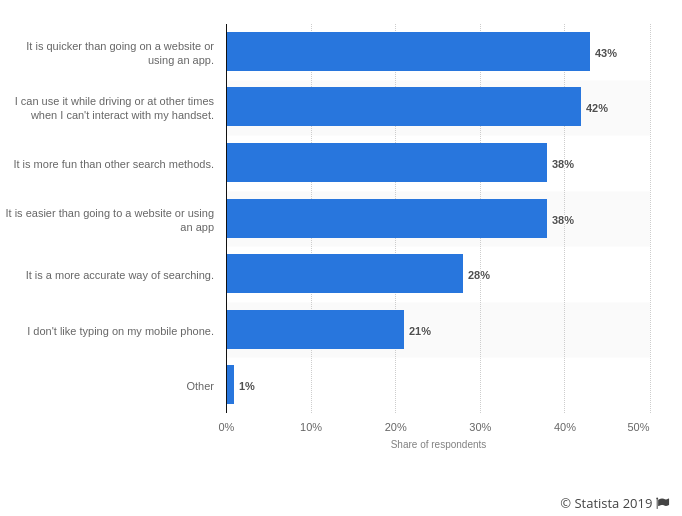 A quicker search results in answers being delivered to us quicker.
Voice Search is More Appropriate and Convenient 
In our digital world, where time is money, no one likes to type their questions. When their answer is only a sentence away, people tend to choose the easier path. 
If we had to choose between typing and speaking a query like "which is the second-highest mountain peak in the world after Mount Everest," we all would choose the latter option for obvious reasons. 
Source: Perficient /digital
Voice Search is Apt for Mobile
It is probably the biggest reason for voice search being so popular and viral amongst the masses today. Smartphones gave way to search assistants and smart speakers because users on mobile leverage voice search the most. 
According to BrightLocal, 56% of all voice searches are made on a smartphone.
The above statistic lays enough emphasis on the importance of mobile as far as voice search is concerned; mobile is key to the search industry. Just like traditional searches, voice searches on mobile outnumber those on other devices. 
People find it a breeze to just use their smartphones and access voice search on the go.
How is Voice Search Different from Traditional Search
Asking a device to fetch results for your query is not the same as typing a query on a desktop. Searching with our voice is different. Here's how:
Voice Search Keywords are Longer and Conversational 
When we converse with a smart device and ask questions, we generally ask the whole question instead of just using a couple of keywords.
When we are on desktop, we might type "make pudding cake" or "pudding cake recipe."
When we use voice, we might ask, "Hey Alexa, how do I make a pudding cake at home?"
If you would notice, the length of the keywords in both the above searches is different, with our voice query being longer and more conversational. Top PPC Expert and Senior Manager at Microsoft, Purna Virji, stated that voice search keywords are longer compared to text search keywords.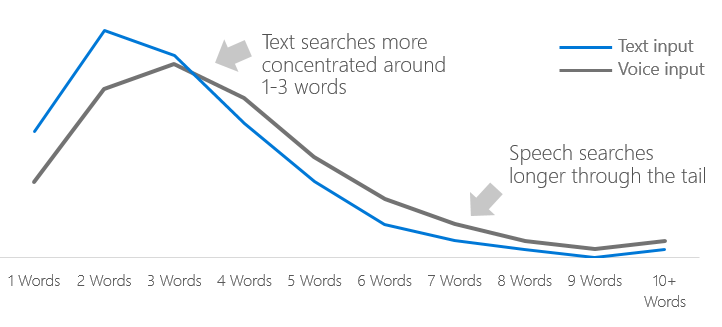 The above insight has a direct impact on how we research keywords for content. 
Local Listings Search Are a Priority for Voice 
The maximum volume of voice search requests consists of " near me" questions; this confirms two things:
People use voice search to find places to visit, hotels to stay, restaurants to eat on the go.

Apart from places, people also need information about time and things as well.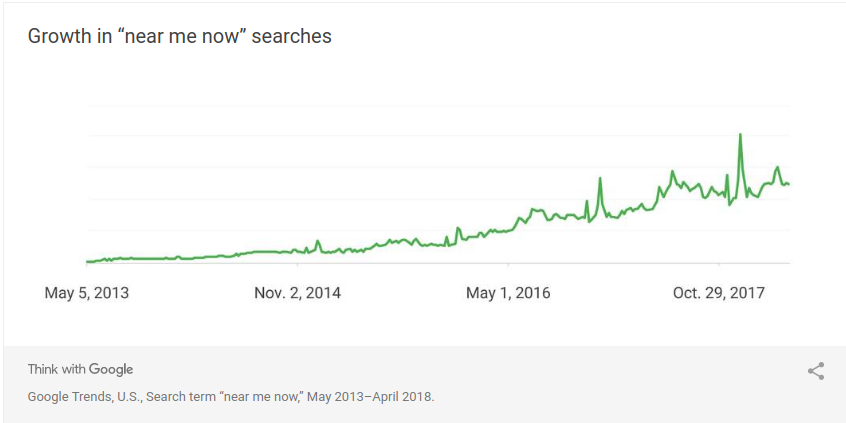 Now that we know "near me" searches are quite high in number, it is time to have a look at the different places from where these searches are made: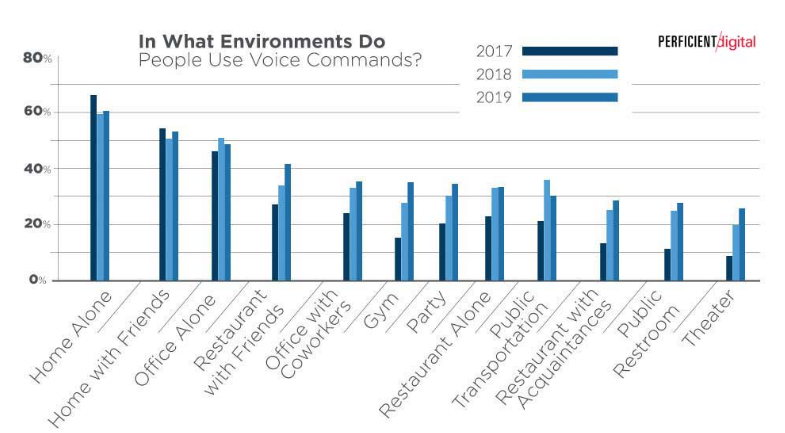 As you would notice, voice search usage is on the rise in public places like theaters, restrooms, restaurant, etc. The majority of these searches are for local businesses and information relative to these businesses.
Voice Search Results Are Prompt and To the Point 
The results for our voice searches are mostly the featured snippets that we get on traditional searches. Google relies heavily on knowledge graphs and rich snippets to answer voice queries.
Searchers want quick and immediate results, and Google understands this. The same applies to voice search as well, where direct answers are the priority. 
These direct answers are read back to the questioner to give instant results.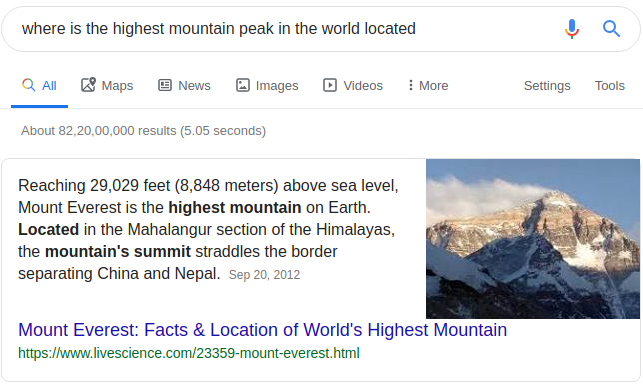 Generally, the rich snippet result is answered back when someone searches with voice; this builds up instantaneous results, which are a known characteristic of voice search results. 
Keyword Research for Voice Search
Now that we have an idea of how voice search works and its different characteristics, it is imperative to learn the keyword research process for this search trend.
Some points to be kept in mind while preparing keywords for voice searches are:
Question keywords should be targeted. As illustrated before, voice search queries contain a lot of question words like how, what, when, why, where. The next time you add keywords for voice search, make sure you include these.
Long-tail keywords complete a question, and people have been sticking to this approach when using voice. We shouldn't ignore long-tail keywords when we optimize for voice searches.
"Filler words" are a must to be included in questions which make the query more conversational and human. The examples of filler words are "I, the, of the, on the, to, for," etc. 
The above points are instrumental to the success of your voice keyword research. Your keyword strategy should keep the points in the loop for better results.
You will have to dig in a bit but will emerge as successful. To ease out the keyword research process, I recommend Semrush's voice search optimization services.
I have been using this tool for quite some time now, and it delivers every single time. The variety of keywords that you get with this tool is grand.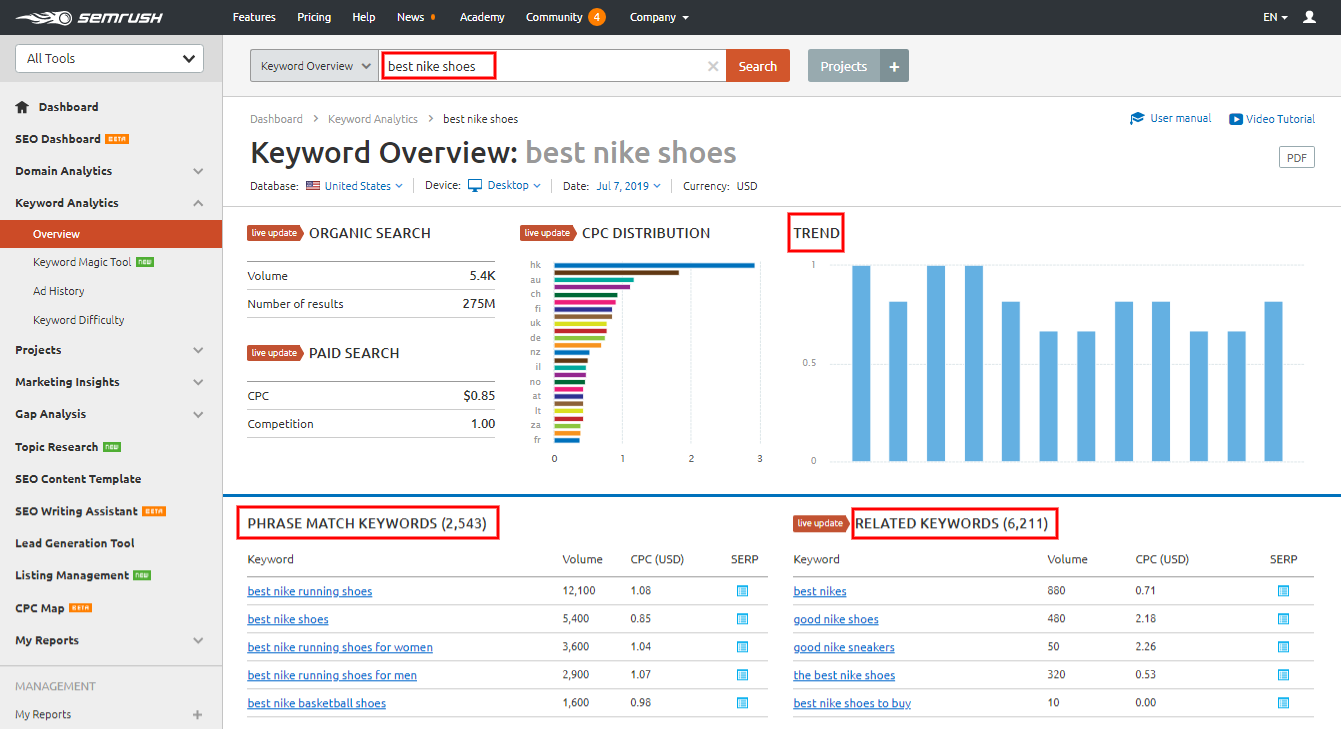 There is a separate section of "Keyword Analytics" which covers all topics completely. As depicted in the above screenshot, on searching any keyword, we get both "related" and "phrase match" keywords to target the long tail. 

"Keyword Magic Tool" is everything you could ever ask of a keyword intelligence tool. The thing that draws a line between it and other tools is that it gives you all desired results at one place. Question-keywords are indispensable for voice search ranking, and SEMrush provides you these as well.

When we search a topic under the " Topic Research" tool, it returns a list of commonly asked questions related to the topic. This info can be sprinkled in your content to get better rankings in voice search queries. See the screenshot below.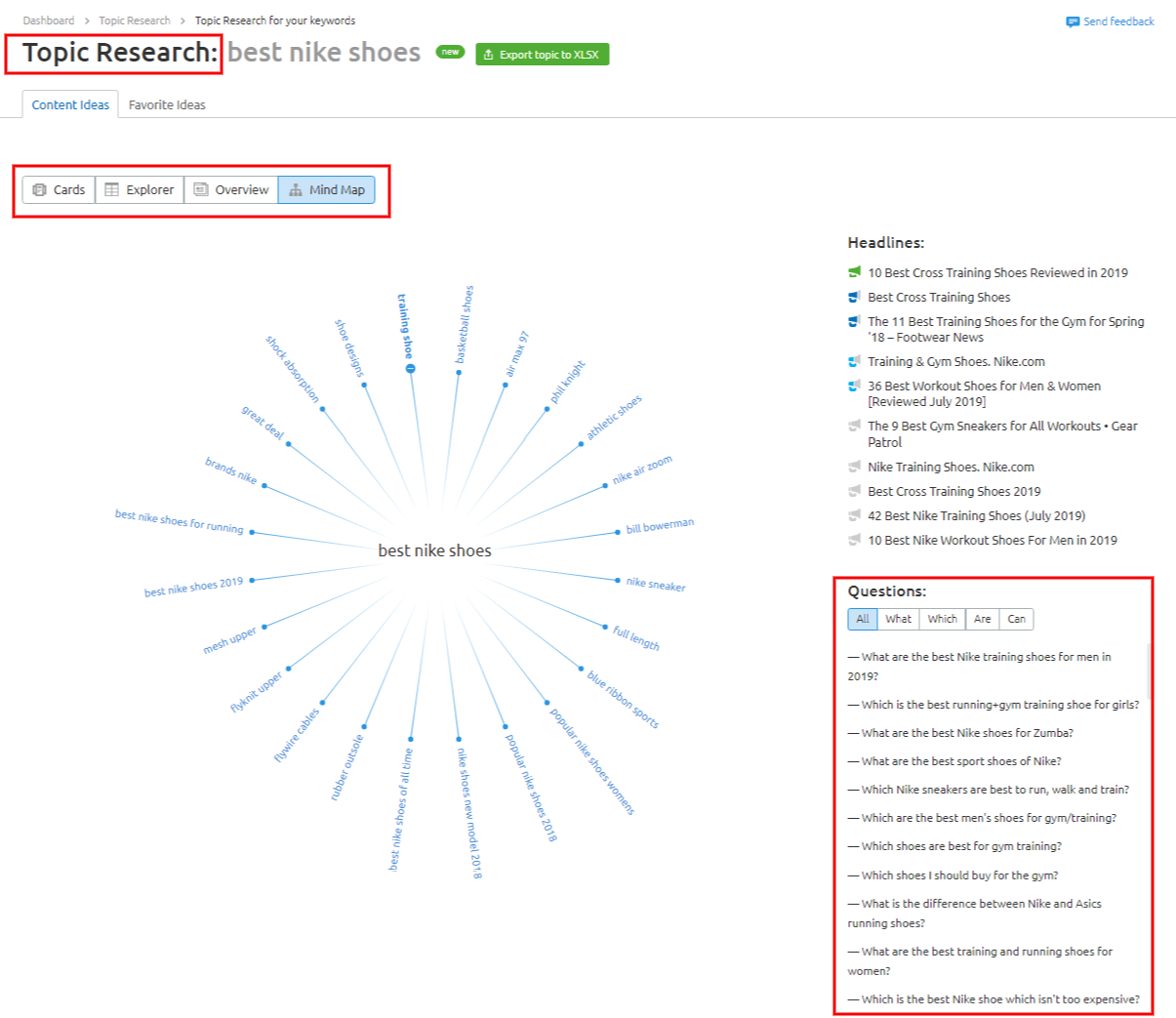 SEMrush acts as a complete keyword research solution for both voice and traditional searches. With access to such a tool and good keyword research, the probability of ranking for voice search queries is quite high. 
Strategies to Optimize Your Content for Voice Search 
In the era of voice search, where the competition will only get tougher in the coming days, marketers and SEO's should make it a habit of optimizing their content for voice search. This best practice will help you get better rankings for voice searches and increase your organic reach.
Here are some proven voice search optimization strategies to put to use:
1. Optimize for Rich Answers
A SEMrush voice search study found that "70% of all answers returned from voice searches occupied a SERP feature (with 60% of those returning a Featured Snippet result)." The odds are most smart devices with voice search capability will give out a similar answer to particular queries, and the answer is principally a rich answer for the question. 
We need to brief ourselves with some SEO related terms to understand this better:
Knowledge Graph - Google's knowledge base, which stores and absorbs all the different facts about people, places, and things. 
Knowledge Panel - The information(in a small box) we see in the right of the search results whenever we search for a business on Google. All this information comes from the Knowledge Graph. 
Knowledge Box - Similar to Knowledge Panel, this is factual information coming from the Knowledge Graph appearing just like other regular search results.
Featured Snippet - Coming from third-party sources, Google displays this information on top of organic results above the ads with attribution to the original source; this is done to provide users with quick and concise answers (see a study on earning featured snippets).
RIch Answer - Whenever a search result contains any of the above features, it is called a rich answer. 
To provide the best user experience, Google mostly displays rich answers to questions, and there has been a substantial rise in these over the years. 
2. Re-Imagine and Restructure Your Content 
With voice search being a lot more conversational than traditional searches, we all need to analyze our content and its structure again. The goal should be to include succinct questions and answers to improve the content layout and make it more voice search-friendly. 
Backlinko's study says Google prefers short, concise answers to voice search queries and the typical voice search result is only 29 words in length. The SEMrush voice search study for Google Assistant found "Text length of the answers returned was nearly the same for every device (around 41 words on average)."
These are valuable insights about how our content should be structured to rank better for voice search results. 
Include Frequently-Asked Questions (FAQs) on your product pages and blogs as they include question keywords, and are quite short as well. Both these factors are prerequisites for voice search ranking. The FAQ-style format makes it easy for Google to pull content from your website and display it as a rich snippet.
Using pointers to break your content into small fragments is another voice search best practice and helps in better ranking.
3. Use Conversational Language for Content 
Being conversational is a primary characteristic of a voice search query, and we need to take leverage of this. The more we use robotic language in our content, the fewer chances we have in appearing in voice search results.
We can benefit hugely from using natural language in whatever we write and publish on the web. When there is the use of natural language, there is a lot of scope of matching as a result of verbal questions. 
Understanding the searcher's intent is critical if you want to know how people are asking verbal queries. You need to study and anticipate the query style that people use while using voice search.
What type of question keywords are people using?

What is their conversational style?

What type of questions are being asked the most?

What type of answers are best suited for these queries?

What answers are performing well and being displayed as voice search results? 
Data-driven insights with answers to the above questions will let you have an idea of what people want when they search verbally.
4. Target Long-Tail Keyword Phrases
Yes, voice searches are longer than searches on a keyboard due to their conversational style. On top of this, we all know that Google is fond of long-form complete content. We cannot prepare content separately for each and every voice search term, but we can surely include all terms in a full-fledged post. 
Content creators can use this by developing long-form content including all long-tail keywords which appear in vocal queries.
Here is an example of an article targeting a long-tail keyword in the title: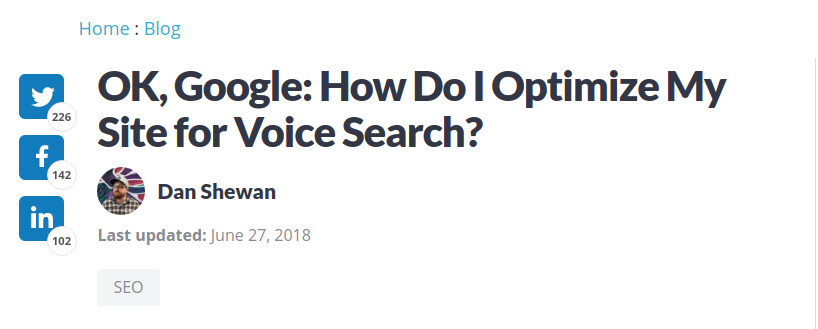 Long-tail keywords, along with filler words, should be focused primarily to perform best in voice search rankings.
5. Improve Loading Time of Your Website 
Despite being such an essential factor for voice search, this one often goes unnoticed. But that doesn't lower its significance a bit.
Websites that take longer to load are abandoned very quickly compared to those that load quickly. Website loading speed has a direct impact on bounce rate and hence, should be optimized at all costs. 
To add some necessity, Google released its Speed Update, which emphasizes optimizing website load times. When it comes to voice searches, the rules are pretty much the same. Voice searchers need immediate results, and if you have a slow website which takes an eternity to load, your content won't be used to answer verbal queries. 
Here is a checklist of the do's and don'ts for good website loading speeds:
Use compressed images and videos on your site.

Use "async" and "defer" to reduce JavaScript parsing.

It is advisable to use CSS3 and HTML5 frameworks given that they load mobile web pages quickly. 

Minify Style Sheets and JavaScript and lessen HTTP requests.

Reduce redirects and the number of plugins you use.

Use a Content Delivery Network (CDN).
All in all, slow page loading speeds can affect both your website's bounce rate and conversion rate. 
Google Page Speed Insights and PingDom are good website speed test tools, and we ought to use these to optimize our site load times.
6. Pay Attention to Mobile 
All the big announcements at Google I/O 2019 were either directly related to mobile or tools related to mobile. Google emphasizes mobile experience and vows to make it better day by day.
Mobile easily beats other devices when it comes to voice search queries because most verbal questions are being asked on mobile. You should be well prepared to deliver an amazing mobile user experience.
Creating mobile-friendly content with a mobile-first approach is key, and we need to pay heed to some ways to achieve that:
Build a mobile-responsive website.

Run a mobile-friendly test for your website and optimize accordingly.

Your website should be crawlable to ensure visibility and exposure to your content.
Mobile is the future of search, and that includes vocal queries as well. Being ready with a mobile responsive website is an SEO best practice which shouldn't be ignored.
7. Leverage Google Business Profile 
We are already aware that people use their voice for "near me" searches. The factor that determines whether we rank for these searches is our Google Business Profile listing.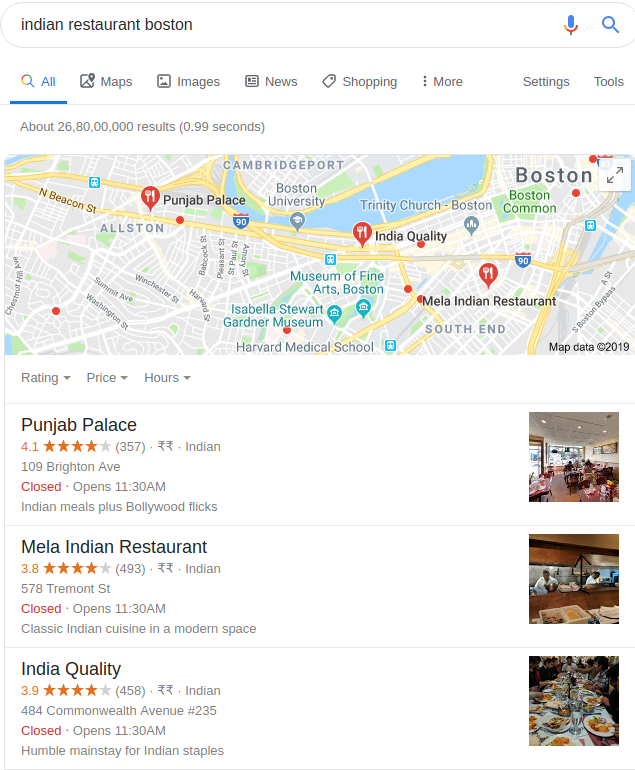 A Google Business Profile is a way to let Google know that your business is located at a particular place. When someone asks Google to display similar businesses in that area, your business could rank for that query.
Name, Address, and Phone Number (NAP) must be included in your listing. Moreover, choosing the right business categories and providing area codes is vital. You can also add posts with special deals, news, or updates to make your business stand out.
So if you don't have a Google Business listing yet, it is high time you do so. Improve your local SEO, and you will see the positive results straight away. 
Another way to rank for "near me" searches is to target local keywords and gain higher search rankings. Embedding structured data using Schema.org for better performance in search engines is highly recommended. 
Bonus: Improve Content Readability
Writing good, readable content is pretty much a basic must, but we still overlook this somehow. Precise writing with a standard reading level helps in ranking our content. 
A ranking around 8 on the Flesch Kincaid Grade is recommended as per a voice search study, and we should at least aim to achieve that.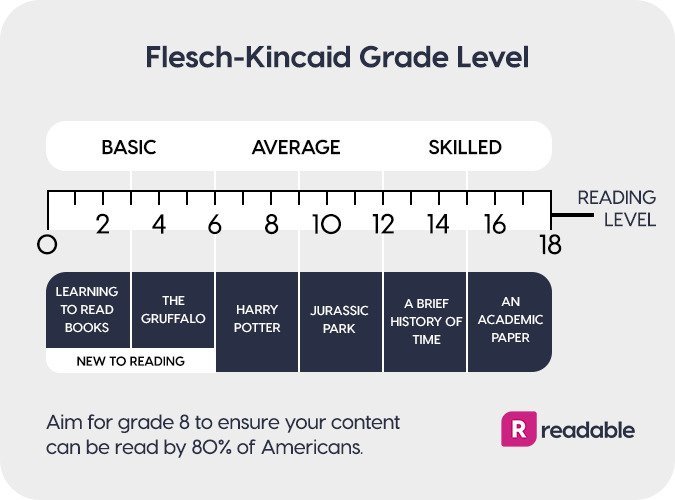 Avoiding technical jargon and using simple natural language is the best practice here.
Over to You 
With each year passing, voice search is on the rise, and soon it will be everywhere, and everyone will be discussing it. Consumer behavior is constantly changing, and marketers must be prepared for any marketing trend to meet expectations.
Many tech giants like Google, Amazon, and Microsoft are already on the move and have already optimized for voice search to have an edge over others. Specializing in voice search SEO and monetizing is critical to compete.
The above-listed strategies will help you rank better for voice search and create a sound voice search optimization strategy. Which strategy works best for you? Are there any strategies that I missed out on? Please comment below.