It's easy to think about SEO as being a keyword-driven marketing channel, but the reality is that if you really want to drive growth, you need to know who your target audience is and how to put your business in front of them on the SERPs.
If you fail to properly understand exactly who you're targeting your SEO efforts, you'll struggle to put together a solid strategy that drives traffic that converts.
And without conversions, your business isn't going to see the growth that you expect. 
On the other hand, carefully defining your target audience and communicating this effectively among your team sets up a successful strategy. You earn traffic from the right people, with the right content at the right point in their purchase journey.
You can't ignore the need to know the target audience for your SEO strategy. In this guide, we're going to walk you through the different approaches you can take to defining your audience. 
Specifically, we're going to take a look at:
What Is a Target Audience?
Your target audience is the people who you want to attract to your website. Your target audience is the people who are searching on Google (or another search engine) to find a business just like yours. They're your future customers or clients.
Defining your target audience is about knowing exactly who is searching for the keywords that could lead them to your website. Once you know who these people are, you can develop a strategy and put in place the right tactics to ensure you're visible when they're searching.
The most successful SEO strategies understand their audience inside out and put them at the forefront of everything they do. After all, SEO isn't about marketing to the search engines; it's all about marketing to people. And those people are your target audience.
Your Target Audience vs. Buyer Personas
You could be forgiven for confusing your target audience with buyer personas, but these aren't the same thing, and these terms shouldn't be used interchangeably.
Your target audience is a group of people you have identified who could be interested in your products or services. These are your ideal customers (or purchasing audience).
A buyer persona is an abstract depiction of this ideal customer, founded upon qualitative and quantitative data from market/competitor research and existing customer profiles.
As our guide to creating a buyer persona suggests:
Generating a buyer persona is not about describing the business's potential purchasing audience, but about generating a set of insights that can be used by marketing, sales, and product departments to make informed decisions and smarter investments.
Buyer personas go deeper than a target audience and dig deep into the specifics of who these individuals are, including their demographics, interests, and buying habits. Defining a target audience wouldn't go this deep and exists at a higher level.

Why You Need to Understand Who Your Target Audience Is to Drive SEO Success
You may be caught in the line of thinking that more is always better. In the case of SEO, more often is better; each new person that comes to your site is another potential chance to secure a conversion. And more brand exposure helps to build your reputation.
So let's say the average visitor has a 20 percent chance of being interested in buying your product. You earn 1,000 visitors, and you'll have 200 potential visitors interested in your offering.
Now imagine your average visitor has a 50 percent chance of becoming a customer. Say you're only able to attract 800 — now you have 400 potential visitors interested in your product, making the scenario with less total traffic the more valuable one for your brand.
The Power of Understanding Your Target Audience
This is the power of understanding your target audience, and with it comes the ability to drive the right traffic from the right potential customers and clients.
Audience targeting is all about increasing that relevance, so every gain in volume is more significant to your bottom line.
And when you know exactly who your target audience is, you can put in place an effective SEO strategy to put your business in front of these people when they're searching online.
Defining Your Target Audience Makes It Easier to Put Together an Effective SEO Strategy
Defining your target audience means that you're able to:
Conduct more targeted keyword research to identify the search terms you should be optimizing for

Create content that's perfectly aligned to your target audience, therefore improving their experience on your site due to the relevancy of the content they're consuming

Drive more relevant traffic from people who are more likely to become your next client or customer

Convert a higher percentage of your organic traffic into sales or leads
7 Ways to Define Your Target Audience
When it comes to identifying who your target audience is before using this insight to shape your SEO and content strategy, there are several different ways in which you can do this.
Here are seven effective approaches that you can use:
1. Understand Your Current Customer Demographics
If you want to understand who your SEO strategy should be targeting, it makes sense to start with your current customers. 
The most effective starting point is to go and grab a coffee with your sales team and question them on exactly who is buying your products or services. If anyone knows who is buying and who isn't, it'll be your sales team.
There's a good chance that they'll be able to share insights from their CRM, too, including a breakdown of the audiences who convert the strongest or who have the highest average order value.
But beyond this, don't overlook the insights you can gain from your own Google Analytics account. Using the data that you have available, you can gain a detailed understanding of who your audience is and how they behave.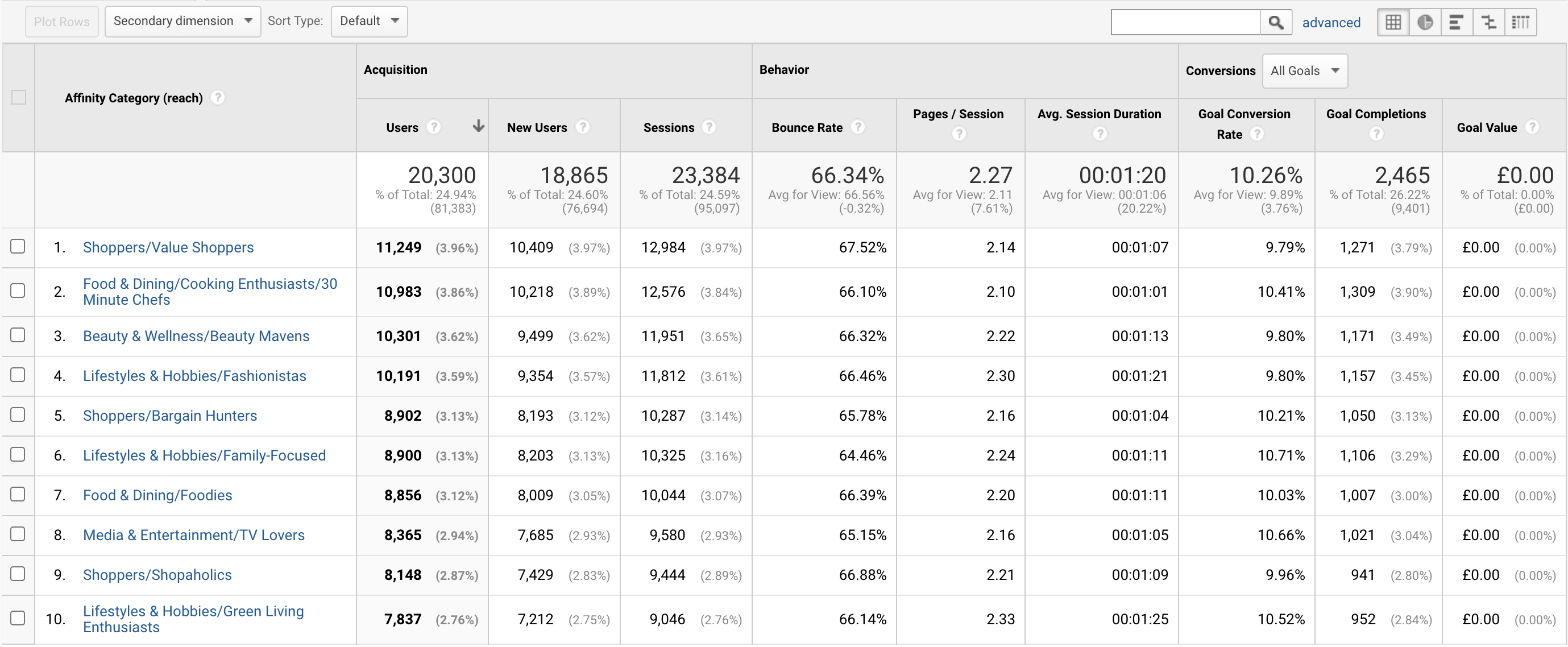 Head to the Audience report, and you'll be able to drill down into who is visiting your website, gaining an insight into demographics and locations, and their interests via Affinity Categories and In-Market Segments (where you'll be able to see how each audience converts).
2. Utilize Social Insights
If you've built up a following on social media, there's a very good chance that this audience is interested in the products you sell or the services you offer.
Utilizing your social channels' insights can be a great way to learn more about who your audience is.
Facebook Audience Insights is the recommended tool for diving deeper into your page's followers on the platform.
From understanding your audience's demographic profile (along with data from Google Analytics) to the other pages that they like on Facebook, this is a great starting point to figure out who you should be targeting.
3. Analyze The SERPs
It might sound simple, but spending time analyzing the SERPs can help determine who the audience that you need to be targeting is.
Run searches around your main commercial keywords (the money terms related to your business) and look at its ranking. Note down whether this is transactional or informational content, as this will help you determine  search intent.
Specifically, pay attention to the common themes throughout content pages and the keywords that are being optimized for and the products or services that are being promoted, and the general tone of voice. This can often be a tell-tale sign as to who the main audience that's being targeted is.
4. Know Your Competitors Inside Out
The more you know about your competitors (and who they're targeting with their SEO strategy), the better you can determine your target audience.
And you can dive deep into your competitors' performance using the Semrush  Organic Research Tool.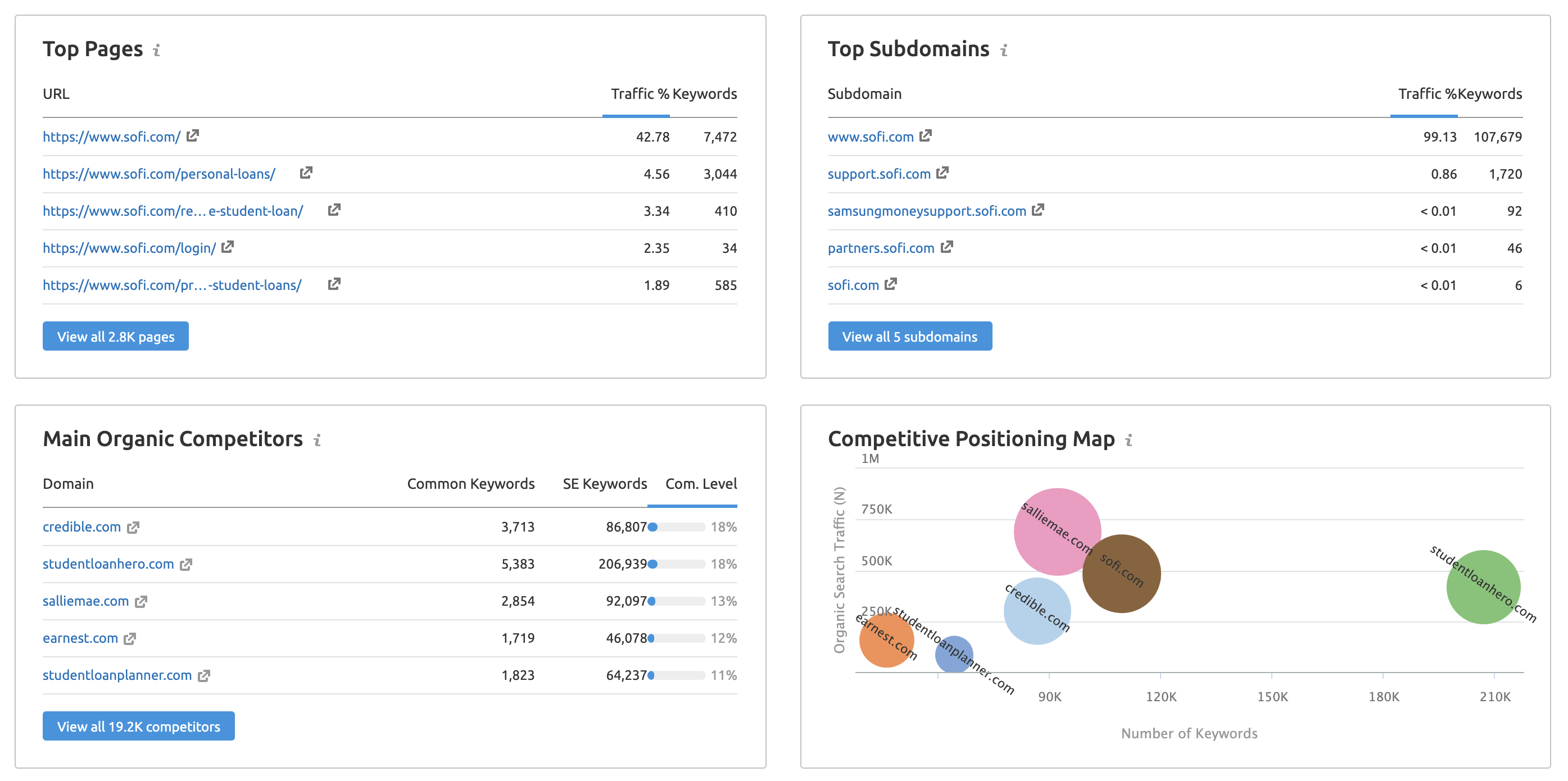 In particular, pay attention to:
Ranking keywords
Top pages
Competitors
These are all powerful insights for determining your target audience, helping you shine a light on what's working for others in your space. 
5. Survey or Interview Your Current Customers
If you really want to figure out who your target audience is, the content they want to consume, and how they want to be targeted online, go and speak with those who have already bought from you.
Surveying and interviewing current customers can shine a light on your target audience that you couldn't ever figure out from a tool, which can help you gain a competitive advantage.
You can use free tools like Google Forms to collect responses from your customers (send this out to the buyer segment of your email newsletter).
Once you've had a sufficient number of completed surveys (or have conducted several interviews), look for trends amongst the responses to feed this into your audience data. 
6. Identify the Questions Being Asked Around Your Core Topics
Questions are a powerful way to learn more about who your audience is and the topics that they truly care about that relate to your business.
And for that reason, it's recommended that you take the time to analyze just exactly what it is that your target audience wants to know and are searching for online.
To do this, you can use the Semrush  Keyword Magic Tool, enter a search query and filter to only show questions.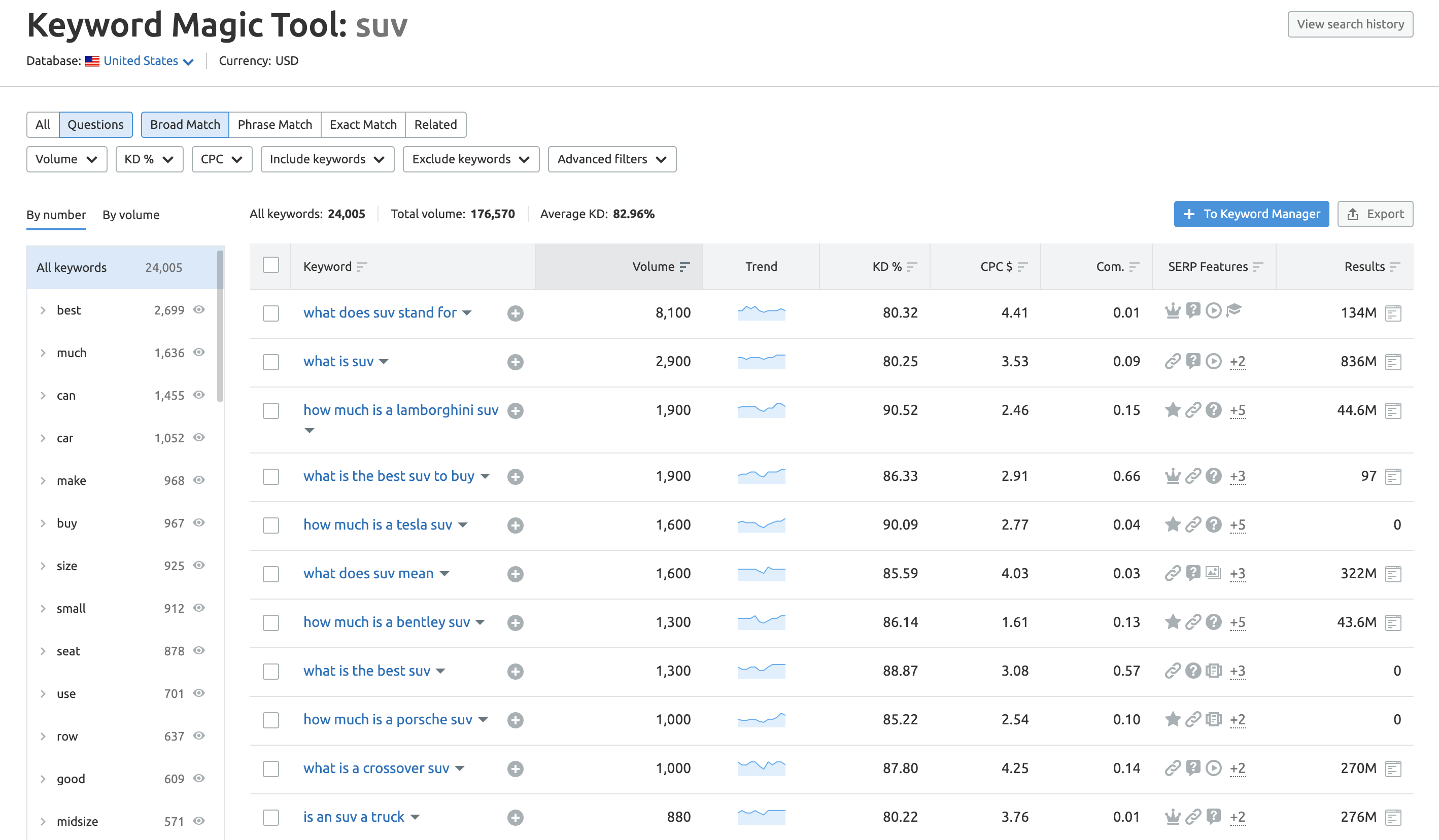 When defining your target audience, you can then use this insight to ensure your strategy targets those questions that are being asked. 
7. Use The Semrush Market Explorer Tool
The Semrush  Market Explorer Tool, and more specifically, the Market Explorer's Custom Market report, helps you analyze your market and learn more about how you're positioned compared to competitors.
But when it comes to determining your target audience, you'll want to pay attention to the market audience report.
This can help you uncover your target audience's age, gender, and specific interests and allow you to use this data to better target your marketing strategy to the right people.
SEO success comes from understanding exactly who your target audience is and what the content is that they want to consume. 
There's no denying that keywords play a huge role in developing a successful SEO strategy. Still, without knowing your audience, you'll struggle to focus your efforts and have the confidence that you're targeting the right people and maximizing your chance of converting a searcher into a customer.