While creating high-quality content is essential these days, building a smart content distribution strategy is equally important. Getting your content in front of the right audience, at the right time, and in the right way, requires more than simply sharing it on a few social channels, or linking to it in an email or newsletter.
While those are valuable channels, they should be seen as pieces of the content marketing puzzle. It's key to zoom out and see the whole picture.
In this article, we will guide you through developing a content distribution strategy and effectively promoting your content to maximize reach. 
What is Content Distribution?
Content distribution is the process of publishing and promoting your content. To help ensure you're reaching your intended audience, effective content distribution typically involves promotion through various channels and media formats. 
Types of Content You Can Distribute 
Before you start evaluating available content distribution platforms, you should assess the content assets you have at your disposal. There are a variety of content types to consider promoting, including:
Blog posts
White papers and guides 
Research studies
Pillar pages, research, and other long-reads (e.g., how-to guides)
Case studies and success stories
Infographics 
Checklists
Ebooks and templates
Articles (nonblog post)
Product landing pages
Videos
Podcast episodes
Newsletters 
To be able to choose the right promotional channel/s for each format, you need to define your expectations as goals and KPIs. For example, if you are looking to increase brand awareness (i.e. traffic) you can focus on keyword rankings and backlinks. 
Distributions Channels to Focus on
Content distribution channels are the platforms and media where you share your content. Specific channels may vary depending on your resources and audience specifics. In general, though, we can divide them into three broad categories.
Owned Channels are the content distribution facilities that belong to your company. These usually include your blog, social media profiles, an email database, and, in some cases, a mobile app.
Earned/Shared Channels are the promotional channels owned by loyal third parties. These can be friendly bloggers, forums, or review sites. A feature of this channel is that while posting on these sites is free, the content is not owned by you.
Paid Channels take a fee for promoting your content. These are various platforms that host paid ads, social media advertising, media that post sponsored content, and paid influencers ready to speak about your brand.
Choosing the Ideal Media to Promote Your Content
There's a lot to consider when determining how, where, and when to promote your content. Paid channels work quickly, but require investment to sustain the results. Organic (owned and earned) channels might make you wait for the first results to be achieved, however, these results are quite stable and sustainable. The best way is to find a healthy balance between these two.
Another important point to make is that you can't rely on the "spray and pray" method, as not all formats fit for all channels, not to mention the fact that you need to take the funnel stage into account. For example, an ungated How-to guide that drives a lot of organic traffic won't necessarily bring you as many leads if you link to it from a paid ad.
To help you quickly evaluate what content distribution channels might be the best solution for the content you're looking to promote, we've prepared comparison charts of the ultimate content distribution channel. In these charts, you'll find the content formats that are typically distributed via specific channels and the KPIs to track, in addition to universal metrics, such as ROI (Return of Investment), number of MQLs (Marketing Qualified Leads), and number of SQLs (Sales Qualified Leads).
Owned Content Distribution Channels
These channels are central for any brand, as all the resources are owned by you and you have full control over content: you can remove or update certain copy, tweak it to improve performance, and quickly reach out to the owner of a referring domain if you find a broken link. In addition, you can communicate directly with your "owned" audience and nurture these contacts, moving them down the funnel.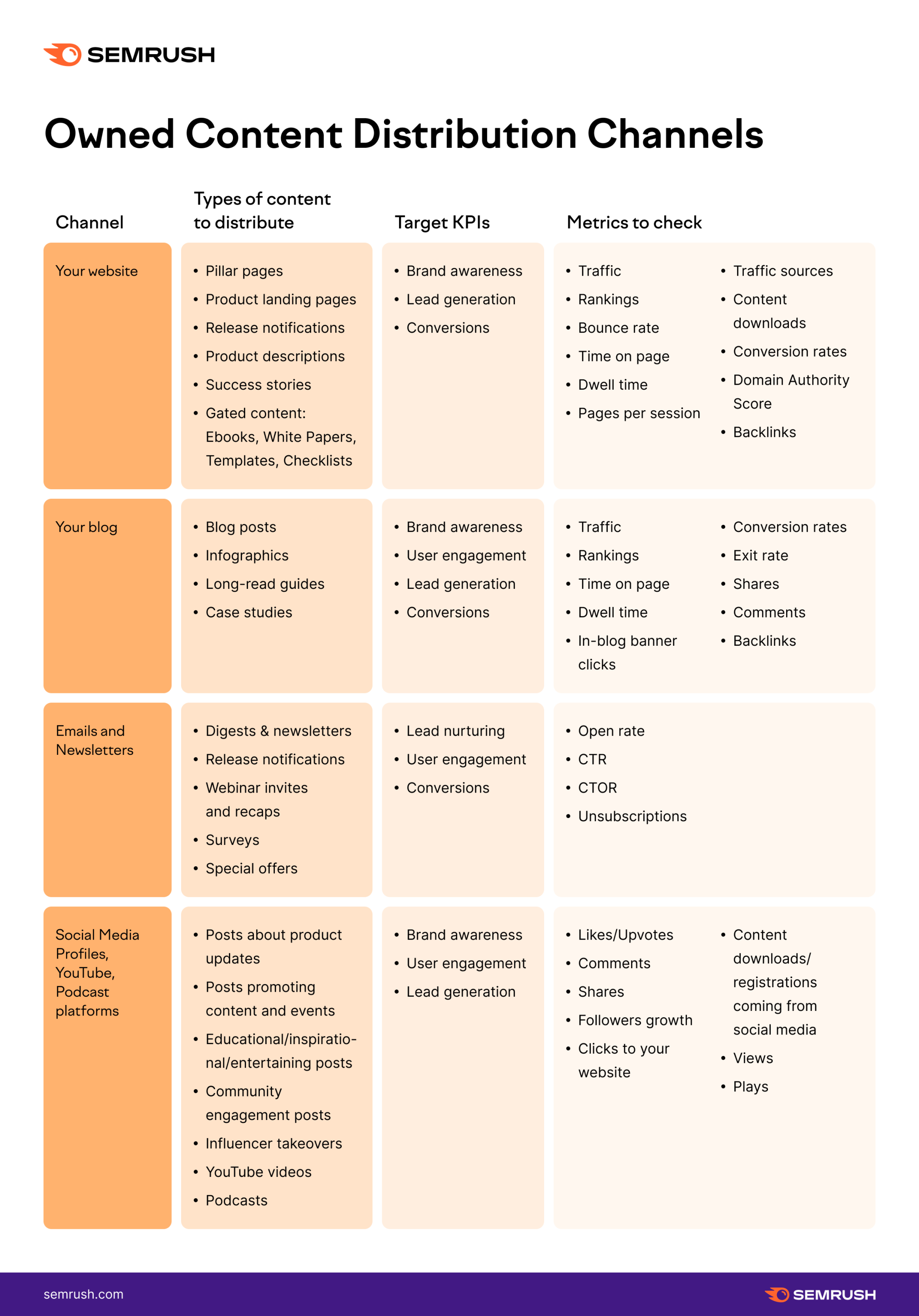 Earned Content Distribution Channels
These channels give you a bit less control, as the resource you publish your content on doesn't belong to you. So, it gets harder to review outdated content and track its performance, as well as convert those users into contacts and leads. Another issue is that the owner of the platform can decide to remove your publication at any time. However, if the earned platform is an influencer, industry opinion leader, or top media, it's all worth it.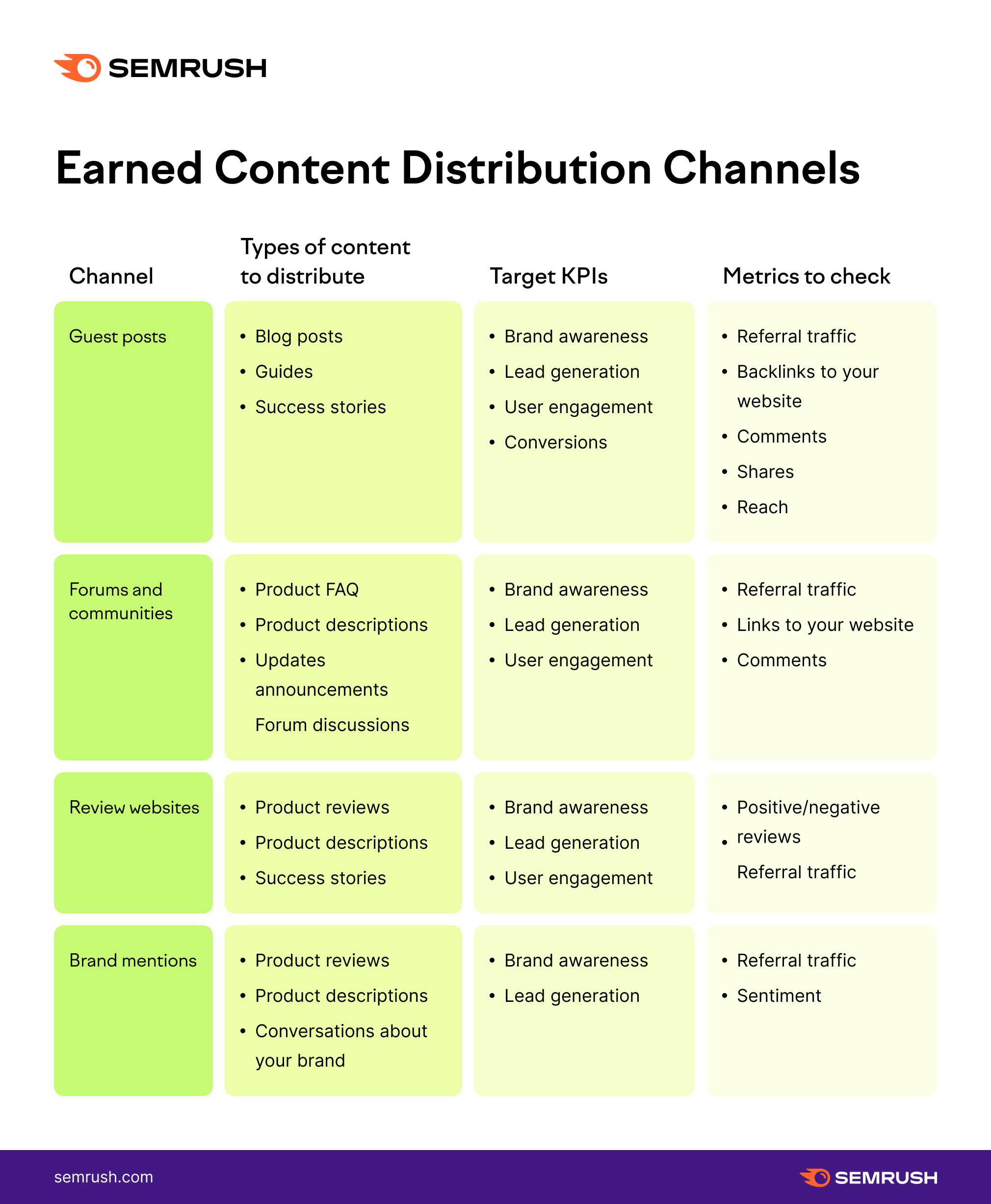 Paid Content Distribution Channels
These channels might be called the most challenging ones, as using them requires careful ROI forecasting and budget planning. On the other hand, they offer you an opportunity to kickstart a promotional campaign in a day and get quick, measurable results affecting the bottom line.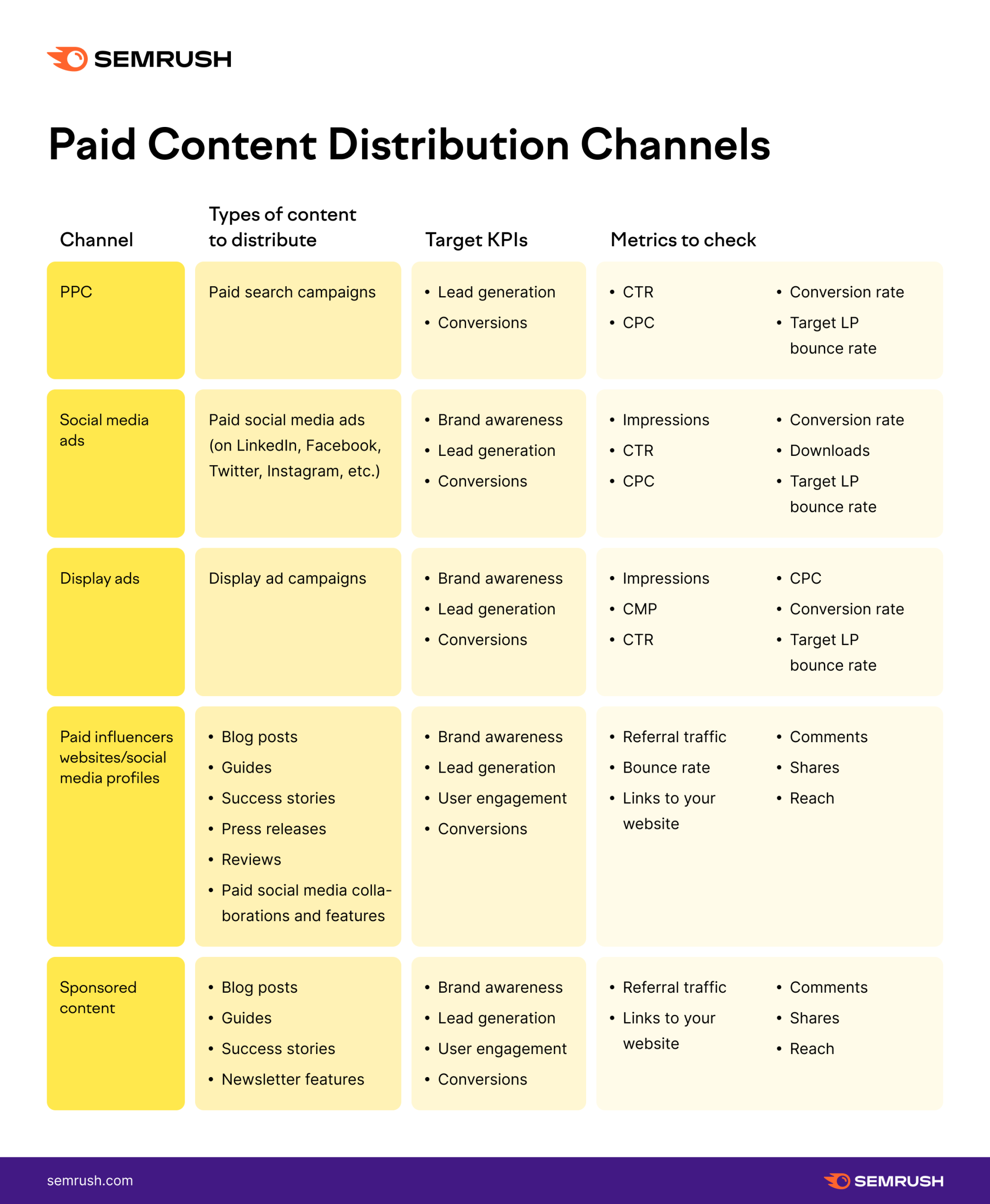 Building a Winning Content Distribution Strategy in Six Steps
Step #1: Audience Research
To get your content in front of your ideal target audience, it's essential to align your distribution and promotional efforts with their preferences and behaviors. To do this, you need to know who your audiences are, how they typically interact online, where they are in their buyer journey, what kind of content they prefer (e.g., infographics vs video), and what their likely search intent is (e.g., informational or transactional).
Useful tip: Start by asking yourself some of these questions:
Who is going to benefit from your content the most?
Will these people be interested in your product? 
Where can they be found?
Whose opinion do they trust?
Step #2: Content Prioritization
You don't necessarily have to create all content to distribute from scratch. If you carefully assess your existing content assets, you will be able to understand whether the content pieces you already have at your disposal are worth promoting and have the potential to deliver results on a specific channel. 
Not sure where to start? Consider conducting a content audit. It will save you time by helping you uncover strong, high-value content that may have had lackluster marketing promotion around it. 
Useful tip: Plan content creation and distribution together. Your editorial calendar should be an integral part of your content distribution strategy. Using it will help you to:
Keep all your content creation and management team on the same page
Meet all external deadlines and requirements when using earned and paid distribution channels
Make sure you have all target channels covered
Step #3: Channel Selection
Different types of content can — and often should — be promoted differently. Depending on your content promotion budget, paid and organic distribution channels could go hand-in-hand or be sequential. 
For quicker results, you might start with a paid campaign to promote a piece of content (e.g., an ebook) and then continue promoting it organically once the paid campaign has been completed. Either way, it's important to track performance for both promotional initiatives.
Sometimes, it may also be a good idea to request some analytics data from third-party channel owners relating to the size of their email database and average open rate, monthly traffic, etc. Alternatively, you can get this via analytics tools, such as Semrush Traffic Analytics, to evaluate the potential of each channel.
Useful tip: Select the channels that your intended audience is most likely to engage with, as it will maximize your reach and help you save your promotional budget if you are using paid channels.
Step #4: Deciding on the KPIs to Track
The KPIs for each of your content efforts are also likely to be different depending on what distribution channel(s) you decide to use and how you approach your promotional strategy. For example, you might be tracking organic search views vs. downloads depending on whether the content piece is gated or ungated.
The important point here is that you should focus on the metrics that align with your business goals, not the vanity ones. 
Useful tip: Make sure each content piece is "equipped" for the KPIs you set. For example, including a CTA in a blog post that inspires action will boost lead generation and conversions. 
Step #5: Promotional Message Adjustment
The marketing message is not only what you want to tell your prospects, but also how you want to say it and to what extent it reflects their needs. For example, the Covid-19 pandemic and systemic lockdowns seriously changed the ways people work and communicate. With this in mind, it's important to evaluate exactly how it affected your target audience and how you can adjust.
As another example, in addition to promoting a blog post via social and email, a savvy marketer may also develop an infographic and a "key takeaways" video around it especially for those who are lacking time. 
In addition, your promotional message will be impacted by the requirements and style of the third-party channel, so don't neglect editorial guidelines when using earned and paid channels.
Useful tip: If you want to distribute several content pieces on a specific topic at a time, you need to make sure these cater to the needs of your target audience and align them with each other. For example, a blog post can be both published on your (or an earned) blog and promoted via email and social media. In this case, the blog post itself, the email, and the social media publication should have a consistent tone of voice.
Step #6: Performance Measurement
The more analytics data you gather at this step, the easier it will be to make informed decisions on changing channels, repurposing high-performing assets, and boosting your strategy as a whole. 
To collect the data, you can still use the good old Google Search Console, Google Analytics, and native analytics of the social media platforms, but there are more powerful and far-reaching tools in the market.
Useful tip: Use UTMs on earned and paid distribution channels to make performance tracking easier.
Tools and Platforms to Distribute Your Content and Measure Its Performance
As the importance of content distribution grows, more and more automation is being introduced to cover the needs of marketers dealing with it. The number of paid and owned platforms also continues to grow. Below, you'll find a short overview of the resources that can help you promote your content and more easily measure its performance. 
Earned Distribution Platforms*
Medium — an open digital publishing platform with 170M readers which can be connected to Twitter. The range of topics is extremely wide, so you can try using it in addition to your blog to increase brand awareness. 
HARO (Help a Reporter Out) is an online platform that helps journalists and bloggers find expert data sources, one of which can be you. 
GaggleAMP is a social advocacy platform that allows you to distribute content via the social media accounts of your loyal employees and customers (with their consent, of course). 
Disqus is a networked comment system. It is integrated into hundreds of thousands of sites all over the web. You can use it to mention your goods and services in a discussion on a related topic. 
Quora is a social question-and-answer website where people can learn about almost any topic and find a solution for almost any problem. And if no one is asking about you, you are always welcome to do it yourself.
Paid Distribution Platforms
PR Newswire — an international portal that helps you get a press release published on global or local media. 
Outbrain is a recommendation platform powered by native ads. It allows you to promote your content on the web's largest publisher sites, including CNN and TIME.
WiseStamp is an email tool for creating custom signatures so that you and your colleagues can share some recent content there.
Prowly is a PR & Media Relations and communications software that will let you manage all your PR activities in one place, e.g., find the right media contacts, send personalized emails to journalists, and create a journalist-friendly newsroom. You can also use it to track your brand mentions online.
Performance Measurement Tools
Semrush ImpactHero uses AI to measure the contribution of each of your website's pages to lead conversion and can even collect the data for custom events on your website. 
Post Tracking lets you get information about the referral traffic, backlinks, shares, and estimated reach of your articles distributed via earned and paid channels without bothering the owner of the channel.
Social Media Analytics allows you to keep track of your total page likes, new page likes, and when your fans are online on LinkedIn, Facebook, and Instagram (Instagram Business profiles).
Distribute Your Content Wisely to Promote Growth.
There's no one-size-fits-all technique in content distribution. That's why acting without a strategy is a waste of both your money and your effort. To find what fits your business best, you'll have to do a fair bit of research, testing, and analytics. However, when done right, it won't take long to see the result. Here are some final tips that will point you in the right direction:
Don't be afraid to expand to channels you haven't used before. These may have great potential.
Use as much automation as you can to free time for creativity. 
Always optimize your content to make it easy to find and to read, no matter where you publish it.