If you run a business that relies on customers purchasing your products, chances are you already have a marketing funnel. 
Beginners might be new to the phrase, but seasoned marketers know that it is virtually impossible to do business without some kind of marketing funnel optimization. 
This guide will cover all the basics of what a marketing funnel is and how it impacts different business models. 
What Is a Marketing Funnel?
Also known as a purchase funnel, a marketing funnel is a customer-focused approach to marketing that illustrates the stages of the customer's journey from brand awareness to purchase. 
The earliest model that resembles the modern marketing funnel is William H. Townsend's revert cone shaping of Elias St. Elmo Lewis's AIDA stages:
The creation of a marketing funnel is something that came intuitively to early marketers. Even if you missed our deep dive into how to build an effective content marketing funnel, you still might already be referring to some of your marketing activities as 'top,' 'middle,' or 'bottom' funnel stages (ToFu, MoFu, Bofu.)
If you do, then you're ready for the big league.
Why Do You Need an Efficient Marketing Funnel?
The need to target potential customers is self-explanatory: casual browsers do not always convert to actual customers. That's the reason why we even have marketing!
The sales funnel helps us visualize how, traditionally, potential customers enter the funnel at the top. Only a percentage of those will become actual customers by choosing to make a purchase, therefore exiting the funnel at the bottom stage.
If a casual browser becomes a paying customer, we call it a "conversion'.'
Although many will leave the funnel at an earlier stage, an optimized and efficient marketing funnel will see a higher percentage of potential customers completing all funnel stages with a purchase.
Identifying which funnel stage the potential customer is in right now informs you on the correct marketing strategy to use and increases your chances of making a sale. We can go as far as to say that increasing conversions is marketers' most important goal.
However, a lot has changed since the earliest marketing funnel model from the late 19th century.
The Digital Marketing Funnel: A Modern Approach
When looking at your current marketing funnel, you cannot separate it from the customer journey. A marketing funnel is, in other words, a way to direct potential customers in the right direction on their journey: to purchase.
The customer's journey should function as a guide to determine the number of stages in your funnel. The stages of your marketing funnel in this new digital age can vary. 
You'll probably be aware that the traditionally linear customer journey became more complex in the last decade. Technologies multiplied touchpoints along the customer journey, and with them, the chances for your potential customers to exit the marketing sales funnel before completing their purchase. 
Buyers stopped predictably passing through the marketing funnel going from one stage to the next. These new buyer habits completely changed the shape of the funnel.
If we stick to a generic 3-stage funnel (ToFu-MoFu-BoFu) the modern funnel doesn't look like a funnel at all. 
Here's the standard marketing funnel: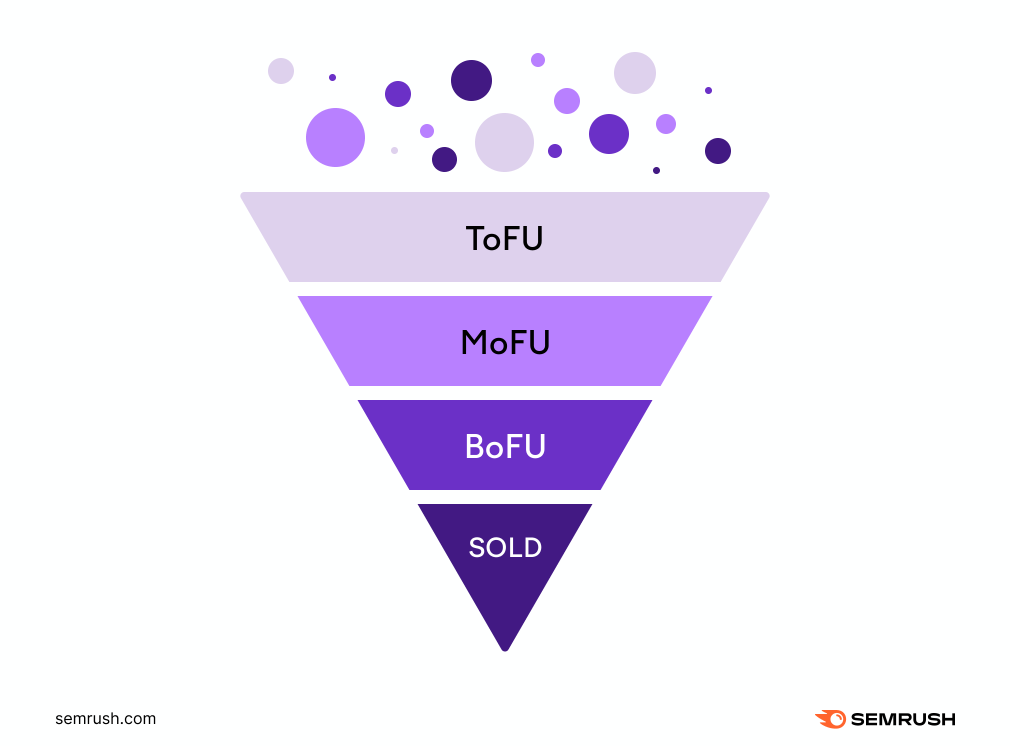 And here's the more modern marketing funnel:
Modern Strategies for Each Marketing Funnel Stage
As the modern marketing funnel comprises more components than the original AIDA model, your goals and marketing funnel optimization strategy also need to adapt.
Through an online ad or search engine that leads to your ecommerce website and finally to a sale, a user's journey is also known as a conversion funnel. However, focusing solely on the mere conversion won't win you customers over time. Retention will. 
The modern marketing funnel allows potential customers to leave their customer journey at any stage and re-enter exactly where they left, thanks to online marketing strategies that are inherently omnichannel.
The marketing funnel becomes richer with various re-engagement paths from different traffic sources (newsletters, campaigns, social media posts, etc.) that lead loyal customers back to your shop and advocacy.
Sounds like a lot? Our toolkits can help you penetrate all different levels of the marketing funnel — here' show.
How to Build Marketing Funnels (that Work) with Semrush
Once you understand a typical customer journey, you're ready to determine how many different stages your funnel needs.
As a guide, we'll use a simple 3-stage model: 
ToFu: The Awareness Stage
The goal is to reach as many people as possible and spread brand awareness.
The more people are aware of your brand, the higher the chances of them buying your products. Some marketers will likely split this into two stages. If you'd like a more precise and targeted funnel, you could distinguish an awareness stage from an interest stage.
To reach out to your target audience, you need to understand who they are and their interests.
Find out your audience interests
With the Market Explorer tool, you'll gain insights on your market, like your audience's interests and key demographics.

Gain insights on your market and top players
The Custom Market feature can help you identify market trends and analyze them in detail.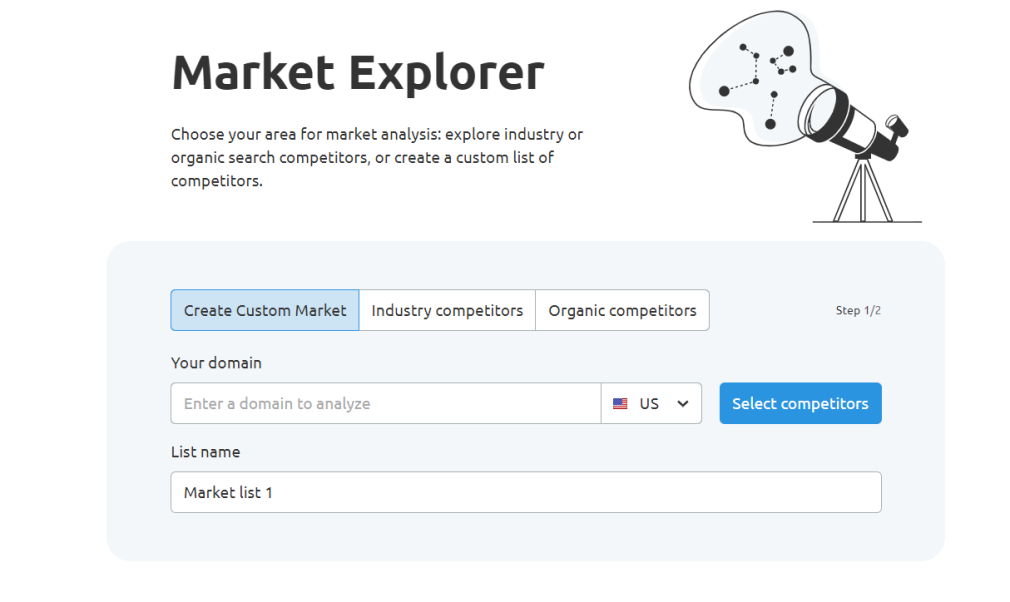 Popular marketing strategies for the ToFu stage are:
Blogging generates leads and increases your organic search traffic. Videos and podcasts are also becoming pretty popular content mediums.
SEO techniques provide your audience with exactly the kind of content they'll need. An optimized website will win you more organic and referral traffic.
Social media and influencer marketing campaigns (giveaways, contests, etc.) can reach more people and re-direct traffic from socials to your website. For example, asking your audience to tag others under a post will immediately improve your online visibility. 
Paid search or pay-per-click (PPC) campaigns quickly reach your target audience, granted that you already know who to target.
MoFu: The Consideration Stage
The goal is to engage potential customers and building trust in your brand.
Middle of the funnel is the stage where your potential customers will either engage with your content or leave the funnel. They are considering your offer in detail while also comparing you to your competitors.
You know your customer's needs, and yes, your product may fulfill these needs, but why should they get this product from you?
Great content at this stage makes all the difference. It's all about building trust.
See what is already working for your competitors
Use the Market Explorer tool to provide a broad idea of the competitive landscape and the top players you're up against.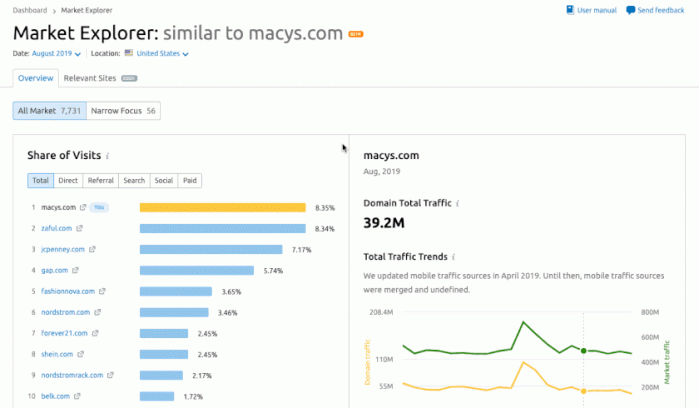 Combine Market Explorer with the Traffic Analytics tool to map your competitors' traffic sources. Identify the best performing content to learn from those insights and create your content.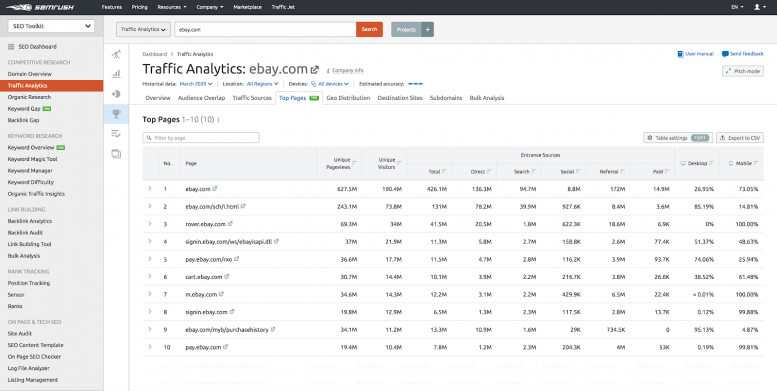 Keep your audience engaged
A great way to uncover niche topics and find out your audience's questions with precision is to use the Keyword Magic Tool.
Here are some of the most popular marketing tactics for the MoFu stage:
User-generated content on social media provides valuable brownie points for your brand; influencer posts like product reviews or unboxing and trial videos build trust.
Optimize pages on your website that portray your mission statement and your team members. Optimize product descriptions using keywords.
Use case studies and reviews to support further how past customers received your products and services well.
Regular and targeted emails can help you gradually encourage more engagement.
Content marketing that focuses on ebooks and whitepapers provides added value for your audience (especially B2B) and engages them for longer.
BoFu: The Purchase Stage
The goal is conversions and directing traffic to your cart to make a purchase.
The BoFu stage leads with high purchase-intent reach. At this stage, customers know what you have to offer; you are just convincing them to click 'buy.'
Clarity is of the essence. 
There is no need to beat around the bush at this stage; it's OK to use more sales-y language. You need straightforward CTAs (call to action) to reduce friction during checkout. Remember to mention that you're ready to help your potential customers at any given point. 
Find out where you might still have issues to solve in your checkout process. Where does your traffic not flow through and why?
Eliminate friction and communicate clearly
Use the Organic Traffic Insights tool to analyze data such as click-through rate, sessions, bounce rate, and organic keyword volume.
Identify friction ahead of time
By using Traffic Analytics and Market Explorer, you gain full access to historical traffic data, finally assessing and drawing conclusions about demand fluctuations and what causes sales decreases. 
Here are some BoFu marketing tactics to help you bring home that sale:
An inventory of your existing content and your customer journey mapping allows you to place the right content on the right page.
Optimize product descriptions so that all necessary steps to purchase are very straightforward: provide in-depth product and shipping information.
Free product trials and demos get people to start using your products before purchasing them and pushes them one step further along the sales funnel.
Sales techniques that create a sense of urgency or an idea of scarcity, e.g., 'only limited stock available' or advantageous price offers with a limited time frame, are very effective. 
Use remarketing to target people who interacted with your brand by visiting your website but left without making a purchase and bring them back into the marketing funnel.
Beyond Conversions: The Loyalty & Advocacy Stage
As we already said, retention is more important than conversions.
Loyal customers who repeatedly come back to make a purchase are more profitable in the long run than a one-time customer. Building a returning audience requires a long-term strategy and inside knowledge of your specific market and customers. 
At this stage, do not focus on selling but relationship-building.
Focus on building relationships
Apart from providing regular information to loyal customers via newsletters informing them of offers and discounts, one key tactic to support advocacy is referrals.
Identify your most loyal clients online and reach out to them to turn them into advocates. Encourage them to refer new customers to you.
Invest in referral programs to encourage customers to leave reviews, maybe by hosting a contest or giveaway that requires them to do so.
Use storytelling to make your customers feel part of your fanbase: invest in affiliate links and social media campaigns.
Employee advocacy programs will also support your storytelling. Your employees' opinions and posts about the company are more impactful than advertising. 
Once you've invested in referrals, remember to track referral traffic to measure impact with the Post Tracking tool.
Find Out More About Semrush's Market Explorer Traffic Analytics Today
The heart of digital marketing is to develop positive customer experiences. Tools like Semrush enable marketers to listen to their users finally.
The Market Explorer tool and similar competitor research tools break down all the information you need in convenient and easy-to-use reports. Start conquering your market today with a healthy mix of strategy and research tools.