As a social media professional, how often do you feel a sense of accomplishment at the end of your workday? If your answer is 'often,' you are good. If not, let us guess why: there are plenty of little tasks (like content planning, responding to mentions, tweeting) that leave you no time to focus on your strategic goals.
SEMrush's social media team was once faced with the same issue. And, that is exactly why we decided to create a dedicated social media management tool to make our social routine less time-consuming. It took only half a year for our amateur tool to grow into a comprehensive social media posting and analytics platform! 
In this guide, we will look at the steps you can take to automate your social media posting schedule on Facebook, Twitter, Instagram, Pinterest and LinkedIn with the help of SEMrush's Social Media Poster.
Set Your Social Media Posting Schedule and Goals
In our previous article dedicated to SEMrush's Social Media Tracker, we learned step-by-step how to analyze your competitors' social media activity. So by now, you should have more clarity as to how often, how much content, and what type of content you should be posting to stay ahead of your competition.
It's now time to get started with social scheduling.
Connect your Facebook, Twitter, LinkedIn, Instagram and Pinterest accounts In our post scheduler, and select the pages you wish to post to. You can always switch between your pages and profiles in the top left corner: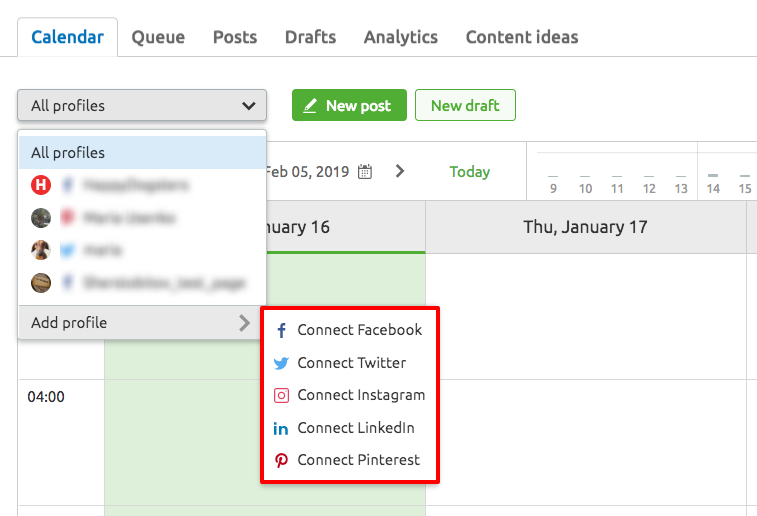 By default, the posting tool will set a goal of 4 posts per day for each of the social networks, but you can alter this in your settings: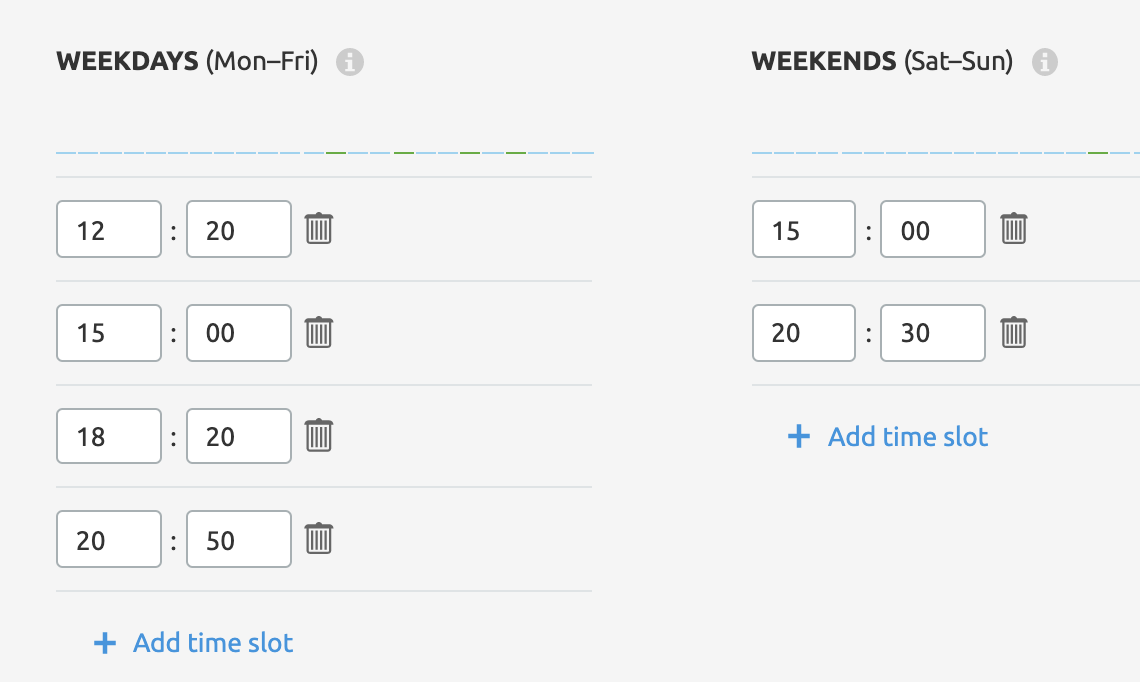 Having a personalized posting schedule in your social media content calendar is very convenient since you won't have to think about how much you have already posted on a particular day or when to schedule your next social media post.
You can always check to see to what extent you are aligned with your goals by looking at the colored bar above the calendar:

Schedule Your Social Content
To schedule your social media post, click on any time slot and complete the posting wizard with information about it.
Shorten Your Links​
​​​​​The link you insert will automatically be shortened with a built-in Bitly URL shortener. You can always un-shorten it by clicking the 'Unshorten' button. 
Add UTM Parameters
You can add UTM parameters to your links, such as campaign name, campaign medium and campaign source. The latter gets pulled automatically, depending on the social network you are posting to. Alternatively, you can set the source value manually: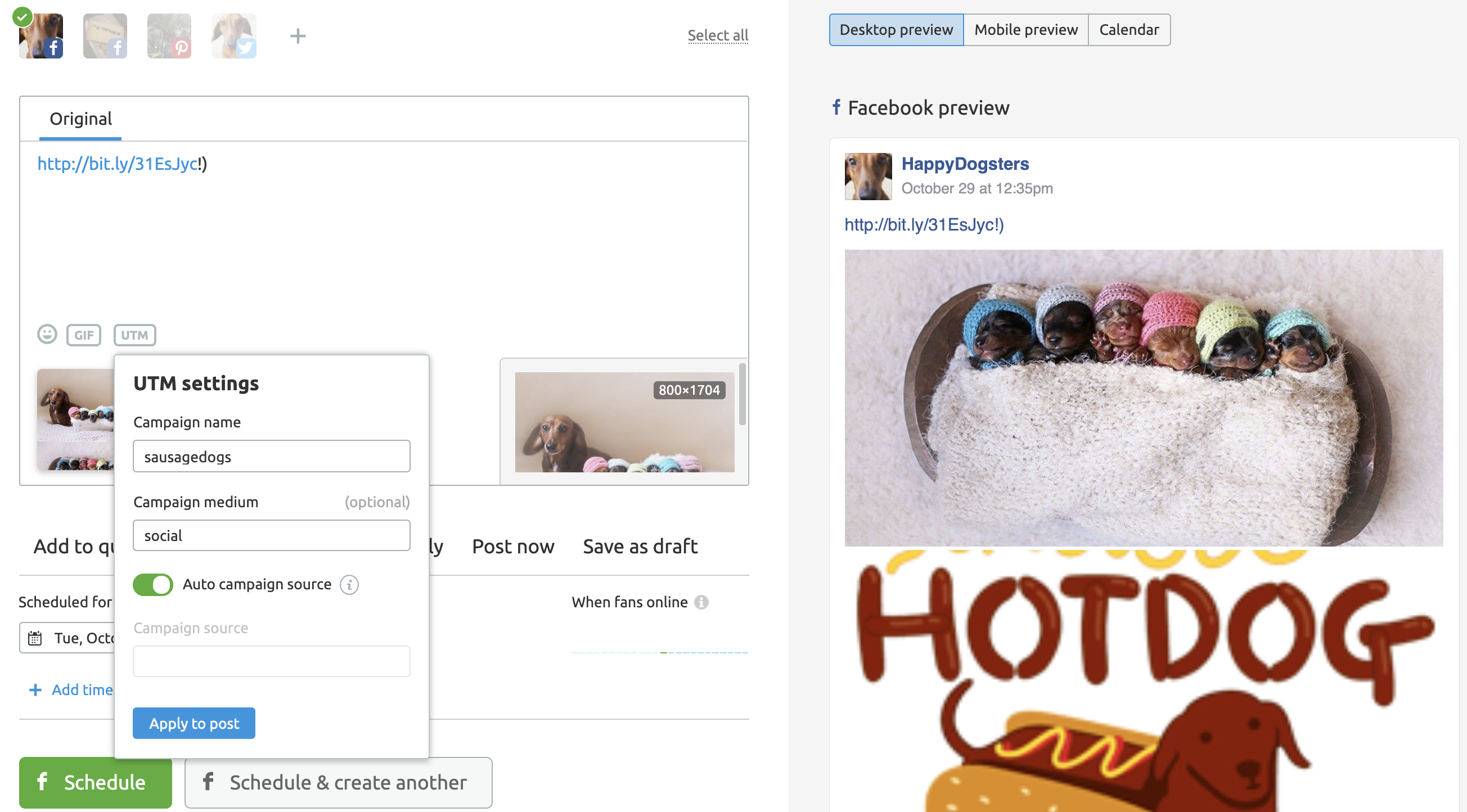 When scheduling posts on Twitter, don't bother counting characters for each line of your text. The tool has a built-in character count for Twitter posts, so if you go beyond the limit, it will let you know with a red highlight: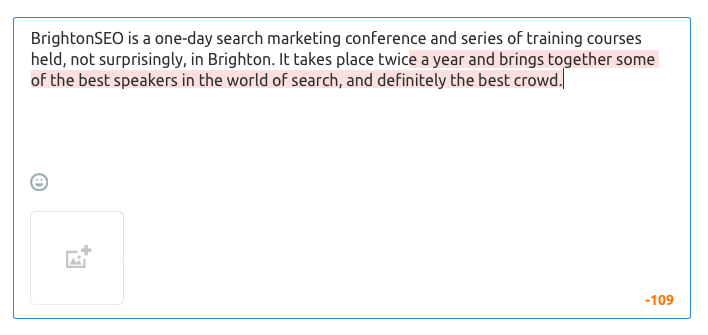 Add and Edit Images 
If you enter the post's URL, the tool will pull pictures from it. Select the pictures you want to go with your post by clicking on them.​
Use our built-in image editor to edit and resize your images right in the posting window. You can do everything from adding a text overlay or a sticker, using a filter or drawing onto any image, or reshaping or crop your images to fit the right dimensions for social sharing, including 4:3 and 16:9 formats.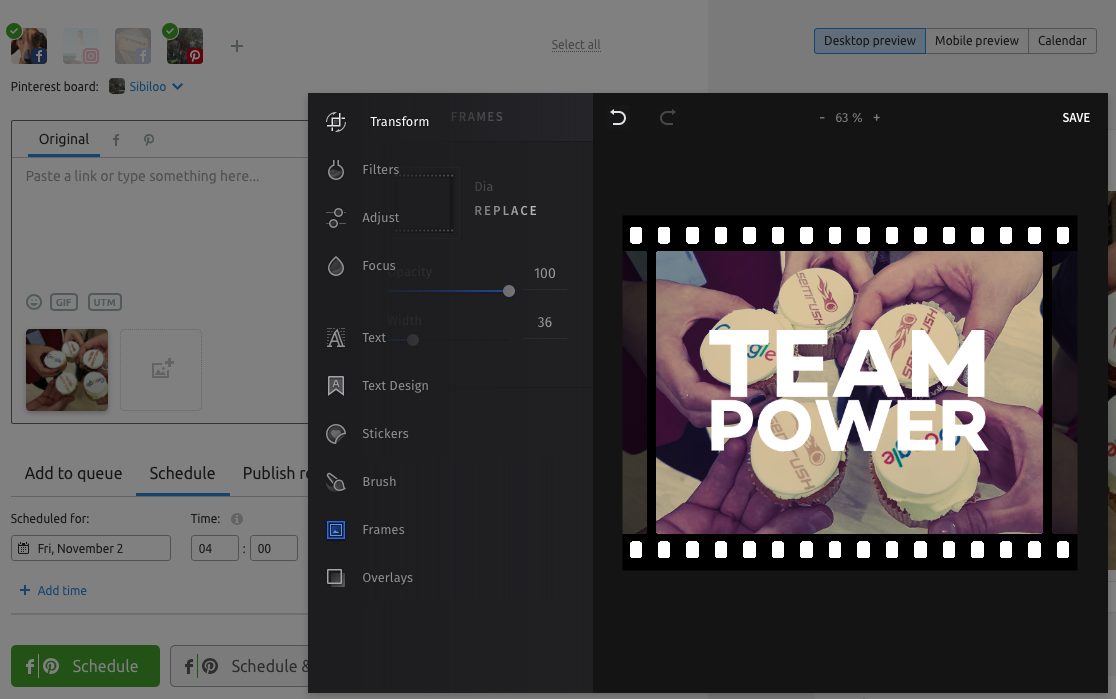 Choose the Best Time to Post on Social Media
The tool provides you with five different options for scheduling your social content:
Add your post to the queue, in which case it will be scheduled for the next available time slot per your schedule settings.

Schedule the same post for multiple dates/times (especially those that perform well).

Schedule your post to be published regularly.

Сhoose 'Post now' for your article to go live within the next few seconds.

Save posts as drafts to edit and publish later. 

The 'When fans online' feature allows you to see when your Facebook followers are most active and schedule your posts accordingly.
Play Around with Your Social Schedule
You can easily move your posts to another time or date using the drag-and-drop feature:
Whether you like to plan your social media content calendar for months or weeks ahead, the tool can help you with both: by switching to the 'monthly view' in your content calendar, you can view and plan your social media posts for a month ahead: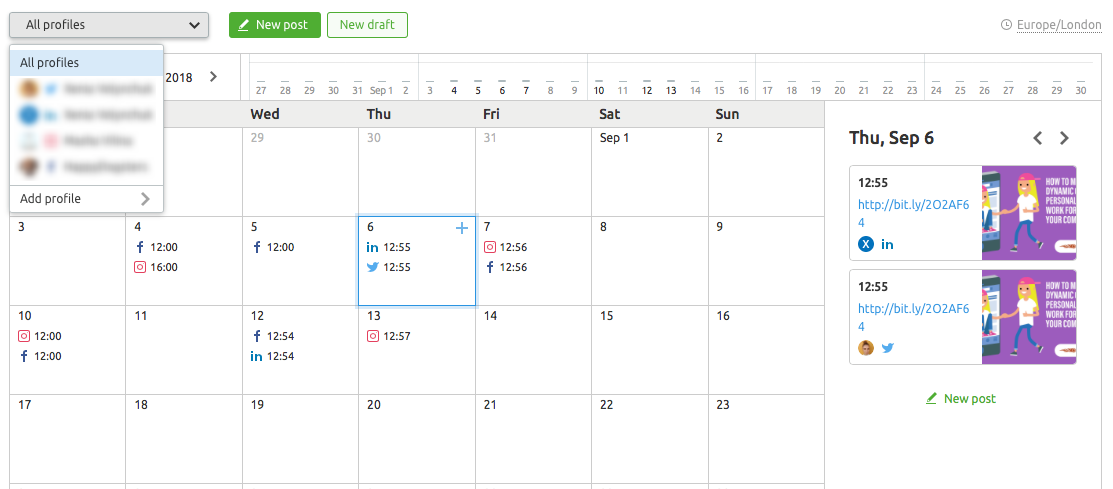 If you are more of a 'list' kind of person and prefer seeing your social media posting schedule organized into a list rather than a calendar, switch to the 'Queue' view option: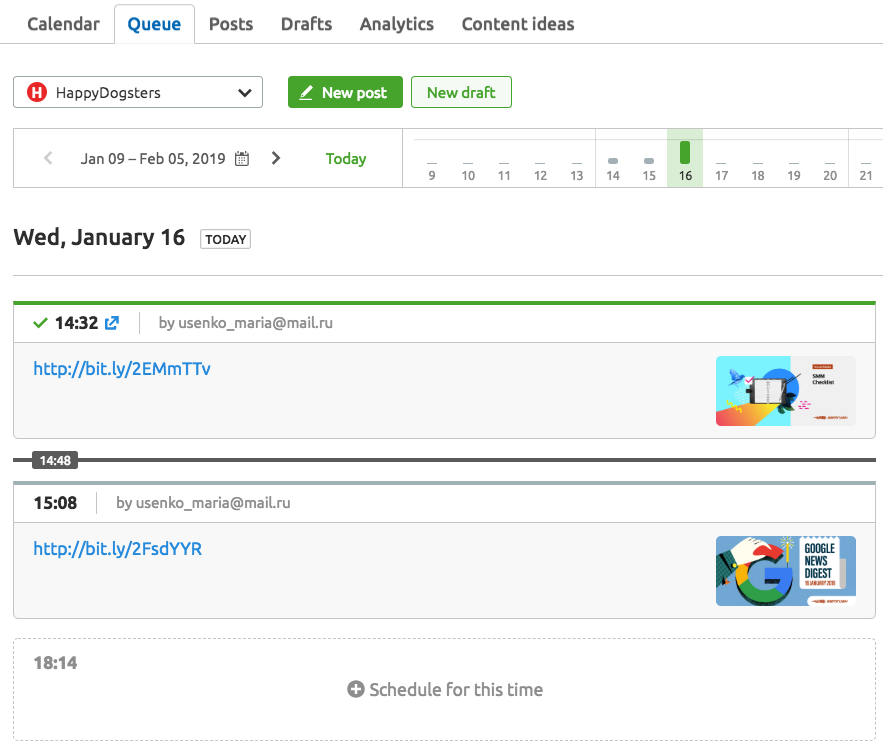 Create Drafts
Any cool idea that you might be nurturing but don't have the time to finish just yet, can be saved as a draft. Being able to save your post as a draft is also great when your text is ready, but you haven't found an image to go with it, or don't have a link for it yet.
You can set a reminder for when you would like to come back to the draft, and when the time comes, we will notify you that it is awaiting completion.
You will be able to see your draft posts in the posting calendar along with other scheduled publications or in a separate 'Posts' tab. That way, you won't forget about them:

Don't worry: a publication marked as a 'draft' will never go live without your permission. To publish it, you will need to open it and hit the 'Schedule' button.
Diversify Your Social Content Feed
There should always be a healthy ratio between the internal and external content that you post. Whether you want it to be 70:30 or 50:50, it should depend on your strategy as well as on the community you are targeting. The more diverse the community, the more external content you should include in your publications.
Use the content curation feature to find great social media post ideas from your favorite RSS-feeds and share them easily.

If you can check when your social audience is most responsive, do so and make sure you are hitting those time slots with your product content.
Boost Your Posts
Use the 'Boost' button to promote your best-performing posts: it will bring up an ad campaign, where you need to enter in the campaign goals, set a schedule and budget, and define your audience.
Analyze Your Facebook and LinkedIn Performance
To avoid having to go to your Facebook and LinkedIn pages several times a day to track new likes, unlikes and your audience growth, use the 'Analytics' tab, which will provide you with a quick overview of your page's performance:

Social Media Poster Extension
Our posting tool now has a Chrome extension, which adds an additional time-saving element that we all need.
Whenever you find something your followers would find valuable or somewhere you have been mentioned, you can post it to all social media at once with one click. Just like in the tool itself, you will have the option of posting immediately, scheduling for later, or saving your post as a draft.
For the posting wizard to pop up, choose 'Share via Poster' on the right click menu or click on the extension icon in the top right corner of your browser.
The tool will automatically pull pictures from the article you are going to post, and you can also write a message to accompany it: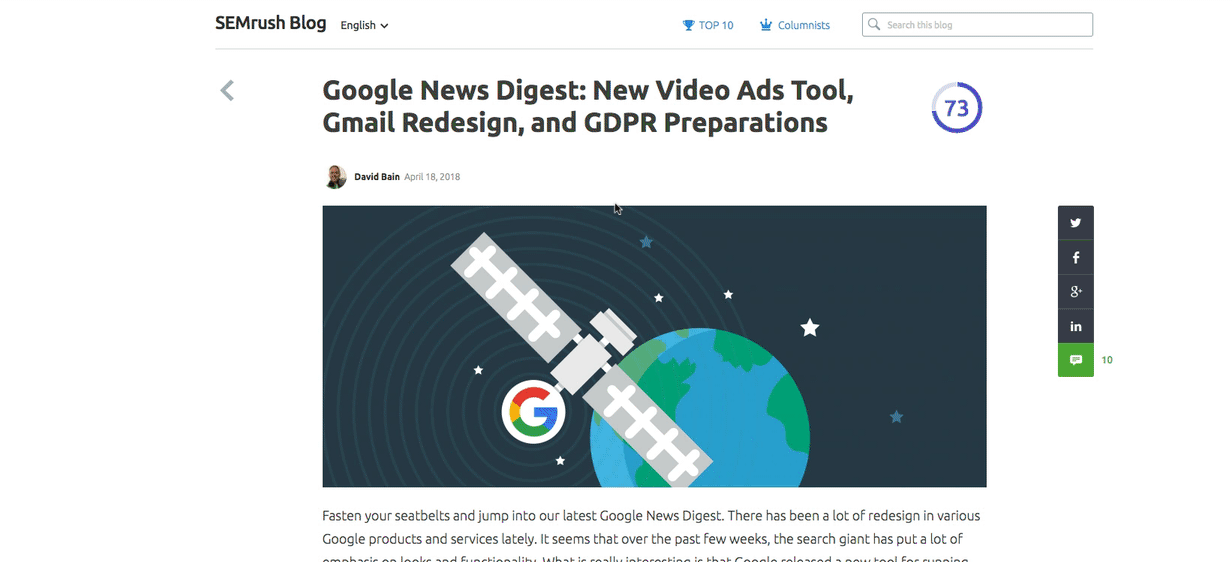 Social Media Poster extension
If you don't want to share the whole article, you can choose to post only the selected text: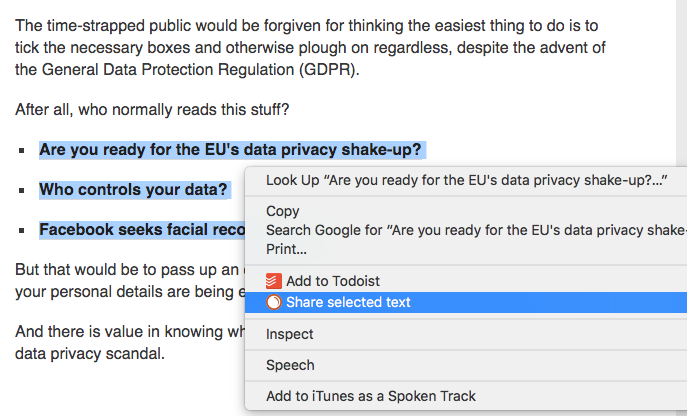 The same goes for retweeting - just click on the extension icon below a tweet: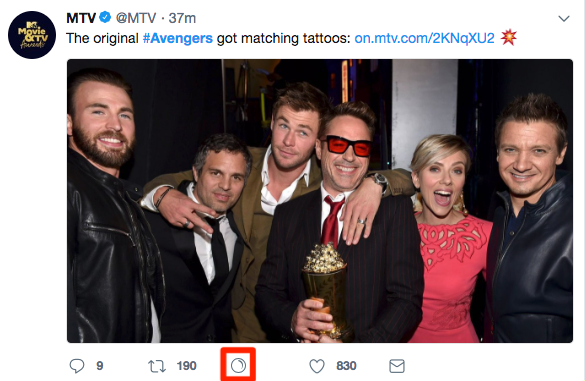 And did you know you could schedule a retweet for any time you want, add it to your preset queue, or multi-schedule those tweets that will stay relevant for some time?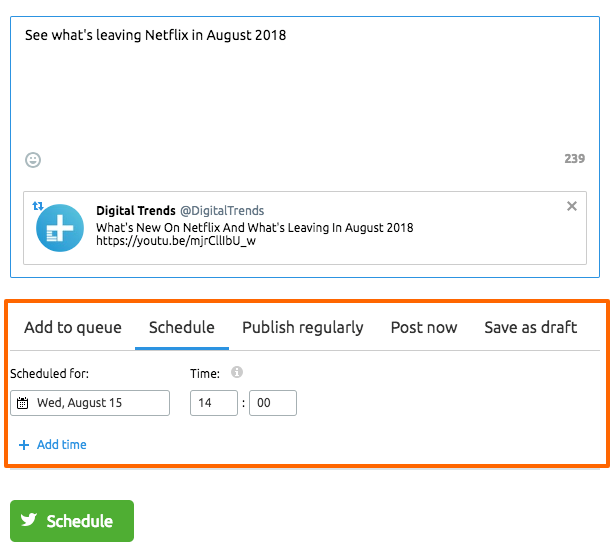 Why learn to streamline your social posting?
We believe that having a social media posting schedule is the art of planning your social activities in such a way as to achieve your goals in the time you were given. If done properly, you will be able to:
Spend more of your time being creative.

Allocate your budget and human resources wisely.

Prepare for major marketing campaigns and special occasions in advance.

Deal with urgent matters without having to abandon your other duties as a social media manager.
With the Social Media Poster, you can schedule your posts months, quarters and years in advance. Once your social scheduling becomes automated, you will be surprised by how much free time you all have left to think about more serious stuff!
Tell us what you think about the Poster in the comments below.