If you work on a team, you know the difficulties of planning and organization. They say teamwork makes the dream work but when your team is out of sync it is a living nightmare.
Benjamin Franklin once said: "For every minute spent in organizing, an hour is earned."
We totally agree; that's why SEMrush built the Marketing Calendar tool, aiming to help marketers solve their planning and collaboration problems efficiently and get more work done, faster.
In this article, I will show you how to use this tool to:
Organize your marketing plan in one unified calendar,

Simplify your collaboration with colleagues, and

Automate your routine work.
So, let's get straight to the details.
Organize Your Marketing Plan in One Place
To start planning, just go to the Marketing Calendar and click on the 'Create your calendar' button. That is it; your calendar is ready to work with.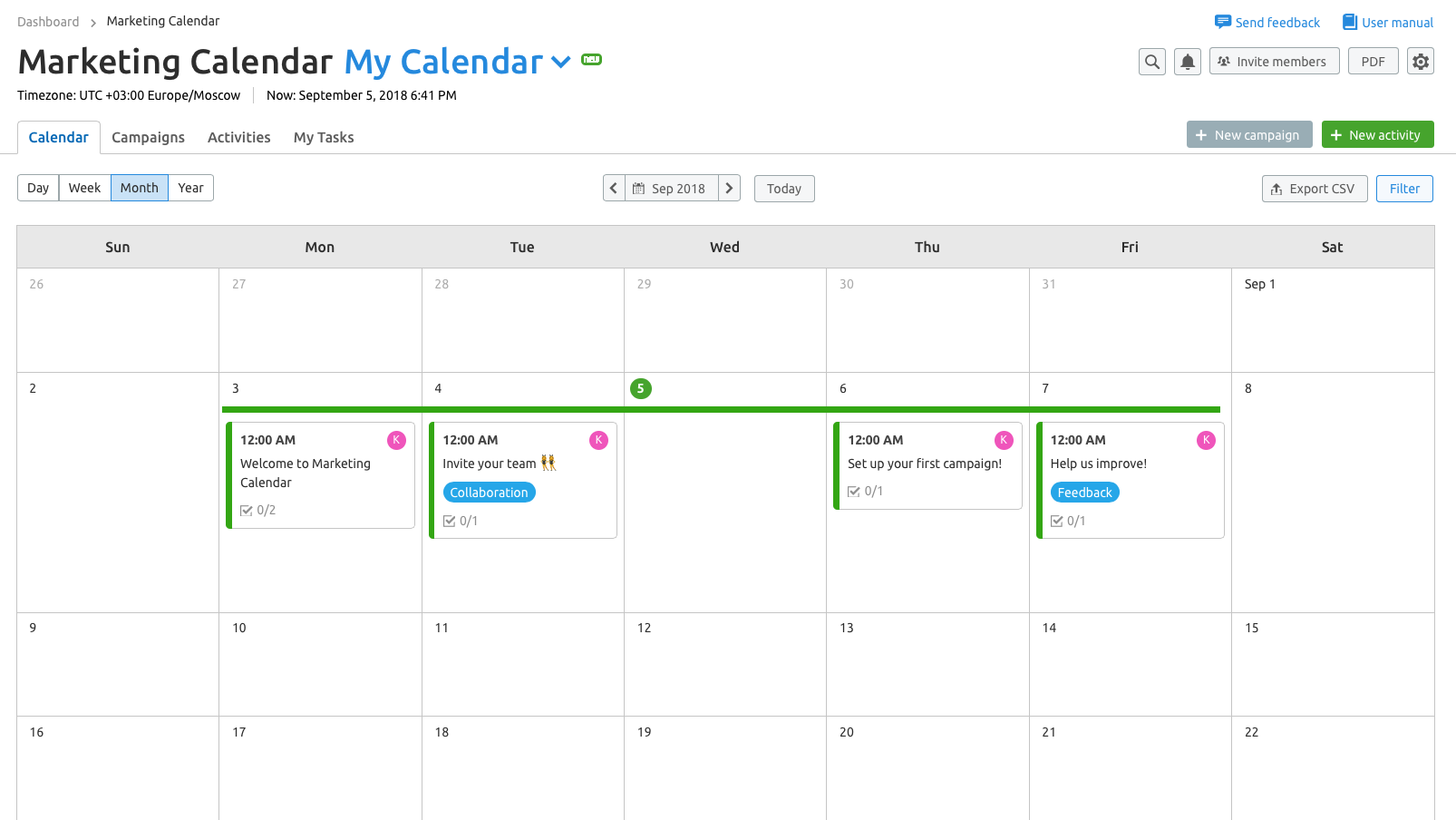 From here, you and your teammates are able to manage your content strategy by setting goals as well as tracking your project's progression, create editorial schedules, or tailor workflows to specific business goals.
Plan and Manage Your Daily Work Tasks
1. Create a campaign
To create your first campaign, just set the name, color, and time period.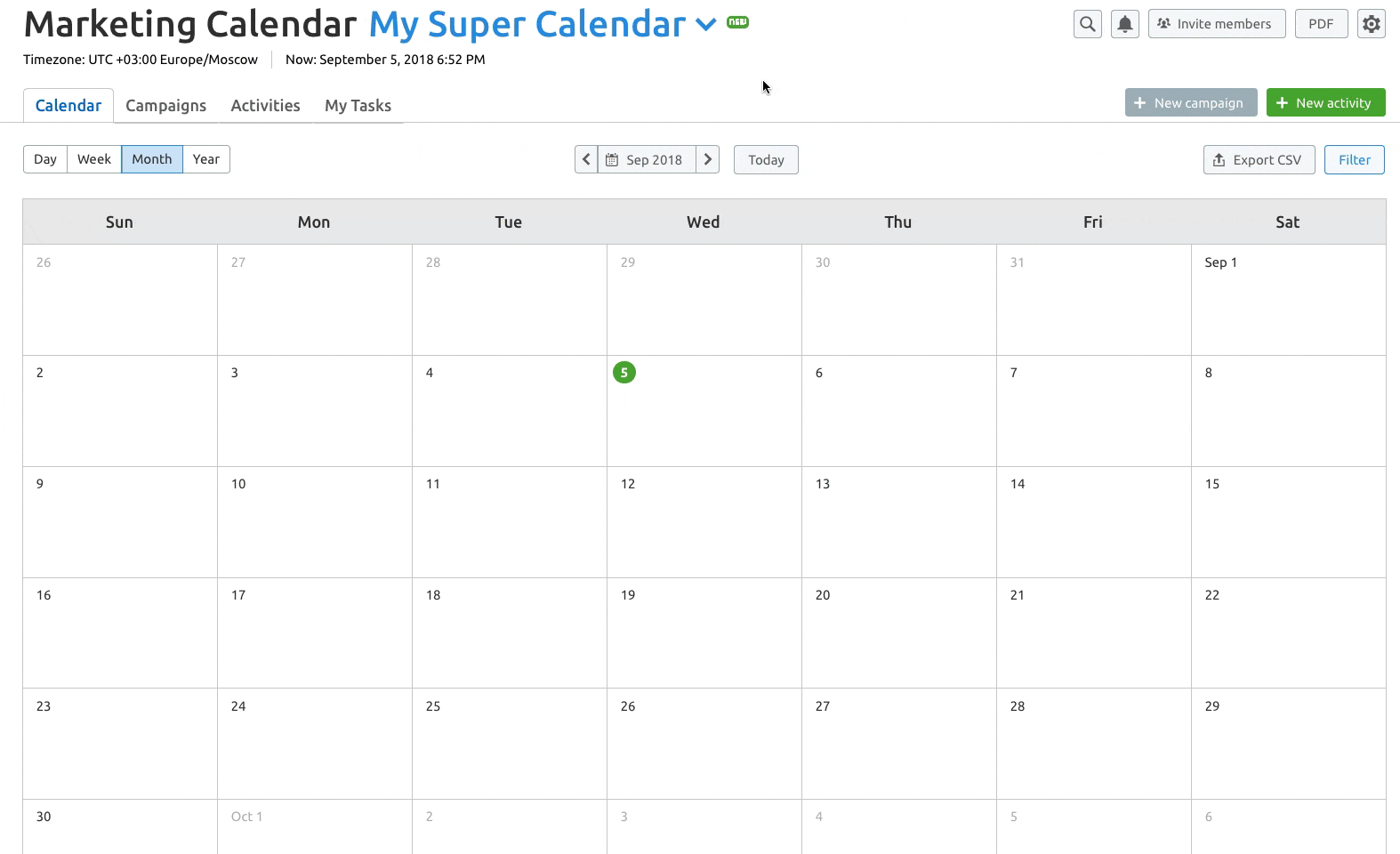 You will now see your campaign's time frame indicated on the calendar with its dedicated color. You can click on that color bar to edit the details of your campaign later.
Next, move on to creating and managing your campaign activities.
2. Add activities
Activities are the building blocks of your campaigns. You can use them to plan weekly deadlines and goals, and share files and to-do lists with your team. Activities are grouped under the campaign level.
To create an activity, click on any date in your calendar or on the 'New activity' button in the top-right corner. Then give it a name, choose your campaign and set a deadline.
To manage the activity and collaborate on details with your team members, click the "Open in Editor" button.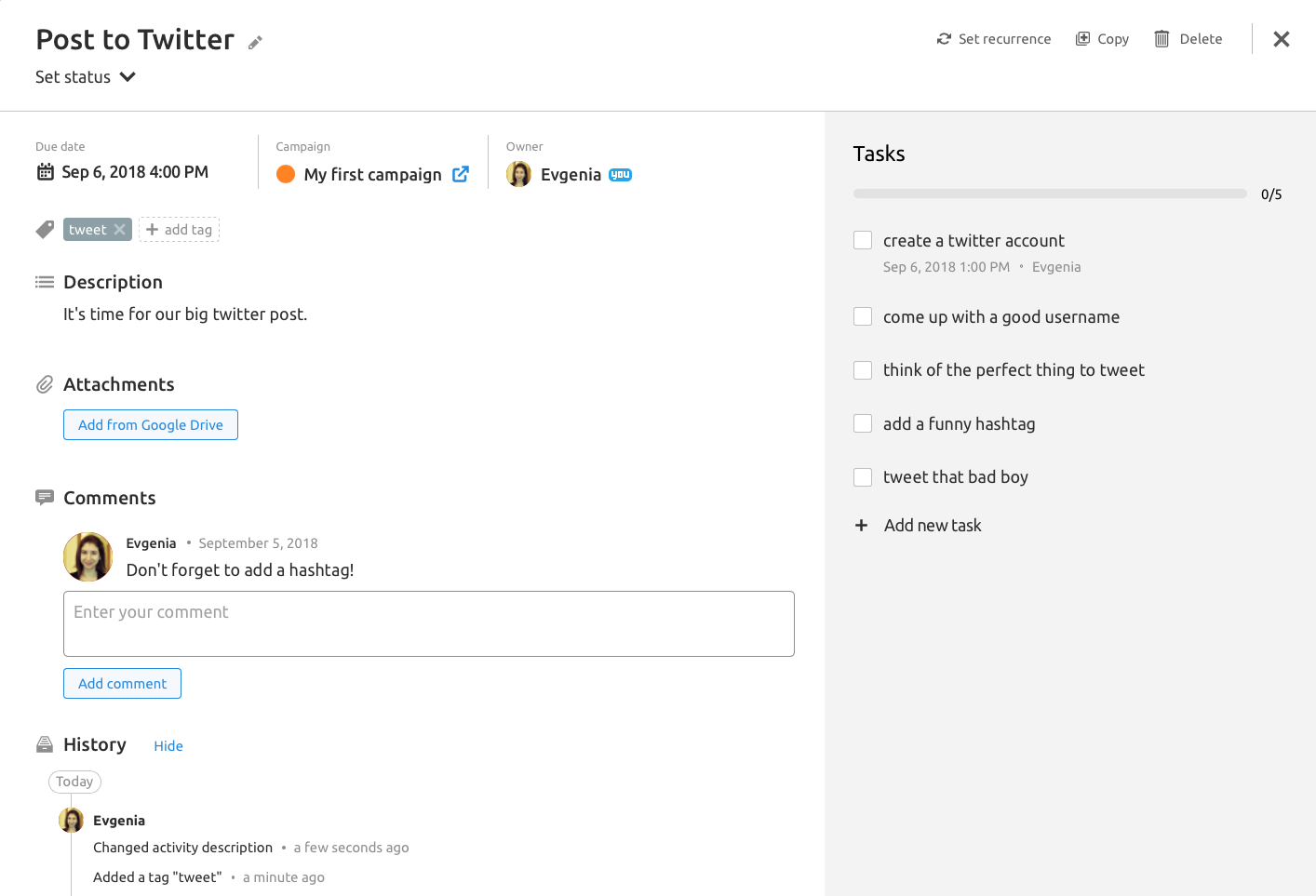 Here you can add specific tasks, attach relevant documents, add tags to organize your activities, set due dates, and assign team members to certain tasks.
If you already manage your plans in a Google calendar, you can import that calendar's data to sync with our tool as a .ICS file.
Track Your Project Progression
1. Set working status
When an activity is in progress, requires approval or is complete, it can be noted with the status icons directly under the activity name.
These marks help your team stay on the same page about the status of your campaign activities.
Remember, as you make updates to the activities and tasks in your calendar, any changes will be displayed to your teammates in real time after they receive access to your calendar (but we will get back to that later).
You can track your activities' progress in the 'Activities' tab.

The handy filters will help you find an activity by its name, owner, campaign or status.
2. Set tasks and mark when completed
Going back to your activity, at the top-right you can set tasks, create a checklist of steps to complete for the item, and specify deadlines and assignees for them. Tasks are grouped under the activity level.
To allow you to track task completion, just check off the tasks you've finished.
Access the 'My Tasks' tab to see tasks that you've completed and those that are yet to be completed.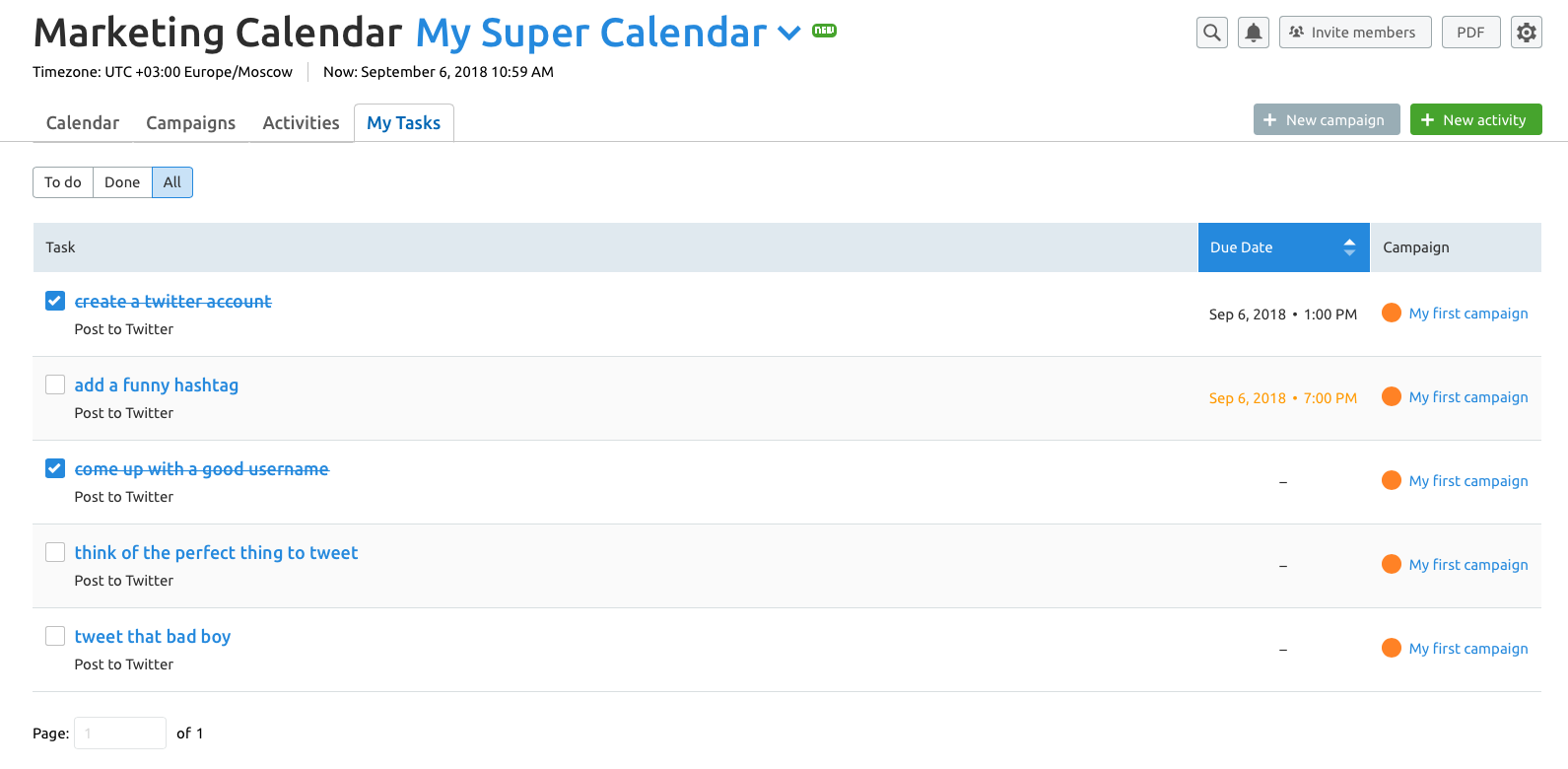 Your tasks will show up in a list labelled by their due dates, corresponding campaign, and activity that they contribute to.
Track Your Campaign Performance
1. Connect your Google Analytics account
Go to the 'Performance' tab in your campaign and click on the 'Connect GA' button. Enter your details and specify your UTM campaign.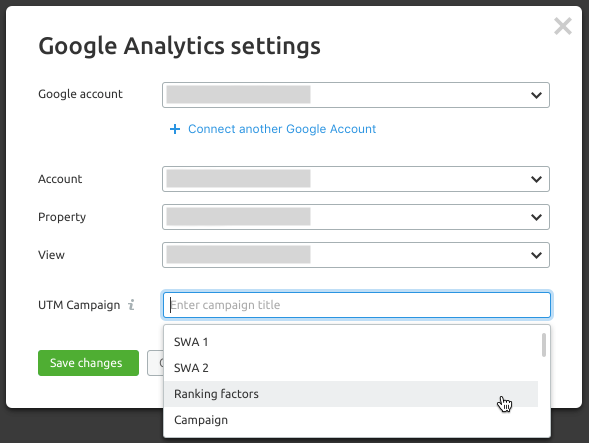 Adding this data allows you to quickly assess how your completed or active campaigns are going, and immediately react by adding or changing your planned activities.
2. Assess your performance results
The Performance report will be filled with your campaign traffic data from your Google Analytics account and UTM you specified.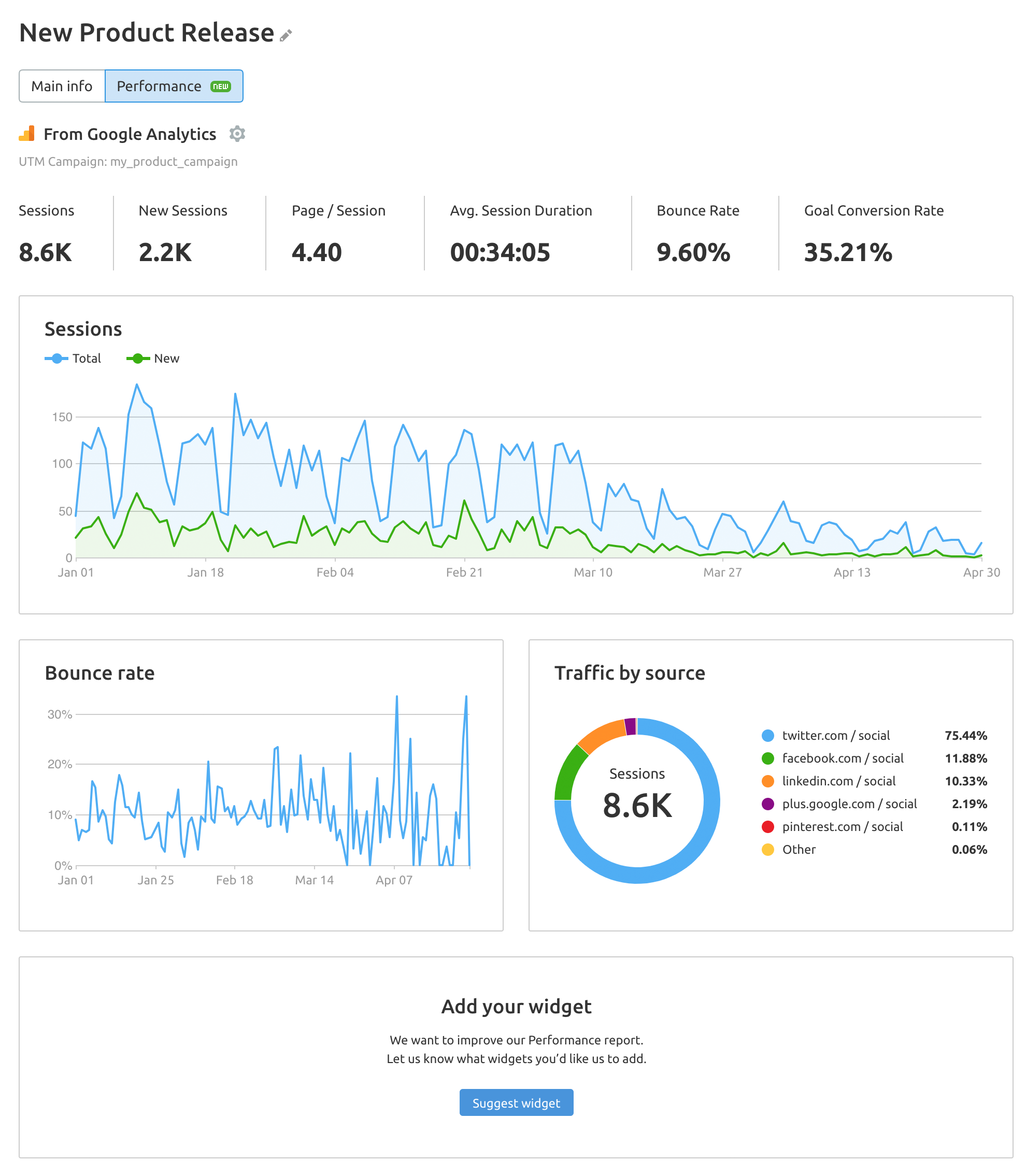 This way all your teammates that take part in your campaign can access the performance results and adjust their future plans accordingly.
The feature also lets you easily share your results with your boss or clients.
Simplify Your Marketing Team Collaboration
Have you ever missed a deadline or had a project fail because you and your teammates were not on the same page? Marketing Calendar was created to save you from repeating this mistake ever again.
Invite Your Colleagues to Work in a Unified Calendar
Now it's time to give your colleagues access to your marketing calendar. If you have a paid SEMrush subscription, you can share your calendar with an unlimited number of people who have a free SEMrush account. To do so, click on the 'Invite members' button in the top-right corner and type in your colleagues' emails, and they will receive an invitation.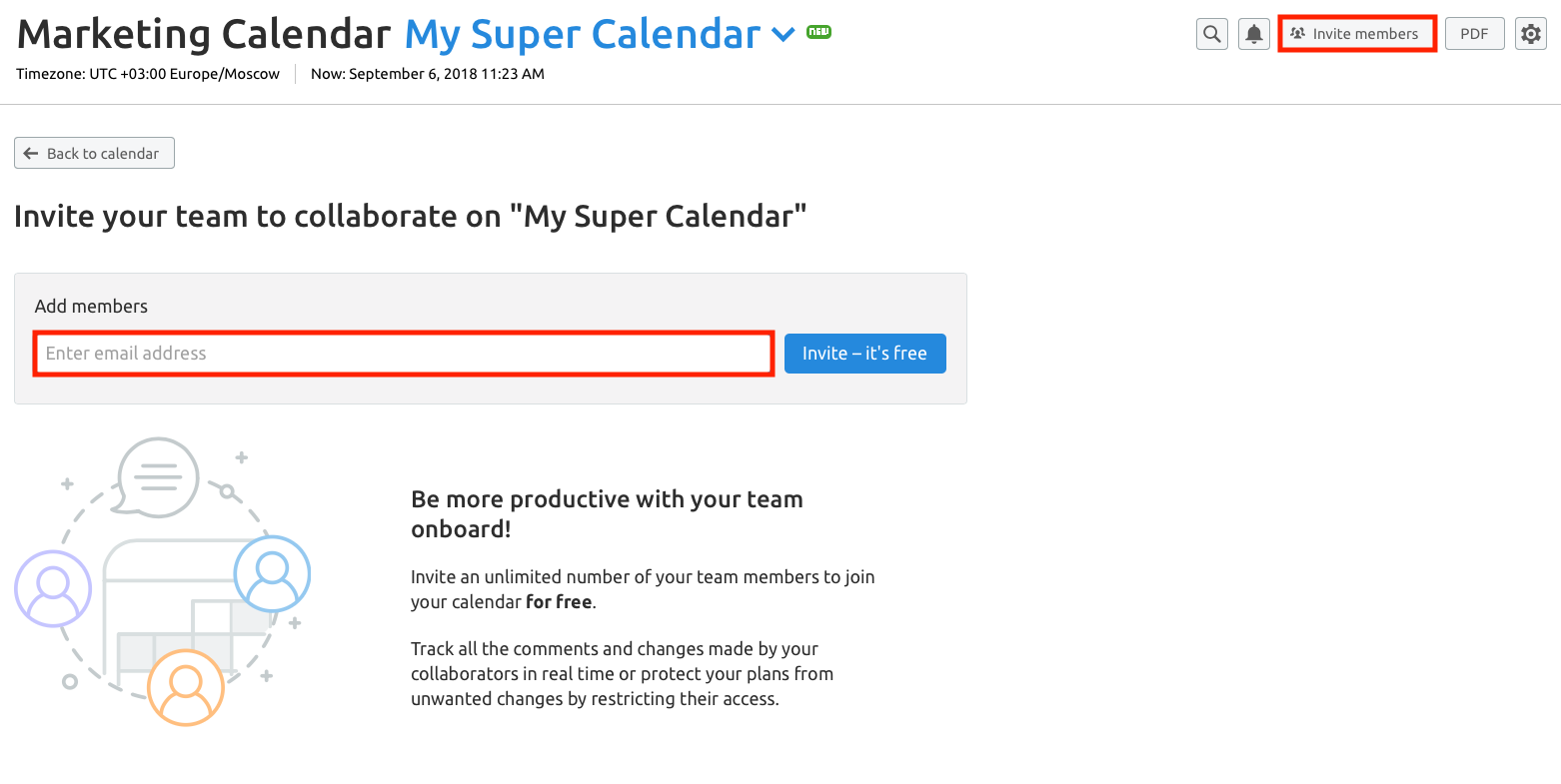 After your teammates have accepted the invitation, they can now add their new activities and tasks or edit any existing items on the calendar whenever they want.
If you are using our business plan, you can share your calendar with read-only access.
Sharing is automatic and real-time responsive, so your team will always be as up to date as you are.
Assign Tasks to Your Colleagues and Track Their Completion
Once you have tasks written into your plan, you just have to assign the task to a team member and they will receive a notification in their email inbox and within Marketing Calendar as well.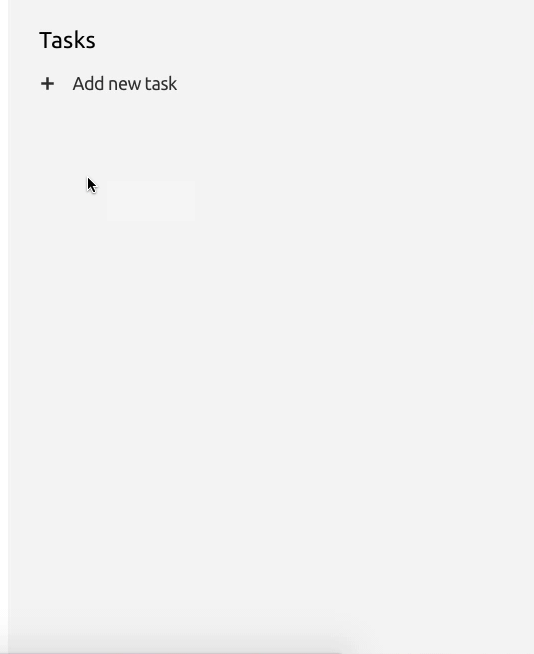 In the notification they'll get a link to review the activity so they can get straight to collaborating. Easy, right?
The same way as you track your task progress, you can also keep track of your colleagues' work in the 'Activities' tab.
Be on the Same Page as Your Colleagues
Use activity description and comments to put your colleagues in the loop. For faster notification, type @ to mention someone in the comments.
All changes made by you or your campaigners are displayed immediately, so you can collaborate in real time without any barriers.
Automate Your Routine Work
To save you some time we've embedded several handy features that will make your routine work easier.
Streamline Reporting
You can export all your activities to PDF for quick reporting. To do so, just click on the 'PDF' button in the top-right corner of Marketing Calendar.
Set Recurring Activities
To make planning throughout the year easier, you can set recurrence for an activity in a few clicks. You can choose to have an activity recur daily, weekly, monthly or yearly depending on your campaign needs.
All you need to do is select the Set recurrence button within your activity.
Reuse Templates
If you have several similar projects, save your campaign as a template and use it again when you need it. A template will include:
a campaign itself (description, title, owner),

activities (description, title, owner, dates, tags),

tasks within activities (due dates, assignees).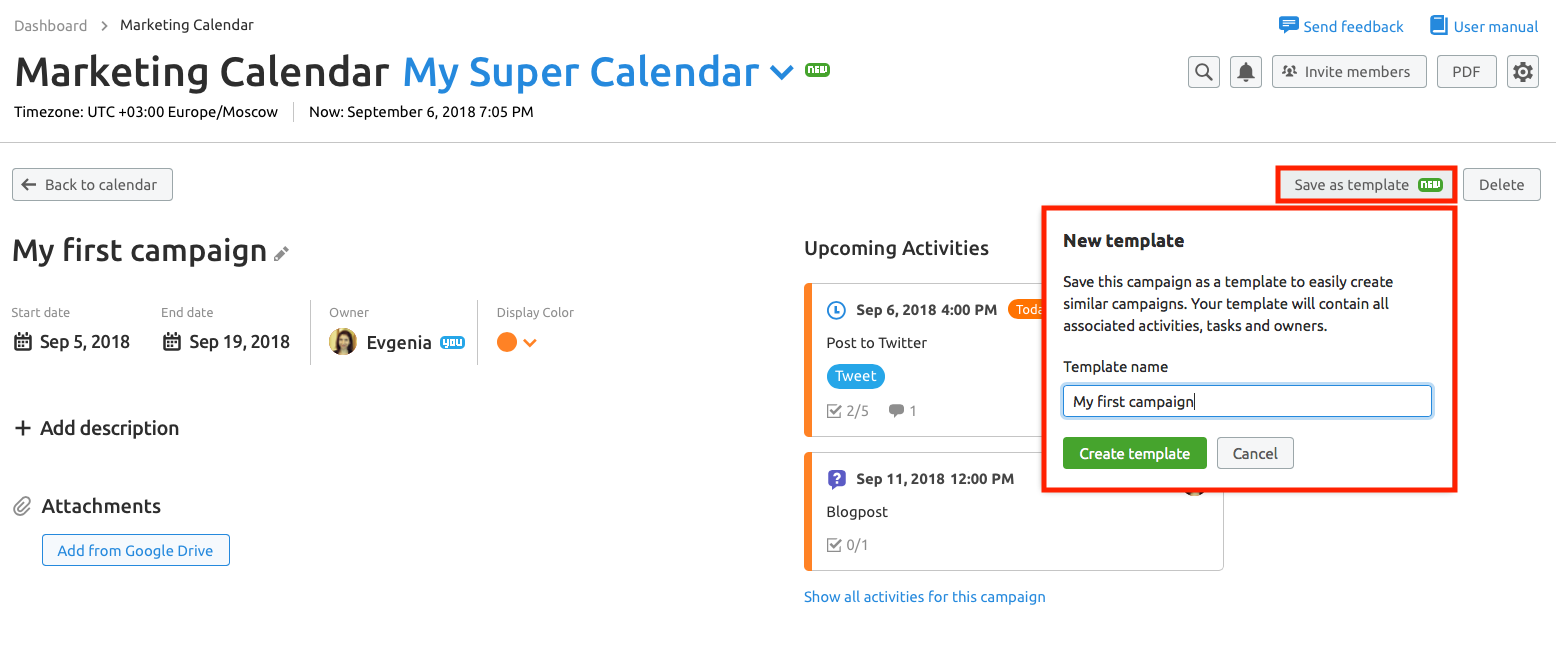 Navigate Your Calendar Easily
1. Set quick access to your content
Marketing Calendar lets you attach Google Drive documents directly to an activity or a campaign. So you can add your project briefs, writers can add their written drafts, or your research team can include spreadsheets with data.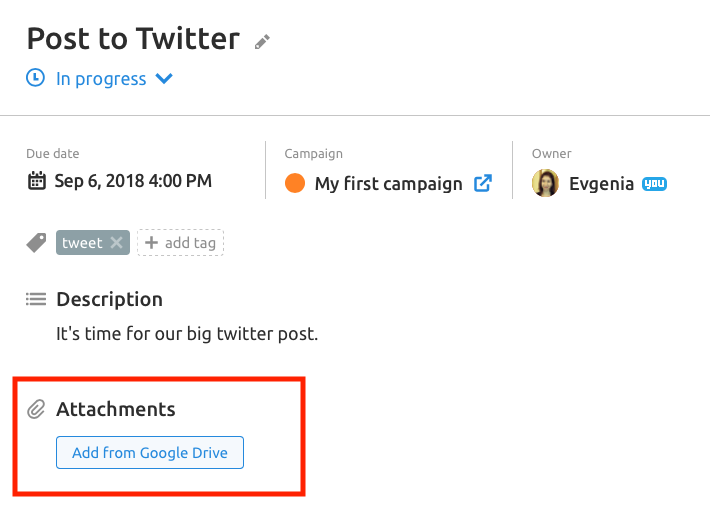 Any of the team members that have shared access on the Calendar will be able to access the documents you've uploaded to an activity, as long as you share the document with them through Google Drive.
2. Keep up with project changes
Each of your activities and campaigns has a 'History' section in the bottom left.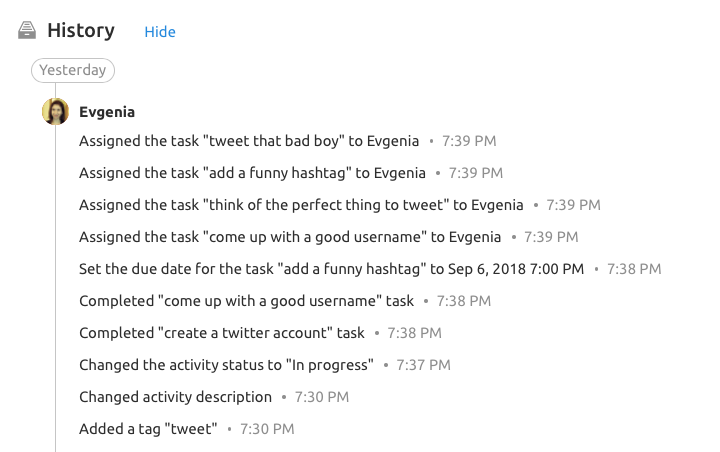 This is perfect for allowing you to stay on top of any changes that were made by you or one of your teammates.
3. Use quick search across the Calendar
You can easily find a task, an activity, or any other kind of data across your Calendar by typing its name in the search bar.

All found items are clickable. Moreover, the tasks have checkboxes so you can mark them as 'done.'
This feature works among all your calendars and also those shared with you.
Conclusion
The Marketing Calendar tool is clear and easy to use, and can be seamlessly shared with all of your team members that also have SEMrush accounts.
If you manage a team that runs digital campaigns — whether content marketing, SEO, PPC, or advertising, using this calendar will save you time and mental stress.
Benjamin Franklin would be proud.
Try it out and let us know what you think! If you have any feedback, write a comment on this post or send us feedback at ec-feedback@semrush.com.