Successful PPC campaigns have two aspects: thorough keyword research and well-planned remarketing ads. While tools like the SEMrush PPC Keyword tool can help you with the former, launching the perfect remarketing strategy can be tough. Which is why, during our latest #SEMrushchat, we invited Michelle Morgan, Director of Client Services at Clix Marketing, to share her insights on improving PPC campaigns through remarketing ads. Michelle, along with our other chat participants, discussed how to remarket ads by focusing on the target audience, plus so much more. Here is what they had to say:
Q1. What are the benefits of setting up retargeting campaigns and using Google Analytics for remarketing?
Remarketing campaigns are an essential staple in all PPC campaigns today. Thanks to the volume of content and the numerous channels available to a potential customer, remarketing campaigns cut through the noise and encourage leads to convert.
Here are some ways it can help create a positive outcome for your campaigns:
1. Create Top-of-the-Mind Awareness
Most customers don't buy from a brand the first time they click on an ad. According to Pair Networks - @pairnetworks, an average shopper needs to be introduced to a brand 27 times before making a purchasing decision. This continuous exposure helps you to build trust and credibility with your lead and, in turn, will encourage them to convert.
2. Encourage Users to Take Action
Retargeting campaigns help you reach leads who have already engaged with your brand, but, for some reason have not converted yet. By repeatedly showing your ads, you can nurture them to conversion.
3. Cross-Selling, Pp-Selling, and Re-Selling
Retargeting campaigns are not just for leads who have yet to convert. Existing customers can also be targeted and encouraged to buy more from your brand; this can be ads for an offer of a product they have recently purchased, ads for a product that is complementary to their recent purchase, and so on.
4. Use Google Analytics to Create Targeted Lists
The effectiveness of your remarketing campaigns is largely dependent on sending targeted messages to your existing customer list; this is where Google analytics can help you.
Using GA, you can get a basic list of the users who engaged with your brand, what their intent is, and what kind of action they took on your site. This information can help you to create segmented lists to send them personalized and custom content that is relevant for their search.
By linking Google Analytics with Google Adwords, you can leverage the lead insights you get from your website to build segmented lists. Though you cannot use Google Analytics data to enhance your campaigns in other channels, you can still use the audience builder to target users on the Google Search Engine, which can be a substantial win for your PPC campaign.
So, remember to link your Google Analytics account with your Google Adwords to harvest the data you generate. Check out Michelle's detailed post on the advantages of doing so and the impact it can have on your campaign.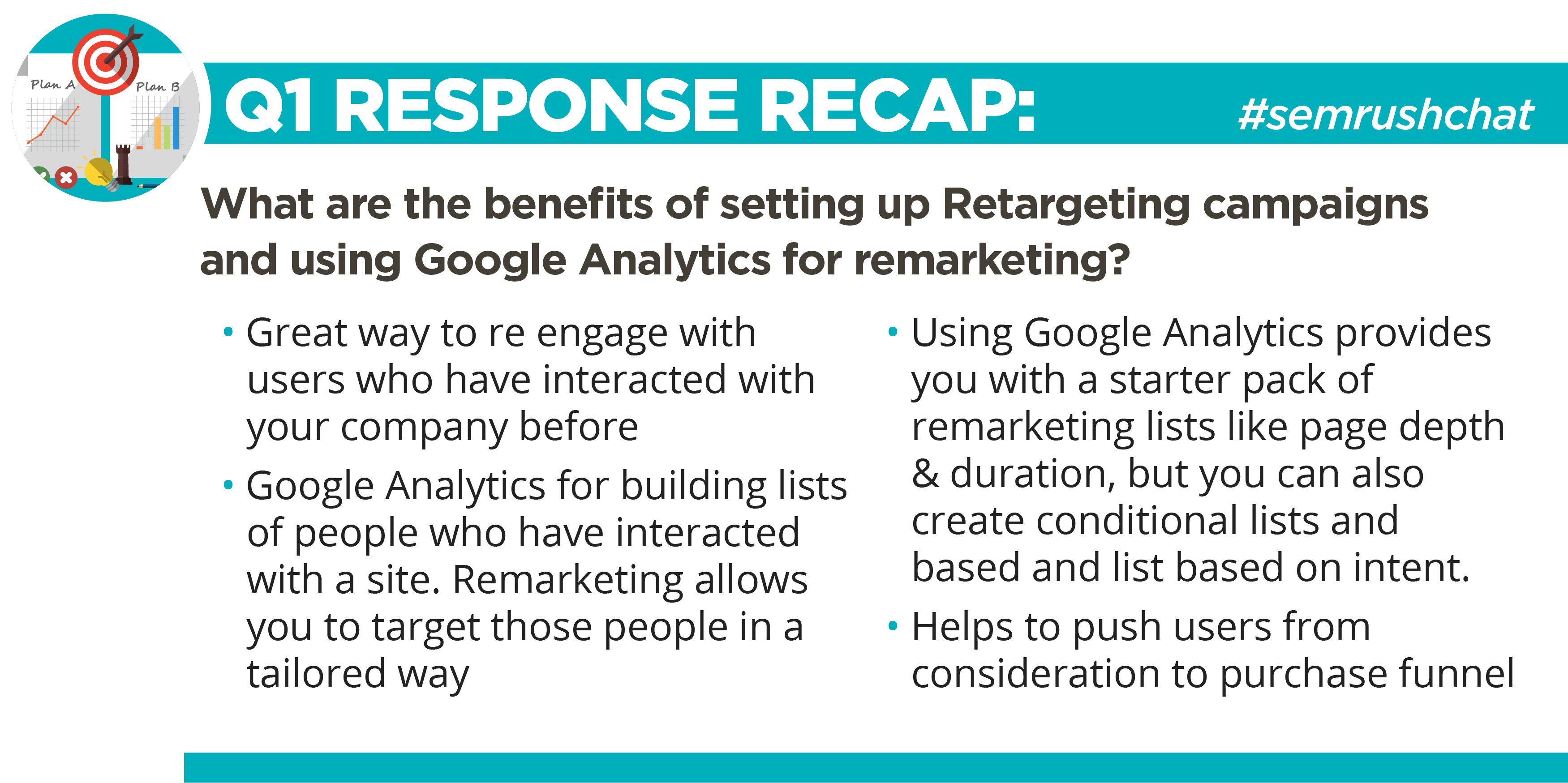 Q2.Is it better to layer RLSA audiences to existing campaigns or create separate campaigns? Why is one better than the other?
Usually, Adwords advises its users to layer RLSA (Remarketing lists for search ads) audiences to existing campaigns and just adjust bids on the campaign level.
Though the decision depends a lot on the industry (and can vary), layering the RLSA audience on existing campaigns can be efficient if the ad message and landing page are going to be the same.
If you are still stuck, here are the two main criteria outlined by our chat participants that can help you make this decision:
1. Volume of the RLSA List
Unless the volume of the list of your RLSA campaign is at least 1000 users, it may not need a separate campaign.
So, start with layering RLSA audiences into existing search campaigns. These could function as observation lists that can tell you the exact volume of leads those lists are generating. Once the volume is high enough, you can easily break them off to separate campaigns.
2. Campaign Level Optimization
Breaking the RLSA audience into a whole new ad group lets you track, adjust, and optimize the settings at the campaign level; this will give you better control of your data, the ad messages, and help make your ads more targeted. You can also create multiple campaigns – one for each list in such a way that the messaging and landing page are consistent, but the user intent is different.
If the volume is not high and the ads you are targeting are not niche enough, then you can continue layering them in existing campaigns, since doing otherwise will consume too many resources. In this scenario, you can leverage bid modify layers in Google Adwords to adjust bidding to lists that don't perform that well.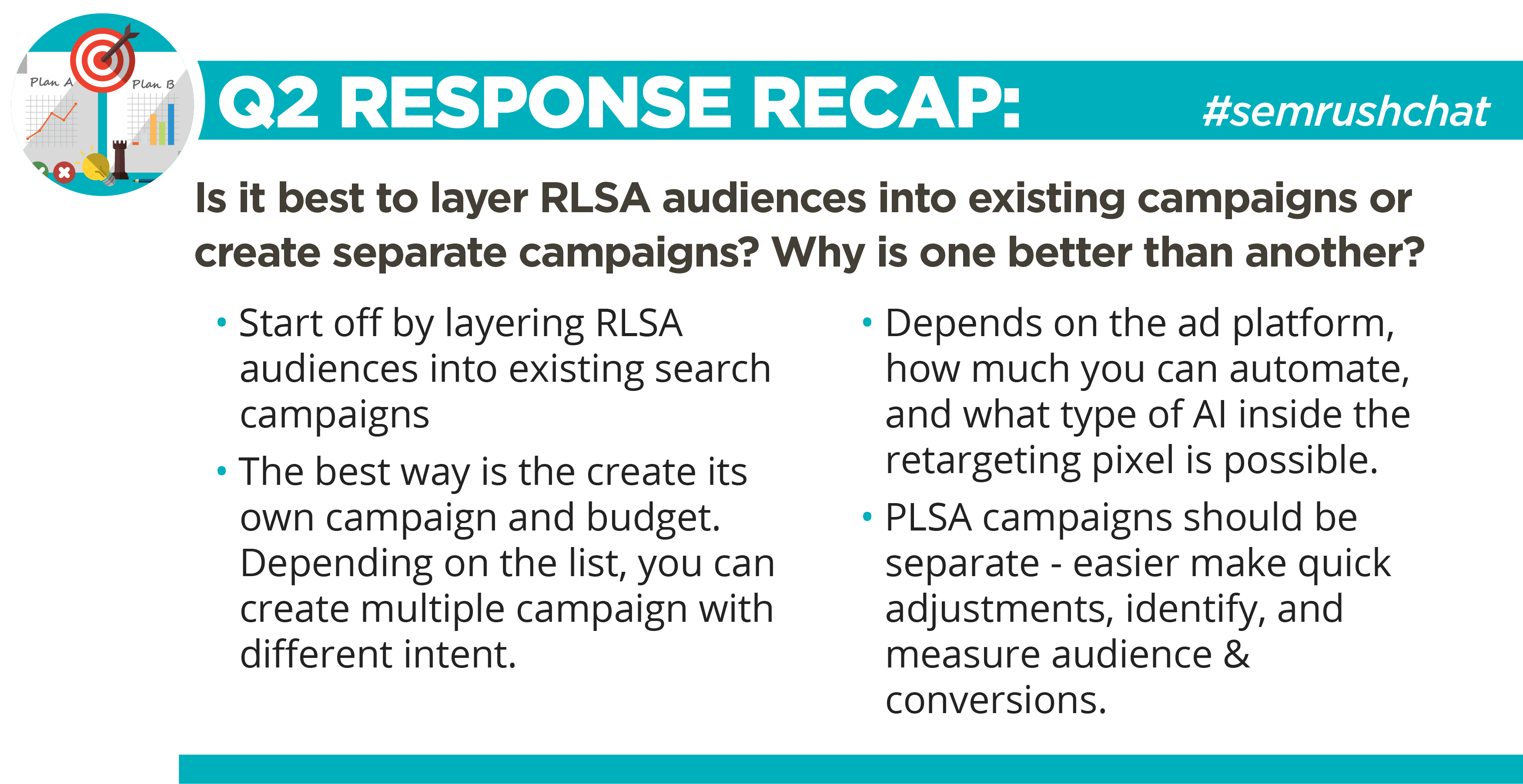 Q3. In your opinion, what is the biggest technical challenge when it comes to re-targeting? Is it more about the quality of data, the underlying algorithm or something else?
Technical challenges, for our chat audience, have been somewhat few and far between. The algorithms and data have not proved to be as much of a challenge as Privacy has, which is the latest obstacle digital marketers are facing today.
Because of the latest GDPR compliance issues and EU regulations, here are some practical problems that can hinder your retargeting campaigns:
List Size
Since a lot of accounts these days require opt-in cookies, it can be hard to populate a retargeting list.
If there are not enough cookie-fires, then there simply will not be a sufficient audience in each list to meet the required channel minimum. With a small list size, it becomes impossible to micro-target the leads and send them customized content.
Balancing Frequency and Effectiveness
While it is not necessarily a technical aspect, identifying how frequently to show your ads to bring about conversions (or encourage lead to take action) can be tricky. But, knowing how frequently to show the ad to encourage conversion and still not overspend can make a tremendous change in your ad campaigns.
Meaningful Retargeting
Another challenge is knowing when to retarget the audience. Merely showing ads to leads who have visited just the homepage of your site will drain your resources. The ads have to be more targeted and personalized, which would entail the correct retargeting strategy.
In the coming months, the retargeting strategy used will have to be more flexible and agile, to accommodate the changing regulations pertaining to privacy policies.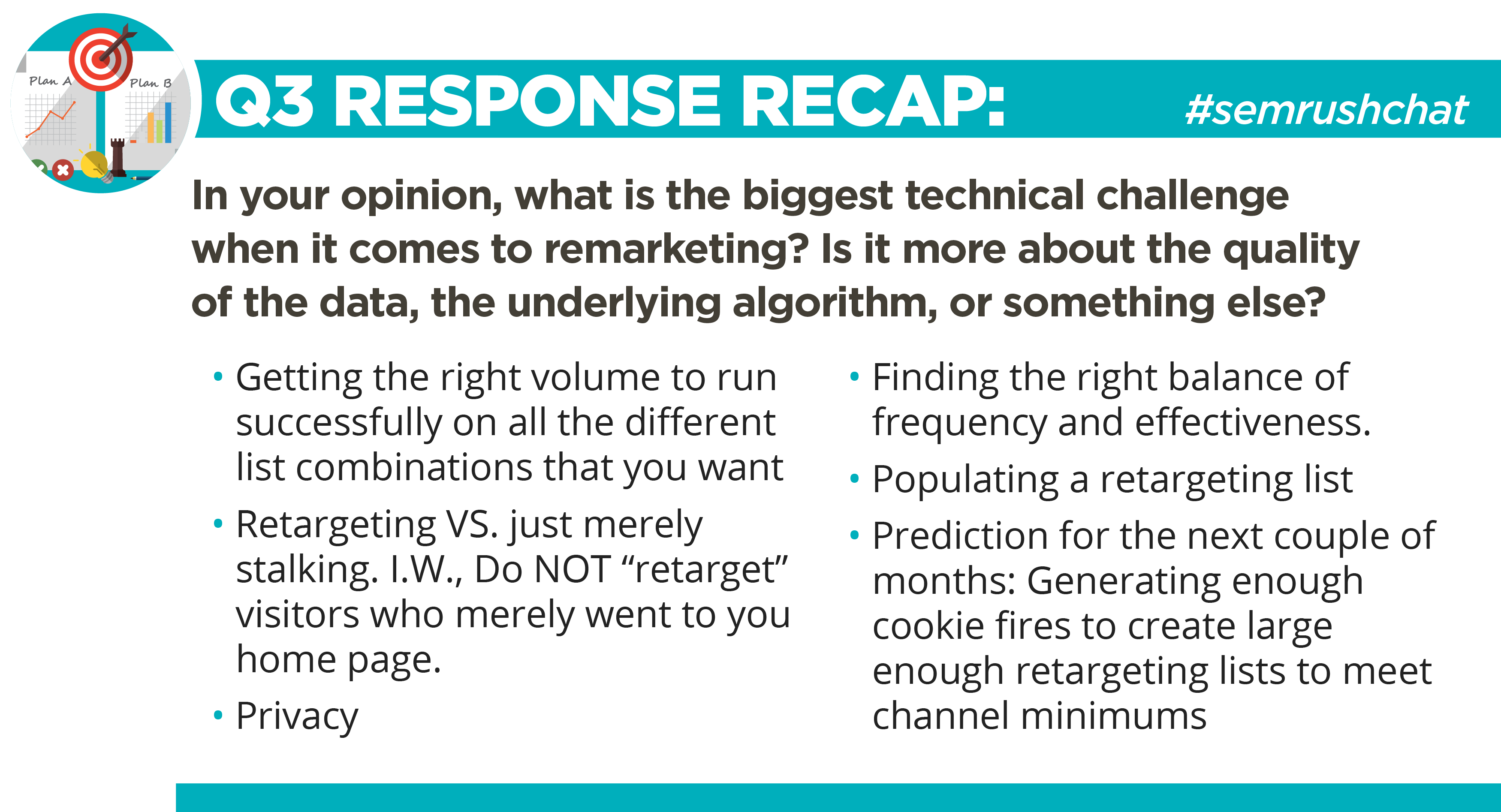 Q4. In your opinion, how long is "too long" to run a remarketing campaign to the same audience? Why?
Determining the exact time in which an ad can be served is crucial for brand image. A frustrated or bored audience, who may feel stalked all over the internet, will not think very positively about your business. There exists a specific time-gap for each business and going beyond it will definitely not win your audience's favor.
Unfortunately, there is no specific timeline on how long a set of audiences can be marketed to. There is definitely no "one size fits all" marketing strategy when it comes to this.It largely depends upon your sales cycle, the general industry standards, and of course the interest and the engagement level of your audience.
In fact, a stale ad or an ad that has run too long is not determined by the time it has run, but rather by the message it carries. If the offer has not changed over a period of time, then it is too long.
One way to identify stale messaging is by checking how well the offer is converting during a specific time frame. Instead of blindly accepting the default timeline in cookie settings (i.e., 180 days on Facebook), you can break it up to serve different offers and see which one is converting better. Based on the most recent data, you can decide which offer performs best; this can help you re-engage users and create custom content that your audience may find more engaging, and boost conversions.
If you are going by the sales cycle, you need to ensure that the retargeting timeline is in accordance with it.
However, bear in mind that despite the amount of retargeting and customization of messages, not all audiences will convert. Knowing when to stop serving ads to leads who haven't converted is also essential. Otherwise, it would again be a case of retargeting for too long; this is where the Time Lapse report on Google Analytics can help, it will give you an idea of how long after the first visit a lead is likely to convert, and you can then serve your ads within that timeline.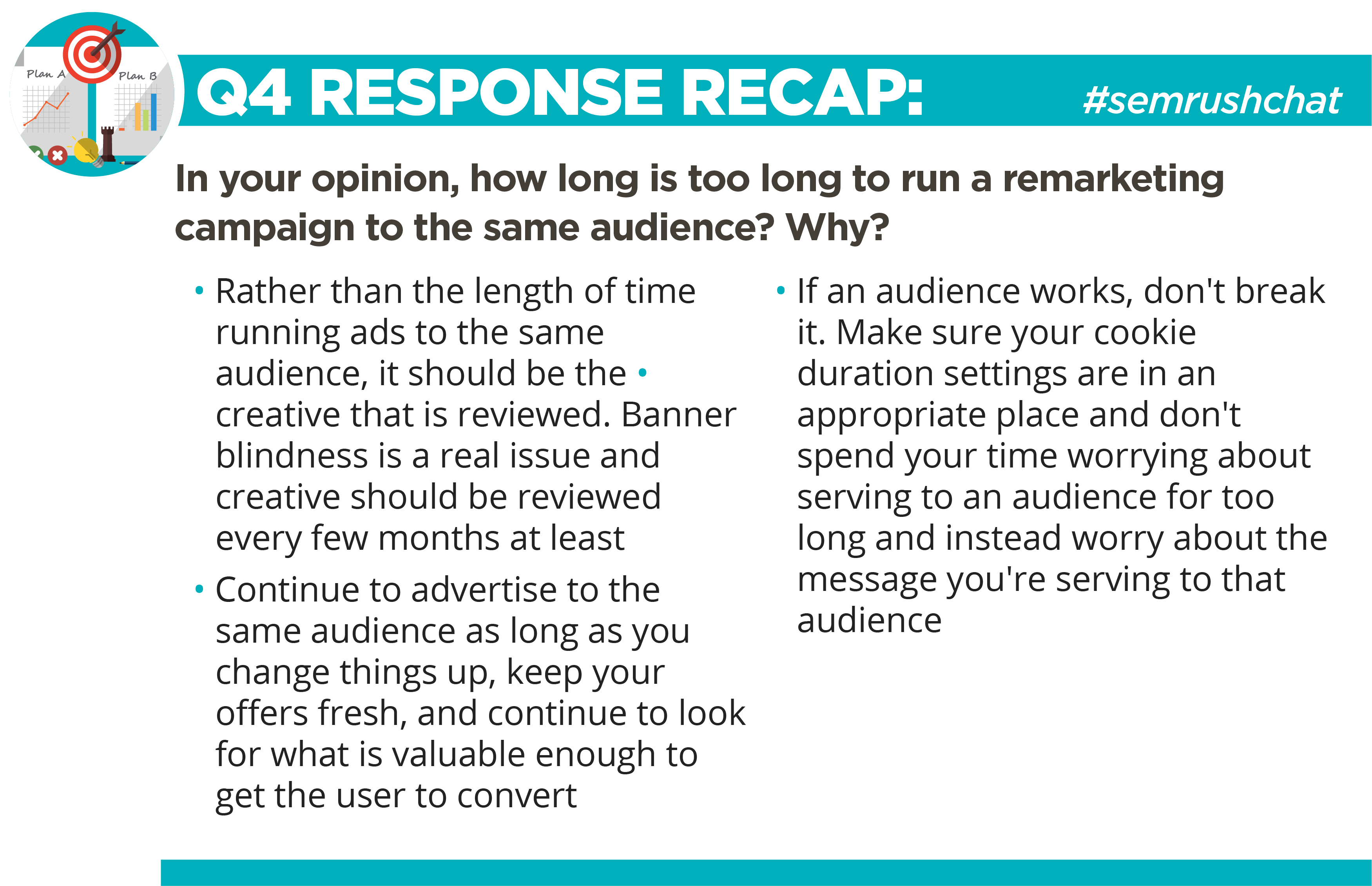 Ultimately, if an audience works, do not change it. Instead, alter cookie duration settings, the messaging, and the offer to keep it fresh. Remember that content, especially visual, can become old pretty fast thanks to Facebook, Instagram, and Google Display Network. To combat banner blindness, continuously change and tweak the content to provide the user with enough value that helps them to convert.
Q5. What are the best ways that a startup can use ad remarketing for audience build up?
For start-ups, the initial challenge is bringing about awareness of their brand and then conversions through retargeting. If there are not enough people visiting their site, there may not be enough of an audience to remarket to. In such cases, investing in Display and YouTube ads to drive awareness would be a good first step.
Facebook remarketing can be a powerful tool as well. Startups can set up a non-branded campaign for all past visitors in remarketing and then go about building the list.
However, a major problem that start-ups struggle with is determining their target audience persona. The new product or service line that they are establishing can cater to a multitude of different audiences,which can be understood better from machine learning or artificial intelligence.
Another way to determine the target audience is by exploring as many new mediums as possible. Engagement campaigns on social media and video ads on YouTube can all provide valuable data about the audiences, which you then can use to build remarketing lists.
Use pre-set audience filters across channels like Facebook, Youtube, and Instagram to see which types of users engage most with your brand and your message. Not only can you run retargeting ads for these lists, but you can also use it to identify new audience group via the 'look-alike' and 'similar audience' feature across other channels.
The secret in earning better ROI with retargeting ads is not just engaging with the same audience (even though it is important), it is about reaching new audiences with the data you already have from running campaigns from other channels. By marketing to these leads, you can increase your audience list, improve your reach, and boost conversions.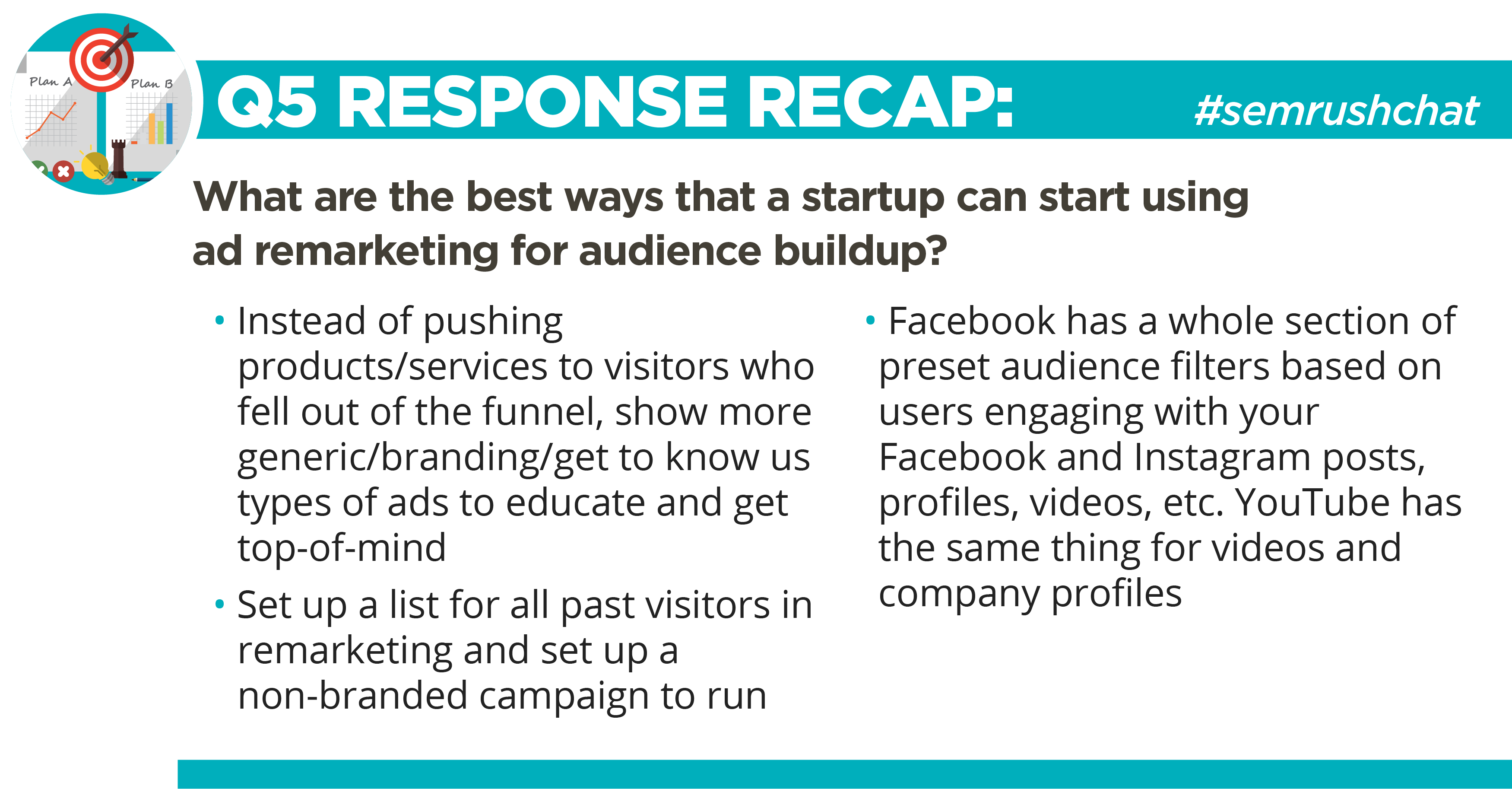 That's all for today! Have you faced these same issues while using remarketing campaigns for your business? Let us know in the comments!
We will not be having an #SEMrushchat on July 4 because of the US holiday, make sure to join us again on July 11 where we will be doing a Live Site Audit!