2019 is just around the corner, and with the new year closing in, we knew it was time to gather data and assess the current behavior of ecommerce companies, their strategies, and how it affects consumer behavior. Search engines and easy access to customers have only become more competitive, making it even more essential for businesses to be aware of how they measure up.
To help you assess where your business stands and uncover every single tactic you can use to give yourself an edge, SEMrush collected and analyzed data from more than 8,000 ecommerce sites, the Hallam Agency shared detailed insights from their experience with ecommerce clients, and we rounded up advice from 9 influential ecommerce experts from all across the world.
In this post, we have combined our data on the most successful tactics so you can improve your online marketing strategies as we move forward into the new year.
1. Prioritize Mobile Traffic
We have officially reached the point where far more traffic is coming from mobile devices than desktops. Your site must be properly indexed and formatted to be competitive in the SERPs. Invest in a fully responsive, mobile-optimized site that can give visitors the full experience they would get on desktop.
Our research clearly indicated that mobile traffic is dominating ecommerce overall, regardless of the individual industry or the country in which the searches originated. When we looked at 13 popular ecommerce categories altogether, we found that mobile beat desktop in total traffic by approximately 46%. This trend is more prominent in some industries than others. The food industry, for example, had exceptionally high amounts of mobile traffic. This makes sense, as users are likely to search for "restaurant near me" when on the go.
All this considered, it does not mean that desktop traffic is irrelevant; the book industry still had 40.3% of its traffic coming from desktop users, and for the music industry that figure was 37.3%.
Mobile clearly matters a great deal, but in certain industries, substantial amounts of traffic are still coming from desktop users.
2. Optimize for Mobile-First Indexing
Start focusing on your ecommerce site's mobile users. Make them your priority for the year ahead, rather than thinking of desktop as the primary platform. More traffic is coming from mobile devices, and if your site can't match mobile users' needs, you could lose sales. Optimize now for mobile-first indexing and you could see your overall site traffic and sales increase as a result.
Using SEMrush's Site Audit Tool, we took a look at how top ecommerce companies are optimizing their sites for mobile users. We searched for the most common mistakes made on mobile websites and found that the vast majority of sites were plagued by significant problems.
The five biggest errors we found were:
4xx error codes, which impact a user's ability to utilize or access the site correctly.
Slow page loading speed, which will drive users away and negatively impact SEO.
Issues with mixed content, which will negatively affect user experience and reduce confidence in your website.
Missing or empty title tags, preventing Google from identifying the content correctly.
Redirect chains and loops, which prevent users from getting to the correct destination quickly.
SEO expert Andy Drinkwater, owner of Andy Drinkwater SEO, stated that mobile-first indexing was going to be key, but that many businesses were stumped about how to implement it:

Probably the biggest SEO news this year was Mobile First, but since then, there hasn't been much information about it with lots of companies wondering what they need to do.

In theory, as long as a site is responsive or had a dedicated mobile domain, then this 'should' be enough - but this is Google we're talking about and it is never that straightforward.

The biggest tip I would give any site owner is to head into Search Console and look for mobile issues. Look at the Mobile Usability and Coverage sections for issues that you can resolve quickly or for bigger problems and get them resolved.

On top of this, you must pay attention to site speed and usability, which are two huge mobile factors for so many reasons. Google has said that site speed isn't a ranking factor, but it does have an impact on user satisfaction by making sure site visitors aren't kept waiting. Indirectly, this can feed into the parts of Google's algorithm that look at user experience.

By making sure that users are happy with the whole mobile experience, you show Google that your site visitors are important to you.
3. Utilize SERP Features
SERP features are becoming more valuable. They increase your visibility, authority, and, as a result, sales. As highlighted by SEMrush's research data, the top search results often display a variety of SERP features, with the most common across the globe being reviews, site links, carousels, and images.
Our research has indicated that the "Reviews" SERP feature is most common; this makes sense, given that reviews are one of the most powerful tools you can use to increase sales. They can build trust quickly, and convey value to your audience.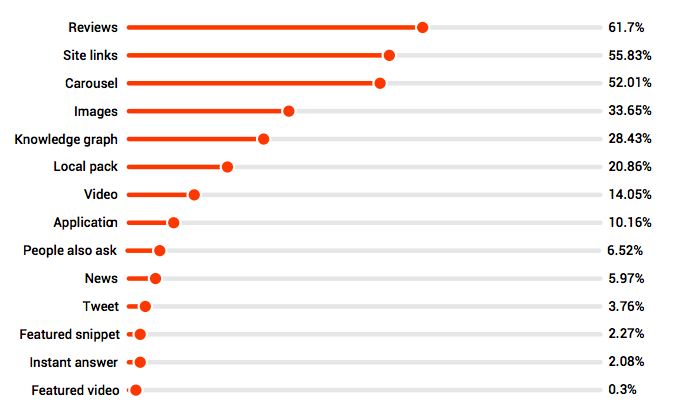 Each feature listed above should all be readily apparent to search engine users and can be added using schema markups so that you can provide more information to users in the search results. This method will make you much more competitive and these features can be the difference between getting a sale or losing it to the business immediately above or below you in the search results.
4. Diversify Your Backlink Profile
When deciding which sites to prioritize in the algorithm, Google looks for signs of quality and credibility. Backlinks to your site from high authority domains will indicate that you have credible content and will help you to rank higher in the SERPs.
Pay attention to your competitors' tactics and analyze which backlink types appear most frequently. By following their example, you can effectively grow and build a diverse backlink profile for your own site.
There are steps you can take to improve your backlink profile. Creating useful content on your site is a good step; your audience and industry peers will find this valuable and share it, linking back to you in the process.
Founder of Ecommerce Platforms Catalin Zorzini had some great advice to share about link building:

I always remind our readers that the number 1 rule in "link building" is to have link-worthy content on your own website. Weirdly enough, many entrepreneurs focus their efforts on outreach, but ignore their own content strategy. I think we should think of a strategy to earn links only after we have absolutely fantastic content on our website. Do we only have an About Us page and a few standard product pages? Why should anyone link to our website?

Let's focus on "content building" first. Create some in-depth guides aimed at your audience: what do they need, what do they want, what are their difficulties, what are their dreams? And then you can reach out to others and show them what outstanding content you have created on your site, and ask if they are interested in a guest post from you.
We all know that link building is important, but knowing how to actually establish a backlink strategy is something else altogether. Elle Pollicott from Hallam Agency had a few best practices to share about nofollow linking, anchor texts and a healthy looking profile:
At Hallam, the link building strategies we create for our clients focuses on larger content campaigns, that are so interesting and engaging, websites actively want to link to them. In addition to that, we also focus on guest posting and link reclamation – which involves monitoring our clients' brand names, service and products.

When we build links for clients, the majority are follow links, with branded anchor text. Follow backlinks tend to be more advantageous as they pass on "link juice" to your site. However, nofollow backlinks can bring benefits too – especially if it's from a high authority website, and it brings you quality, relevant traffic.

A healthy backlink profile should contain a mixture of follow and nofollow backlinks, with a range of domain ratings (DR) – although the higher the DRs, the better.

Ultimately, whether you create a blog post, interactive graphic or an in-depth tutorial; having original, valuable content on your site that your audience and industry peers will want to share, is the way to go when building your backlink profile.
5. Invest in Technical SEO
Your site must be technically sound to find SEO success. If a search engine has difficulty crawling and understanding your site, how can it serve it to people in its results page?
We found that most of the top ecommerce sites included in the research did well with performance overall. Desktop sites scored 80% for crawlability, 85% for performance, 88% for international SEO, and 91% on HTTPS implementation. That being said, there is always room for improvement.
To perfect your technical SEO, you should:
Perform a site audit immediately. Use SEMrush's Site Audit tool to look for any problems, big or small, affecting your SEO performance.
Focus on site speed. Site loading speed affects how users and Google will perceive your page. Issues with Javascript and CSS files are some of the most common errors, but there can also be issues with the server or hosting plan you're using.
Look for small glitches like duplicate errors or broken links, which can affect the crawlability of your site.
Utilize hreflang tags to optimize your site for international SEO. They explain what language and territory content certain pages are targeting. Fewer than 20% of ecommerce sites currently have them in place.
SEO expert Craig Campbell shared some of his easy-to-implement tactics to make technical SEO a little less intimidating:
When it comes to ecommerce, I prefer woocommerce for smaller ecommerce sites or Magento for the bigger sites out there. The reason I prefer these platforms over platforms like Shopify is that you have full access to the source code and the server to ensure you can compress javascript, CSS, images, and whatever else you need to get that site loading fast.

Canonicalisation is another common problem with ecommerce websites that many people get wrong. If you are selling black leather shoes with a nice product description but the shoes come in sizes, 5, 6, 7, 8, 9 and 10, then for each product variant you will have a new URL. If Google crawls those product variations, then you are likely to be penalised for duplicate content. Google also struggles to understand which URL is the best one for the search term you are trying to target.

To prevent this, implement the rel=canonical tag to any page to take you to the main page that you are trying to optimise, so that you are showing Google the main page you want to rank well.
6. Implement AMP On Key Pages
AMP is essential in helping web pages load faster on mobile devices, improving the user experience significantly. Faster load times increase the likelihood that users will stay on your site, engage with it, and potentially purchase from it.
AMP won't be a strong choice for all sites, particularly those that rely on dynamic pages or site features, but the majority of ecommerce sites should consider implementing it.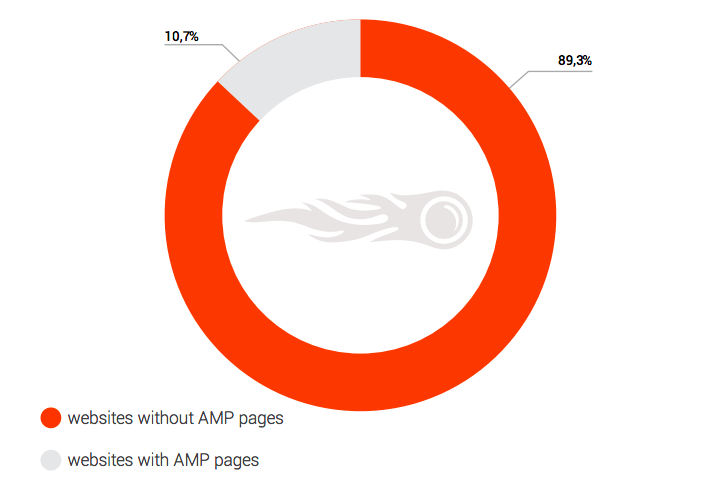 Of the sites that we analyzed, we found that only 10.7% had dedicated AMP pages; the vast majority (89.3%) did not, creating an enormous missed opportunity for enhanced mobile performance. The overall implementation of AMP is extraordinarily low, so ecommerce sites that adapt now have a huge opportunity to outrank their competitors by getting that valuable, all-encompassing mobile traffic.
To implement AMP successfully and see its maximum impact, you should:
Watch for the most common AMP implementation mistakes and issues.

Implement AMP on the pages that matter most. For many ecommerce sites, this will be your homepage and your product pages.

Utilize the current AMP features available to you, including the amp-carousel to highlight multiple products or the amp-video to offer mobile-friendly video content.

You can link your AMP with your Progressive Web App to increase site speed overall. You can combine your AMP pages with your PWAs with tools like the amp-install-serviceworker.
Max Prin, Head of Technical SEO at Merkle, shared his expert advice on AMP with us:

Should E-commerce websites use AMP? If the answer must be boolean I'd say Yes, but like a lot of things, it depends. It depends on the audience, resources, goals, current state of the site, and more. If an e-commerce site has a poorly designed and slow mobile site, then AMP might be a good solution right, before a full overhaul of the site.

The AMP framework has considerably evolved over the last two years, especially when it comes to features required on e-commerce websites. And yet, adoption is very low like SEMrush's data shows.

I believe AMP can be valuable if the rest of the experience on the site is as fast and if creating another set of URLs can be avoided. Combining AMP and Progressive Web App (PWA) features on the same URLs can create an ideal implementation for both search engines and users, leveraging AMP for the speed and SERP features, and PWA for UX, engagement and conversions.
7. Optimize Visuals For Search and Conversions
Users are unlikely to purchase online if they don't see high-quality images, so it is essential to make image optimization a primary consideration for conversions. Visuals also provide a potential source of traffic and revenue: image searches make up 21.8% of searches on web properties. This number is likely to increase, as usage of the emerging technology of visual search keeps expanding. To capitalize on these facts, it is essential that your images are fully optimized to drive conversions.
To successfully optimize your images for search and conversion rates, you should:
Use JPEG image files, as they have a high quality but low file size.

Using multiple images per product can increase conversions and give you more images to optimize. Incorporate your own images instead of stock photos to better stand out in the SERPs.

Optimize each image correctly. Every image should have a file name and caption that uses your target keywords.

Include image sitemaps on your site, so that Google can receive information about the images that you have uploaded.

Add product images to the structured data of product pages with schema.org markups, allowing your images to show up in the SERPs and in relevant searches.

Include alt attributes like image alt tags for every image. Even among top ecommerce sites, 15% had missing alt tags, so check your site now.
8. Implement Schema Markup
Schema markup lets you tell Google and customers exactly what you want them to know about your product and site in one quick snapshot that is easy for both to understand.
Anyone not making the most of schema is missing out on better CTR, traffic, and SERP features – and right now, that includes 47.88% of even the top ecommerce sites. Of the 52% of ecommerce sites that had implemented schema markups, 44.96% were using Open Graph protocol.
After Open Graph markup, the next most popular option was Schema.org markup at 19.98%, and Twitter Cards schema which was used by 16.32% of businesses. Several sites that had implemented schema were using multiple types of markup.
To unlock the full potential of schema and improve site performance, you should:
Start by adding product schema markups to your site, including product price, SKU, descriptions, and reviews.

Most schemas are underused, despite their great benefits; Schema.org is only being used by 19.98% of top ecommerce sites even though it gives businesses the chance to add valuable information to their SERPS that will appeal to customers and increase conversions.

Use the Structured Data Testing Tool to ensure that all new or adjusted schemas are error-free.

Watch out for changes on Google. Google can (and does) alter its rules for particular schema types, so every time you update yours, make sure that you match current standards.

Tools can automatically create schemas for your store, including Woocommerce's native schema functionality. You can also use schema-generating tools like the Schema Markup Generator.

Only put information in a schema that is readily available on the site page. You can't list reviews on a page where no reviews are featured, for example.
SEO Consultant Jason Barnard shared some valuable insight about schema markup:
Schema markup provides easy-to-digest confirmation of your webpage content to crawlers and search engines (such as Google and Microsoft). It is most usefully leveraged to explicitly confirm "Who you are and what you offer," so it is easy to understand why I would say that it is absolutely essential to e-commerce sites.

Details about your offers are often very difficult for these machines to extract automatically from your site. Providing machine-readable details about your products, prices, delivery options, taxes, manufacturer, etc. helps enormously will help on several channels in the short and long-term: SEO, Google Shopping, and Search Ads.

Your first markup should be "who we are" corporation markup on your About Us page. Next would be "what types of product do we sell," which would be collection markup on your category pages. Finally, and the biggest direct payback, is "what products, to whom, at what price," which would be Product and Offer markup on your product pages.
9. Understand the Difference Between Impulse Shopping and Planned Shopping
To maximize sales, it is important to optimize your site and your ad campaigns to appeal to both planned shoppers and impulsive buyers.
Appealing to customers that plan means providing a variety of in-depth information on the site, featuring reviews, and building relationships when possible. Impulse buying, on the other hand, is much more emotional than logical. To capture those impulse buyers, consider using the following emotional triggers: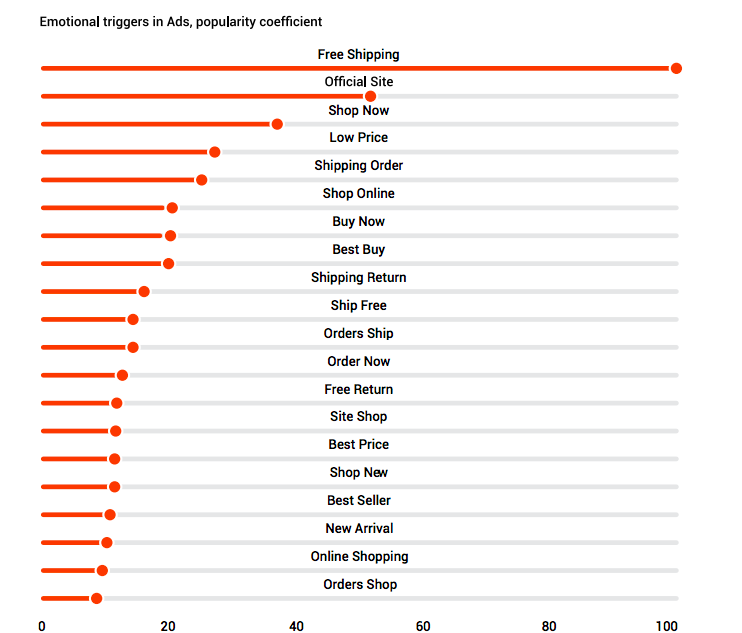 The most popular emotional trigger was the offer of free shipping, which appeals to users because it lowers their cost and makes them want to act before missing out. "Official site" and "Shop Now" were options two and three, showcasing the importance of both building trust with the customer and establishing urgency.
The rise of online shopping has made it easier for impulse purchasing to happen quickly. You don't even need to get users in the store; you just have to show them a well-timed ad with an emotional trigger. That being said, more buyers are researching products for longer, so you need to appeal to both types of purchasers.
To appeal effectively to all customers, you should:
Use emotional triggers like "free shipping" to create urgency and increase impulse purchasing; this can work for true impulse buyers, but also for those who have been researching your product and waiting for a deal to strike.

Post deals as early as possible. Many stores shared their Black Friday bargains by posting them online in early November, which made it easy for researchers to assess which deal was best for them and helped them decide who to purchase from.

Remember that even "impulse purchasers" often do some preliminary research. They may decide on a whim to buy that PS4 on Black Friday, but they might also do a few quick searches to see who has the best deal. Having as much transparent information posted as possible will help win these customers.
Joel Bondorowsky, Founder of PPC Designs, shared his insights on consumer behavior:

Consumers making an impulse purchase as opposed to a well-planned purchase have different states of mind. The ads, and subsequent sales copy, that effectively sells to one may not work for the other.

Consumers making well-planned purchases are at the bottom of the decision-making funnel (ready to take action and purchase.) These people know what they want, thus will respond best to ads that clearly reflect the product. Uncomplicated sales funnels increase confidence that the consumer is getting what they are looking for. Due to the strong intent to buy this exact item, these users can be most productively targeted with search advertising. Display ads placed on websites that are relevant to the product itself can also be effective.

Impulse purchases, by contrast, reflect the minds of consumers who are uncertain about what they desire. These users can be easily swayed to purchase something that they might not have wanted. Often, they are at the top of the decision-making funnel (first becoming aware of or interested in a product.) Ad copy that reflects a curiosity, and then potentially triggers an interest, can work best to bring them into your sales funnel. Sales copy, which turns that interest into a desire is essential to get them to take action and purchase. These consumers are much more plentiful, and their traffic is cheaper. They can be targeted with display or social media ads based on who they are (demographics) and what they are interested in.
10. Choose The Right Attribution Models
The customer's buying process is often more complicated than seeing a single ad, going to the site, and purchasing; they may need to interact with multiple ads, check the site several times, and maybe sign up for an email first. Therefore, it is essential that the right decision is made when selecting an attribution model(s), which help you assess which touch points actually helped you get the conversions.
There isn't a 'right' answer when it comes to assigning an attribution model to analyze paid traffic performance. However, you do need to select one that supports early interactions as this is where the main paid touch points will be found.
The last-click model of attribution is commonly used but often isn't truly reliable. Many other touch points likely came before that affected the conversion, and aren't accounted for.
Our recommendation is to use an attribution model that supports multiple touch points instead of just one. So, Linear or Position Based models could be appropriate choices. Those that use Google Ads may have access to a Data-Driven Attribution Model (DDAM) which is fluid, segmenting the value of each conversion in a bespoke manner to different interactions. Google has reported that the DDAM can improve the accuracy of assigning conversion value by up to 15%.
If you want to best assess what marketing efforts and PPC campaigns are working most effectively for you, you should:
Choose the right attribution model. Using Linear or Position Based models will take multiple touch points into account.

If available to you, use the Data-Driven Attribution Model for your Google Ads; it is more fluid and, thus, often more accurate.

When deciding on an attribution model, look through the current analytics that you have set up. If you have the default Last Click enabled, for example, and it is telling you that only search traffic is getting you conversions even though you are seeing significant clicks from Google Ads to those product pages, you will likely realize that the attribution model isn't accurate. To find the best one for you, you may have to test out different models to see which one helps you make sense of conflicting data.
Elliot Kemp from Hanapin Marketing had an abundance of useful information about selecting the right attribution model:

The overwhelming majority of Hanapin clients are using an attribution model outside of last click, and for good reason.

The best option, and what more and more advertisers are looking to move to, is a data-driven model. This will divide up a conversion between campaigns that played a role in the conversion path. DDA does require at least 600 conversions in a 30 day period to be eligible, which disqualifies the majority of advertisers.

Linear and position based models are more data-driven than last click, easier to access for small advertisers, and can provide a decent picture into the entire conversion journey. Linear attribution evenly divides a conversion up between all clicks on the path, while position based gives 40% of the conversion to the first and last click, with the remaining 20% spread out across other clicks on the path.

These models are still limited in comparison to DDA, as DDA builds a custom model specifically for your account that divides up every conversion. At the end of the day, the most important piece when selecting an attribution model for your clients is choosing one that your client fully understands and one that will give a full and true picture into performance for the campaign types you're running.
11. Turn Global Events into Sales
Ecommerce businesses have an incredible opportunity to take advantage of major sporting events. Users spend more money and invest their money in products they wouldn't normally purchase.
To put into context the influence these events have on online activity, the 2014 World Cup is an excellent example. Over the course of the event, host country Brazil saw a 27% increase in ecommerce sales; this resulted in an estimated $16.6 billion boost to the Brazilian economy. Even more impressively, Germany saw a 75% increase in ecommerce activity in the days following their World Cup win.
So, why not take advantage of these sporting events? Take a look at techniques that you can use to gain more conversions during sporting events:
Researched and targeted paid ad campaigns will help you expand your presence significantly, leading to more conversions. Make sure you're including keywords and common terms used during sporting events, and feature relevant products that have strong selling performance.

Offer fast, free shipping; this will help you to stay competitive and can help you get purchases from last-minute shoppers you might have lost otherwise.

Offer product recommendations on your site, using featured products sections to show visitors additional items they might like. This method increases the likelihood that they will buy more than one item.

Assemble high-value bundle promotions to increase purchase value. Offer deals like customers getting free name/number printing on their items if they purchase a full England kit, for example.

Create a sense of urgency to drive more sales. Urgent situations cause people to think less clearly about their purchase, resulting in buying through impulse. Set up countdown timers and low stock indicators to indicate scarcity, too.
David Sayce, Digital Marketing Consultant and Director of South East London Chamber of Commerce, shared his insight on major events and ecommerce purchases:

In the last 10 years, we have seen a major shift in user buying habits and behaviour through technology and customer expectations. While online sales are growing at a fast rate, offline sales still account for 82% of sales (according to the ONS). Online spending has quickly increased whilst spending within stores has remained stable. Consumers are now buying more online than ever before, and it means that they're buying more overall.

As consumers behaviors and relationships with brands change, be agile and fast to act. For events such as sports where you target a fan base, consider the potential outcomes and how you can still be relevant and personal to the consumer.

While businesses have realised that they must integrate digital channels to engage with their consumers to maintain relevance and drive the conversation, few realise how fast the change needs to happen, or how transformational it needs to be, or even the resources required to be successful.

As consumers gain more power to choose where, when and how they interact, they will begin to choose a smaller number of organisations to engage with and newer generations may not be a loyal as those previously. It is a transformation of business and operating models that is needed to stand the test of time in the digital era.
In Conclusion
It is vitally important to keep your websites and your SEO and PPC strategies up to date. We hope that you find this data, and the insights we have gleaned from it, to be helpful in developing and improving your digital marketing and site development strategies moving forward into 2019. To find out more about SEMrush solutions for ecommerce visit this page.