The online space has definitely become extremely competitive. New businesses, platforms, and complimentary services are entering the market almost every day. In fact, nowadays you can even set up an online store in just five minutes, but to sustain it as a profitable e-commerce business requires significant amounts of time and resources, plus a great amount of business experience and marketing knowledge.
There are many businesses that believe that getting customers is as simple as developing a website, configuring an online store, and setting up social media channels. Unfortunately, most of the time this model results in few website visitors and even fewer customers. So what do the best of the best do, and how can you mimic it? 
Our SEMrush team decided to have a look at the traffic distribution of the 25 leading e-commerce retailers in the US to determine a viable internet marketing strategy for boosting traffic to any online store. There are two types of traffic coming to your website: free and paid. So let's take a deep look at both.
Where does traffic come from?
Free traffic is the backbone of any website, and it doesn't depend totally on a company's budget. With the help of SEMrush Traffic Analytics , we analyzed what sources of traffic leading retailers get: direct, referral, organic, paid search, and social.
Direct Traffic
According to our data, the major traffic source for the leading e-commerce websites is direct, which accounts for more than 50 percent of traffic. This can be explained by long-term brand familiarity, repeat visits for regular purchases, and good brand awareness — this is what all the leading websites have in common.
The only downfall of direct traffic is that it is difficult to scale in the long term compared to other traffic sources, such as referral, social or search, which we will discuss below.
Search Traffic
The second major source of traffic for e-commerce sites is organic search, which is responsible for 32 percent of overall monthly traffic. Interestingly, while the ratio of search vs paid traffic for e-commerce websites is 20:1, the average ratio for all industries is 8:1 (87.17% search clicks and 13.23% paid clicks as of January 2018), which leaves room for growth of paid traffic for online retailers.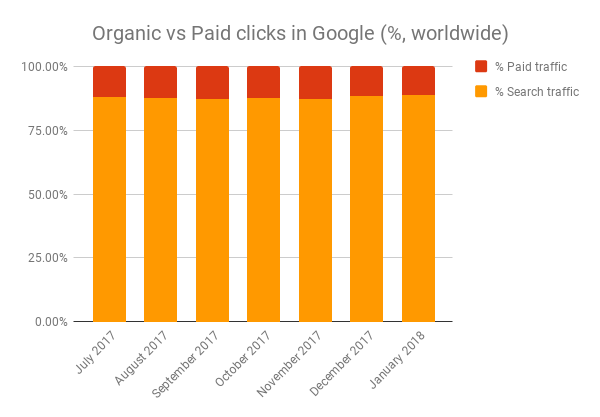 Organic vs Paid clicks in Google (%, worldwide). Based on analysis of the Top 10,000 websites by traffic, websites with 0 paid traffic excluded.
The absolute leader in search traffic generation is Google, leaving Yahoo!, Bing, DuckDuckGo and Ecosia far behind.
In our traffic sources distribution graphic above we saw that 38.1% of traffic is organic, making search one of the main focuses for any online business that wants to maximize its site's profitability.The only way to improve your organic search traffic is through search engine optimization (SEO), which helps you improve the quality of your website, ensures users find what they need, and thus makes your site more authoritative to search engines. As a result, your website will rank higher in search engines.
Google talks a lot about how it is focused on creating the best possible user experience, which means sites that offer the most relevant information gain the most visibility. Investing in original, quality content creation is essential for SEO success, and the benefits of producing user-friendly content go far beyond rankings.
The best thing about organic traffic is that it is highly scalable. The more work you put into it, the better and more exponential results you will get. For companies with limited budgets, this can be the most cost-effective way to grow one's business.
Referral Traffic
Referral traffic is the third most important source, bringing 8.3% of total traffic to the leading retailers' websites. There are four online retailers that receive significantly more referral traffic than others: Amazon, Apple, Walmart, and Gap. Live.com is their leading referral source sending nearly 3% of traffic to these sites. Also, we see that Amazon often directs its visitors to Walmart , which brings this company 3% of its traffic. And Amazon itself receives most of its traffic from Amazon-affiliated sources such as Primevideo.com and Audible.com.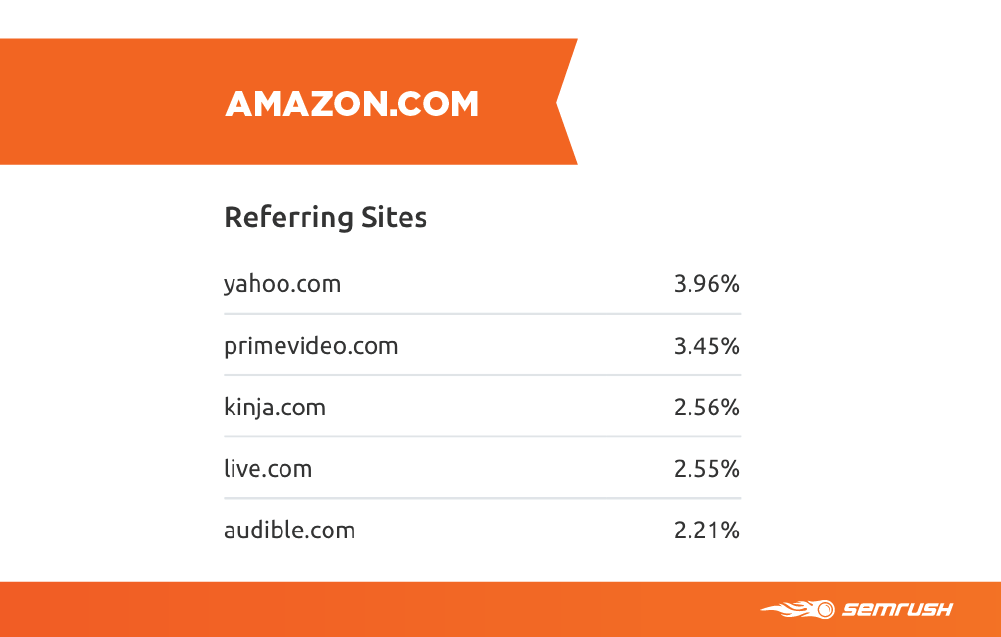 Referral traffic consists of visitors who find websites through external links placed on other domains. So to increase a website's referral traffic, more links have to be generated or placed on quality sources that point to the website.
Social Traffic
According to our data, social is the source that brings the least amount of traffic to US retailers, only 3.2 percent. It is a very small piece of the overall pie, but, globally, 76 percent of retailers are still planning to invest more in social media marketing.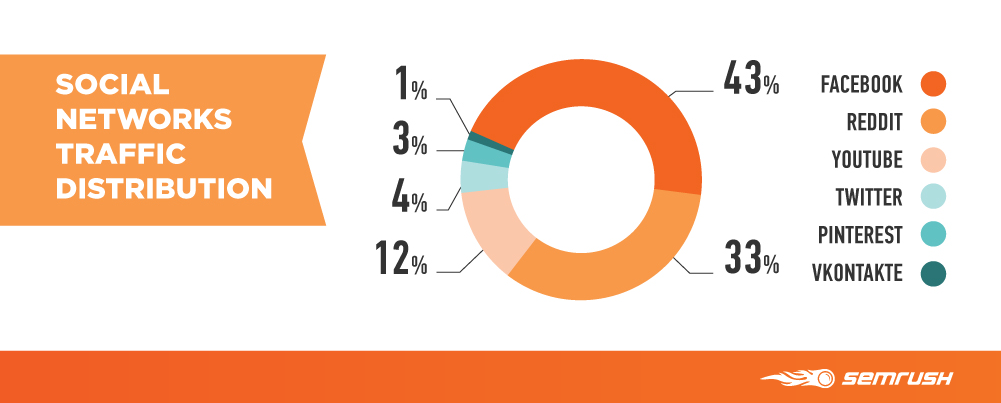 The absolute leaders in traffic generation are Facebook and Reddit, and the amount of traffic retail businesses received via Reddit is quite astonishing.
E-commerce Leaders in Organic Search Visibility
(Monthly estimation based on 120,000,000 keywords in Google search)
As I already mentioned above, it doesn't matter how small or big your company is; you need to take care of your SEO.Remember that 89 percent of consumers use search engines to help make their purchasing decisions. To get people to buy from your company, you need to make your site visible at some point in the buyer's journey, which means you need to definitely be visible on the search results pages.
Traffic from organic search is free and long-lasting, which makes you less dependent on advertising budgets. If you look at the list of the top three American e-commerce retailers, you will find that it matches the above data with the top three companies getting the most organic traffic. This definitely proves that SEO pays off in the long run: you attract quality traffic in large volumes without paying for it directly.
E-commerce Leaders in Paid Traffic
(monthly estimation based on 120,000,000 keywords in Google search)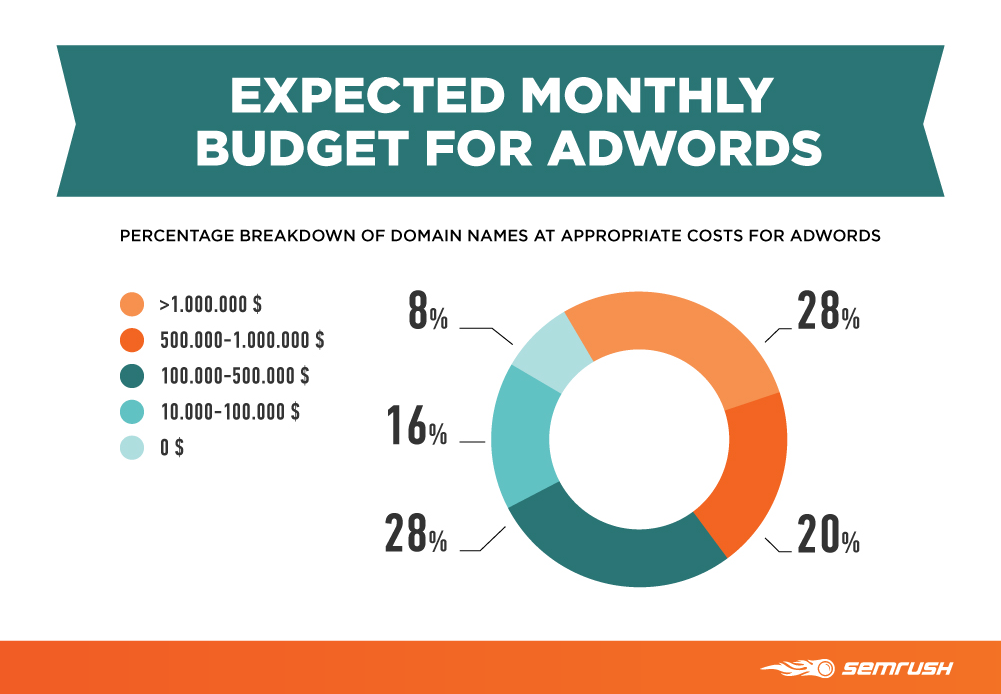 The top five leaders in paid traffic (Google Adwords) are the same companies that lead in search, with Amazon again on top. Leading retailers don't want to put all their eggs in one basket, and they are willing to invest heavily in pay-per-click campaigns. Clearly, PPC has worked for them because we see four out of the top five spenders are the leaders in annual sales numbers.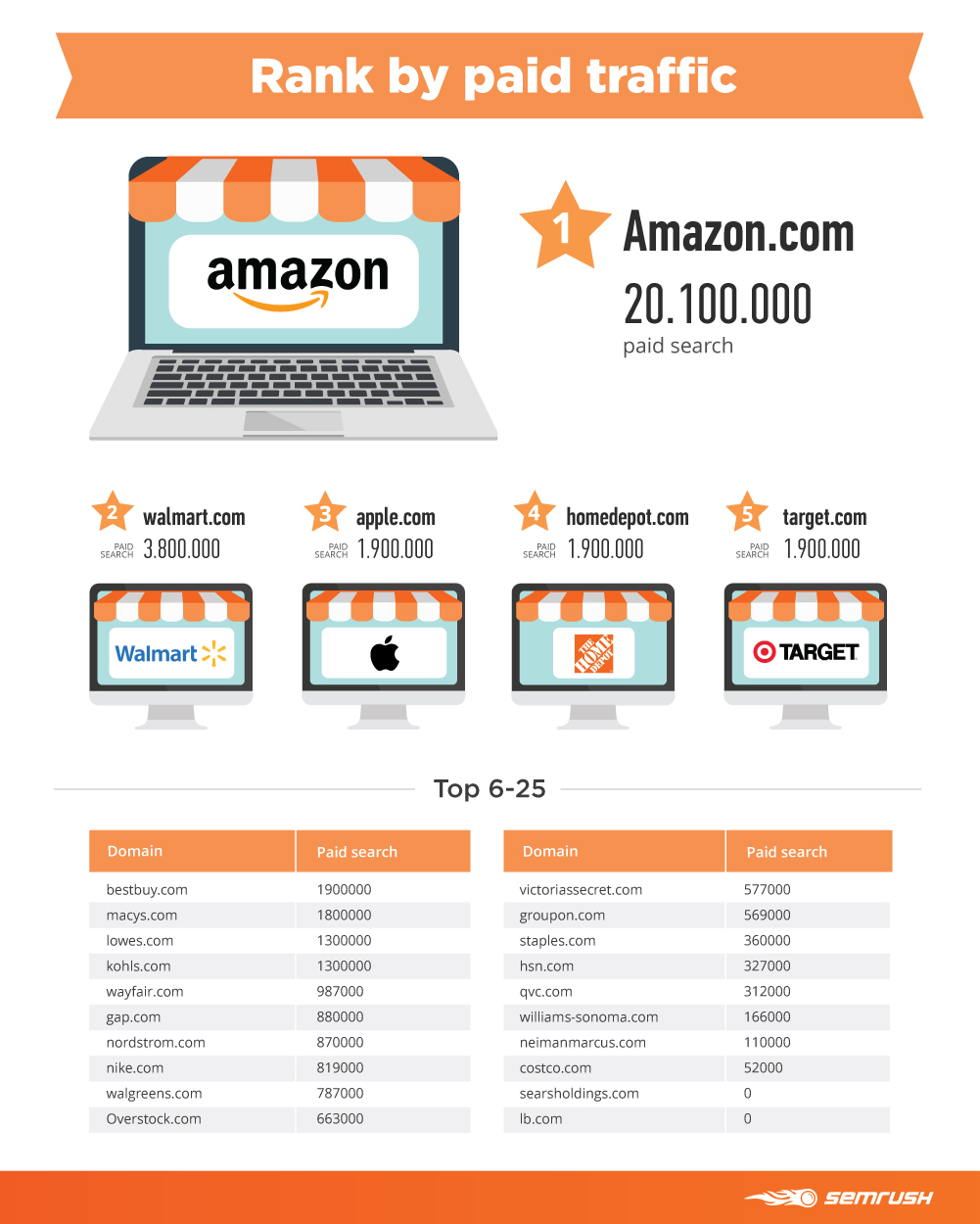 Google's ads help with sales, visibility, and branding, but the truth is - organic traffic is still king. Have a look at the data above and you will see that paid campaigns drive much less traffic to retailers than organic search, and that is solid proof that SEO is worth investing time and money in.
PLA and Display Ads
(SEMrush Display Advertising only shows data from Google Display Network)
Markets have become oversaturated with online competition. Trying to rank for top commercial keywords feels almost too difficult to achieve, and customers have already gotten used to having a plethora of choices at their disposal.
It is no surprise that retailers constantly look for and test alternative strategies for paid search ads that could drive targeted traffic to their website. A couple of strategies to look at are Product Listing Ads (PLAs) and Display Advertising.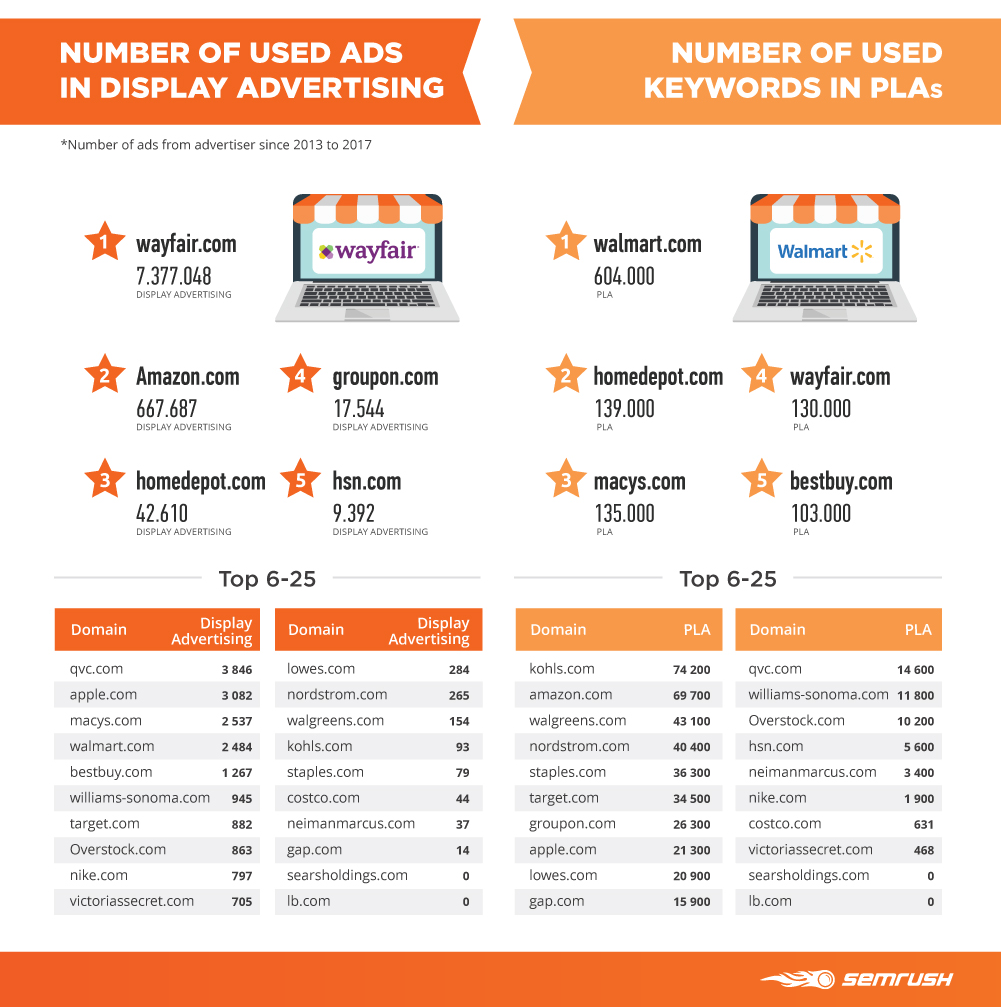 The Astronomical Rise of Product Listing Ads
According to our data, twenty-three out of the twenty-five largest retailers use Product Listing Ads (PLAs), which are cost-per-click ads that are purchased through AdWords to promote products. Google initially launched Product Listing Ads in the US market in 2011. However, the advertising format experienced an astronomical rise around 2014, when the search engine launched the feature in other countries. Today, PLAs account for 43 percent of all retail ad clicks and a staggering 70 percent of non-branded clicks!
Unlike text and display ads, PLAs enable e-commerce companies to target specific products and product groups at the decision stage of the buyer's journey. They also help to increase brand awareness as they position their brand in front of a highly targeted audience that is looking for a product the company offers. Typically, a PLA contains a product picture and a price, along with a store brand. So it comes as no surprise that Walmart, as one of the world's largest online retailers, appeared to be the undisputed leader in using PLAs, with almost 604,000 keywords used in April. The company is followed by Home Depot, which sells various home improvement items and targets 139,000 keywords.
Display Advertising for Increasing Brand Awareness
(SEMrush Display Advertising only shows data from Google Display Network)
Very often, display advertising stands at the beginning of the customer's journey, and with this type of ad you can target a much broader audience during the inspiration/awareness phase and create attention for your brand thanks to targeted placement. It is also one of the cheapest ways to increase brand awareness. Just going off of the Google Display Network alone (which SEMrush provides data on), it reaches approximately 92 percent of all internet user and 65 percent of those users are reached daily.
According to our data, twenty-three out of twenty-five top of the U.S. online stores use these types of ads, and fifteen leading retailers have been utilizing them quite a lot - we have seen more than 500 ads for almost every advertiser on our list.
The best thing about display ads is that there is no need for a huge budget to show ads on high-profile websites. This works perfectly for creating the impression that a company can invest a lot in its advertising campaigns by becoming associated with popular websites.
Conclusion
Relying too much on one source of traffic is a risky strategy. A particular channel or strategy can be fantastic for generating traffic today, but it doesn't mean it will stay the same tomorrow. Some sites lost out when Penguin started penalizing on certain SEO linking practices. Others lost out when Facebook decided to massively restrict organic reach. If your site relies exclusively on only one source of traffic, then algorithm changes can create some serious trouble for you. So be aware of the importance of diversifying and know the options available from different traffic sources.