Local video marketing is a very powerful way to engage with a local audience, get your message out cost-effectively, generate highly targeted and relevant leads, and, most importantly, get more sales or customers.
If your business is not using video as part of your marketing strategy, you are leaving a lot of cash on the table for your competitors to swipe under your nose! The power of video can no longer be ignored and should be integrated into your local SEO strategy.
It is the best and the most economical way of engaging your prospects and to also build trust very quickly. Here are some stats to prove how effective and important local video marketing can be. 
88% more time spent on a website with a video - Forbes.

85% of businesses use video as a marketing tool - Hubspot.

People are 4x more likely to convert to a call to action with a video.

Some estimates say that by 2022, 82 percent of the global internet traffic will come from video streaming and downloads (Cisco, 2019)

Viewers retain 95% of the message when they watch it in a video compared to only 10% when reading it in text - Forbes.

95% of people have viewed an explainer video to learn more about a product or service - Hubspot.
As you can see from above, video marketing is a must for any sized business. So let's jump in and see how you can start using local video marketing for your business.
There are two ways you can promote your videos locally:
I am going to break down options for both.
Local Video: SEO Strategies for Organic Rankings
From what I have seen on YouTube, most businesses or channel owners are uploading videos the wrong way. They may create a great high-value production video, but if they don't upload their video the right way, it won't get found in search, and no one will see the video!
YouTube is the world's 2nd largest search engine and is owned by Google. Using YouTube to generate views & traffic is comparatively very easy compared to trying to rank on Google page 1 for your keyword or keyphrase.
If no one sees or views your videos, then there is no point in creating videos! Here are my top tips on how to upload your video to your YouTube channel the right way:
1. Start with Keyword Research 
The first step is to do thorough keyword research. One of my favorite ways is to use the YouTube Search Suggest feature.
Type in your keyword, in this example, it is 'dog training', and then just type in 'a'. You will see a list of keywords/keyphrases. You will see a lot of keyword options.
I suggest checking out the videos that display for keywords you are interested in, and consider the following:
What is the number of views for the videos? Do people seem interested or engaged?
What about comments? How many comments? Are they good? Bad? Do they offer insights you could use?
What is the quality like for the videos that are there? Can you do better? What hasn't been covered in those videos? 
Are there too many videos to compete with.
While YouTube's autosuggest can give you ideas, it doesn't necessarily mean that people are searching for those exact things in high numbers. You have to look beyond these recommendations and determine what viewers need, want, and find interesting. 
After YouTube Keyword Research
Once you have found some phrases on YouTube and in comments, I would also recommend you use the following resources to identify and plan out popular keywords or phrases to maximize traffic to your video or website from search results: 
2. Target Low-Competition Keywords
If you are just starting out in video marketing and don't have channel authority to rank for highly competitive keywords, you can start by targeting the low-competition keywords, so you can begin getting videos ranked on YouTube and you slowly but surely start to build up your channel authority.

Pro Tip: You can use the free Tube Buddy Chrome Extension to find keywords, which have a good number of search volume and low levels of competition.
3. Title, Description, and Tags for Local Search
Make sure you have your keyword in your Title, Description & Tags. Ideally, I would also recommend the 'area' your business is in as part of the keyword. So if your business is a dental practice and you are based in North London, I would write the Title something like this:
"North London's Best Dental Practice"
Most local business owners who upload videos to YouTube don't do this, and hence their videos never get indexed in local searches — but this is where you need and want to be. Google presents information to users that looking for something based on their location.  
Creating titles, description & tags with keywords can help viewers find your video quickly and easily.
4. Subtitles and Closed Captions
Subtitles and closed captions are extremely helpful and are needed by those that are hearing impaired, those that speak a different language, those searching for information while holding a sleeping baby, and even those that are sneaking a video while in a meeting or in class. 
To create them, login to YouTube Studio. Google has the following instructions: 
Select "Subtitles" in the left menu.
Click on the video you would like to edit.
Click "ADD LANGUAGE" and select your language.
Under subtitles, click "ADD". Play the video and enter your captions. Add text describing other sounds happening in the video, like [applause] or [thunder], so viewers know what is happening in the video.
Repeat step 5 for additional captions, then click "PUBLISH".
You can learn how to add closed captions in multiple languages here. Also, you can transcribe your video with a service like Temi or Rev and upload the transcripts. 
---
Types of Local Marketing Videos
If you are wondering what kind of video content you need to start with and are struggling for ideas, here is a list of the types of videos you can create.
Branding: Meet The Team and About Us Videos
Introduce yourself and your team to your audience. I highly recommend this type of video as it starts the trust-building process. Ideally, keep it to under 2 minutes. These are ideal for embedding on your website & sharing on social media.
We used this strategy to create & set up the team videos on the About Us page for one of our clients.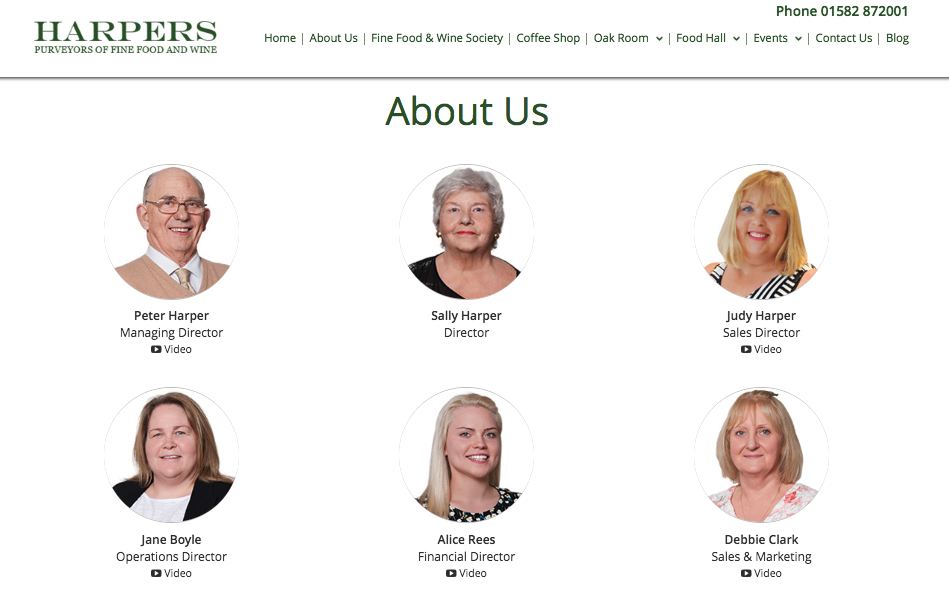 Here is a video we created for Nikon for one of their worldwide advertising campaigns 'I SEE LIFE'.
---
Explainer Videos: Product Demo or Software Walk-Through 
These videos are one of the best ways to demonstrate your expertise to your audience. Below is an example of how I upload walk-through videos on my YouTube channel and have built up a subscriber list of over 3,000 in only 7 months.
So far to date, this video has over 23,000 views and is one of the most popular videos on our channel.
You can read more about how to get started with your video marketing with my 90-day video marketing challenge here.
---
Behind the Scenes Videos
I would highly recommend you shoot a BTS (behind the scenes) video if you get an opportunity. It just fascinates people to get a rare glimpse into the creative & production process, be it a movie, photoshoot, set up at a trade show, or any event.
---
Client Testimonials
Testimonials have got to be the most powerful video types. It is one thing to rave about yourself, but another thing when one of your clients comes on video and says nice things about you! Your potential website audience or visitor will start to trust you a lot more and very quickly.
Top Tip: Don't script or tell your clients what to say. Keep it very informal & natural so that the message stays authentic.
The easiest way to make a testimonial video is to ask the client if they would be happy to send a video testimonial to you. Don't stage it or make it look like a high-production video. Your client can use their own smartphone to record the video and send it to you. You can then add your branding, and you are ready to upload.
---
Paid Ads for Local Videos
Video Ads on YouTube and on Google Display Network (GDN) via Google Ads is one of the best & fastest ways to get your message out there. Your video ads can be in front of your audience in a matter of hours.
The best thing about running video ads is that the advertiser only gets charged by Google Ads when the viewer watches your video ad for more than 30 seconds or engages with your video, like clicking on a call-to-action overlay, a card or a companion banner.
My favorite strategy to build engagement & take my brand, message, service, or product in front of my audience and do the following:
Create a high-quality educational blog post with a video on it.

Link your YouTube account to Google Ads.

Run Trueview in-stream & search ads.

Build up a remarketing list of those who viewed or watched your video.

Remarket to them via image & other video ads on YouTube & GDN.
With this strategy, you can quickly build up your authority as the 'go-to expert' in your local area. Don't just create sales videos; people don't like being sold all the time.
Create a video that solves other people's problems, and you will find that when someone does contact you, they are a warm or a hot lead and the conversion rate for becoming a paid client is very high.
There are a few types of video ads you can create. (I am not talking here about the image or display ads which can also appear on or alongside the video).
Skippable Video Ads
These are 'skippable after 5 seconds' video ads that appear on monetized videos before or during the main video; this can be a video with a direct call to action, promote a product, showcase a workflow, or demonstration/presentation. 
See Google's Requirements and Specifications for these ads here.
Non-Skippable Video Ads
As the name suggests, these cannot be skipped. They appear before or during the main video. These can only be between 15-20 seconds in length, depending on regional standards.
See Google's breakdown of these ads before creating them.
Bumper Ads
These ads are also non-skippable and must be 6 seconds or less. They appear before a video can be viewed. If you choose this option, you could see a combination of skippable and bumper ads play back to back.  These are great for branding campaigns and work really well in conjunction with a video or display ad campaign.
Video Discovery Ads
Video discovery ads include a thumbnail image from your video with some targeted text. The size and appearance of the ad vary depending on where it appears, but they entice people to click to watch the video. 
You can learn about additional visit the YouTube Creator Academy.
Conclusion
So now you have some strategies on how to get started with local video marketing. For even more help, check out my Video Marketing Crash Course right here on SEMrush. 
Video has got to be in the marketing mix for any sized business. Please don't think the video is only for large corporations. Small businesses can leverage as much as any big business out of this channel, and you only need a smartphone and equipment costing around $100 to get started. Below I have a video with some great tips.
If you feel nervous in front of the camera, you are not alone! The secret is to get started, and the more you shoot, the more confident you will become. Just get started with video marketing right now; you will thank me forever :)