Whether you're building your first business or running one for years, social media advertising can be a powerful boost to your marketing strategy. If you're new to running Instagram ads, understanding how to manage your ads is crucial for a successful campaign. 
Instagram advertising can increase your brand awareness and online sales while promoting specific products and key lines. Here's what you need to know about creating your own: 
What Is Social Media Advertising?
Social media advertising involves using social media as a marketing channel. You place product or brand ads across social media channels, like Facebook, Instagram, Twitter, Youtube, Tik Tok, Snapchat, and more. 
You can run ads to achieve a range of goals, including:
What's The Difference Between Facebook And Instagram Advertising?
Most people know about Facebook Ads, the ad network for Facebook, and the sites it owns. While Facebook ads are helpful in their own right, there are other social media advertising channels that you should consider, including Instagram.
Ad Set-Up
You don't even need an Instagram account to advertise on the platform since Facebook also owns Instagram. Facebook allows you to set up your Instagram ads with the Facebook Ads Manager. 
The Ads Manager enables you to send any traffic to your website instead of the Instagram app or store. You can track your Instagram ads via Instagram Insights directly in the app; this is often easier than checking Facebook Ads Manager on your desktop. 
Users
While Facebook's user demographic is older age, Instagram has become one of the leading social media platforms used by Gen Z. 
A Statista study indicates that over half of the global users of Instagram are 34 and younger, making it a perfect platform to find and start trends. 
Consumption
Facebook tends to be the platform for more extended captions and an older demographic, so its users are likely to take more time when considering a purchase. 
Instagram, however, is a more fast-paced, younger platform, and users are more likely to purchase quickly if they see impressive photography, a favorite influencer, or engaging posts.
What Are Instagram Ads?
Earlier this year, we reported that Instagram is one of the largest social networks in the world, with 1 billion monthly active users. Running an ad to this vast, captive audience can be lucrative for your business. 
Instagram ads can look just like regular Instagram posts and appear in the user's feed or stories. Instagram indicates each ad with a "Sponsored" heading or tag. 
Types Of Instagram Ads
Sponsored Posts
Sponsored posts are a common way to advertise on Instagram. These ads appear on users' home feeds with an image, a short caption, and a direct link. 
Sponsored posts will appear on a feed as a post, much like this example from Fuze Tea France:
Story Ads
Like Facebook, Instagram allows you to post ads on your main feed and in your stories. Any ads you make to your story will disappear after 24 hours, but they can feature a swipe-up link to your website or Instagram shop if you have 10,000 followers or more. 
Reels
Reels are a relatively new feature but are already a great marketing asset. Instagram has now allowed businesses to promote a paid ad on Instagram Reels. 
Instagram caps videos posted to the main feed at one minute. Reels are longer videos you can post to a story or your main feed. You can browse through thousands of Reels directly on the app.
As of May 2021, you'll now be able to see 30-second ad Reels while browsing. If you create an ad Reel, you have a handy way of reaching new users and can track your Reels' engagement levels.
Here's an example of an ad Reel by Dunkin Donuts: 
The Difference Between Organic and Paid Ads
Although an ad on Instagram can look similar to an unpaid Instagram post, there are some main differences between the two:
Organic Posts
Organic (or unpaid) ads are social media posts that appear on your main feed or your Stories. They're usually seen by your existing audience and anyone they share your content with. You can still direct your viewers to your website or Instagram store, but you have less control over who sees your posts. 
Paid Ads
Paid ads, of course, cost money to post. Unlike organic posts, they offer much more control over who sees your ads. You can target specific demographic metrics, such as age or location.
Targeting enables you to create more specific ad copy and design, increasing the likelihood of your target audience completing a sale with your business.
Creating Your Own Instagram Ad Strategy
When creating your own Instagram advertising campaign, it's important to consider three essential elements: 
Instagram Ad Costs
As Instagram is a much newer platform with a smaller pool of data to target, the costs for Instagram ads are typically higher than Facebook's. As more data becomes available, we might see those prices change. 
Since your pool of demographic data is smaller, your Instagram ads will likely deliver more specific and targeted results, and you may see a spike in your conversion rate.
Instagram ads can cost anywhere from $0.20 to $2.00 if using a cost per click (CPC) model. Cost-per-click means you'll be charged whenever a customer sees your ad and clicks through to your specified destination. 
An Instagram ad with an objective of Reach or Impressions could cost around $6.70 per 1000 impressions. You'd usually use these ads for brand awareness. 
Facebook is currently tracking at around $0.78 on a CPC model and $7.19 for 1000 impressions, but this does fluctuate frequently. 
Ideally, you'll want to start creating Instagram ads as soon as possible so that you can establish a solid customer base before the costs begin to rise. As Instagram's data acquisition, platform popularity, and general user activity increase, we can expect a price change. 
Bid Strategies
Creating a bid strategy requires targeting the specific audience that you want to reach and being clear about the type of campaign that you want to run. 
The three main types of campaigns available are:
Awareness: You'll run an awareness campaign to make your audience aware of your brand. You'd spend per impression, so you'll need to keep an eye on your cost per 1000 impressions data. 
Consideration: Consideration campaigns are used to direct a customer to your site to find out more about a product. These usually work well with more high-end, pricey products, as it piques the audience's interest and encourages them to make a considered purchase. 
Conversions: Conversion campaigns try and obtain direct sales from the specific ad created. You'd use these for highly sought-after products, low-cost products, or with a celebrity endorsement. You want the user to purchase the product straightaway.
If you've seen an influencer or celebrity post about a product with a "Swipe Up" link to a checkout page, you've seen a conversion ad. 
Budgets
As you know, it's essential to keep an eye on your budgets when setting up paid ads across social media. If ads are set up incorrectly, you can burn through funds at an immense speed and tank your ROI.
It can be tempting to increase your budget to see those magic impressions or awareness numbers but keep perspective of what's happening within your campaign. If an ad isn't delivering what you want to achieve after the first four or five days, it's time to tweak your ad or start again. 
How To Start Using Instagram Ads
Even if you're running a small business without a marketing department or much time, successful social campaigns are achievable. There are tools available to help you create or amend your ads, like the Social Media Ads tool.
Using a tool to create your Instagram ads makes it easier to develop and launch targeted, impressive ads. A different user interface can also help you familiarly navigate the ad creation process.
For a more in-depth approach, try our latest guide to setting up social media ads with Semrush.
Instagram Advertising Tools
You should aim to use a tool that:
Sets up ads
Monitors ad performance
The Social Media Ads tool guides you through the initial setup of your ads. You'll decide which campaign objective to use and set up your budget within the tool.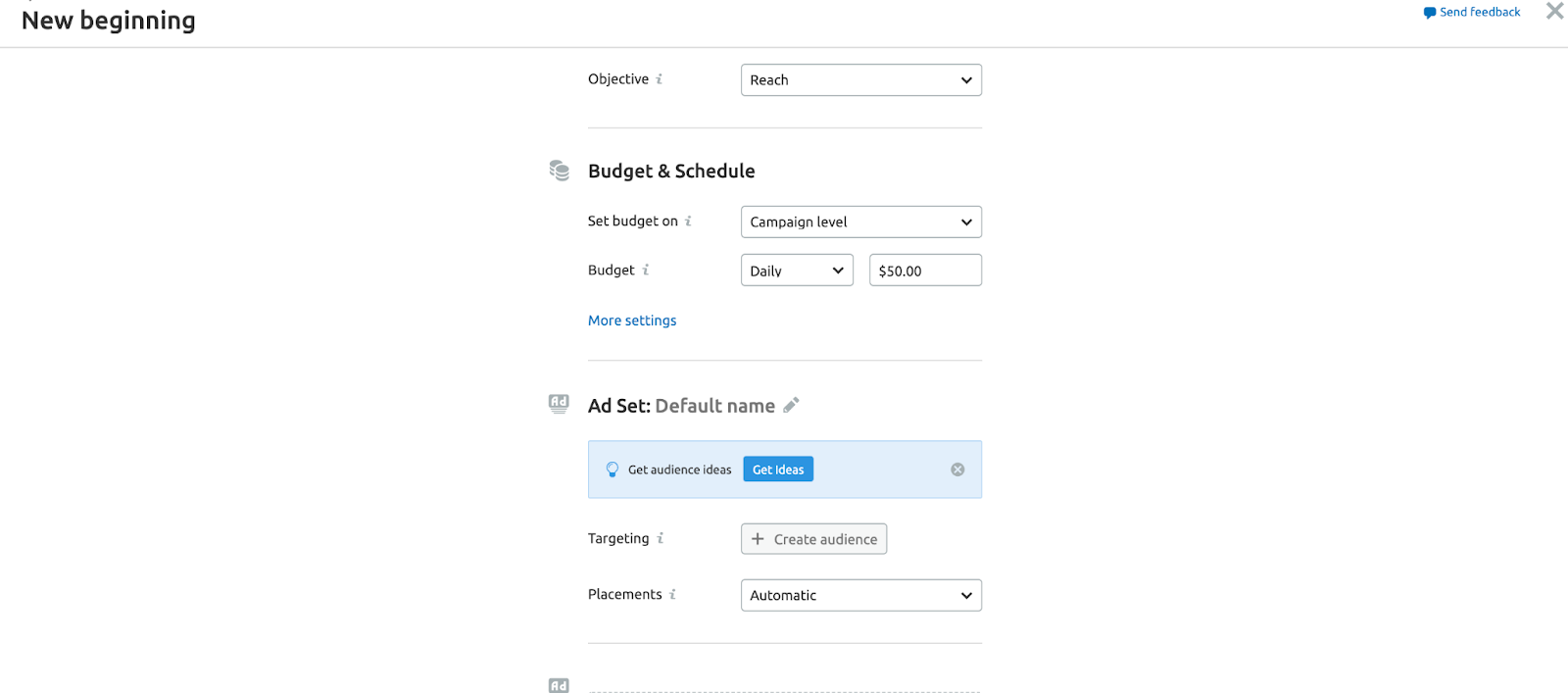 Once you've created your campaigns, you'll be able to keep track of their performance, including any budget spent: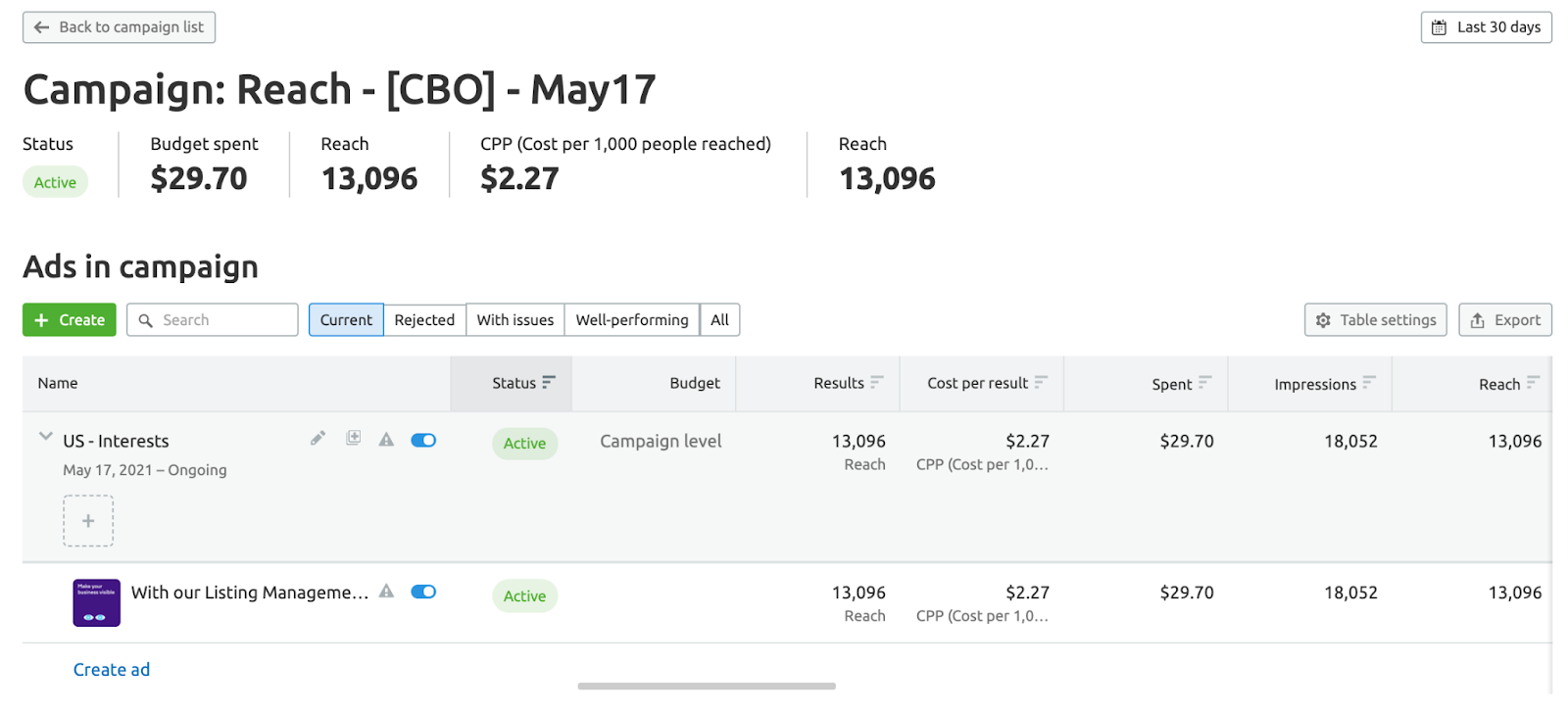 The tool will show a notification if the performance of your ad drops, so you can amend your ad as necessary. 
The Performance Report feature adds an extra benefit to the tool. You'll be able to generate a report for each campaign to see how well your ad performed overall. Note any strong or weak points within your campaign, like days or times your ad didn't perform well. The report also provides suggestions on how to improve your ads:

Conclusion
Using social media advertising tools can actually help keep costs down when creating your ads. With or without a tool, you should spend time optimizing your ads, monitoring your budget, and targeting the right audiences.
Once your knowledge expands, try experimenting with Story ads, Reels ads, and feed ads to find the strategies that work best for you.