When I'm creating a Display campaign to build awareness to a new audience, I like to start my campaign targeting as specific as possible. I want to try and capture as many hyper-relevant users first before I look at expanding my reach to a wider audience. I have this mentality because I want to find what is working first before investing more money in my strategy. Not only will I prevent wasted ad spend, but then I can use the extra money to test out different targeting methods.
Ideally, I would like to try a customer match campaign. Customer match can be pretty effective, but not every marketer has the option to use an expansive email list. So if customer match isn't an option, one of my favorite places to start is using referrals in Google Analytics. If outside sources of traffic have done the work already by bringing in great customers, let's utilize PPC to get more of them. Let me show you how.
Pull Your Top Converting Referral Sources
In Google Analytics, head to the Acquisition report and then select Referrals. Here we will see a list of all the sources that have sent traffic to your website. Initially, the referral report in Google Analytics will be sorted by session quantity, but I'm going to look somewhere else first. I am going to head over to the goal completions column and sort by most completions first. This will allow me to see which referral sources have performed the best with my current audience.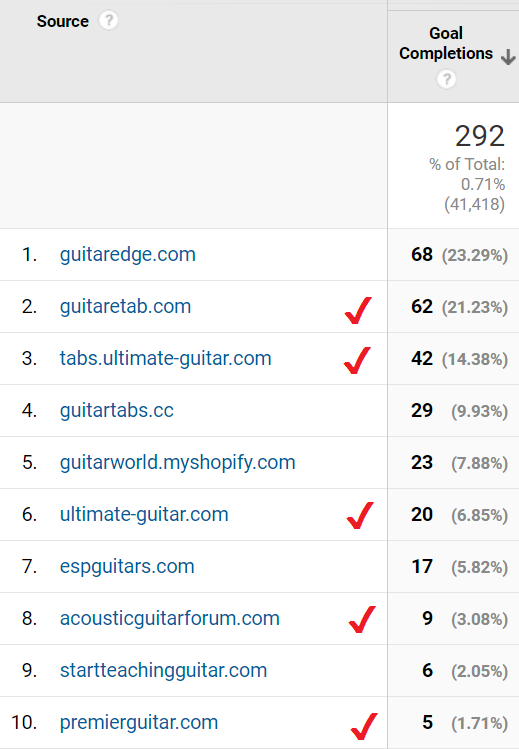 The red check marks are there for a reason. We will see these links again soon. Also feel free to add filters to block out URLs you're already familiar with using (Facebook, Pinterest, etc.). Once you have your list of results, change the date range a few times to see if the converting placements have a consistent trend of converting. If the conversion pattern is to your liking, export your list of referral sources leading to goal completions and head over to AdWords.
Research Each Referral Source in AdWords
You have two options when researching the referrals. First, you can try and use AdWords' Display Planner tool. The Display Planner will give you more information on each of the source if it can be used as a placement. For quicker feedback, I prefer to go into my new ad group right away and search for the referral source when adding new direct placement targets. 
You can see the sites I highlighted in the first section of this blog can be found as direct placement options in AdWords. I can also see what types of Display ad formats the placement will accept so I can create the proper assets for each placement. Last, I see the amount of impressions per week to see an estimate of traffic quantity.
What If None of My Converting Referrals Are Eligible Placements?
Good question. If you don't see any of your top, converting referral sources as placements, add all of them in Display Planner. Google will take the sources and give you the most relevant sites you can test as direct placements in your Display targeting.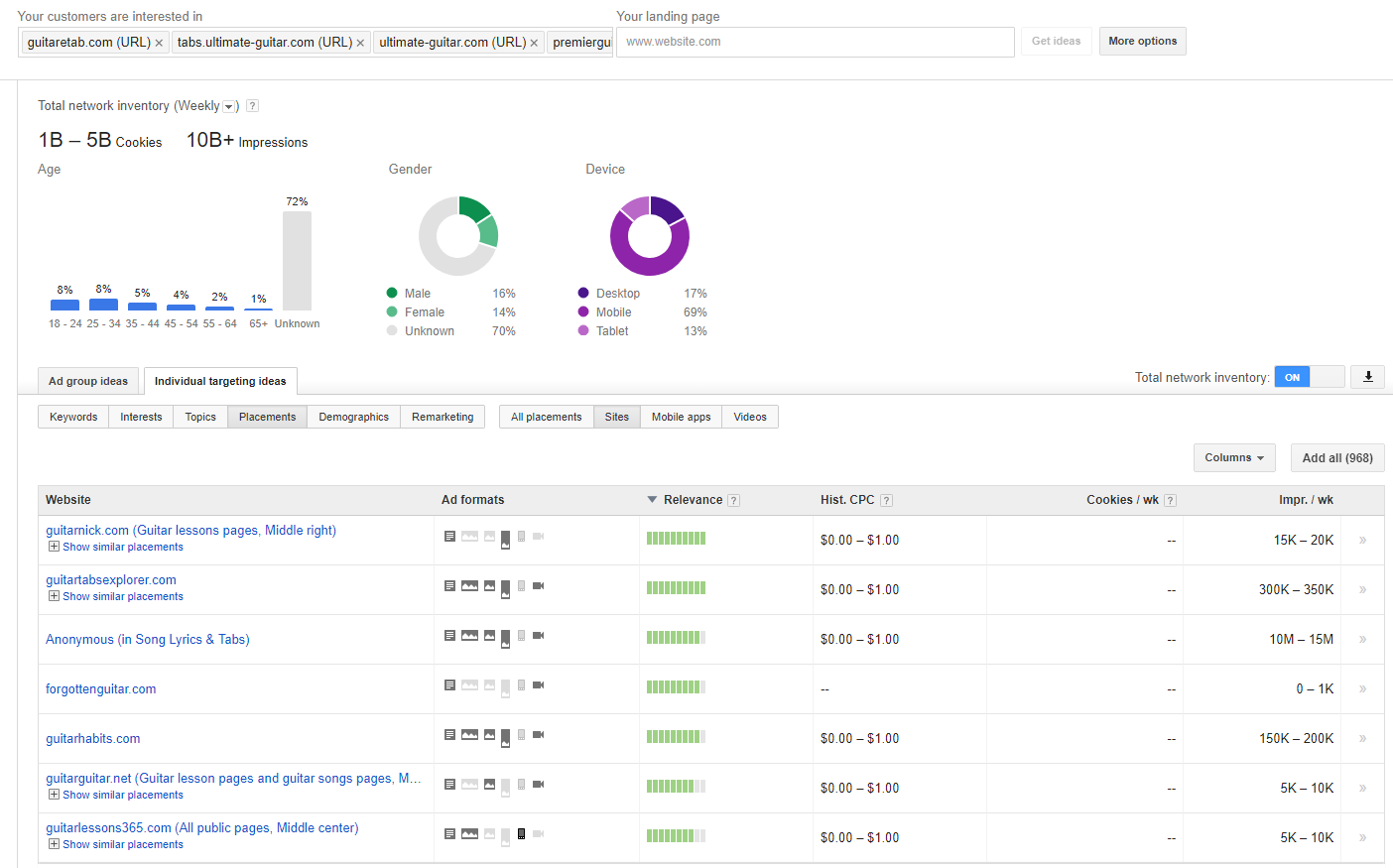 If you don't like any of the recommended placements in the Display Planner results, consider creating a custom affinity audience instead. You can add your converting referral URLs as a combined audience to test an interest-based targeting option. Custom affinity audiences reach users who have shown an interest in the websites you suggested in the past. While it's not as exact as a direct placement, and you're not creating a remarketing list from other websites (that does not exist), you can still utilize your top referral traffic for Display.
Create Campaigns Building Awareness to New, Relevant Traffic
It is completely up to you on how you want to structure your Display campaigns. Remembering daily budgets are set at the campaign level might help you decide whether you want to add all new placements to one ad group or put certain placements in a different campaign. I personally have kept all placements in one ad group first. Then if I see certain sites performing noticeably better, I'll break the placement off in its own campaign to control the costs.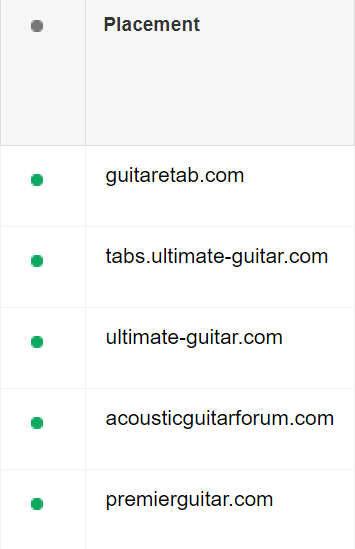 Now the title of this section said new traffic. I am not running a remarketing campaign here. The goal of my Display campaigns is to reach users who have never visited my site before. So be sure to create audiences for previous site visitors and add them as campaign exclusions to keep the data clean. This will prevent your remarketing and awareness audiences from mixing together in the same campaign and allow your ad message to be relevant in the buyer's journey.
Start Driving More Traffic
A search campaign doesn't create demand. It only can satisfy the demand that is out in the world. Display campaigns might not give you the direct return you want right away, but a thought-out Display campaign can increase the number of users searching for your brand, products, or services. More users searching will benefit all your search channels; not just PPC. Google Analytics has the information you need to potentially find untapped resources for new customers who have a history of converting on your website. Find the best sources referring traffic to your site and use those new sources to expand your brand awareness and grow a relevant audience.