Last week's Semrushchat was super informative. Our guest, landing page experts Unbounce, and their Co-Founder, Oli Gardner, shared their insights and recommendations on creating landing pages your users and Google will love. They and our community discussed: 
Unbounce is who you should learn from when attempting to optimize landing pages. There is a lot of valuable information below that you would need to pay a consultant to get, so get ready to take notes. 
What is a Landing Page? 
A landing page is a unique web page that was carefully crafted for a specific marketing or advertising campaign. As the name implies, the internet user lands on this page when they click on a link in a campaign via email, an online ad, from a social platform, or a search engine. 
A landing page should be designed with a single goal — to accomplish one thing, unlike feature pages, for example, which may aim to educate, sell, and convert. 
---
The Questions You Should Ask Yourself Before Launching a Landing Page
Here is what Unbounce had to say, "Launching and building a landing page is all about getting the visitor to perform a single action, so the number one question you need to answer, and also the most basic, is: What you are trying to achieve? 
"What do you want the visitors to do? The answer to this should be the same as the first question, but it's important to keep this Q top of mind because it will inform the way you place information on the page later on (Information Hierarchy)
"Who is going to visit my landing page?" This should be one of your campaign segments. Your LP should talk to that specific segment ONLY. If need be, create new LPs for each segment.
"Does the information pre-click match with the information post-click?" This is especially key in the header. We want visitors to know they're in the right place after sending them to our LP. Read more about Message Match here.
---
More Landing Page Questions to Ask
---
Is It Okay to Use a Homepage As a Landing Page?
Unbounce: "Obviously, we have some strong feelings here. You should NEVER send campaign traffic to your homepage; there are just way too many distractions.
Homepages = discovery and exploration.
Landing pages = conversions.
When you are running a campaign, always send your traffic to dedicated LPs.
Each LP has a single objective. That doesn't mean you only give them one option, but the main action (the one you want them to do, and the one they should do) is obvious and persuasive.
That's not to say there is no place for the homepage in your marketing. Say you are in startup mode and launching your first MVP ever, i.e., a mobile app. You might create an LP that acts as your homepage, and that's totally fine with us."
"The one-word answer is NSAMCWADLP. The ten-word explanation of that is Never. Start. A. Marketing. Campaign. Without. A. Dedicated. Landing. Page. << This should be your default starting point. "— Oli Gardner
---
Home Pages as Landing Pages
---
Best Practices for Designing a User-friendly Landing Page
Unbounce, "When it comes to a user-friendly landing page, you will need to concentrate on 2 main things: content and Design. 
Content-wise: provide the information needed. You want to keep the conversation you started in your pre-LP asset (ad, banner, email, etc.) in the LP. That way, you are helping the users to take their next action. This brings us to talk about information-hierarchy – the order with which the copy on your page is presented, both in literal terms (which comes first) and in terms of the visual dominance (what stands out most). 
Design-wise: make the layout familiar. People like familiarity, and that makes it easier to find the information. Keep the basic sections of your page clearly visible. Use whitespace. Use secondary CTAs if needed but make them less noticeable. What about mobile? Start designing mobile-first, or even mobile-only. People don't click elements when navigating on mobile: they touch them. Also, consider using AMP LPs to get loading times closer to zero. Your time is valuable. Your customers', maybe more, right?"
---
Additional Landing Page Best Practices
Additional Reading: Beginner's Guide: 9 Things You Should Know if You Are New to Mobile SEO and The Only SEO Checklist You Will Need in 2020: 41 Best Practices
---
How to Optimize Landing Pages to Boost Your GoogleAds Quality Score
Unbounce, "Direct from Google: Quality Score is an estimate of the quality of your ads, keywords, and landing pages.
Higher quality ad experiences = lower costs and better ad position
Here are our top 3 tips to get there. Convey the EXACT same message from ad to LP–remember Message Match? A consistent message is key because it tells visitors they've landed in the right place, and that they're on the right path to the outcome they searched for.
Speed up your landing page's load time if you are hit with a slow-loading page, you bounce quickly, and the same goes for prospects clicking through on your ads.
Using mobile ads? Use AMP LPs instead.
Ensure your landing page is easy to navigate!
If your LP is cluttered and visitors can't find what they are looking for, they are going to bounce, which Google takes as a signal your LP isn't meeting their needs. 
When all's said and done, Quality Score isn't an exact science.
Google checks often, but it may be a few weeks till you see your LP changes influence scores. But, the clearer path to conversion on your LPs, the better chance you'll have at a good Quality Score."
---
Additional Landing Page Optimization Strategies
---
The First Steps of a Landing Page Audit
---
If you connect your Google Analytics and Google Search Console accounts to the SEMrush Content Audit tool, you can see important data for each landing page in a quick view that you can export for reporting. The data includes for each URL, sessions, average session duration, pageviews, average time on page, bounce rate, and search queries.
You can learn more about how it works by reading The Step-by-Step Guide to Conducting a Content Audit in 2020.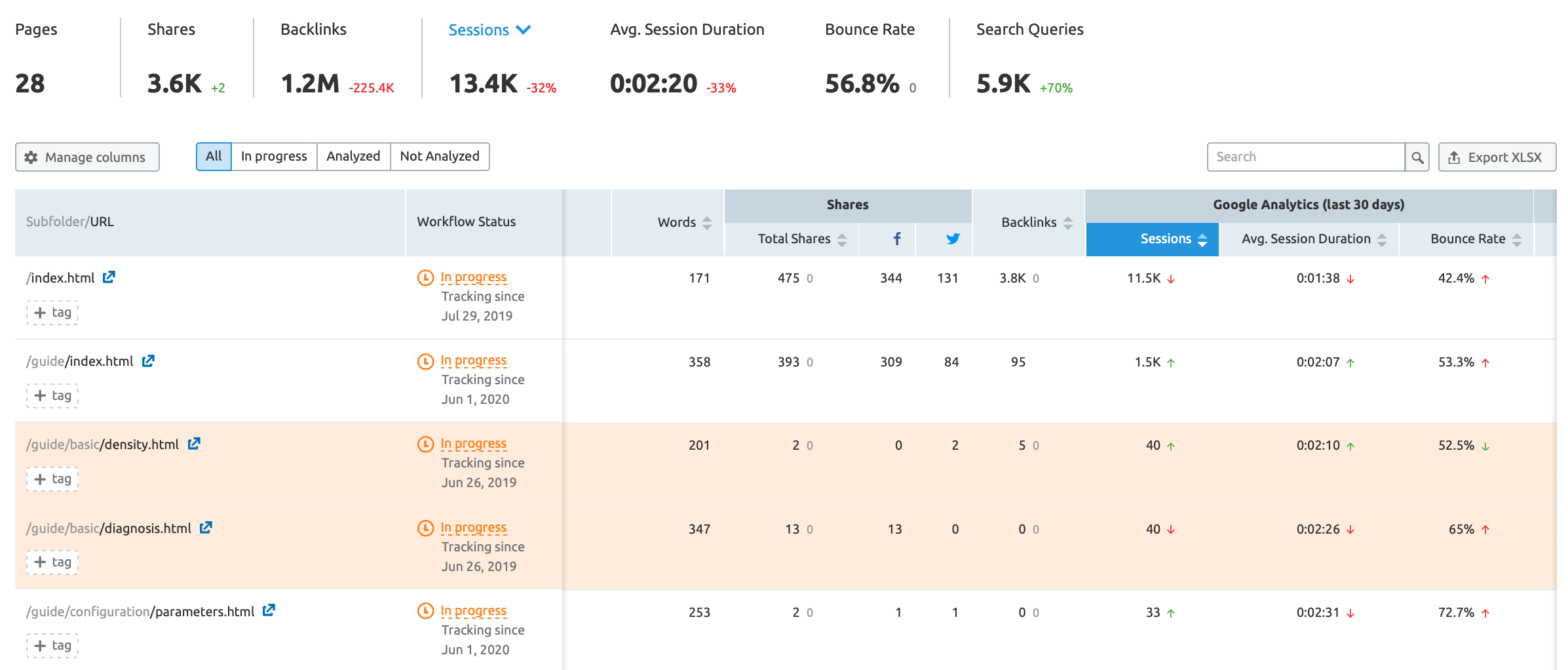 ---
Do You Have Landing Page Suggestions?
If so, please share them in the comments below. We also want to thank all that participated in the chat. We will be looking for your expert insights next week. Join us for #Semrushchat every Wednesday at 11 am ET/4 pm BST.