If your business blog lacks organic visibility and barely registers the footprints of your target audience, you will no doubt be searching for ideas on how to attract them.
Unfortunately, many online resources suggest finding blog post ideas in random and often fruitless ways, such as browsing social media networks and comments, sending polls, and even making use of blog idea generators.
The main disadvantage of these methods, though, is a lack of data proving overall audience interest, which only leads to unmethodical insights. 
How do you know if the topics you choose are capable of attracting and engaging a significant portion of your target audience?
One thing is for sure: Researching blog topics requires strategy.
Let's get straight into the complete workflow for compiling a content plan for your business blog, using a strategic and data-led approach.
How to find blog post ideas:
Step 1. Outlining Your Blog Strategy
A documented strategy comes before all else. Here are the steps you will need to take to define one for your blog.
If you already have an all-encompassing strategy for your purpose, personas, and goals, you can skip to Step 2 to identify your blog's core topics.
Determining Your Business Blog's Purpose
This will help you set clear goals for all your blog content. Ask yourself:
Why do you need a blog? 

What area of your business are you trying to improve with your blog?

What do you expect your audience to do after they read your content?
Consider how your blog's content will fit into your overall content strategy and, in turn, what kind of content people should expect to see depending on which stage of the buyer's journey they are at when they visit.
Your blog's purpose might be:
Attracting quality traffic;

Generating leads;

Driving conversions; or

Educating users about your product.
Once you have identified the stage and purpose, you will develop a better understanding of which topics suit your blog and which might be better for other pages.
According to the CMI, 31% of B2B and B2C content marketers consider blog posts the highest-performing content type for building brand awareness. HubSpot also reports that B2B marketers who blog get 67% more leads than those who don't, so it's important to consider the potential a blog might have as part of your overall marketing mix.
Setting up Your Blog Goals
Think of a goal as one step on the path towards driving profitable action for your business, whether it is in terms of savings or revenue. Make your goals specific and measurable, for example:
Attract X% of the total addressable market (TAM);

Increase organic traffic by X%; or

Get X% more leads in a year.
Tip: To keep track of your progress and see the impact of your blog with the right metrics, choose a goal-setting framework that suits you best. For example, SMART, CLEAR, KPIs, or OKRs. 
Defining Your Target Audience
Readers of your blog won't always be buyers of your products. 
Be sure to get to know what your audience wants on an individual level so you can work out how to appeal to them with targeted, optimized content.
Create a portrait of each persona specifying their age, gender, interests, education, and job title, and explore the Jobs to be Done (JTBD) framework as part of our Ultimate Guide to Content Strategy to develop an even deeper understanding of their needs.
Deciding on the Content You'll Publish
Think about what value you're going to bring with your content and how you can differentiate yourself from your competitors' blogs. 
Next, craft a mission statement for your blog. Include your company's unique vision for content, the value that content provides, the audience it benefits, and the principles it upholds. 
With all this in mind, decide on the content you are going to publish. One of the approaches to this is to consider two kinds of content strategies, namely Publications and Libraries, according to Andy Crestodina: 
Publications cover the latest industry news and trending topics that may become irrelevant in the future. This content is mostly distributed by emails and social media to subscribed audiences.

Libraries focus on evergreen content, such as how-tos, best practices and guides. This content is distributed organically via search engines and makes your audience aware of your brand.
Devising how you are going to reach your audience — via search engines, social media or email, for instance — may give you a starting point for this. 
Tip: You don't have to choose between Publications or Libraries, but rather decide on a percentage distribution that fits your blog strategy. For example, Flying Hippo offers the 80 percent rule, which consists of publishing 80% evergreen content and 20% timely content. 
Step 2. Identifying Your Core Blog Topics
Identifying your blog's core topics allows you to get a bird's-eye view of your future editorial plan.
Take the HubSpot topic cluster model as an example. The idea is to identify 5-10 core topics for your blog, and then expand on them using different data sources. 
Introducing Topic Clusters
Topic clustering is an SEO tactic that focuses on topics (as opposed to keywords) that:
Improve your website architecture;

Make it easier for Google to discover related content; and

Boost your search engine visibility.
To recreate this model for your blog, you'll need to publish:
A 'pillar' page that roughly covers a general topic, and usually targets a high-volume keyword (e.g. ' SEO copywriting'); and

Several 'cluster' pieces of content that focus on specific, long-tail keywords (e.g. 'How to write SEO content', 'What is SEO copywriting?').
Here's what a topic cluster may look like, according to HubSpot: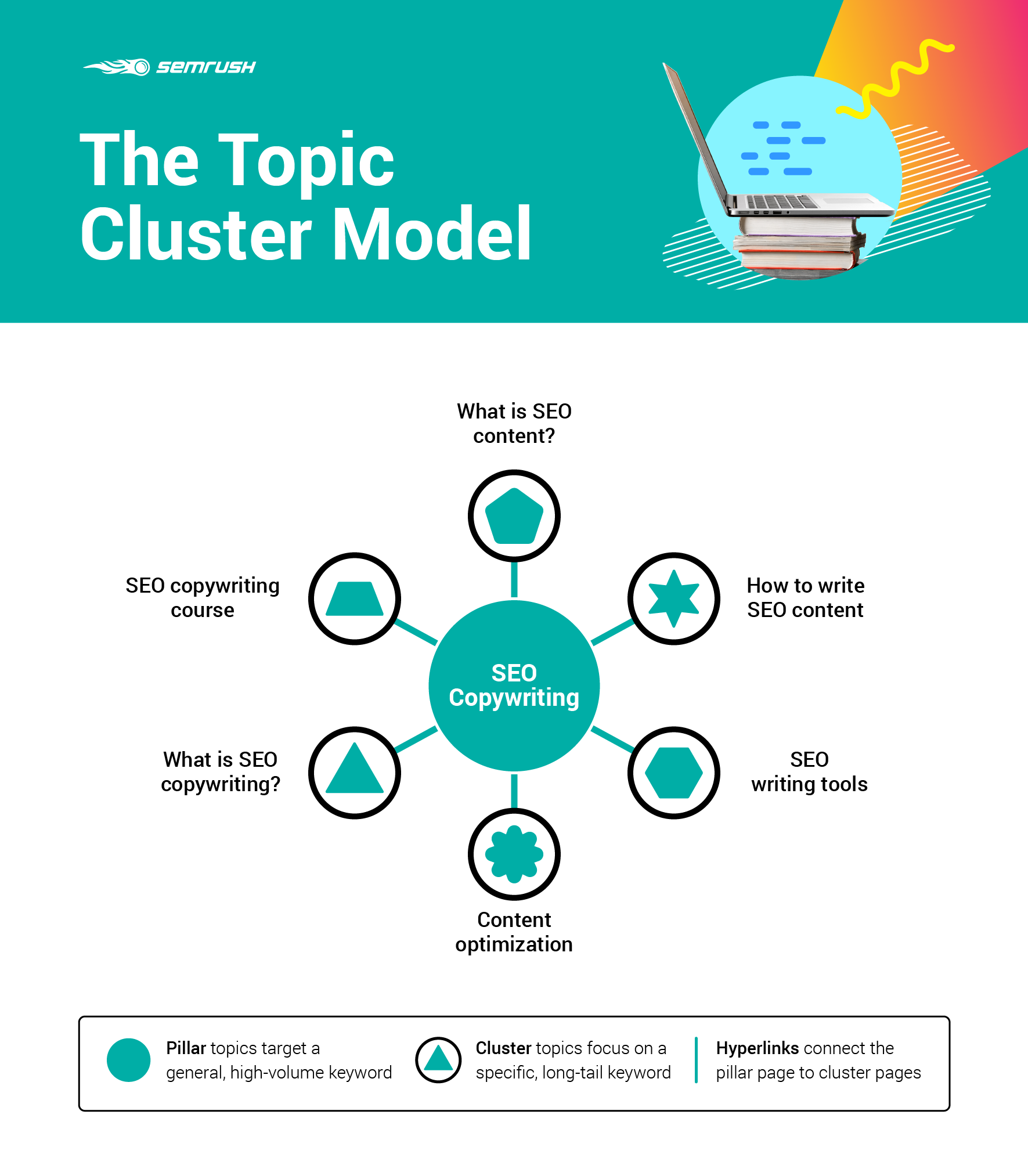 The main advantage of this grouping model is that it gives an organic traffic boost to the whole cluster if just a single cluster page from the group performs well — but only if the interlinking is properly optimized. 
The pillar page should link to each piece of cluster content, while cluster pieces should link back to the pillar.
Determining Your Pillar Topics
To determine your pillar topics, think about them as they relate to your product or service. 
In this step, you'll need to review your product's value proposition and persona portrait. 
Merge your audience's challenges with the challenges your product solves to find a common topic you could cover on your blog. 
To identify the first pillar topic, start by analyzing a specific feature that solves a specific user problem. Next, formulate this problem as a general concept, as per this model:
Product (or specific feature) > Specific user problem topic > Pillar topic
To give you an example, let's say I develop a blog for copywriters. I sell an SEO copywriting tool (product) that helps my users to write optimized texts (problem), a concept that is widely known as 'SEO copywriting' (pillar topic). Other pillar topics I might define are 'content marketing', 'content management', or others that are relevant to both my audience and my tool.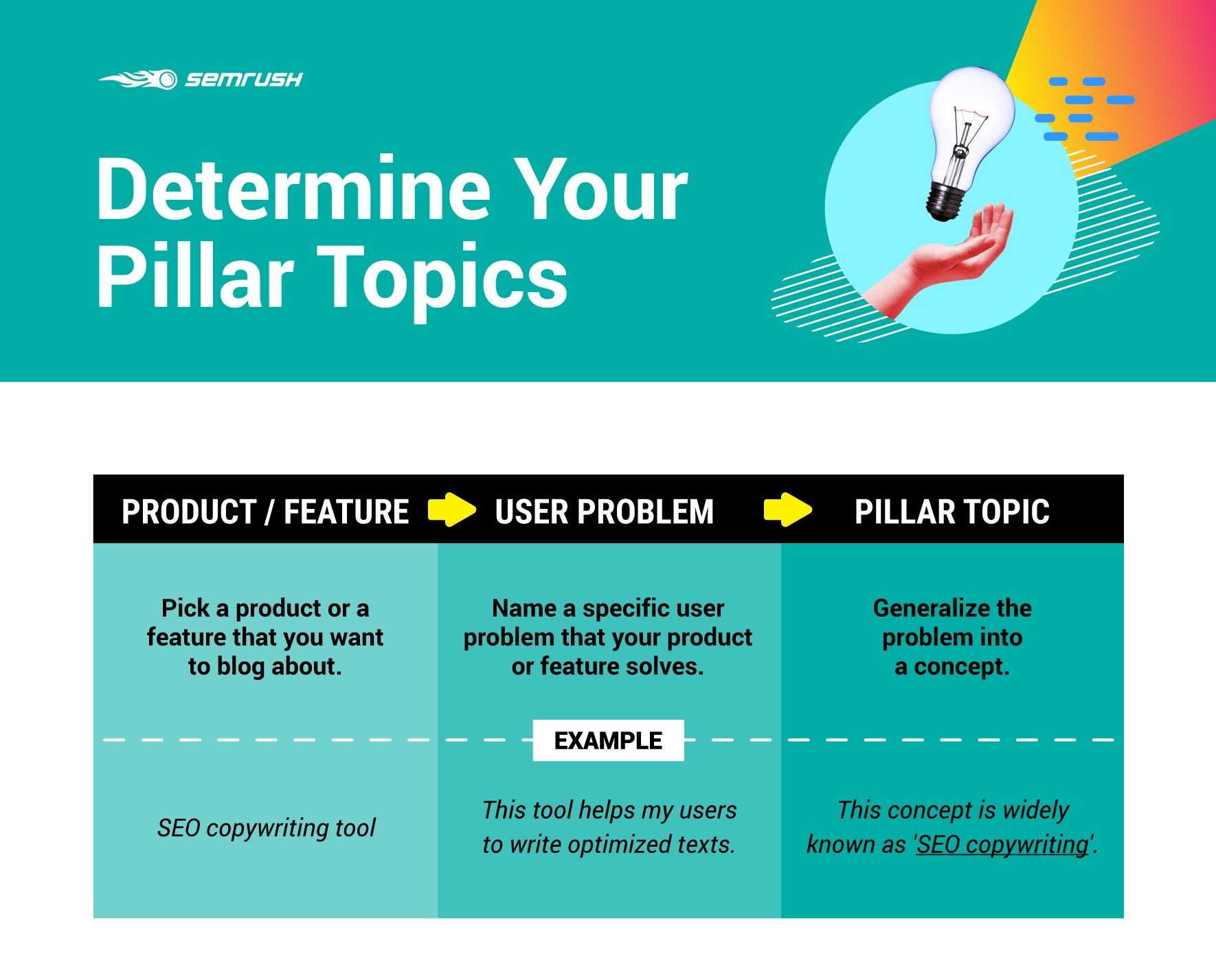 Formulate 5-10 pillar topics to keep your blog's focus clear, and keep them in a file that you'll expand on later.
Since this model is tied to organic activity, make sure your pillar topics are searched for online. To do so, analyze each topic with a keyword research tool to find more popular synonyms of these topics. 
Liz Moorehead suggests that your core pillar topic should have substantial search volume, but not too much: 500 searches per month may not be worth your time; 1,200 to 6,400 is more on target; and 33,000 is too many to consider. Keep in mind that these are just rough figures and may vary significantly from industry to industry and country to country. 
When you come up with your pillar topic, your next step is to find cluster topics you can cover using different data sources.
My recommended tools: 
Explore the Ultimate 2021 Guide to Building a High-Performing Content Hub
Step 3. Expanding Your Topic List
Identifying your core topics will have sent you in the right direction for finding more ideas for your blog. 
Next, let's look at topic research using multiple sources, such as:
Brainstorming;

Competitors' keywords;

Search and social media trends; and

Keyword research tools.
Brainstorming Topics
You will probably already have a wealth of industry knowledge in your company to exploit for blog content topics. Invite marketers, product managers, and sales and account executives to pinpoint the most relevant topics for your users. 
Think of topics as general concepts, not as titles. These will be the foundation of your future keyword research.
Tip: Don't like brainstorming or don't have a team? Come up with at least three topics of your own that answer the questions from each group below, and proceed to the next step.
1. Industry Topics
Content on these topics may help you attract people who are genuinely interested in your industry, searching for trends, or looking to apply best practices.
Ask yourself:
What topics are most discussed in your industry?

What are the latest trending topics?

What do the industry experts discuss?

What topics are the most controversial?
In my case, I'd start with these topics: 'SEO', 'content optimization', and 'user intent optimization'.
2. User-problem-related Topics 
Creating content around these concepts may help you attract people who are looking to solve a problem, or profit by overcoming it. 
You can also relate to these topics as 'issue or opportunity' terms. Focus on your target audience's pain points first, and then on the benefits they could get by using a solution to that problem. Think of what questions they tend to ask most frequently and what final goals they want to achieve.
Ask yourself:
What problems do people suffer from in your industry?

What fears do they have?

What are they trying to achieve?
In my case, the topics would be 'SEO-friendly content', 'SEO-friendly blog posts', 'traffic driving content'.
3. Product/service-related Topics
Creating content on these topics may help you attract the attention of people who are looking for a solution to their problems. 
Think of which solutions people are looking for, and how they search for them. 
Ask yourself:
What products/services are you competing with?

How do users search for a product like yours?

What products/services are popular in your industry (even if you don't compete with them directly)?
In my case, the topics would be 'SEO online checker', 'article checker', 'SEO writing tool', 'writing assistant tool'.
What to do next: Collect all the topics you have identified in a file with your pillar topics. Make sure you've indicated the data source next to each one. This column will help you prioritize your topics, learn where to dig out more information, and consider article distribution. We'll come back to this file later.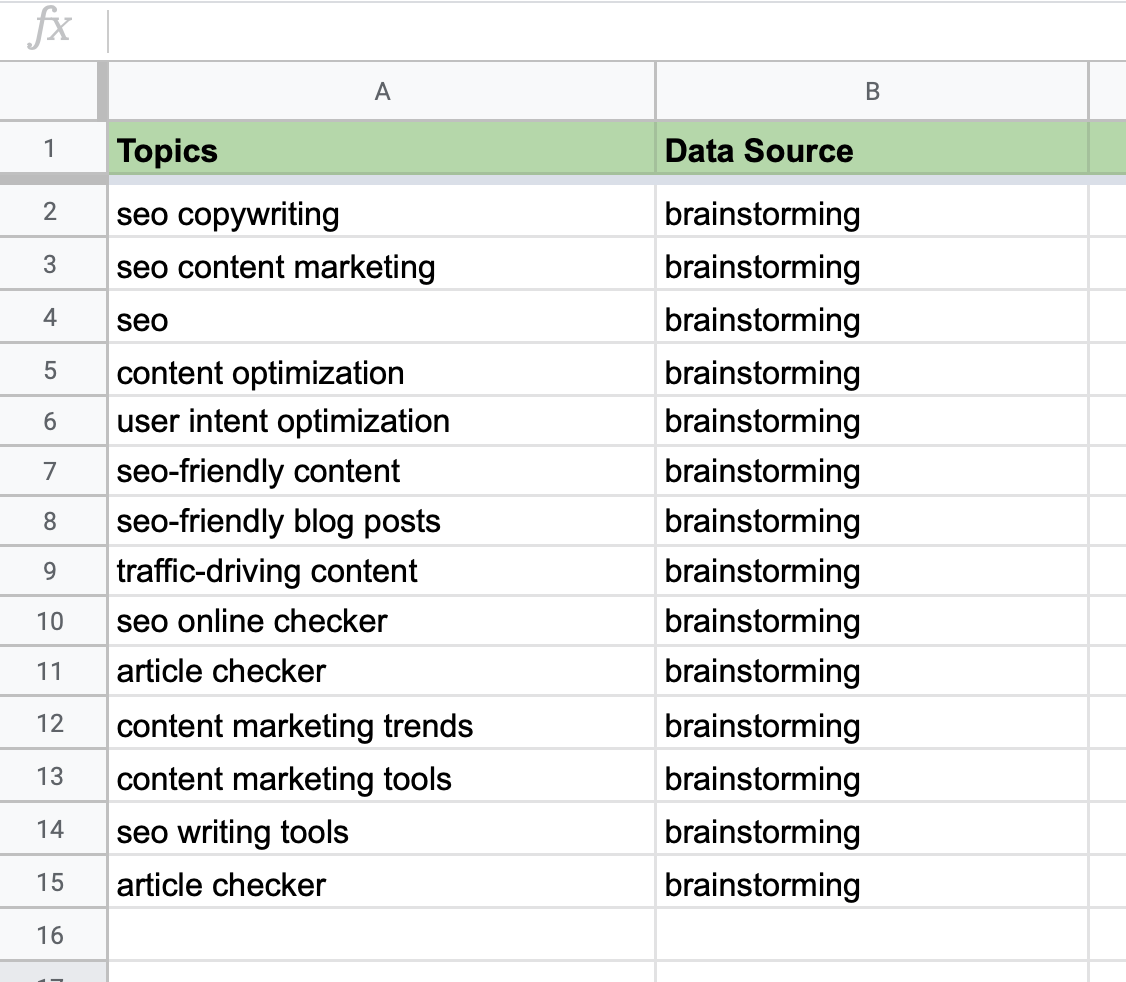 My recommended tools: 
Topic Research to generate popular topics when I'm stuck, or to broaden a list of topics. Learn how to generate content ideas using the tool in a particular location and based on a particular topic you have in mind.
Collecting Competitors' Keywords
The next step is to check relevant topics that both your direct and indirect competitors cover.
Remember that industry blogs are your competitors as well, even if they don't sell a product like yours. You should keep an eye on them if you want to attract organic traffic on topics relevant to your audience.
Analyzing Competitor Blog Focus
Start by going straight to your competitors' blogs and checking the categories to reveal their general focus. Remember to check tags and, if possible, filter them to see which categories are most prevalent on their blog. 
Any of these tags or categories could be your competitor's pillar topics. Consider adding a couple of them to your plan if they match your strategy and have sufficient volume. 
My competitors' blogs feature 'writing', 'content trends', and 'content tools' categories, which could also make up part of my list. 
Conducting Competitor Keyword Research
Next, you'll have to proceed to competitive keyword research to find gaps in your strategy.
This step is unthinkable without using analytics tools. To find keywords that your competitors rank for, take a free 7-day Semrush trial and use the Organic Research report. You'll be able to not only research more than 18 billion keywords, but also access other data-driven tools to create your content plan.
Check keywords for:
The entire website (competitor's domain); or

The blog section only (competitor's subdomain).
Now, collect the most relevant keywords that your competitors rank for in organic terms. To do so, filter keywords by a specific word, e.g. 'SEO'. I focus on collecting high-volume keywords first, but I also add those that have quite a low volume, but are still strategically important for our business.
Some keywords I found included 'plagiarism checker', 'readability', and 'copy editing'.
What to do next: Export your keywords and copy and paste them into your original file. Don't forget to indicate your data source.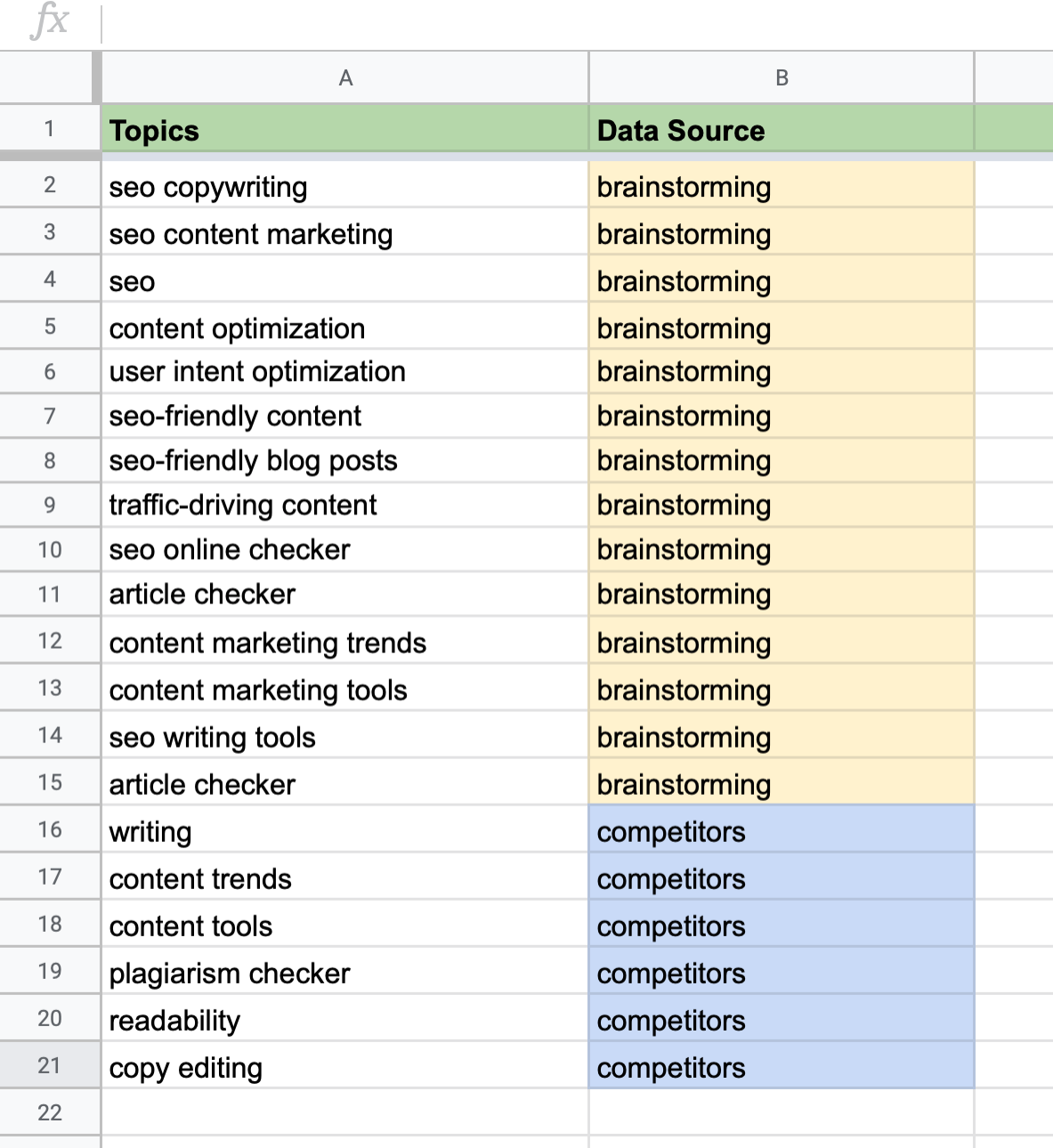 My recommended tools: 
Finding Trending Topics
Now, search for trending topics relevant to your industry. For this step, you'll need reliable tools that can help you spot organic trends that have proven to be of interest to your audience. One important technique for covering trending topics is newsjacking.
Detecting Trends on Google
The most obvious data source is Google Trends. One by one, enter your pillar topics, and those that you brainstormed in the previous steps. Then, check their trending status (you can compare up to 5 keywords at once) and find related queries.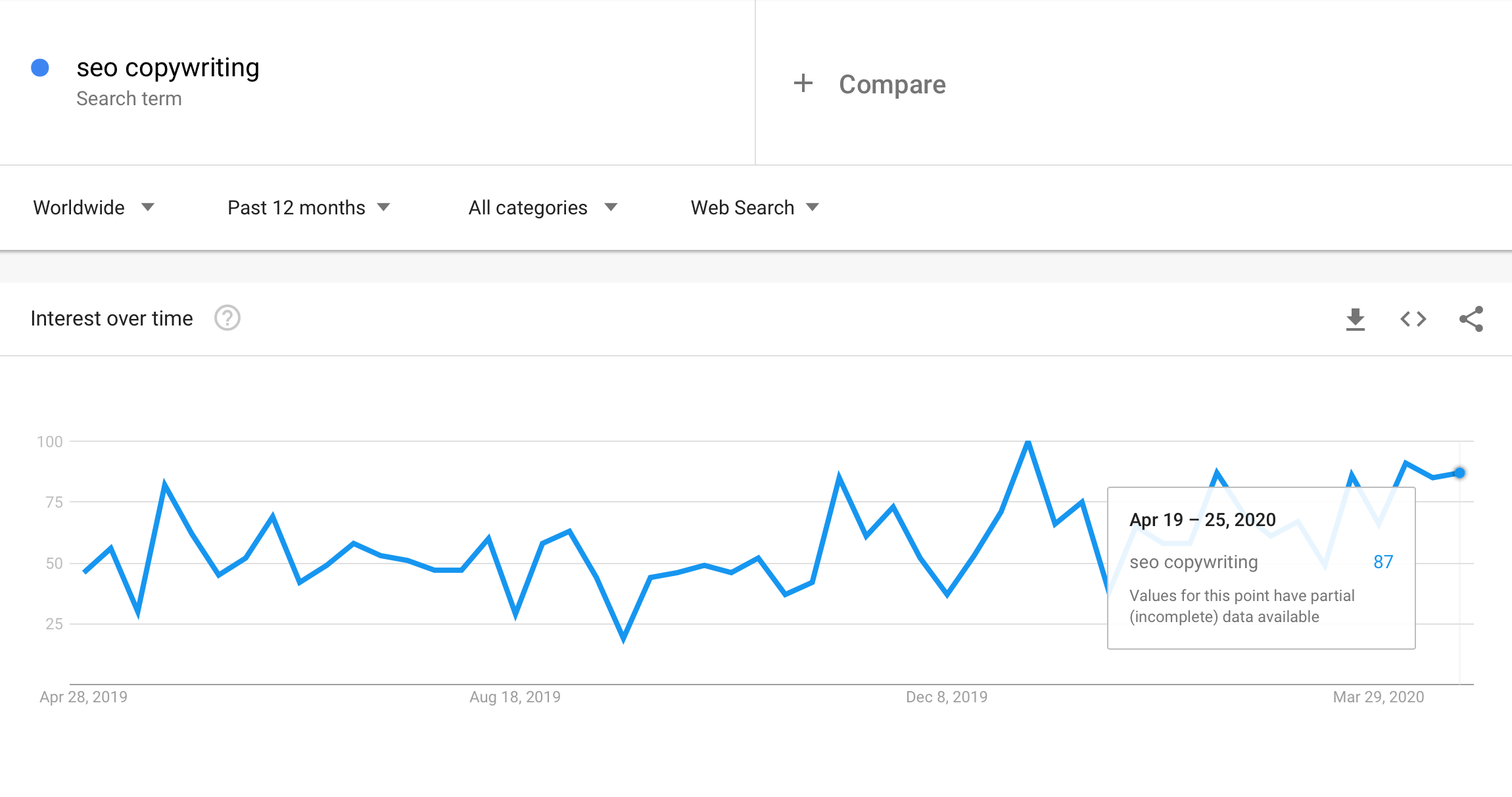 Check queries that have the greatest increase in search frequency. Pay special attention to the results marked 'Breakout'. Google describes these as queries that have had a huge increase in search frequency, as they are new and have had few prior searches.
If you see a spike in a particular month, the keyword may be seasonal. Mark it as such in your file, so you can schedule an article on this topic in advance.
Some keywords I found were 'SEO copywriting course', 'SEO copywriting service', and 'SEO copywriting agency'.
Analyzing Social Media Trends
Depending on where your audience tends to spend time, the exact steps of finding trends on each social platform may vary. However, the general workflow is the same, since the social trends are mostly personalized and tied to your profile interests. 
Subscribe to your industry influencers and media. Keep monitoring what's being talked about and see what's trending in your feed. 
Evaluate posts by engagement. Compare the number of likes (or other kinds of reaction) to the number of subscribers to see the scale of the audience's overall interest. 
You may also want to check Reddit to see if there is a dedicated subreddit for your industry. If you're lucky, you can sort posts by 'Hot' (trending) or 'Top' (most upvoted (liked)) topics within a preferred period. 
Besides trends, you can also use Reddit for keyword research to find more content ideas for your content strategy.

Another way to learn about social media trends is to search for industry research reports, like the ' Top Twitter Trends' we did last year.
Some topics I found were 'SEO online courses' and 'SEO freelance'.
Using Data-driven Tools
While the manual research in Google Trends may take hours, there are ways to find trending topics much faster. Using data-driven tools like Topic Research, which is available for trial, will help you find trending topics based on a particular location in no time. 
Type a topic you have in mind and find topics that have been trending online for the last 60 days by using the trending filter. Trending topics are marked with a fire icon. Also, you'll instantly see the topic volume, allowing you to assess the organic interest of your audience.
Some topics I found were 'ranking factors', 'content marketing', and 'content relevance'.
To avoid manual research in social media, you can start tracking your competitors or industry experts using Social Media Tracker. This allows you to detect the most engaging posts on Facebook, Twitter and Instagram, video on YouTube, and pins on Pinterest.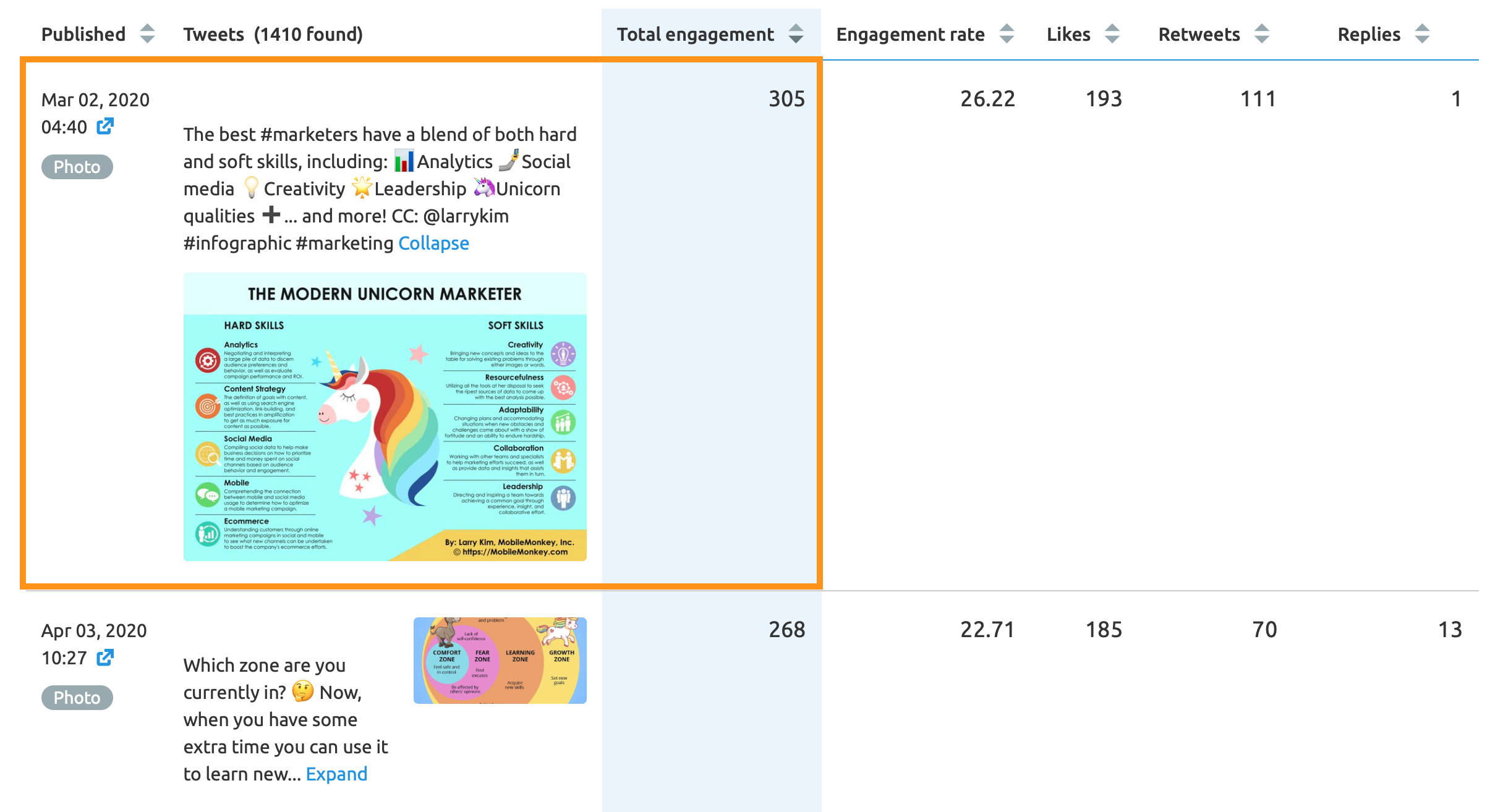 What to do next: Add new topics to your original file. Don't forget to indicate your data source.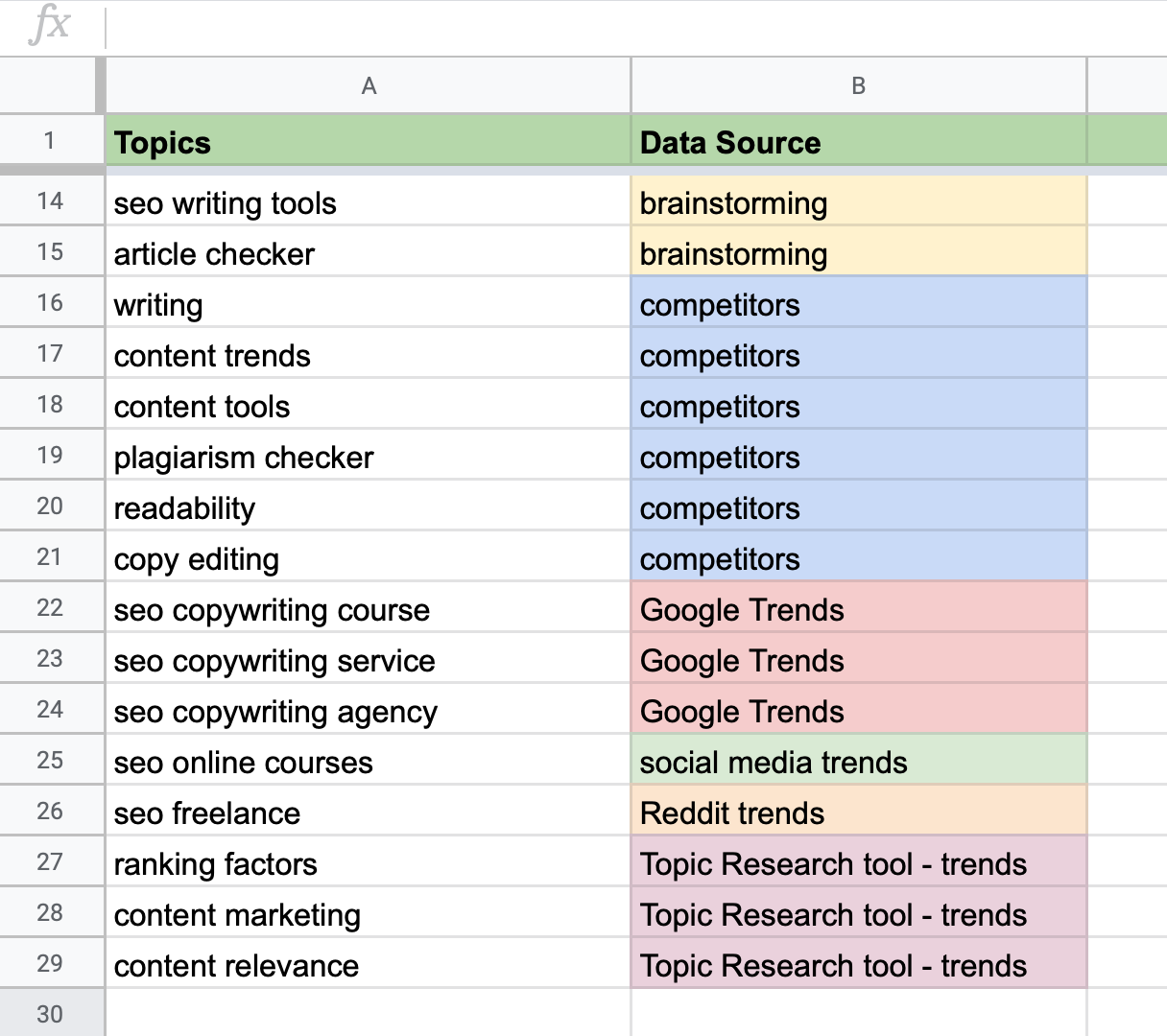 My recommended tools: 
Researching Keywords
Now, it's time to expand the list of all topics and keywords you've collected, and make them more specific.
For this step, you can use Google Autocomplete, one of the best free keyword research techniques, or take advantage of your free Semrush trial. You can research keywords using Semrush's Keyword Magic Tool, which features more than 18 billion keywords with volume, keyword difficulty, CPC and other metrics.
Broadening Your Keyword List
This step will help you find keywords or synonyms for your topics that you might have overlooked. Start broadening your keyword list by researching a single topic or keyword from your list one by one.
Search for expanded keyword phrases that include your queried term. Find long tail keywords that are more specific but less popular. Check for semantically-related keywords based on your list of seed keywords. If you're using the Keyword Magic Tool, click on the 'Related' filter to see these.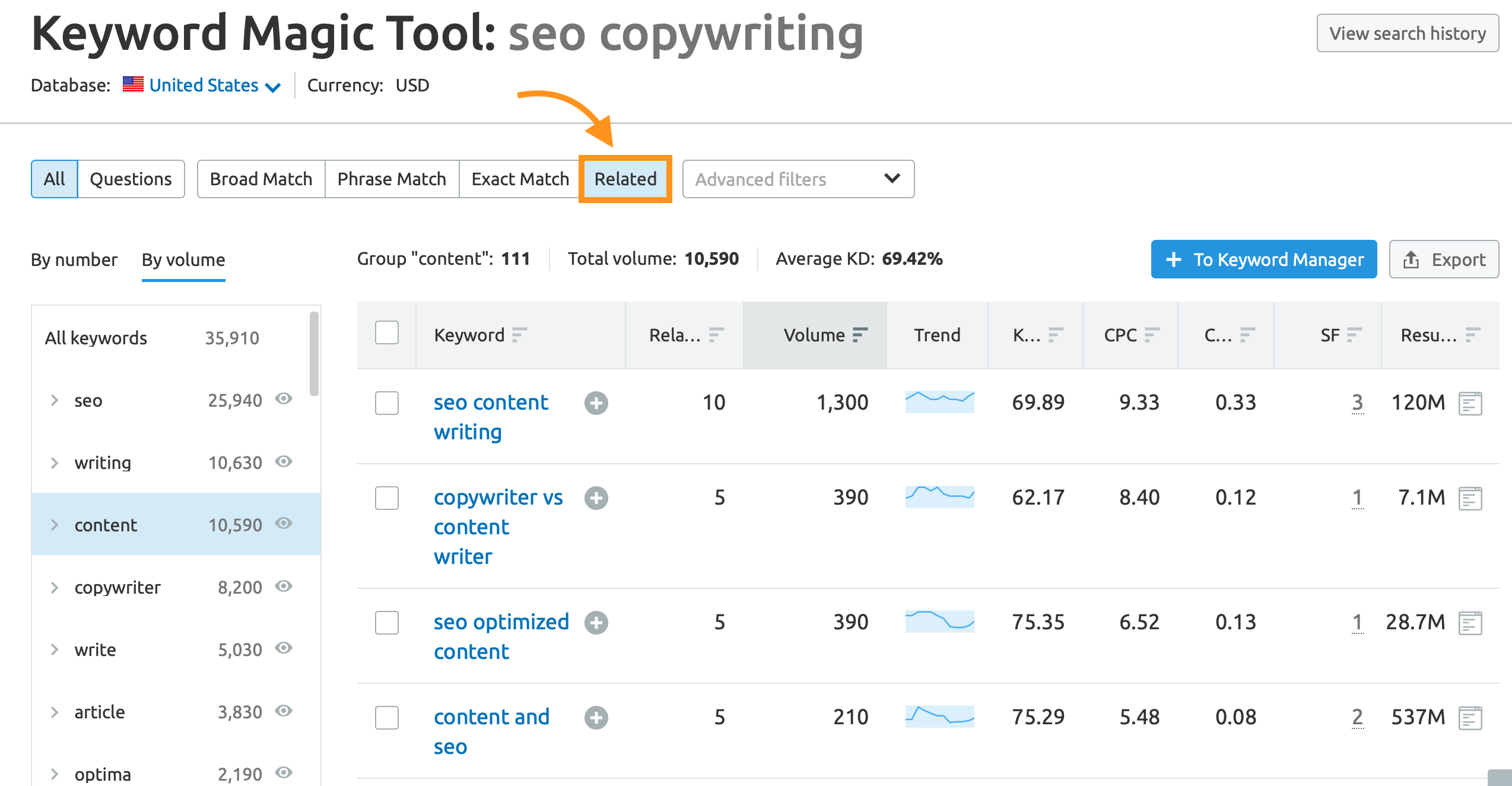 Repeat these steps for each keyword for which you want more ideas. 
Tip: What to get more specific? Head to our ' Keyword Research guide' and discover how to make use of Semrush to research keywords.
What to do next: Export new keywords and paste them into your file. 
My recommended tools: 
Finding Related Questions
Be sure to search for questions that include your keywords, since questions allow you to better understand a searcher's intent. 
Answering specific questions in your blog posts will help you bring value to your audience, and increase your chances of ranking higher or getting into featured snippets and voice search results.
Using Question Keyword Tools
Aside from checking Google's 'People also ask' feature in the SERPs, you can find common questions by using tools that collect people's search queries, such as Topic Research. Simply type a topic and explore popular questions via the filters.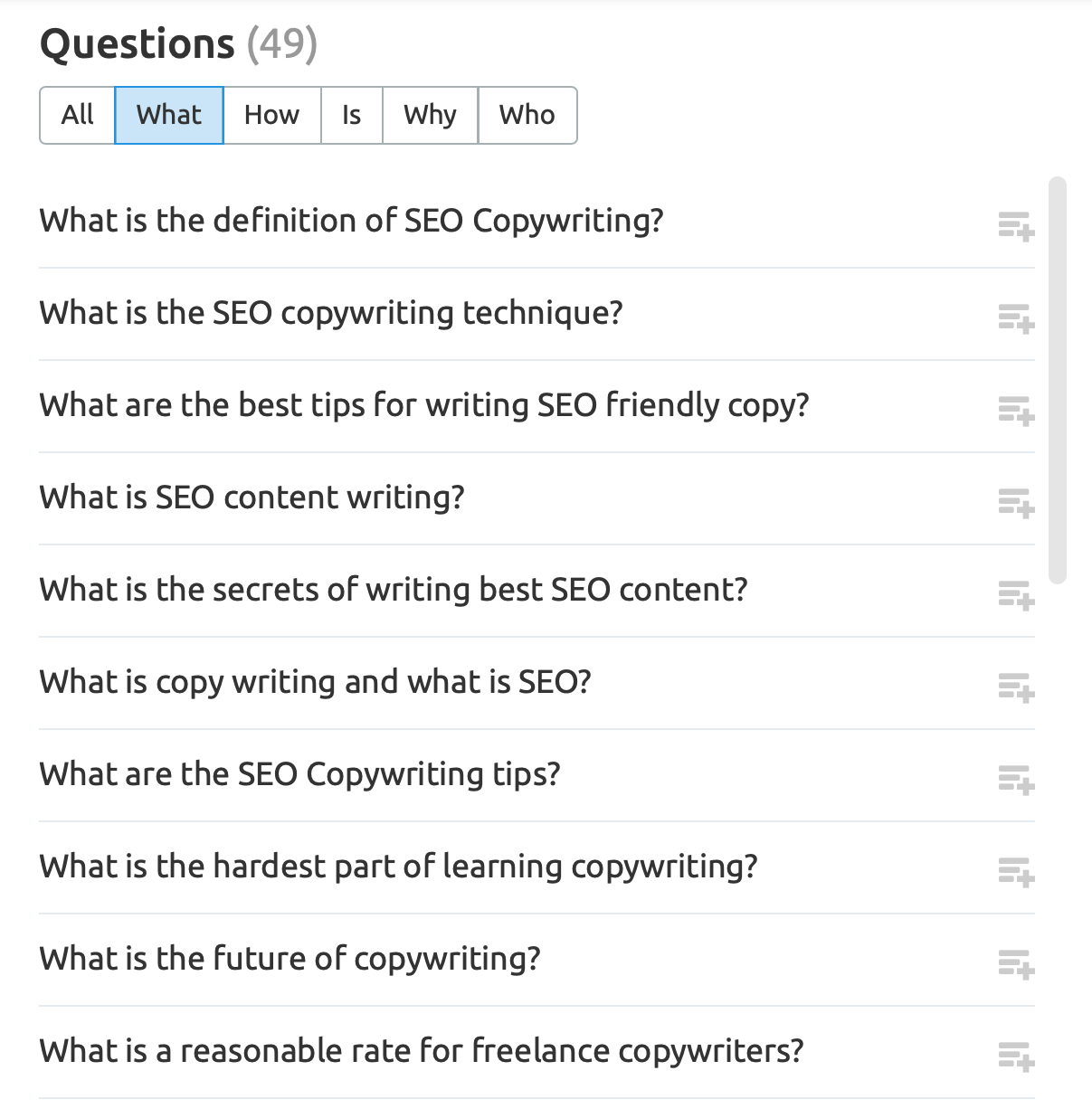 What to do next: Paste your questions into your original file. Don't forget to indicate your data source.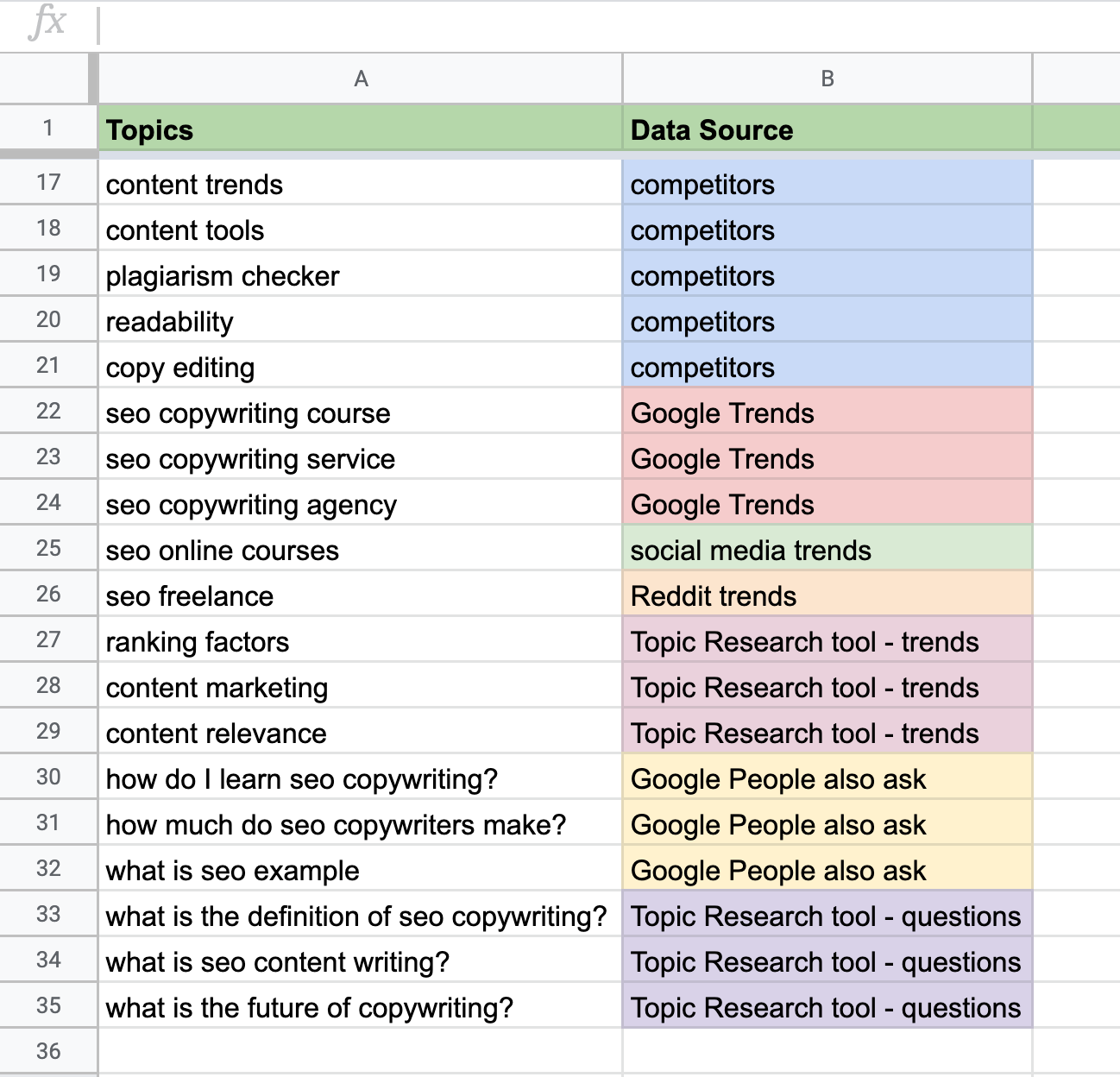 My recommended tools: 
Step 4. Filtering and Grouping Your Topics
Now that you've collected a list of topics and keywords, you'll need to pick those that could bring the best results for your blog.
Next, you'll learn how to clean your topic list based on keyword popularity and competitiveness. 
We will also get back to the topic cluster model so you'll be able to group your keywords by clusters.
Filtering Keywords by Keyword Volume and Difficulty
This is where you need a keyword research tool that tracks search volumes, so you can be sure that your content plan is based on the organic interest of your audience. 
The key tactic here is to focus on keywords with:
The highest volume — the higher the volume, the more popular the keyword; and

The lowest keyword difficulty (KD) / keyword competitiveness — the lower the metric, the less competitive the keyword.
If you're using Semrush, the right tool for this task is Keyword Manager. Paste all the keywords from your file into the tool and update the metrics for each of them. 
Aim for keywords with low KD (around 60% or so), since these should be the easiest starting points.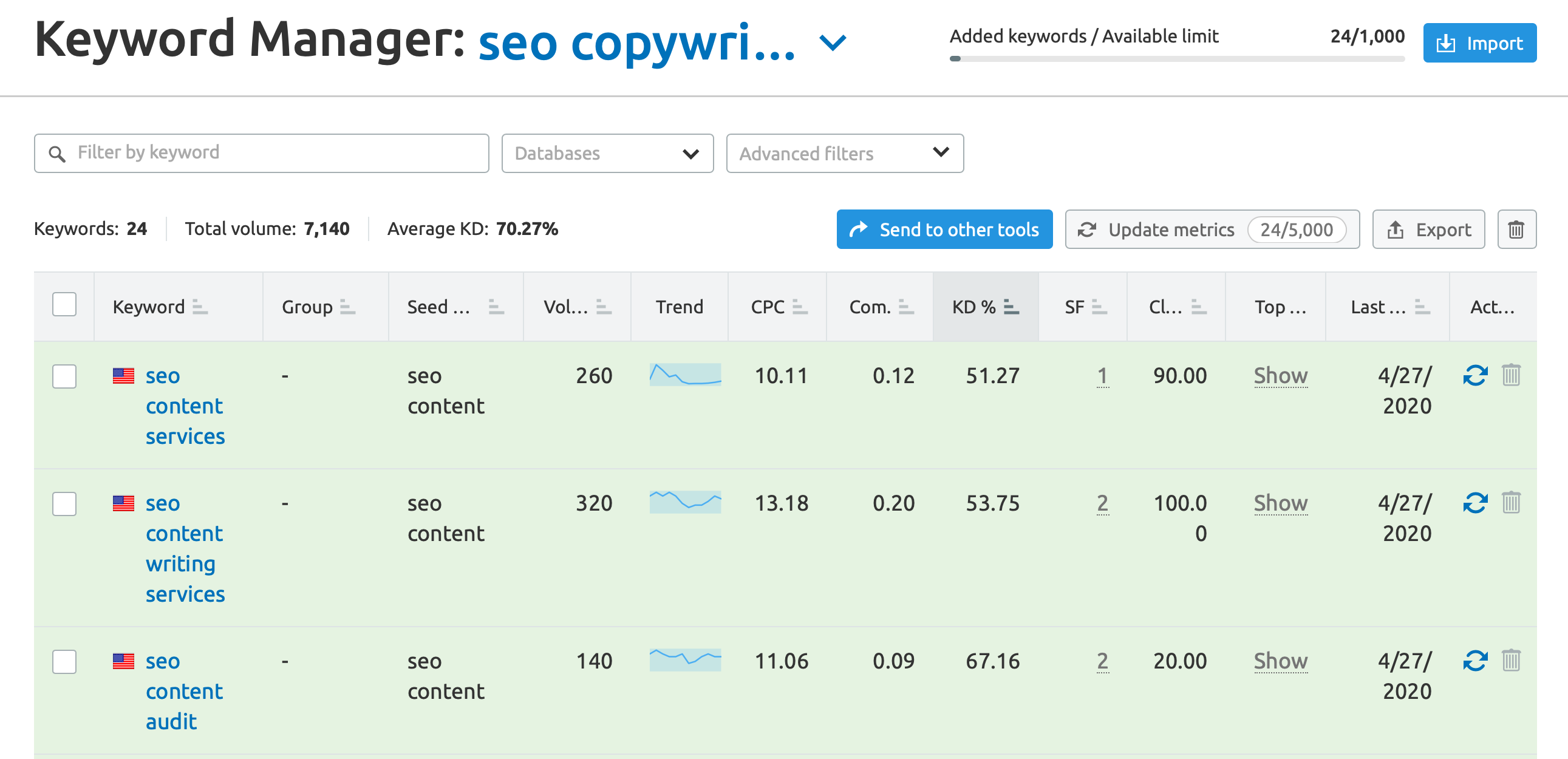 You should also keep the keywords that have both low volume and low KD. They may not bring you the most traffic, but you might have an opportunity to occupy the highest Google position for them in your niche.
Also, if any of your questions have no or low volume, don't rush to get rid of them. They are probably too long, but still contain a popular keyword. Keep all the questions in a separate tab named 'Backlog', and get back to them when you start creating an article. These questions will help you come up with headers or subheaders for your posts. 
At this point, you should be able to get rid of irrelevant, low volume or highly competitive keywords that won't help your strategy. 
What to do next: When you're done, export the keywords to a file. Clean up your sheet — leave only the metrics that matter to you, which might be volume and KD, as illustrated above.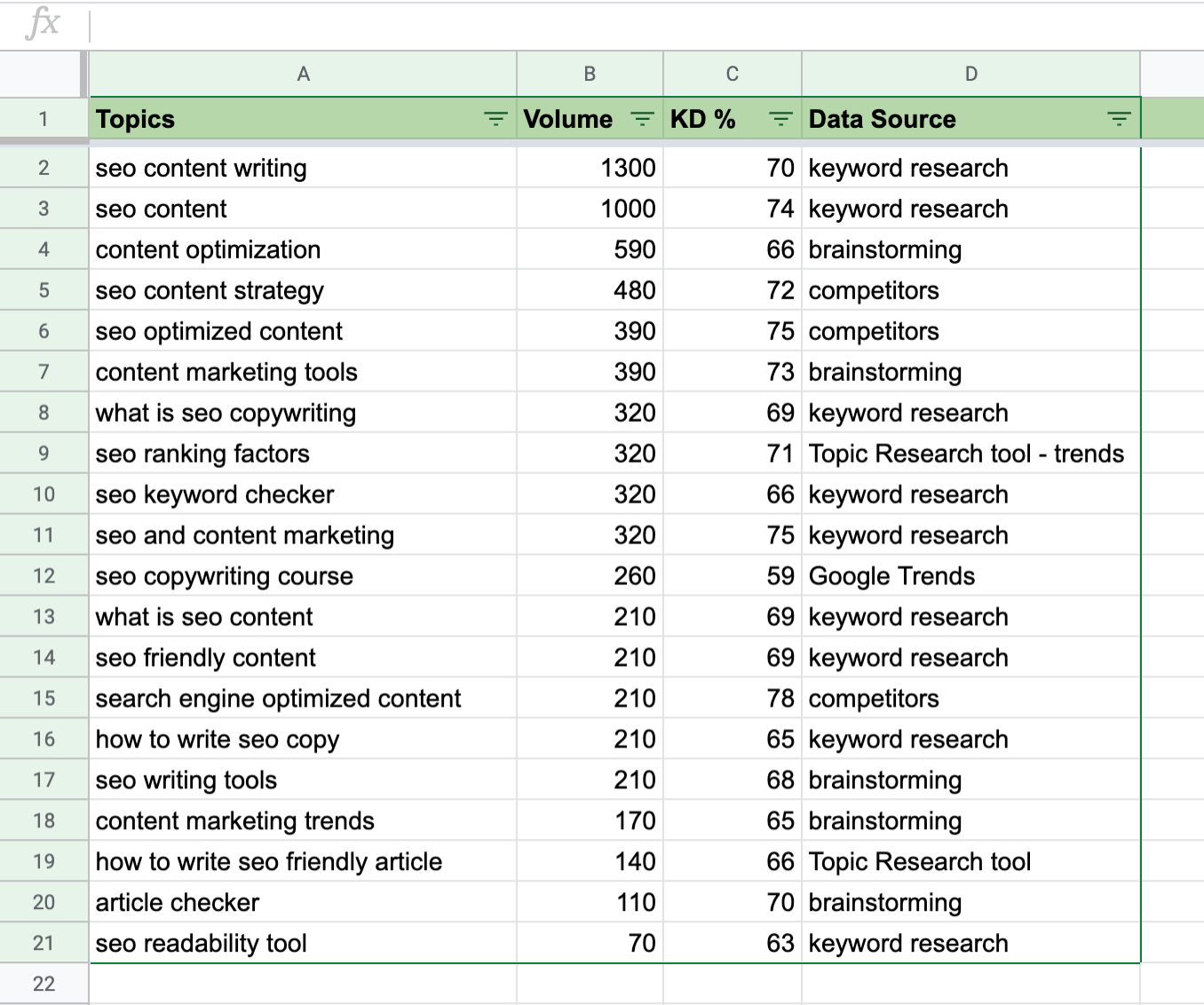 My recommended tools: 
Keyword Manager to check up-to-date metrics for my keyword list and to prioritize keywords. 
Grouping Keywords by Topic Clusters
The next step is to cluster your keywords into the 5-10 core topics you identified earlier.
To do so, you will need to manually tie each keyword to a general pillar topic. During manual filtration and grouping, you may come across a more general or popular topic that fits your pillar topic list. This is when you can substitute your original topic, or add a new one.
When mapping keywords, try not to think about headlines just yet, but keep the final goal in mind. The goal of this model is to surround your future pillar page with related cluster content.
HubSpot calls pillar pages 'Ultimate Guides', which give a comprehensive overview of a general topic. The cluster content would include a number of related posts on more specific topics and keywords, which are still related to the general pillar topic, but in a narrower manner.
Here's what a final topic cluster may look like: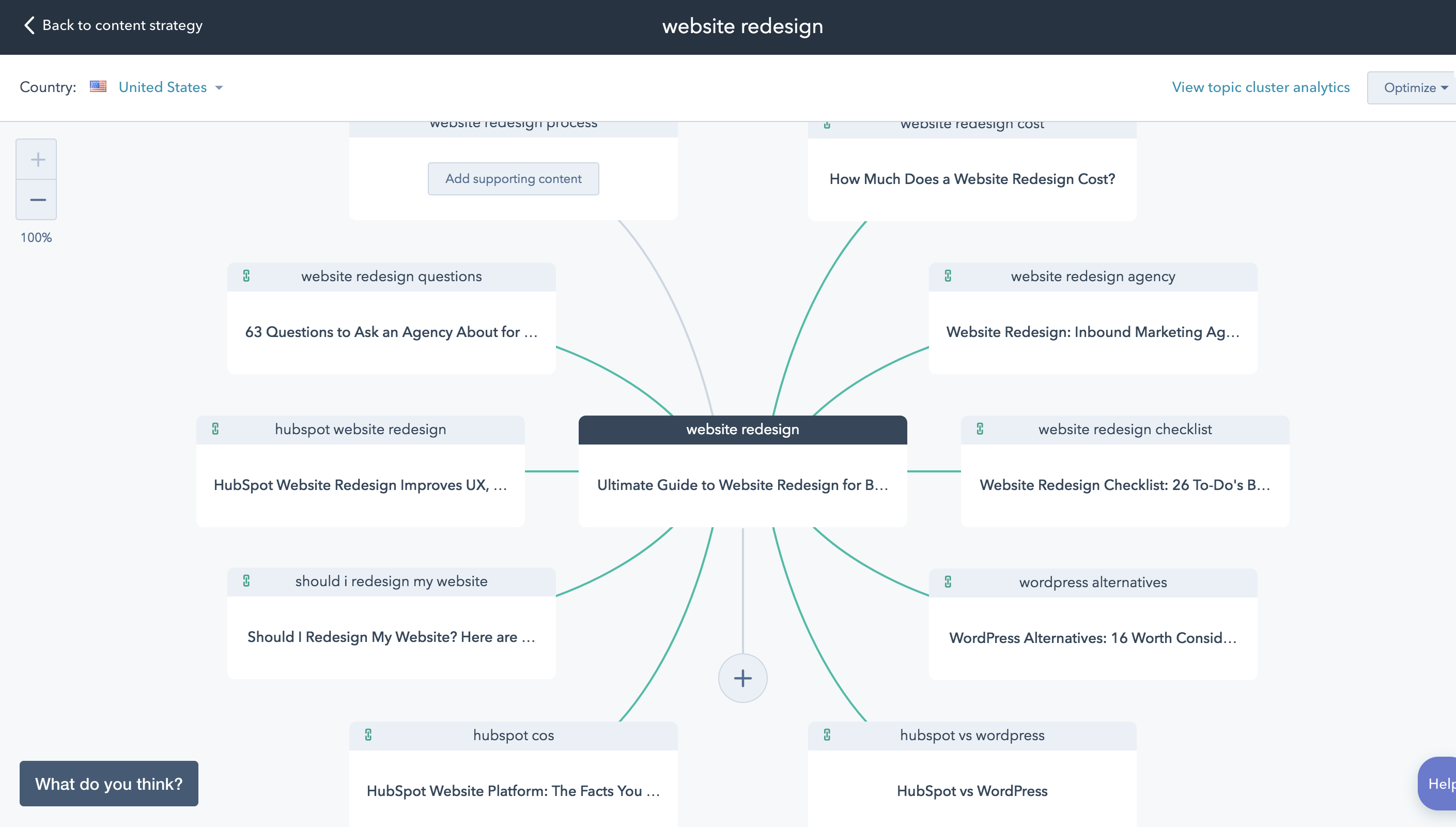 Working with your spreadsheet, introduce:
A pillar topic column with your 5-10 topics; 

A cluster topic column with the remaining topics distributed by core pillar topics; and

A product/feature column for each topic.*
*Keep in mind how your product or feature relates to your pillar topics (we identified this at step 2). Each of the cluster topics may match the same product or feature as its pillar topic. However, some of them can also be matched with a different product if that product meets the users' needs better and topic search intent more precisely.
You may also distribute your trending topics throughout the table, or keep them separate, since their lifespan may be quite short.
Step 5. Identifying Potential Headlines
To earn and keep high organic positions, your blog posts must meet your audience's expectations — in other words, they must match search intent.
Understanding the intent allows you to create the right format and come up with attractive headlines (and, of course, content) for your audience. 
Here's how to identify search intent for your keywords, and decide on post types and headlines accordingly.
Matching Search Intent with the Buyer's Journey
The specific intentions of search queries commonly fall into the following four categories:
Informational: The searcher is looking for specific information on a topic. The query may contain phrases like 'guide', 'tutorial' or question words, such as who, how, etc. (e.g. 'how to write SEO articles'). Informational keywords may indicate that the user is at the awareness stage (or pre-awareness, if they are not aware of a problem).

Navigational: The searcher is looking for a specific webpage or site. The query usually includes the name of a brand, product, or service (e.g. 'Semrush Site Audit'). Navigational keywords may indicate that the user is at the consideration stage, as they want to learn more about a specific product or service.

Commercial: The searcher is considering a purchase and wants to investigate their options. The query may contain product modifiers like 'best', 'cheapest', 'top', or 'review' (e.g. 'best SEO writing tool'). Commercial keywords may indicate that the user is at the consideration stage, as they are comparing several products with the intention to buy one. 

Transactional: The searcher wants to purchase something. The query may contain such words as 'buy', 'price', 'coupon', etc. (e.g. 'Semrush subscription plans'). Transactional keywords mostly indicate that the user is at the decision stage, so they are ready to buy a product.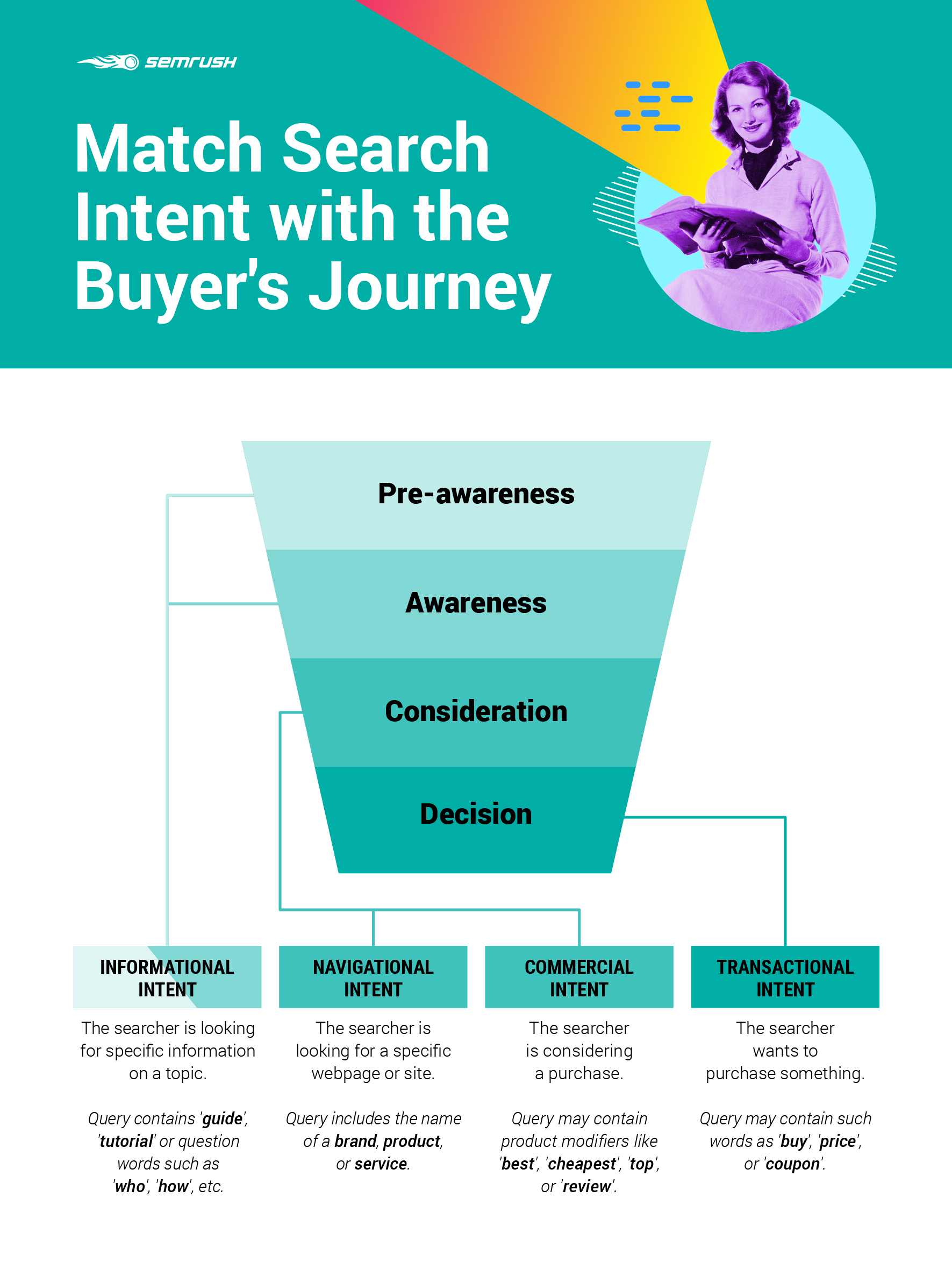 Identifying Search Intent for Your Keywords
To identify search intent for your own list of keywords, check for keyword modifiers from the previous section (e.g. 'how', 'review', 'price') and, if you need to, type a keyword into the Google search bar to check for any SERP features. For instance:
Featured snippets may indicate informational intent;

People also ask may indicate informational intent;

Site links may indicate navigational intent;

Google Ads may indicate commercial or transactional intent; and

Google Shopping ads may indicate commercial or transactional intent.
You should now decide how to deal with keywords from your list that fall outside of your blog's purpose, such as ensuring navigational keywords point to category pages or transactional keywords point to product pages.
What to do next: Refer to the infographic above to identify search intent for every keyword from your keyword list, and mark it with the appropriate journey stage.
Deciding on Post Types and Headlines
Now that the priorities are set, you can start thinking about the kinds of posts and potential headlines you are going to create for your future blog posts. 
Remember to consider the searcher's intent. No matter how creative your post headline is, when typing a search term into Google, a user expects to find specific information in a specific format. If you don't provide this for them, you run the risk of losing both your audience and rankings.
Your topic list should already give you an indication of what people expect to find on a particular subject matter. Informational topics starting with 'how to' are expected to be covered with a how-to guide. Commercial topics containing 'best', 'reviews', or 'cheapest' are expected to be covered with a review or comparison article.
If you're struggling to identify what content type you should produce, search for your topic to check what's out there. Your competitors will certainly give you an insight.
You can also get back to your 'Backlog' tab and search for related questions that could serve as a title.
Concentrate on headlines that completely and clearly indicate what a reader will find inside, i.e. the problem they will solve or the benefit they will get from reading it. 
My recommended tools: 
Topic Research to find the most resonant headlines for a topic and to understand the user intent better;

SEO Content Template to analyze top-10 articles ranking for a keyword in a specific location, featuring an average word count, additional keywords, readability, and other metrics. All this data helps to get a full picture of what content type is more relevant for a keyword.
Step 6. Prioritizing Topics Based on Your Goals
Here are a few ideas on how you can prioritize your article publication in line with your business goals:
According to Your Cluster Topics
Pick a cluster that covers a specific user problem and create posts around it. You may want to choose a cluster that brings you the most visibility (high volume), so create a pillar page and then start writing cluster articles based on your comprehensive keyword research. 
Alternatively, you can start with creating cluster content focused on low-competition keywords to get some visibility on a topic, and after that, create a pillar page that will give a broader view of a high-volume topic. Thanks to low-competition topics that rank well, your pillar page may stand more of a chance of ranking higher and boosting the entire cluster.
According to the Buyer's Journey
If your blog is mostly focused on a specific stage of the buyer's journey, you should start developing content serving this stage first. Ensure you help the reader move to the next stage of the buyer's journey by including CTAs and inserting relevant links into articles.
According to Volume and KD
If you're focused mostly on organic traffic, you should mostly publish content that targets keywords with the highest search volumes and the lowest keyword difficulties to stand a chance of appealing to more people.
According to Your Product or Feature Releases
To support your product or feature release with blog posts, you could start producing content on any specific user problems it solves or benefits it gives, which you should have already identified in the product or feature development stage. 
Good practise is to serve every stage of the buyer's journey with relevant, optimized content. Start from the pre-awareness stage's topics and ensure you walk your reader through to the end, i.e. the decision stage, which may be another channel rather than a blog post. Make sure to interlink your blog posts, too, so the buyer's journey does not get interrupted.
According to Trends
If your blog post is a news-oriented channel, you should publish articles on trending topics as quickly as it's convenient for you to do so. Covering trends won't allow you to create a content plan for a specific time period, but you can still produce evergreen content in the background to support your online visibility.
Do you organize your blog differently? Share how you usually prioritize your blog topics and how it works for you in the comments below.