Internet marketing has changed the world, letting us connect with clients not only in other countries but even on different continents. Our reach can extend further than ever, but that has ironically made it more difficult for small local businesses to connect with their target audience.
In last week's #SEMrushchat, we discussed all things local SEO with Geek Powered Studio's director of SEO, Jesse McDonald, including strategies to improve your site's local SEO and how to stay in the race on a limited budget. Check out what Jesse and our other chat participants had to say in the recap below.
Q1. When it comes to local SEO, what are the most important elements that should be on your website?
While there are plenty of strategies that you can use to rank well for local searches, you should always start with a good foundation on your website. According to our experts and chat participants, the following are the most important elements that are non-negotiable if you want to rank well for local SEO:
NAP
Every page on your site should contain highly visible and consistent contact information for your business, including your business's name, address, and phone number. This is all about making it easy for users to get in touch with you at any point in the funnel. These should be apparent in the header, and/or marked up in the schema (or coding) so that it is easy for Google to find and show users who are still browsing on the search engine.
Develop a Well-Targeted Hierarchical System
When users come to your site (and when Google analyzes it), you want there to be a clear, well-targeted hierarchical system for your pages. There should be a simple layout with clear call-to-actions that make it easy for users to get in touch with you. Simple contact forms, clickable phone numbers, or maps that automatically launch Google Maps to give users directions to your business, are all great examples. The easier you make it for users to come to you, the more likely they will.
Location Title Tags
Title tags are the HTML elements that tell you the title of your web page. Including your location in those tags can immediately be registered by Google, helping you to show up in relevant searches when people are looking for it. This is the type of indicator that search engines value, so it is a great way to incorporate geo-focused keywords on the back end of your site in a way that Google will respond to it.
Smart Keyword Optimization
Most businesses understand the importance of keywords, but local SEO's keyword research may look just a little bit different. They may include more geo-focused keywords ("Seattle plumber" instead of just "plumber,)" making it easy for people to find local services.
It is also important to consider the language that your audience uses, taking into consideration that different areas may use different vernacular when searching for your services or businesses. Think of how some people call soda "coke" or "pop" depending on where they live and consider if your target audience would use different language to search for your services than you are currently using. You may also realize that while "fire restoration" is the correct term for what your business offers, "fire clean up" is what almost all your clients are searching for. Place these keywords in content, page titles, and metadata for best results.
Internal Linking
Internal linking can give you an SEO boost, and it can also help you send relevant traffic bouncing around on your own site until they have the information they need to convert.
Claim Local Citations
Location citations are any mention of your business online, including the business's name, address, or phone number. Google and Yelp may list your business even if you haven't, for example, and users may check in at your business on Facebook before it has even been created. Claim these citations and take ownership of the pages where appropriate, linking them to your site.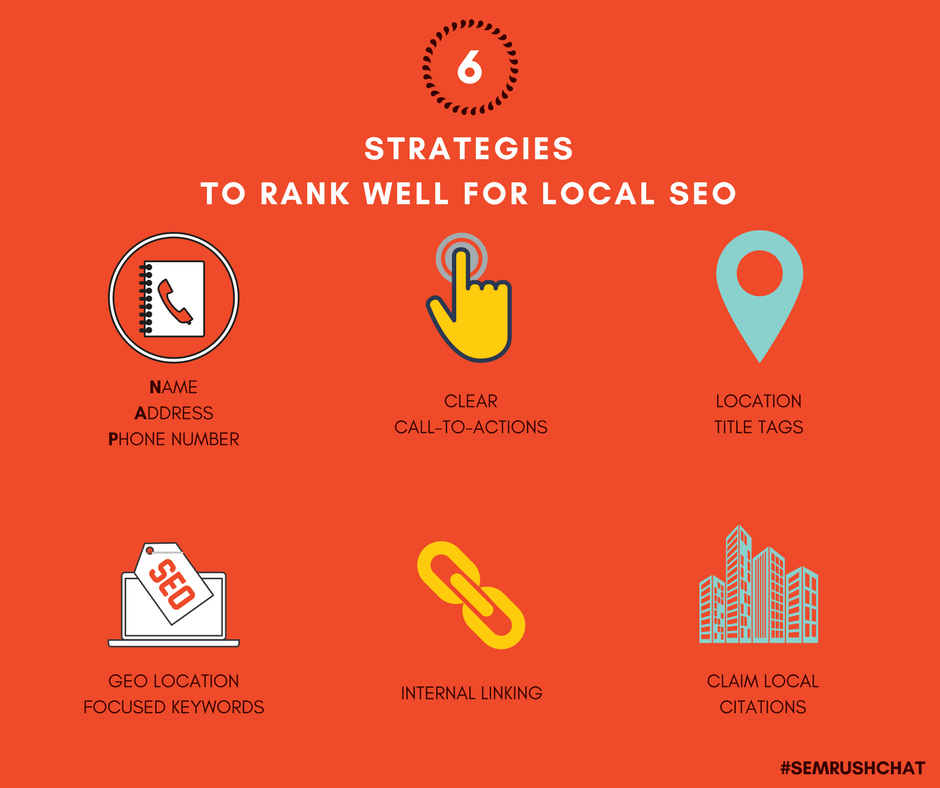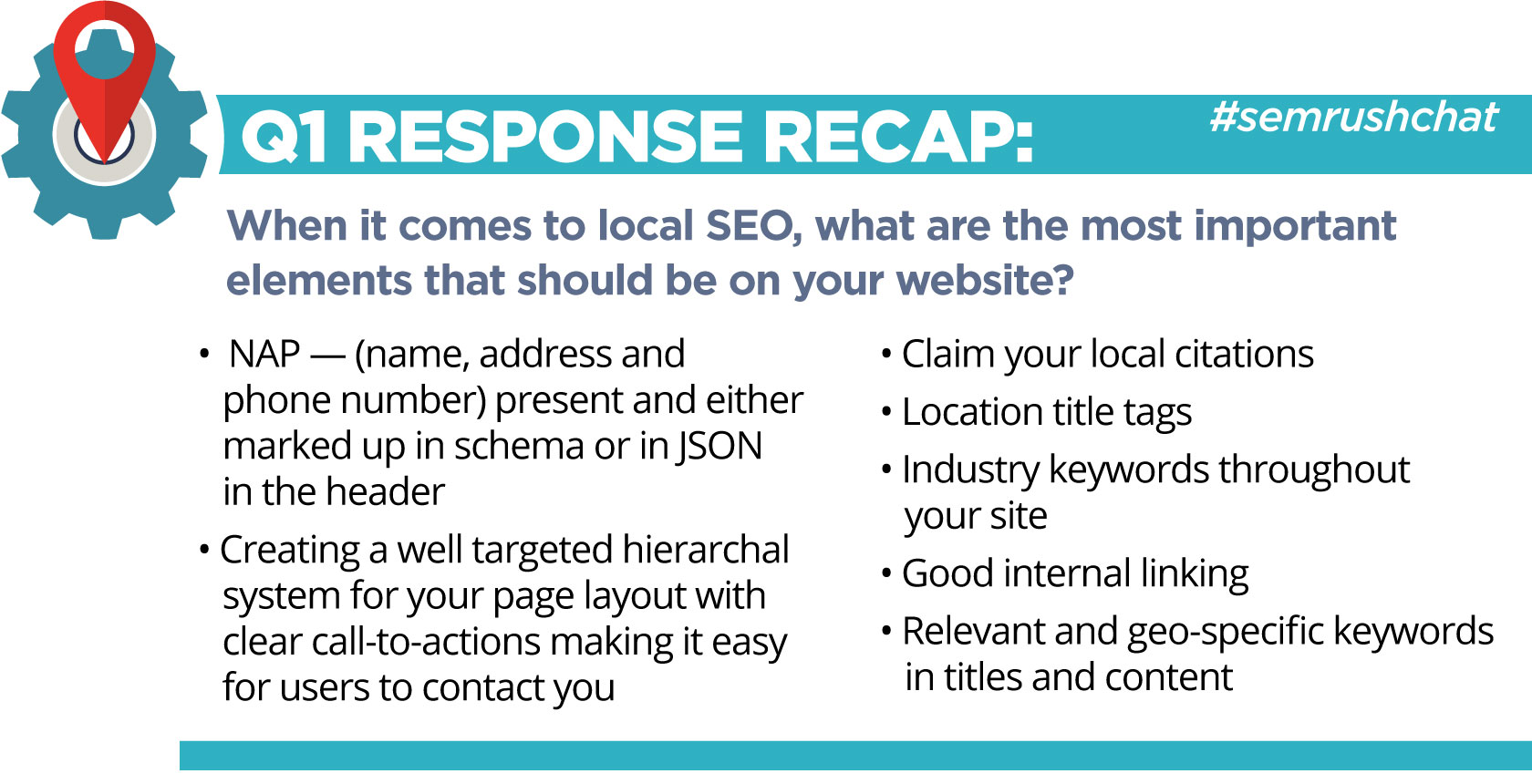 Q2. Google Business Profile Scenario: A former employee posted fake reviews that don't show your business in a good light. What is the best course of action?
Even the greatest businesses, brands, and products will likely have a negative review at some point. It is almost inevitable, whether it comes from a disgruntled past employee who was fired for never showing up on time or a customer who was angry that you wouldn't let them return their microwave after a year had passed.
There are several things that you can do to tackle the situation head-on.
The first step is to try to flag the review as being false. If you can get it flagged as spam or false, you could potentially get it removed. Google has a system of reporting false reviews, and it is now against their guidelines for former employees to leave reviews for a business.
If you are unable to get the review taken down (or while you are waiting to find out), respond publicly to the comment. Reply cordially, informing them that you were unable to find them in your customer database and provide them a method of contacting you to resolve the situation. Since it is a fake review, they will likely drop it at that point, and at least other users will see that you have tried to remedy the situation as quickly as possible. For many users, this counts for a great deal, and it shows them that you take client feedback seriously.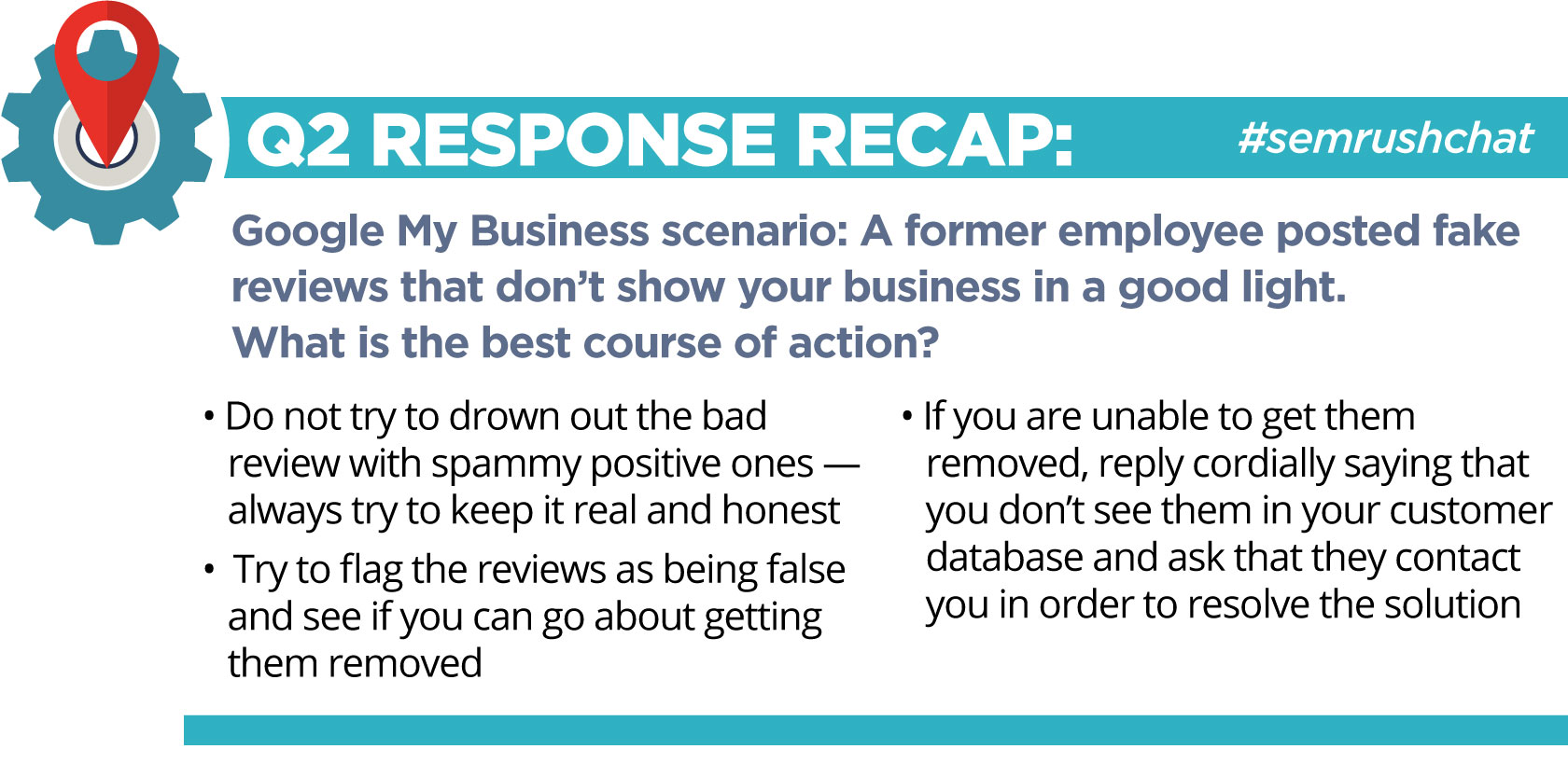 Whatever you do, don't try to drown out the bad review with a bunch of spammy positive ones that you or your employees are leaving. These are easy to spot, and may actually turn off customers even more than the single negative review. Keep it honest and authentic, because consumers are smarter than ever before, and they will spot self-promotional reviews.
Q3. What can a local business with one location do to ensure it ranks across multiple target cities?
Many local businesses can service, deliver to, or are relevant to more than one city, even if they only have one location. Because of this, focusing on only a single city could end up isolating enormous numbers of audience members who live outside of it. Once you have established yourself in your primary area, it is time to start branching out.
First, clearly list all the communities you serve on your site in an easy-to-see place. If you advertise yourself as a "Seattle Carpet Cleaning," make sure you list that you also serve the six surrounding cities if you do, and which they are.
Try to incorporate these additional cities in your SEO strategy, including utilizing keywords or creating blog posts relevant to them. Some of our chat participants mentioned creating location pages for each location, but this should be done carefully since Google has gotten strict on location packs. Do this in a way that won't violate their regulations, because the last thing you want is to get hit with a penalty.
Many small businesses feature directions to their business on their Contact Us page. Include directions from multiple different cities, interstates, and landmarks. Place these next to an embedded Google Maps widget that will automatically pull up directions for your customers for best results.
You can also build relationships with other businesses or organizations in nearby local cities where you aren't yet established. This can encourage those businesses to mention you on social media or provide valuable backlinks, giving you more traffic. You can also host partnered events with these businesses to build in-person relationships with their clientele, too.
If you are looking for a particularly fast solution, pay per click (PPC) ad campaigns can help with this. Facebook Ads, Instagram Ads, Promoted Pins, and Google AdWords all allow you to target specific zip codes, cities, and regions. You can target multiple cities in a single ad campaign, or create individual campaigns targeting each city. These ad campaigns can be effective, even if you are on a small budget; just allocate the budget to be distributed across multiple days and campaigns if necessary.
Q4. How can a local business win the search battle with a limited budget?
Being on a tight budget is never fun, but that doesn't mean you should throw in the towel. Local businesses are capable of being exceptionally competitive in the search battle even if their marketing budget is a little on the smaller side, as long as they implement the right strategies.
To start, you should take advantage of every free or cheap resource that you have available. This means registering in the local directories (many of which are free) so that you will pop up when people are searching for them. You should also make sure that your business pops up on Google+, Google Maps, and Bing by registering accordingly. On each of these sites, place consistent NAP info that matches your site so people can easily get in contact no matter what touchpoint they find you at.
It also never hurts to call in a few favors. Reach out to other local companies that you have collaborated with or built relationships with. Offer to promote them if they help promote you, sharing content on your social media sites or trading links. When possible, attend in-person events with these businesses or in the local communities. This can go a long way in helping you build links early on, and will be much more valuable than overpriced PPC or PR agencies.
If you can generate reviews from your customers, it can also work in your favor. More and more review-focused site plugins are now making sure that those reviews are crawlable by search engines. If you are using these tools on your site and someone searches for "Best Gelato Ever," they could see an authentic review left by one of your customers.
You should also create a content strategy that will help you stand out. Great, evergreen content that is valuable and unique is almost guaranteed to earn you backlinks, especially once you target the right keywords and find the right distribution methods to grow your audience quickly. (For many, social media and industry forums are a great place to start for distribution). If you are just starting out and don't have a lot of authority, try to focus on long-tail keywords that have low competition but high intent. As you are continually putting out great content that gets backlinks, traffic, and shares, you will see your rankings in SERPs increase.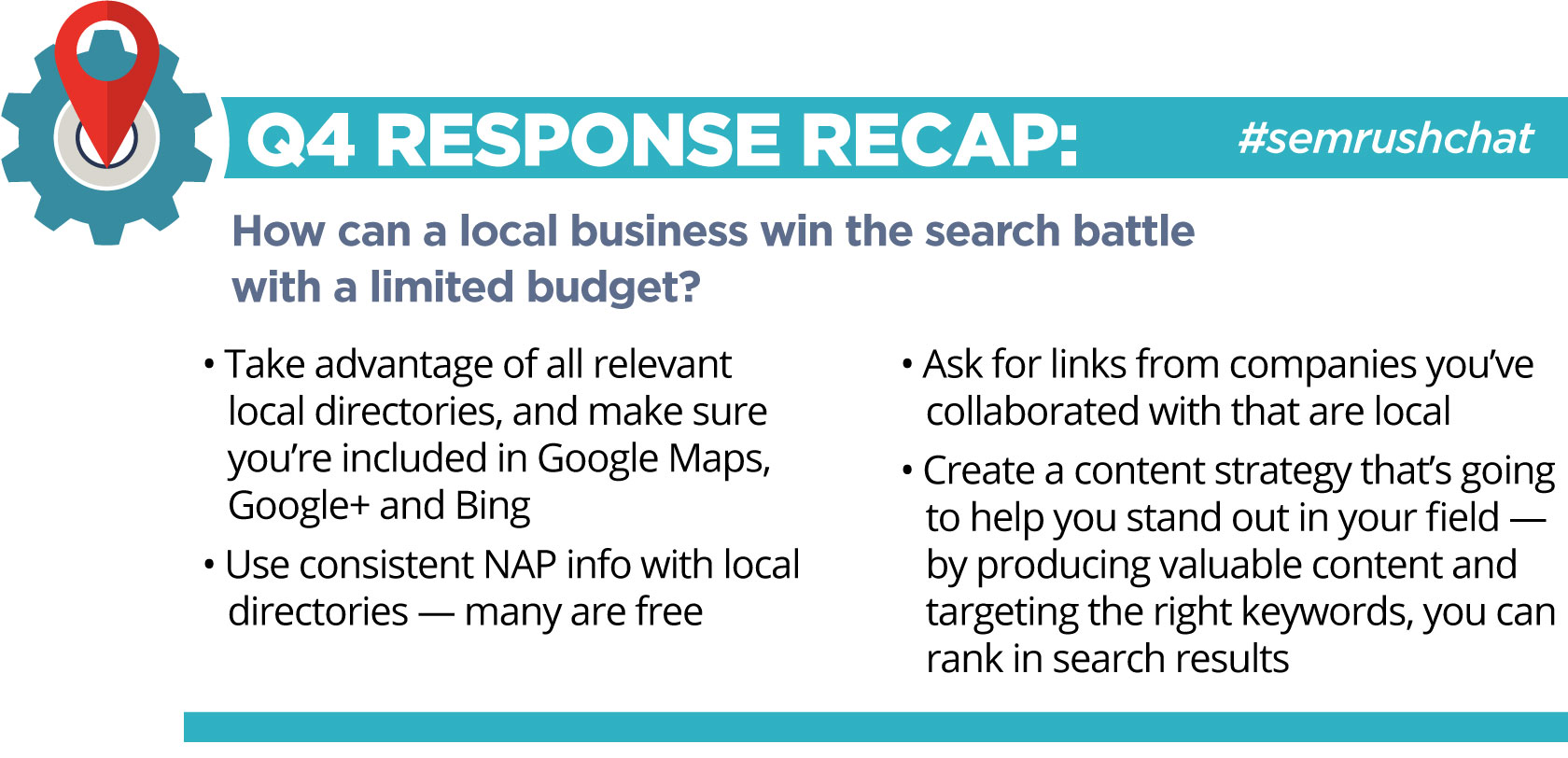 Q5. In your opinion, how will voice-based search impact local SEO?
Voice-based search is becoming increasingly important, with more users asking Siri and Alexa to answer questions instead of manually searching for answers themselves. It's affected what phrasing is being used, and what keywords you should be using. As one user pointed out, people are no longer searching "weather forecast," they are asking their smart devices "is it going to rain today?"
Ideally, incorporate more long-tail, question-based keywords that contain more natural, casual language. This will help you rank well with selective voice search results. If you can anticipate what questions your audience will ask, you can go out of your way to provide the answer, too. Make sure you tune in with the specific dialect and language they'll be using for best results. Adjust your content marketing strategy accordingly, and remember that reviews could be included in this, too.
When it comes to local business, voice search should be an important consideration for local businesses, especially as more users are finding your business through "near me" searches. That being said, with smart devices getting smarter, more users will ask for Alexa to find them a plumber, and they no longer really need to add "near me." As one chat participant aptly put it, local intent is now assumed instead of needing to be stated outright.
All that being said, remember that there is no second best when it comes to voice search; users won't be browsing around to look at the top ten results, they will only hear the first option that Siri spits out at them unless they ask for more.
Oh, and make sure that Google Maps is correctly bringing people to your location, or you will have one irritated customer on your hands.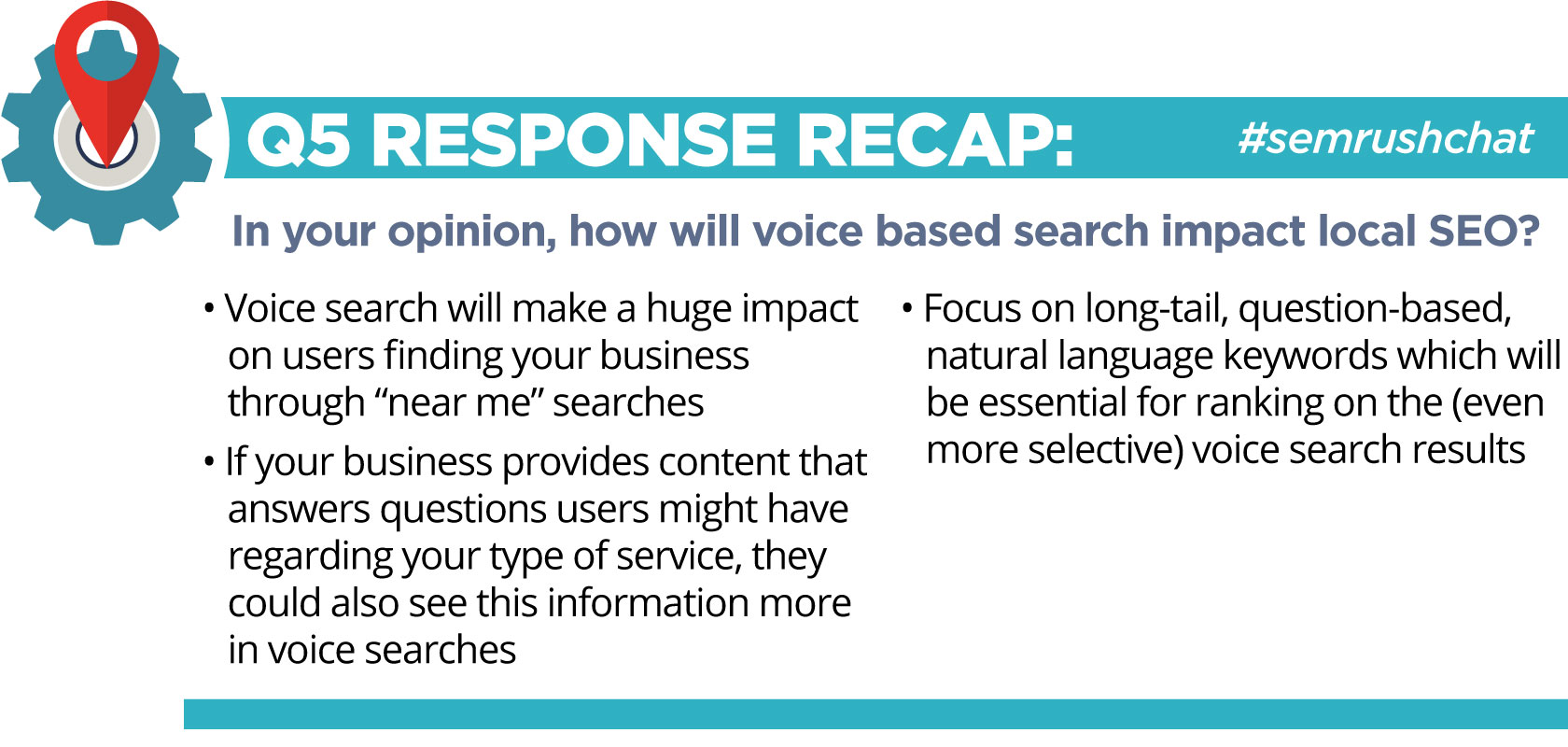 Q6. Local SEO forecast: What are your top predictions for the future of local SEO?
SEO is constantly changing, and while keeping up with the changes are good, staying ahead of them are even better.
Here are some of the top predictions our chat participants had regarding the future of SEO:
User-Focused Content
Expert Jesse McDonald believes that while user-focused content is important now, it will only become more crucial moving forward. In addition to creating content that users want, we will have to think about exactly how they will ask for it and the kind of answers they want in return. If a content team can correlate with a PPC team, they can easily spot trends in what their audience is looking for and adapt accordingly.
Voice Search Will Increase
Right now, a lot of the goal is to bring users to your site, but in the future, there will be an even bigger focus on getting your answers to your customer, particularly when it comes to voice search. You want to be able to answer questions as quickly as possible, whether users are asking an AI device the question or they are messaging you directly through live chat. If necessary, use chatbots and AI to increase response times for your customers.
Reviews Will Become Even More Important
Reviews have always mattered in terms of building trust and increasing conversions, and that will likely never change. Reviews are now search-engine friendly and maybe some of the first things that pop up in search engines, so value them and prioritize them accordingly.
Increased Technical Focus
Now, a lot of SEO practices are still happening in a visible, user-facing way; our blog posts may be packed with keywords, for example. McDonald believes that while the content we are creating will be more user-focused, businesses will also be required to do more backend technical SEO work to stay competitive in the SERPs. Technical updates may need to happen sooner, and you may need to be more aggressive with finding and earning backlinks that benefit your users.
More Accurate Location Features
Search engines are getting smarter, meaning that they will be able to give customers better and more relevant results. This includes better location results, and many of our chat participants believe that Google will increase it is locational awareness to users' and business's benefits. This will make it easier to reach local customers, and for them to find you.
Increased Mobile Importance
Having a mobile responsive site is already essential, and this is another trend that will continue. We are using our phones more on the go to make those "what's near me" voice searches, and people need quick answers on mobile-responsive sites. If you want to stay competitive, being mobile-friendly is a necessity, not a luxury.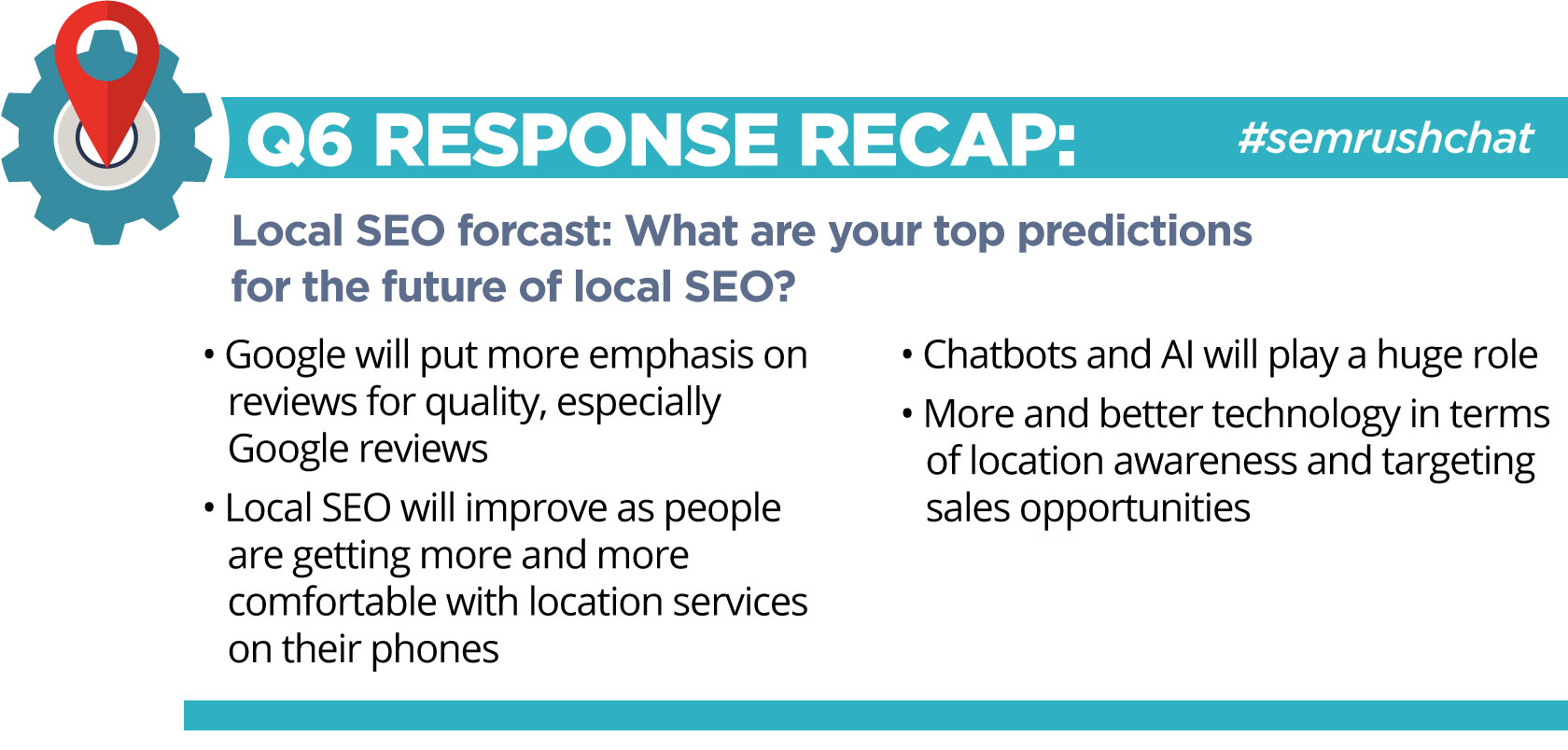 That's all for today! Join us this week on #SEMrushchat with Joe Martin, Head of Social Analytics at Adobe to discuss "How To Win Integrated Search-Social Campaigns!"