If you work in local SEO, you know that dealing with spam on Google Business Profile is going to be a constant battle. This is especially true if you work in industries like:
Legal

Health

Home services
We need to understand why Google Business Profile spam is so rampant.
Unfortunately, having keywords in your business name is a massive ranking factor. As an example, I performed a search for "emergency plumber Los Angeles" and here are the top three Google Business Profile listings ranking in the map pack: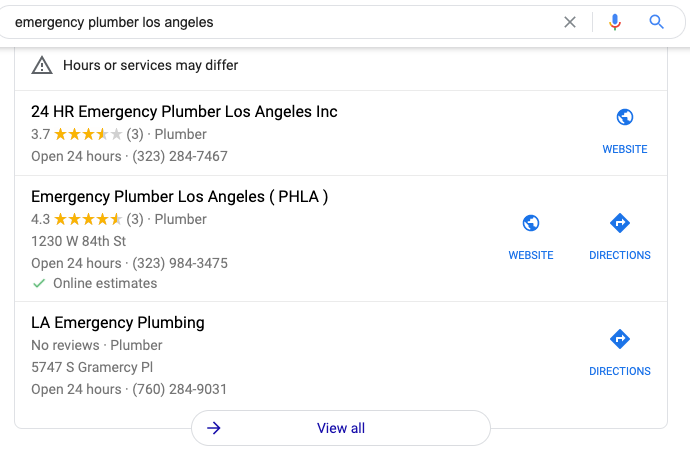 The first result (24 HR Emergency Plumber Los Angeles Inc) is a lead generation website, which is against Google Business Profile Guidelines. The second result appears to be a lead generation website, too. The third result? You guessed it, it's another lead generation listing, they don't even list a website! 
These companies sell leads to real plumbers at a hefty price. Clicking through View all to see all listings, you don't find a real plumber until the 10th result! Outside of completely fake listings that need to be removed, sometimes competitors will keyword stuff their Google Business Profile name.
Our Google Business Profile Spam Checklists
There are two checklists: one for identifying potential listings violating Google Business Profile guidelines and the other is a reporting checklist.
The first checklist doesn't need to be done frequently, but it would be beneficial to do it at least once. If your rank tracking is set up correctly for Google Maps, you will likely just need to pay attention to your map rankings. If you drop a position on a major keyword, what listing is outranking you now? If it's a new listing, head to checklist no.2.
Checklist No.1:
On google.com/maps, make sure you're in the area you want to find spammers

Use the search operator intitle:"keyword" to surface listings with the keyword in the business title 

Any listing that has the primary keyword is a Yellow flag

Any listing that is ONLY named the keyword is a Yellow flag

Any listing that has a modifier (-) is a Yellow flag

Any listing that has no website is a Yellow flag

On a Google Sheet, add the business name, address, phone number, website, and link to Google Business Profile for each Yellow flag listing

Repeat this process for each major keyword (topic) that you/your client covers

For good measure, perform a few raw searches in Maps as if you were a customer looking for the particular service, including the city name
This checklist enables you to find potential listings relatively quickly. These listings may be fake or could be completely legit. The second checklist will help us go through each listing, one-by-one, to build a case for the listing to be corrected or completely removed.
Checklist No.2:
Tip: (A "no" response on any checklist item will require documentation)
Use the state's business name lookup. Is there a business registered at the address? 

From the listing, click on photos and then go to Street View and 360º.

Is there signage for the business?

Is it a personal residence?

In a new tab, do a search of the exact address/is the listing the only one at that address?

Visit the website. Is the branding/logo the same as the business name? 

Does the site have an about page with real people or company history?

Is the content heavily 'SEO'd' and generic?

Is the content focused on connecting users to someone else (lead gen)?

For industries that require a license, is one listed? If yes, is it a valid license?
This checklist should be used on each listing that has a Yellow flag.
Documenting Your Evidence
As you're going through the checklist, you need to document all of your findings, this will be used when we submit the Business Redressal Form.
Open a Google Doc, name it appropriately, and let your documentation live there. Each listing should have it's own Google Doc. The more detail you can provide in the document, the better. Some suggestions for added detail could include adding screenshots, external links with descriptions, etc. 
Suggest an Edit or the Redressal Form?
If you are reporting a competitor that is just keyword stuffing their business name and the location is legitimate, you may want to consider simply suggesting an edit first.
Pro tip: Do not use an email address that is associated with Google Business Profile. This can cause your other listings to be suspended. (h/t to my friend, Jason Brown).
If and/or when your suggested edit does not stick, then submit the redressal form. If the listing is fake, go straight to the Business Redressal Form.
Filling Out the Redressal Form
Follow the Business Redressal Form instructions and fill out the sections. When you get to the last section that allows you to explain why you're requesting a redress, this is where your Google Doc is going to come in handy. 
In this field, you can't add photos, but you are able to include a link to your Google Doc. When grabbing the Google Doc link, make sure it is viewable by anyone with the link. If it's not, Google Support will not be able to see the contents. Don't just drop the link and submit, provide some context, and then place the Google Doc link.
Submit.
Repeat the process for each and every listing that you believe needs to be removed. Google recommends: 
"If you have many URLs to report, we recommend submitting 10-100 at a time for a faster processing time. You can submit multiple URLs by clicking the 'Add additional' link or by uploading a spreadsheet with all the URLs."
Now the hardest part begins, waiting. 
In your original spreadsheet, add a date column and add the date that the redressal form was submitted. Timelines can vary depending on multiple factors but if nothing has happened after 10 weeks, then you'll need to reassess the redressal and look for further evidence.
Having to deal with spam on Google Business Profile is frustrating and can be time-consuming, but if done correctly, can help protect users from spammers and help real small businesses. For more tips, check out SEMrush's post about their  Google Business Profile checklist.