Public holidays and special occasions are always a good reason to launch an advertising campaign and drive relevant traffic to your website. With Easter approaching and supermarket shelves being stuffed with countless chocolate eggs, we'd like to share with you some useful ideas on how to build a powerful keyword list for a thematic PPC campaign. While it takes time for SEO seeds to produce their first roots and shoots, PPC is great if you want to snatch some extra traffic even when other opportunities to do so have dried up.
In this guide, we'll walk you through all the important stages of keyword research, using Semrush tools.
Let's say we are a supermarket planning an Easter PPC campaign. There are four topics we can build our keyword list around: products, gifts and celebrations, recipes and brands.
Build your keyword empire from scratch
All keyword research starts with pulling together an initial set of keyword ideas. This can be easily done with the Semrush Keyword Magic Tool which has a convenient keyword grouping feature. You'll only need ONE seed keyword to build a whole keyword empire around it.
Our seed keyword is going to be 'Easter,' so we're typing it in and selecting our target country database.
The tool will provide you with keywords semantically related to your initial search, sorted into groups by search topic. These groups will contain your search query supplemented by keyword modifiers, i.e. keywords that don't change the core meaning of your search query, but produce variations.
For our Easter campaign, we identified the following groups that we are going to research in more detail:
Products — egg, cake, chocolate

Gifts and decorations — hat, bonnet, basket, bunny, games

Recipes — dinner, recipe, dessert

Brands — egg, chocolate
OPTIONAL: There is an option to narrow down your results with the help of advanced filters. To give you an example, we looked for a minimum search volume of 100 and the maximum word count of 6. We also excluded words like 'opening hours', 'when', 'why', 'who', 'sunday', 'weekend', '2015', '2016', '2017' from our search:

We looked into each group we were interested in and added the best keywords to the Keyword Analyzer — a kind of keyword repository where you can view real-time keyword metrics like search volume, difficulty, CPC, and top competitors.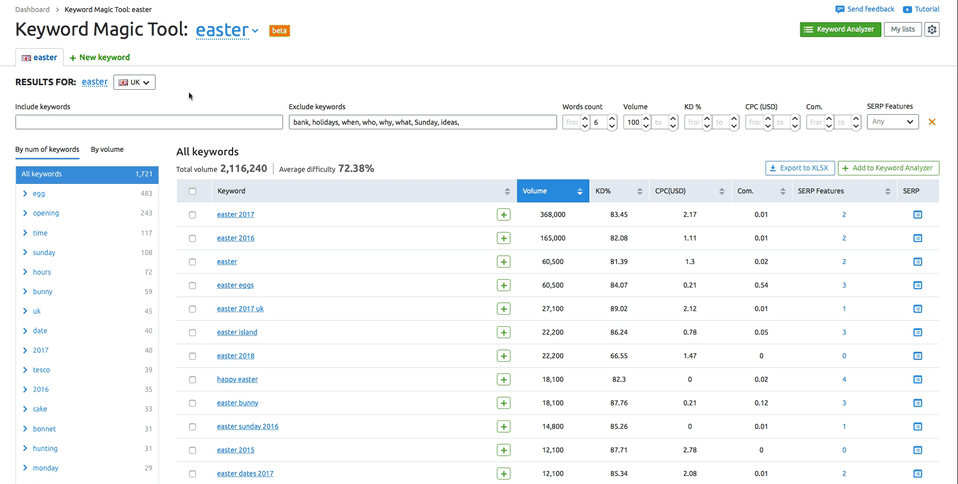 We're now going to export all the keywords stored in Keyword Analyzer to the PPC Keyword Tool. Think of it as a refinery plant where all your findings will be processed and refined into more useful 'products'.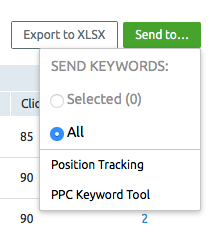 The tool will prompt you to set up a Project with Semrush if you haven't already done so. Follow the instructions to create your first Project, give it a title, and continue with the PPC Keyword Tool.
Add related keywords
At this stage, you can further expand your keyword list by adding keywords from other Semrush keyword research services, for instance, from the 'Related Phrase' report.
Here is a tip for you. The last thing you want to do is ruin the immaculate keyword list you've just imported from the Keyword Magic Tool, with hundreds of crude keywords, so be sure to create a separate group (call it 'Related Keywords'):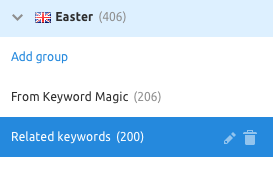 Click the '+ Keywords' button in the top right corner of the page and select 'Semrush' as a source. Type in your seed keyword, choose the target country, the amount of keywords you'd like to import and click 'Add':
You will notice that your 'Related Keywords' list has been augmented with synonyms like 'bank holidays', 'good friday', acronyms, abbreviations, and singular and plural forms. Obviously, this list needs refining, and the best way to do so is by manually selecting relevant keywords and sending them to your main 'clean' group, using the 'Actions' button.
NB: do not delete misspellings like 'easter effs'. These are a goldmine for a PPC specialist, as they have lower CPC and can produce relevant traffic. You just need to make sure you use the 'Exact Match' for these keywords.
Borrow competitors' keywords
You might also want to pinch some of your competitors' keywords. Again, start off by creating a separate group ('Competitors'), click the '+ Keywords' button, choose 'Domain report (paid)', enter your competitor's domain, your seed keyword and the amount of keywords your conscience allows you to borrow:
Now scroll through the newly formed list to see your competitor's paid keywords and send your best picks to the main group.
Refine your keyword list
There are plenty of ways to narrow down your keyword list, which will probably look gigantic by now. Use these simple tricks and watch your keyword list shrink rapidly.
Use filters
For example, you can set your filter parameters to
Exclude keywords containing your competitor's brand mentions (if appropriate)

Exclude keywords that contain dates or years (if appropriate)

Filter out keywords with low search volume, high CPC, high word count, etc.

Exclude irrelevant keywords (like 'holidays', 'date', 'boys', etc.)
Put simply, use logic when setting filters and you'll be fine for this bit.

NB: Later you might want to replace a year in a keyword (like 'easter ideas 2015') with the current year, instead of removing it.
When searching for irrelevant words to exclude, remember to mark them as 'Negatives.' This will prevent your ads from coming up for keyword phrases that aren't relevant. To do that, go to the 'Negatives' tab and choose to add them manually:

'Clean' the keywords
Another simple way to optimize your keywords is by clearing out unnecessary articles, prepositions, or any other unwanted keyword modifiers in your list. Click the 'Actions' button and select 'Clean keywords':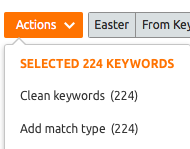 Set your 'cleaning' parameters:
Remove duplicates
Assumingly, we have quite a few duplicates in our list since we've been using multiple channels to compile our keyword list. To remove those, we'll just need to click on 'Remove duplicates' and delete selected duplicates in one click:

Get rid of cross-negatives
Let's say you have the keywords 'egg chocolate' and 'milk chocolate egg.' Using the broad or modified broad match will allow Google to diversify your 'egg chocolate' keyword with other keywords it considers relevant, for example, with 'milk.' That way, you will end up having two different ads come up in search for the same keyword ('egg milk chocolate'), causing your ads to compete with each other. And that's not what you want. The solution would be to add 'milk' as a negative to the group 'egg chocolate' and vice versa. However, when you have hundreds of keywords, finding these terms manually is a nightmare.
The PPC Keyword Tool provides a unique feature that removes cross-negatives, thus preventing slaughter and cannibalism among your AdWords campaigns. This, however, requires some preparatory work, namely dividing your existing keyword list into campaigns. We created four campaigns: 'Products', 'Gifts & Decorations', 'Recipes' and 'Brands'.
Using the simple filter bar, we found all keywords containing the word 'recipe' and sent them to the 'Recipes' campaign by clicking the 'Action' button and choosing the 'Move to group' option.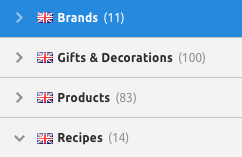 Now we can proceed to removing cross-negatives in all your campaigns.
We, at Semrush, tend to keep one keyword per group, and strongly recommend doing so to anyone. The PPC Keyword Tool allows you to do it in one click by using the "1 kw = 1 gr" option.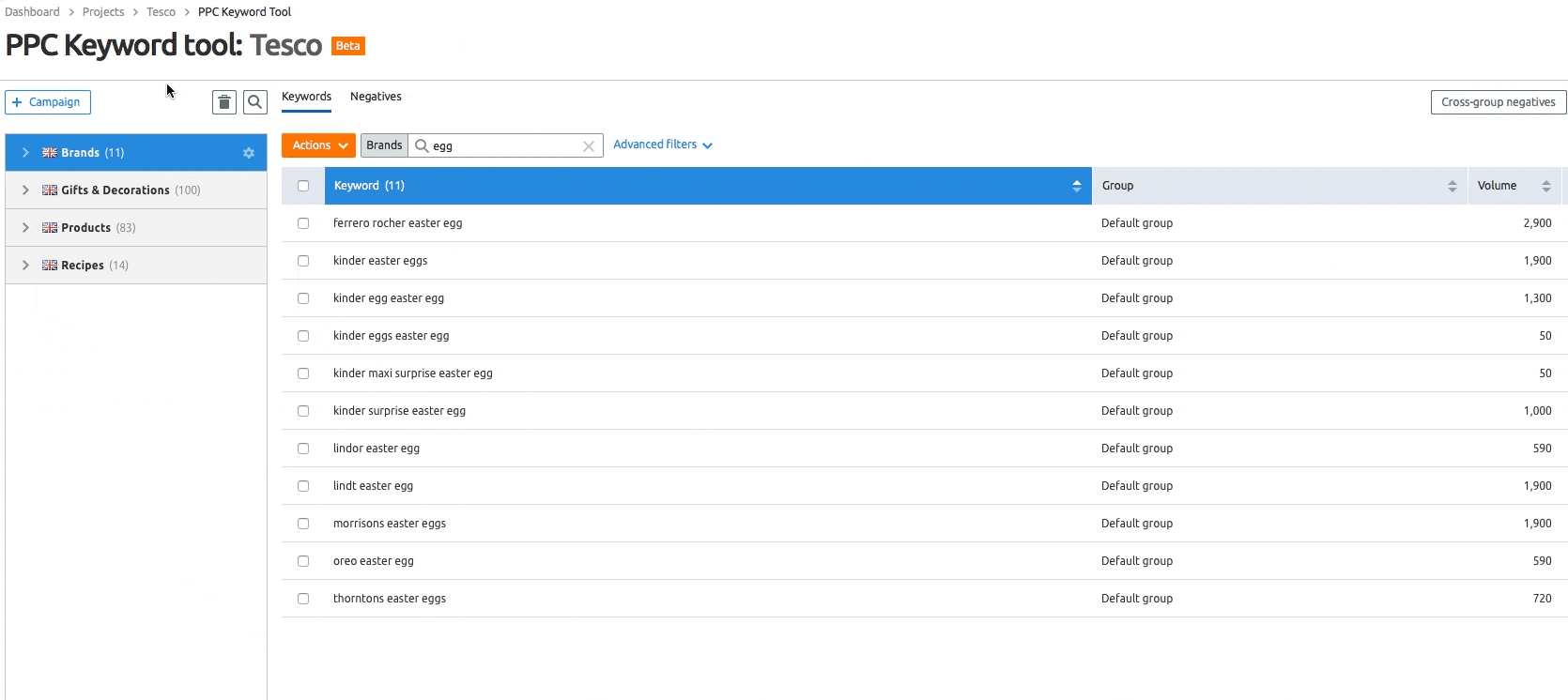 Click the 'Cross-group negatives' button, select all four campaigns and the tool will immediately present you with all negative keywords found in your campaign: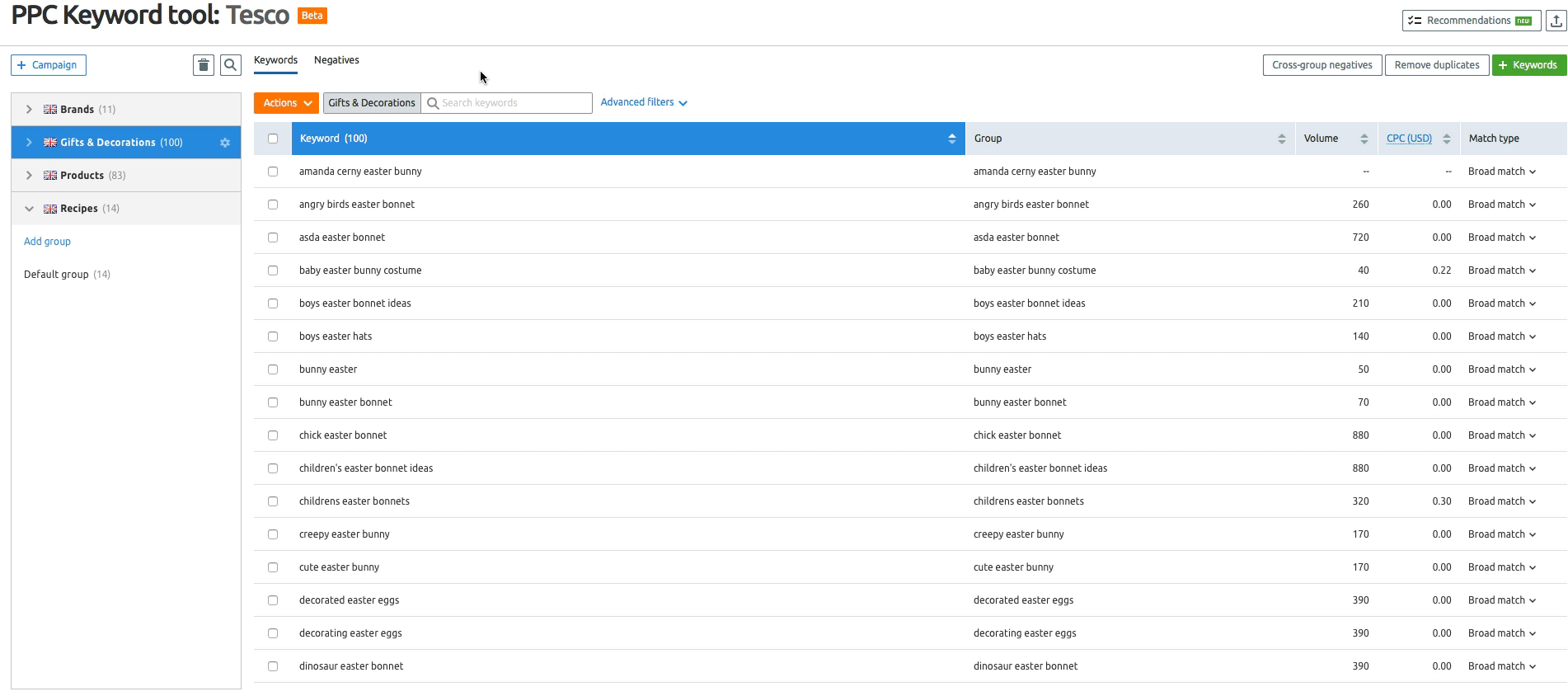 Before you export your keyword lists, you need to set your preferred phrase match option which will primarily depend on your goals. If you don't want your ads to come up in search for irrelevant keywords, choose the 'Modified broad' option. If you want to spend your budget carefully and target specific keyword combinations, then choose the 'Exact match'. You can apply the match type either to the whole group or to specific keywords.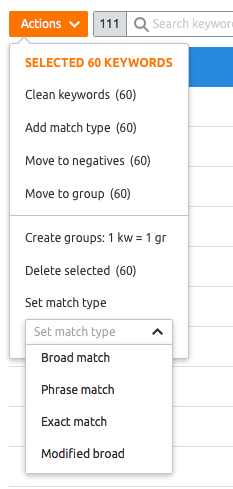 Make use of recommendations
When juggling a large number of keywords, you are likely to end up having empty groups, special symbols and other minor issues that can affect your campaign's performance. Use the 'Recommendations' feature to take a final look at the lists and make sure you haven't skipped anything.
Once your keyword list is finally done and dusted, you can export everything to a CSV file which can then be uploaded to AdWords Editor.
In the end, we have just over 100 keywords, all nice and neat, 100 percent relevant, with excellent search volumes, sorted into four campaigns and ready to be exploited!
This scheme is actually applicable to any thematic PPC campaign, not just the Easter one. So when the next special occasion crops up, leaving you no time to plant your SEO seeds, just define your campaign topics, target audience and budget, and let the tools do the rest for you.