If your business wants to increase sales and build your brand, then you know the importance of great copywriting. If you want to get noticed in search engines and close more sales, then average online content won't cut it in today's digital marketplace. 

Why Is Great Copywriting Important?
Good copywriting demonstrates value and shows your customers that your business is worth working with. The quality of your message needs to prove that you are trusted in your industry, and you are a thought-leader who will meet their needs. To do this, great online content needs to accomplish several essential points, including: 
Creating and maintaining a professional image. 
Address the needs of your audience. 
Focused on a particular purpose. 
Demonstrate value and converts sales.
Sure, that makes sense, right? But how do you produce online content that converts? Today I want to share with you the tools and process I use to make awesome content for my clients.
This guide will help you through the first few stages of a copywriting project, so let's get going so your business can make more money!
My Money-Making Copywriting Process
As your business grows, you will need compelling copy to help move people from the "thinking" stage to the "buying" stage. This will be done with high-quality content that is produced and published in a strategic manner.
I want to share the general process I use when I work with my clients. As a freelance copywriter in Orlando, FL, I make my living by writing great content for my customers to be used on their blogs and websites.
As I go through the process, I want to share with you the primary tools I use to research, investigate and organize content before writing. 
A Great Beginning: The Research Stage
The research phase of writing content is the most important stage of the entire process. The only way for your online content to be effective is if all pieces of your copywriting projects work together across all mediums and through a consistent message. 
I always spend at least 30 minutes in the research phase looking over different aspects to help guide my copywriting efforts. Some of the things I check include: 
Read through existing brand literature. Things like the website and blog posts help understand the tone and message to maintain in the new content writing project. 
Researching competition will help you understand your position in the marketplace. Information about your competitors will help you find gaps in the market so you can create content specifically for the needs of your audience that is not currently being met. 
Customer research is one often overlooked but essential component of research. Knowing what your audience is asking and the type of information they are looking for is an easy way for you to understand your audience and make relevant content based on their needs. 
Review existing branding guidelines to ensure your tone matches their expectations. Nothing is worse than creating great content that can't be used because the copy doesn't match the desired tone of the company. 
The first thing I do when I take on a new copywriting project is to go into SEMrush and type in the keyword in the "Overview" tab. For this example, I will be writing website content about "dog grooming" for a pet supplier here in Orlando.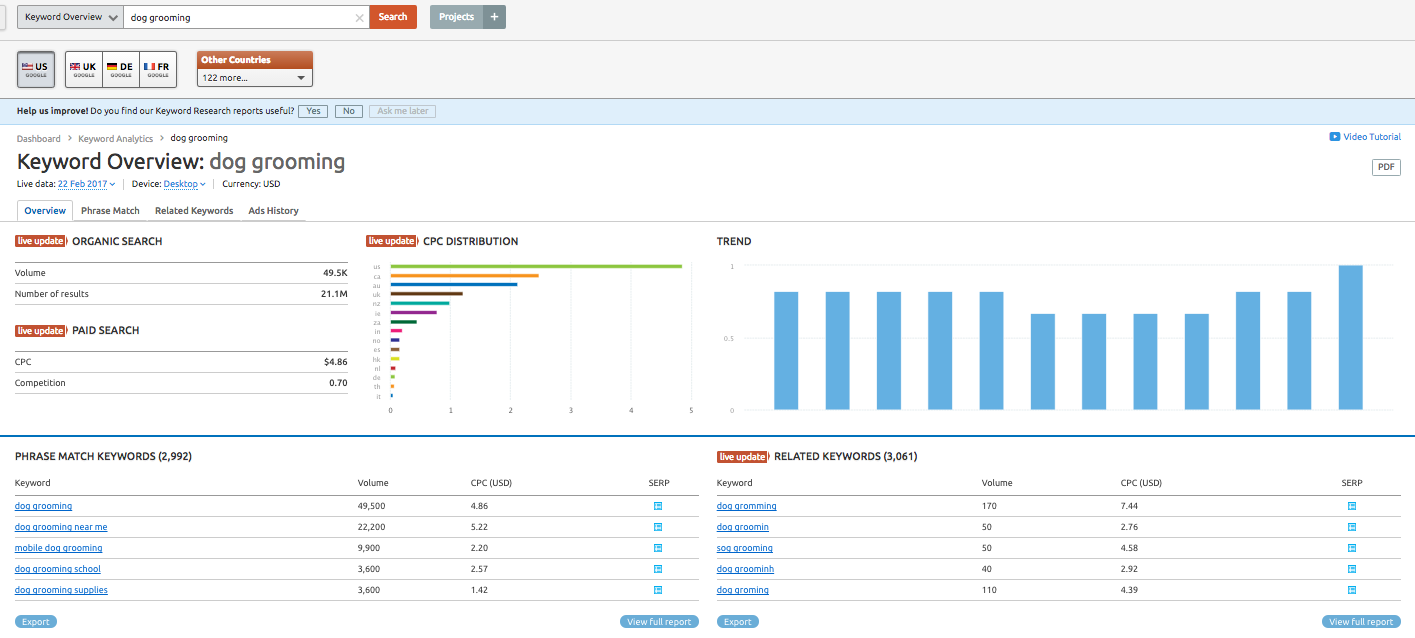 Just from a quick glance at this data I can tell the keyword is searched quite a bit and there are some interesting iterations of the word that could either be used for semantic SEO purposes or be topics for new blog posts. This means the topic is relevant and could be valuable for my readers. 
Since I know the keyword is relevant, I will look in the "SEO Content Template" tab for more insight. This tab offers great insight to help build out content for your online audience. There is a lot of valuable information on this tab, including: 
Main competition around a particular keyword and topic. 
Semantically related keywords. These keywords can be integrated into your content to help search engines find you and these keywords are an excellent way to help guide your copywriting project. 
General stats about the length of title, copy and other recommendations. These are great to help you outline different elements of your content so you know a ballpark of what you should be aiming for.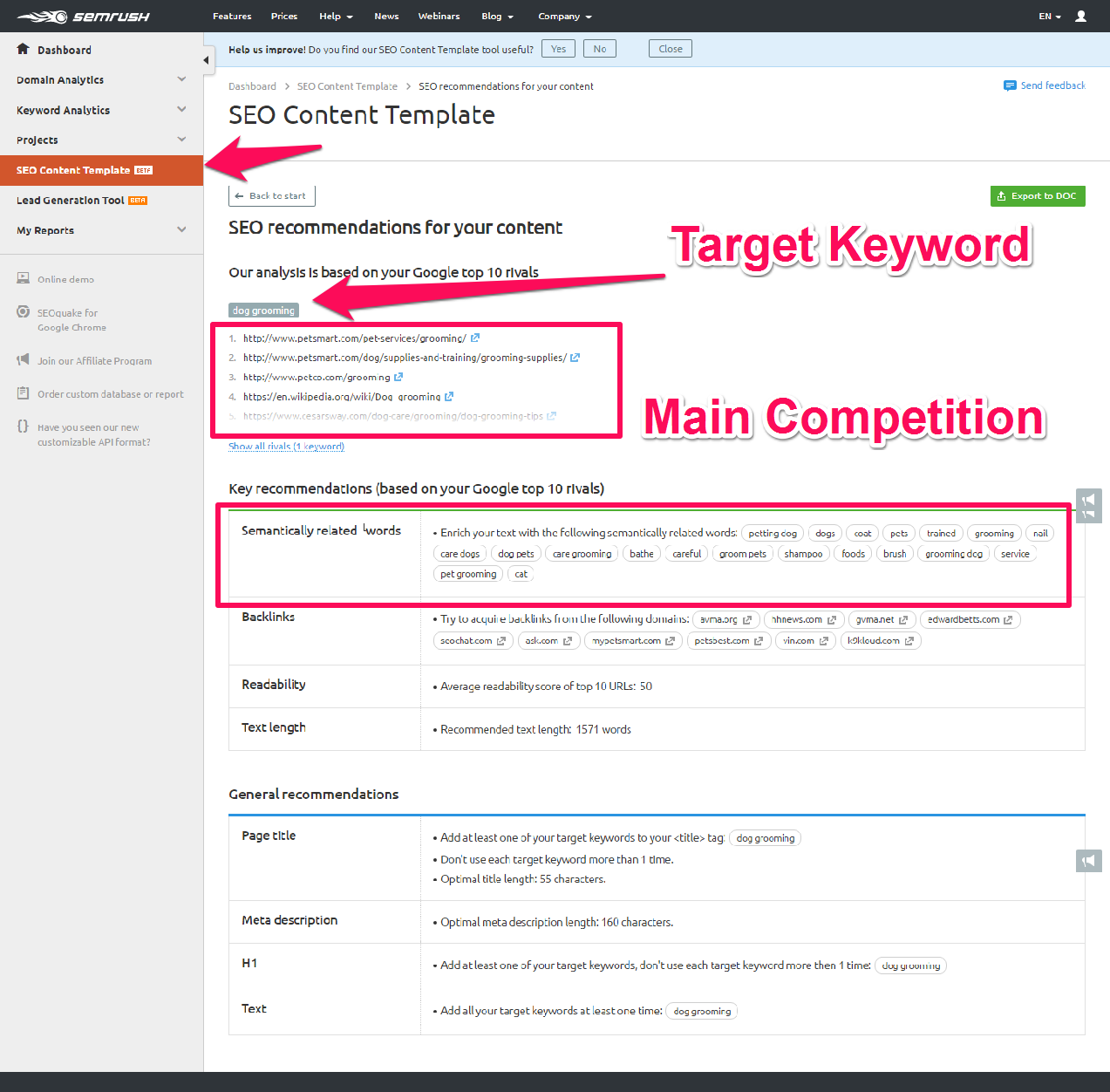 With this information, you can quickly and easily put together an outline based on existing content, what your customers are searching for, and your business goals.
While SEMrush offers other tools to help build great content, these two tools can give you a great start in the research phase of any copywriting project. 
Now that you know the primary keywords and recommendations to make your content stand out you can begin the process to build content. 
Discovery And Investigating Compelling Angles
After reviewing the keywords, competitors, and reading some other blog posts on the topic, you can begin writing some valuable SEO-friendly content. This content will need to include various keywords in the copy to be found by search engines, but you want it to be readable for your audience. 
It can be difficult to start a project, but a great tool I found to help with the content research phase is a great online tool called Article Insights.
This tool can help you get inspired about a topic by looking at existing content about your topic. Essentially, this tool is a content curation tool that will help you find relevant content to reference and guide your content development process. 
The first thing I do in Article Insights enter the keyword I am looking to write. Once I enter the term, I am presented with up to 75 keywords and 75 sources surrounding the topic of interest.
The keywords are grouped into buckets so that you can develop content around a particular theme. This makes it really easy to align research with the keywords I chose from SEMrush.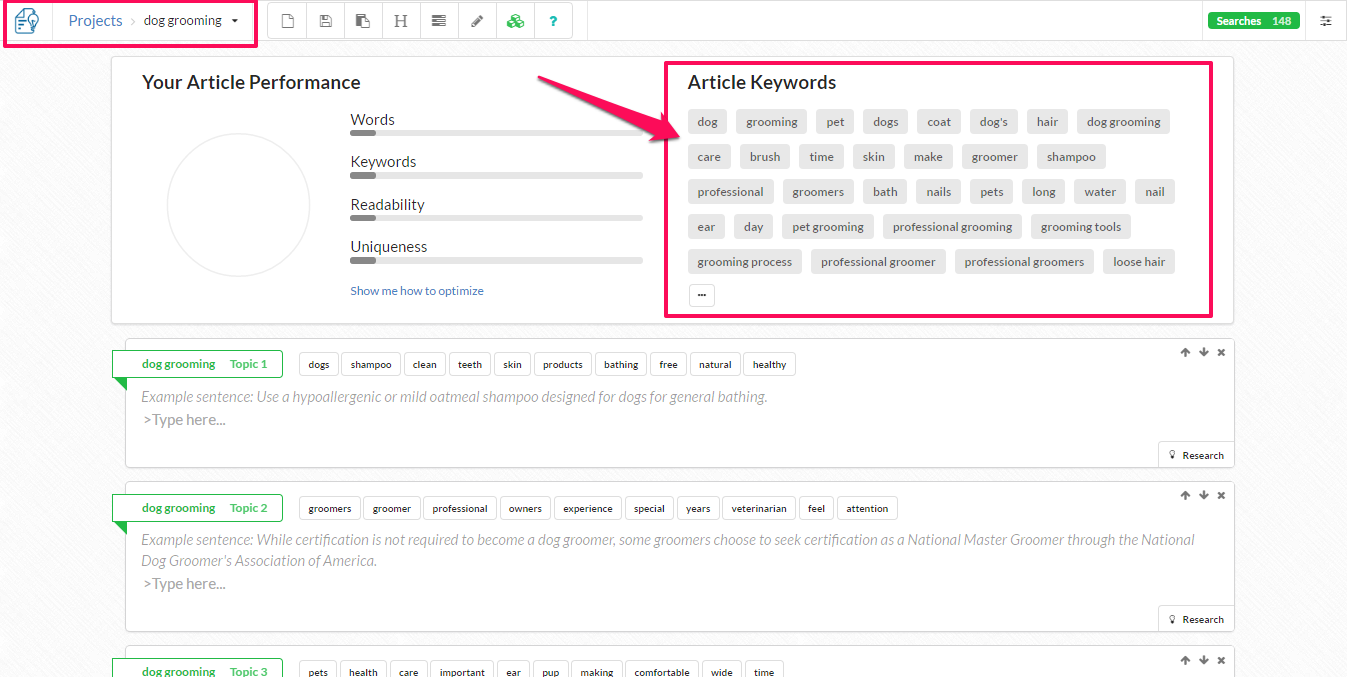 As you gather resources and find interesting angles, you will begin to develop relevant content that is valuable to your audience. While you shouldn't copy existing information, you can use Article Insights to help you plan, draft and research your topic. 
Content Organization & Expansion
Now that I have identified the main elements to include in my content, I can begin diving in to write great website copywriting that my audience will love.
To help this process, we need to be aware of the on page optimization techniques to include within out writing. Creating a spreadsheet to outline the various terms that we want to use in the article is always helpful. This can be done by creating a quick spreadsheet that outlines basic information to help guide us, including: 
The main topic to focus on.
The primary keyword(s).
Secondary keywords and LSI keywords to include. 
Resources, sources and references.
This spreadsheet will help keep your content focused throughout the entire process. You don't necessarily need this type of spreadsheet, but I have found that it cuts my content production process in half.
Instead of relying on memory and jumping between different tabs, you can refer to this consolidated sheet to ensure your content meets the needs of your audience and will get found by search engines. 
It's best practice to include your keywords in your H2 tags because this helps your audience follow your thought pattern and help search engines understand your content.
Sometimes it's hard to find the right headers, so I use a slick feature in Article Insights to give me a head start. 
At this point, we have the keywords, resources and a great start on headers to help us organize and expand our content.
After you have these elements, you should be ready to write great content that will be valuable for your audience!
Create Awesome Content That Engages Your Audience Today!
If you follow these general steps, you will be able to craft more engaging content around what your audience is looking for. You can use SEMrush and Article Insights to help you focus your content and optimize to get found in search engines.