Local SEO can be the driver for most small business marketing strategies. Local businesses can thrive–or die–on being found online. And if a business has a small budget, it matters even more. You need to know whether your strategies are working or not in order to make the best decisions.
Cue the need for simple and concise reporting that anyone can set up and pull regardless of their skill level. 
In this article, I will break down some of the best tools out there to measure your  local SEO campaigns as if I am building a strategy for a neighborhood ice cream shop with multiple locations. 
1. Build the Right Keyword List 
It all starts with the right terms (shocking, I know). If you aren't tracking it, you can't report on it.
Start with inputting general terms for your business in SEMrush Keyword Magic and filtering to find the best-related terms. To win at local SEO, you need to target high search volume terms even if they are based on national search volume. Local search volume, search result pages, and competition will vary when you set up localized tracking.

Intent Modifiers
The ice cream example has a lot of "near me" searches by default. If your keywords don't have "near me" or "nearby" modified terms with search volume, it's still a good idea to build them into the list. 
Think of any other terms people may be using to describe your type of business, especially consider voice search. Some examples could be "closest," "open late," "24 hours," "best," etc. These are considered intent modifiers and can take your keyword list to the next level.Learn more about this process in my more in-depth blog on how to build your intent-based keyword list.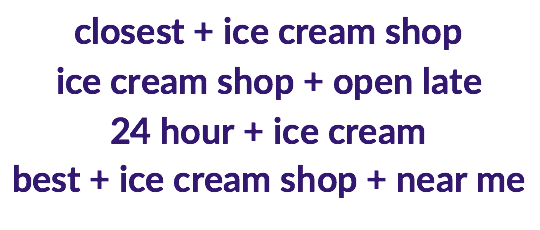 Geo-modifiers are specific local modifiers that may suggest someone is searching for a result in a particular neighborhood. Use as many cities, neighborhoods, or areas that make sense for your business. These terms may have lower or no search volume, but they are highly intent-based.

You should end up with a full list of keywords varying between general terms, intent modifiers, and geo-modifiers. Be sure to organize the keywords by groups and create a consistent tagging structure. This will help you dig into your groups once the keywords are uploaded in a SEMrush project.
2. Track Cross City & Device
Set up a new project to track your domain by your main location and upload all of your keywords. You can replicate your keywords to track in other locations by using the +Add New Device or Location option under the device & location dropdown.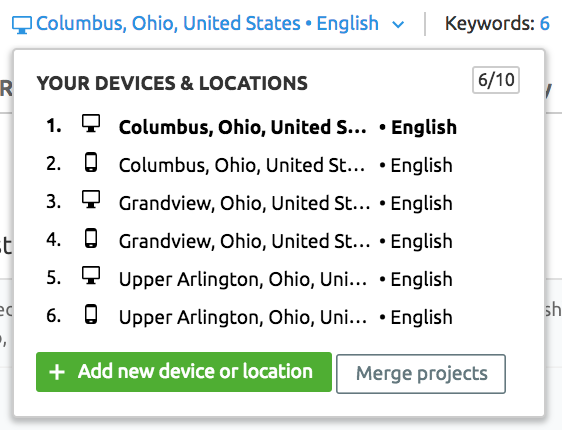 For the ice cream shop example, I have added desktop & mobile combinations for each of the Columbus, Grandview, and Upper Arlington locations within the same project. 
It is important to note that you have a max of 10 locations/device combinations in one project. Decide before you start if you will need multiple projects, and what combinations will be required to be in the same project. Taking the time to establish requirements and project groupings up front will save time down the road (trust me).
Use the device & locations report to compare cross locations and devices.

You can filter to each location or device as needed.

3. Filter by Features
SEMrush has recently added the ability to track SERP features within their position tracking tool. Filter by the local pack to find the keywords that trigger local results and identify if your business is appearing.
You can see more than just the local pack. Knowledge panels may appear with a specific brand instead of a local pack, so be sure to check those along with reviews to see how important reviews are for your keyword groups. Check out all the SERP features for your keyword lists to identify what potential levers there are to target in your industry.
A little-known feature that can easily be missed is the ability to turn off the local pack in your rank count. By default, SEMrush reports on the highest ranking term, whether that is local or traditional organic. You can deselect this to see only your traditional organic rankings if you would like. 
4. Use Tagging 
You can set up whatever tagging structure you want when you are uploading keywords. Be sure to utilize this to set up your keywords from the start. You can also set up more complex tagging once you have uploaded your keywords.
Filter your keywords by common terms, volume, CPC, and SERP features. From there, select new tags to add to all filtered terms. This means you can set up a tag for all the terms that have a local pack, a low CPC, or common terms that you didn't set up tagging for from the start.


5. Build a Monthly Report
The report builder feature in SEMrush gives you a lot of options to build out custom reports. Use the builder to create visuals based on your position tracking tool. Visuals such as keyword trends, keyword ranking tables, and device/location comparisons are helpful.
Before building your report, identify what the goals of the report will be, who your audience is, and what data needs to be included. 
I prefer to set these up for our team and not send monthly to the client. Instead, I highlight key changes as needed in our meetings and keep our monthly report focused on business KPIs, not rankings. But feel free to set these up for each location owner or an overview for the main business contact.
Once you have an idea of what the report should look like, use the position tracking report widgets to create a custom report.
Trend & Keyword Rankings Table
The keyword trends and keyword ranking table reports are my two favorites for custom reporting. Both let you filter your reports by everything we have just covered using the options for:
Target – Location & device combination
Tags – Filter the report by commonly tagged terms
Local Pack – Choose if you want your report to include or exclude local rankings
You can build very specific reports with unique combinations of these filters depending on what you want to report on. For example, I could have a report on everything for Columbus with "near" terms, a report for every keyword for the Grandview location by desktop, or a competitor trend report.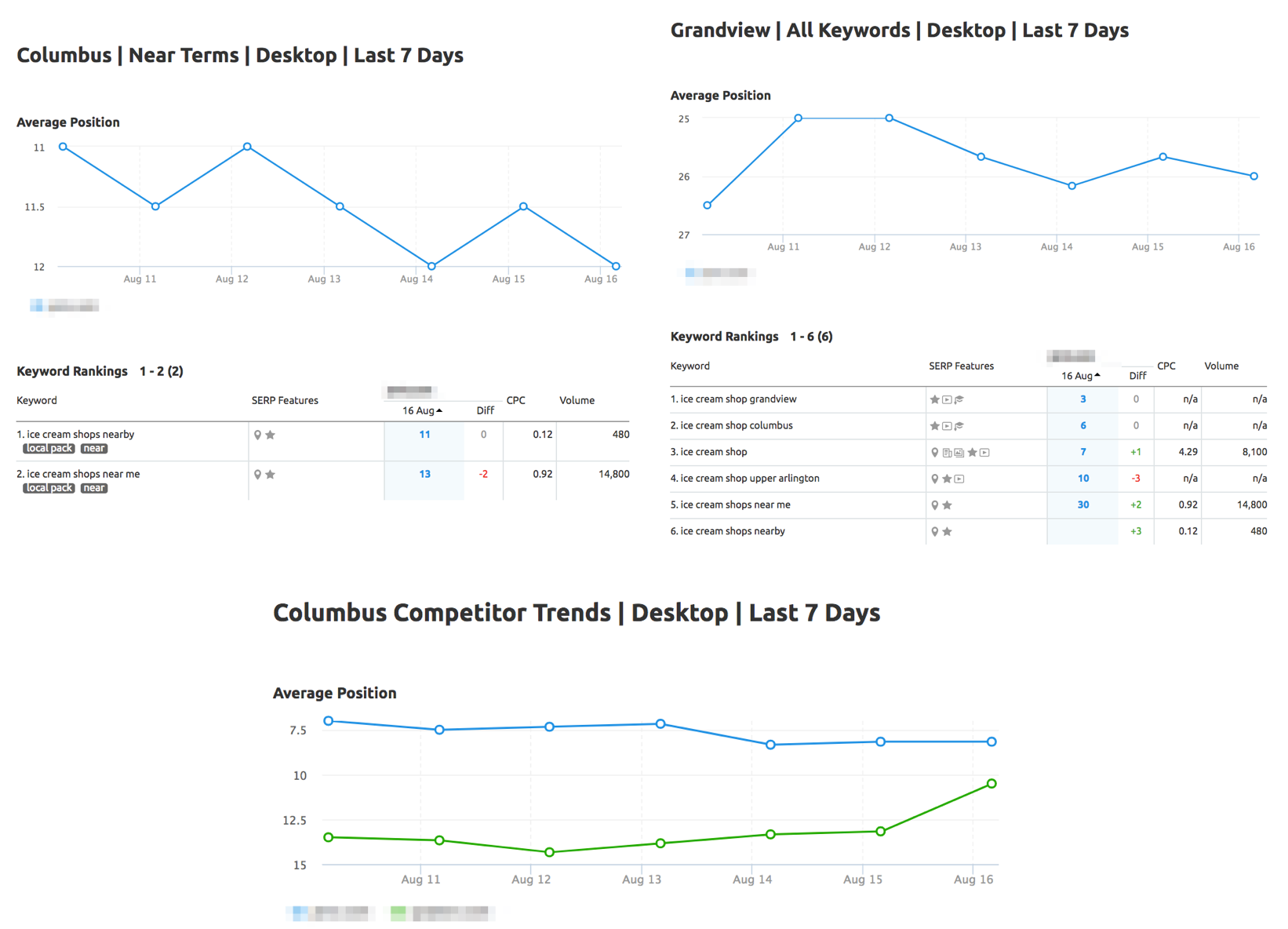 Device/Location Trends & Rankings
The device and location charts will create full comparisons for all the keywords in your projects. These charts currently don't allow you to filter by tags or targets but create a great project overview, or you can filter by keyword. This is another reason you should plan your project organization from the start.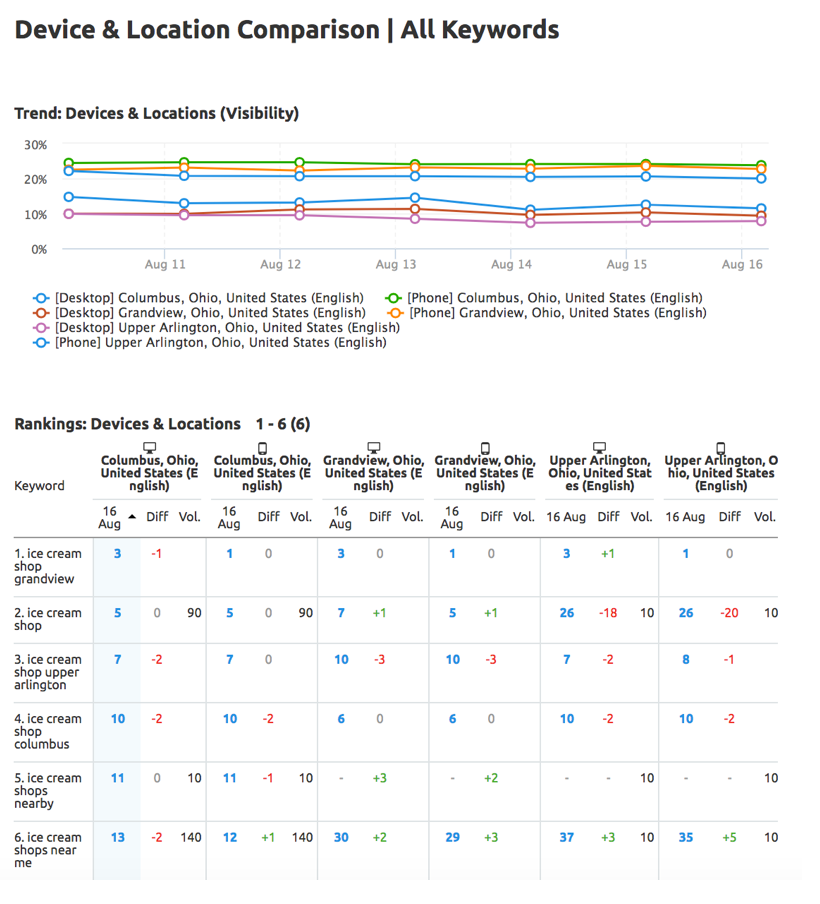 Other Reporting Options
You aren't just limited to the position tracking options. Feel free to add in custom images, Google analytics overviews, ROI metrics, or anything else you deem necessary. There are a lot of capabilities in the report builder with more being added regularly. 
Set your report to email monthly automatically, or save to a PDF and distribute as you see fit.
There you have it! Now you can report on your local strategy without much on-going effort – saving you time to actually do the work with even better reporting.