How To Get Your Link to Google Reviews
Sending customers your Google review link increases the success of your customer feedback outreach
Quick summary
A link to Google reviews makes it easy for users to leave you a star rating for your business so they don't have to search for you

There are a few ways to find your link to Google reviews, but once you have it saved, you can use the same link on any channel

Google also provides resources to help you promote your Google Business Profile review link offline with printable posters and stickers
What is a Google reviews link?
Your Google reviews link connects your customers directly to where they can leave a review for your business.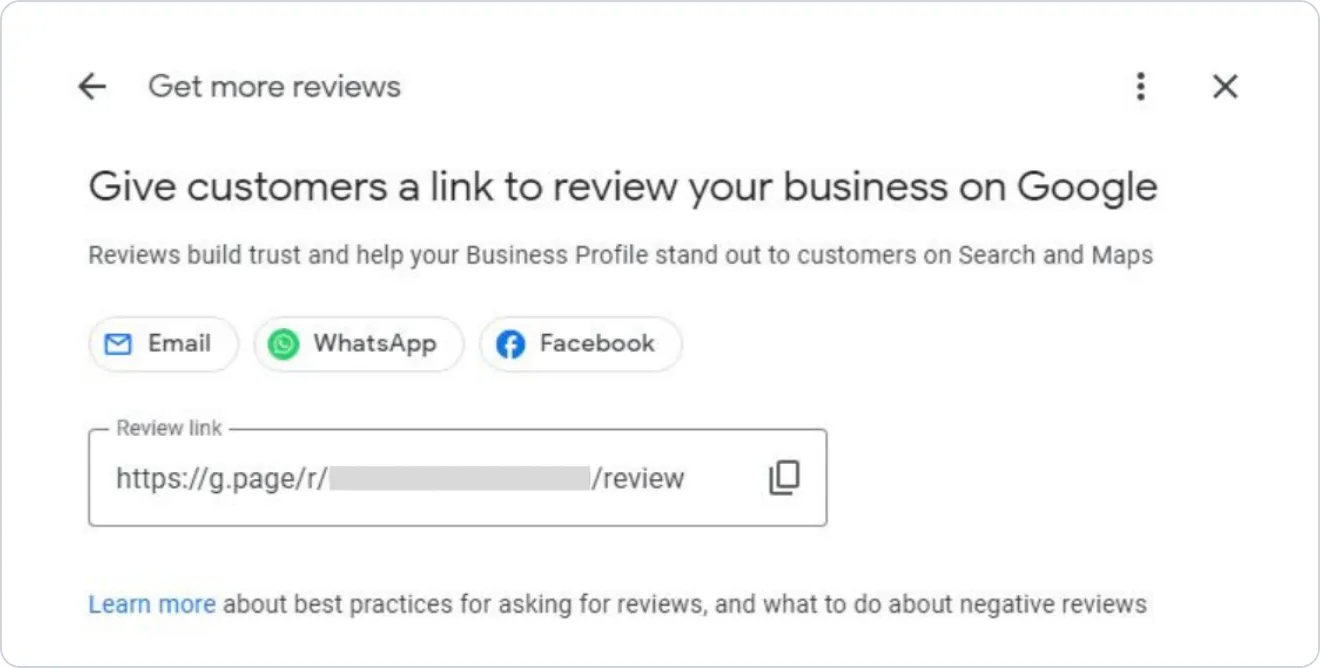 Generate reviews by sharing this Google link
A lot of business owners struggle to find the link they should be sending out to customers and often just copy the browser link after searching their business name on Google.
While this will likely do the trick, the true Google reviews link is easy to share and cuts out any further steps the user might need to take in order to go ahead and leave a review (browser links are also pretty long and ugly, which might put people off).
Most customers are more willing to leave a positive review than you might think, so it pays to make the process simple for them.
To make sure your
review generation campaign
gets off to a great start, just follow the simple steps on how to get your Google review link below.
You can find Google review link generators online that allow you to search your business and build a link, but it's no simpler than just grabbing the link to Google reviews directly.
Can't users just search your business on Google and leave a review that way?
Yes, customers can absolutely search your business and select "Write a review". But for users who don't usually do that sort of thing, asking them to work it out can often lead to them abandoning the process.
Simply asking your customers to leave you a review over the phone or face-to-face isn't the most effective strategy. While customers are usually willing to support businesses with which they've had a positive experience, human beings typically forget to do it after the transaction is complete.
So the best way to increase your chances of the customer following through on their promise is to send them a link to Google reviews.
You can do this via email, but SMS text messaging is proven to be the most effective way to request reviews due to the fact that almost 100% of phone users open them (versus around 20% for email).
Bonus: Send a personal message if you remember your interaction with the customer to make it clear they're not just reviewing the business, but the people who served them.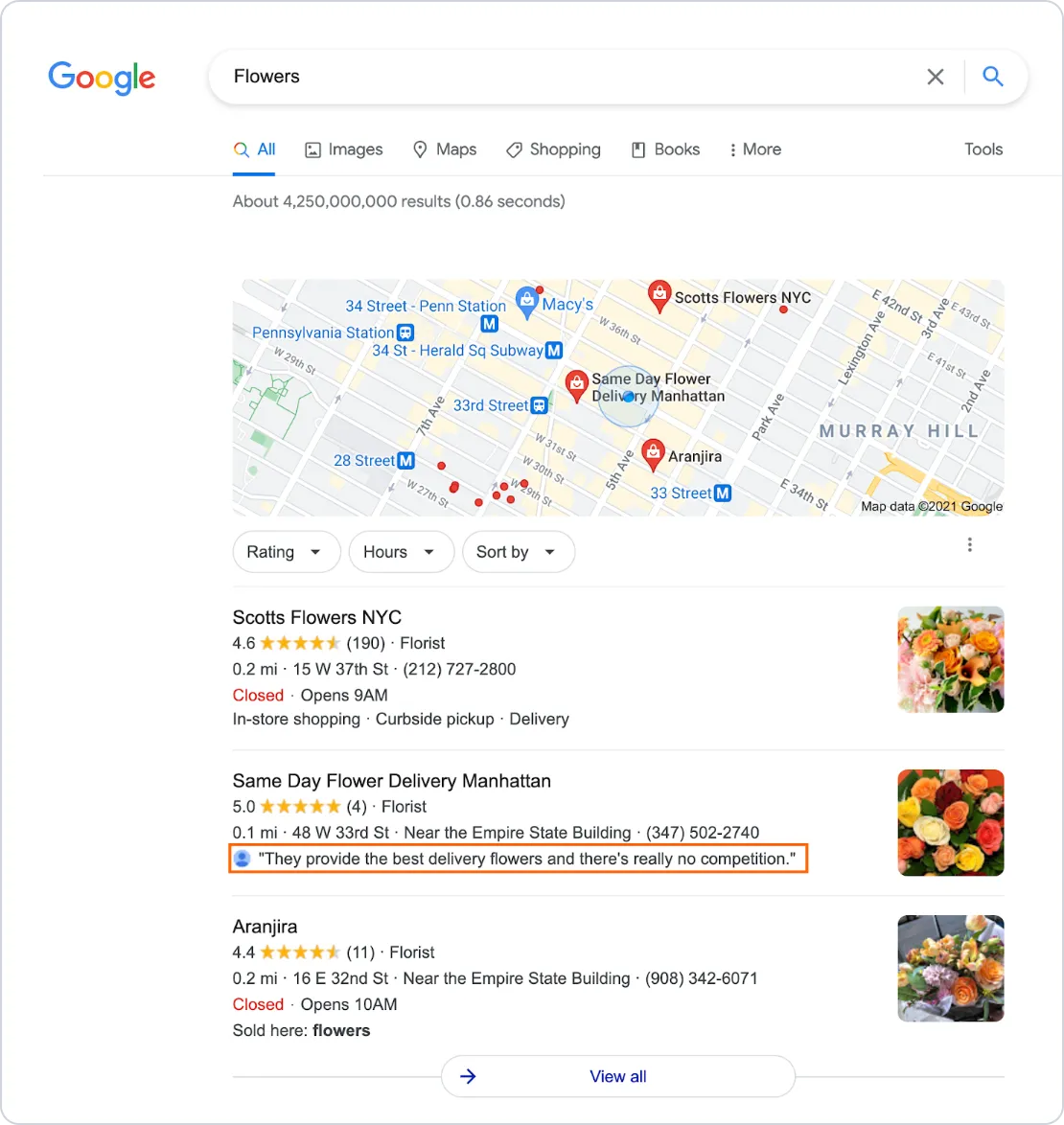 A pull quote from a user who likely responded to a Google review link
Of course, you'll want to make sure all your business listings are accurate, up-to-date and that there are no rogue duplicate profiles lurking around online.
Before reaching out with your link to Google reviews, try
Semrush's Review Management tool
to quickly optimize your listings and suppress duplicates so all your reviews end up in the right place.
How to get your Google review link
There are a few ways to get your Google review link, all of which are pretty simple. You can even start requesting Google reviews if you haven't managed to claim your business yet (option 4).
Option 1: Via Google Search
Log into your Google Business Profile.

Look for your business on Google Search and click the link that states the number of reviews you have.

Now select the "Get more reviews" button.

There's your Google reviews link! Copy and paste into an SMS or share it via email, WhatsApp or Facebook.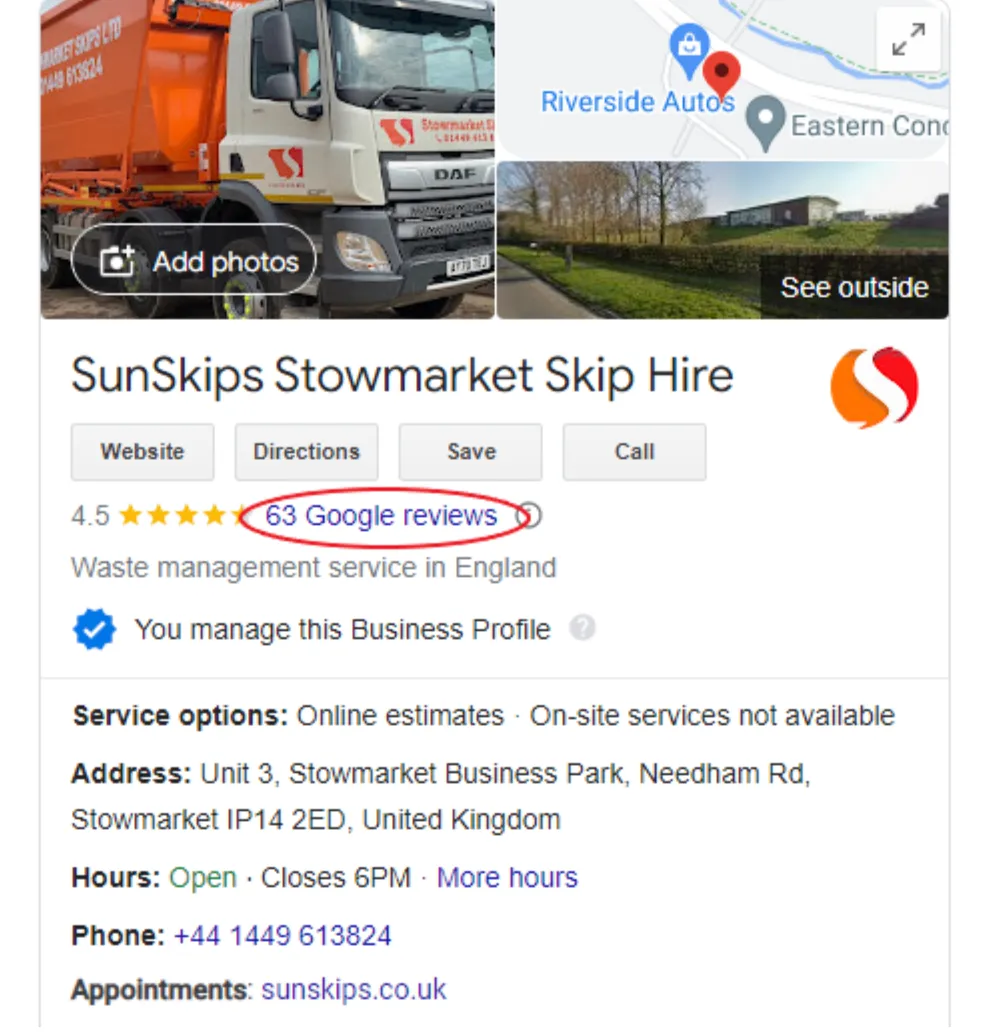 You can access your link to Google reviews via this Google Search profile
Option 2: Via Google Business Profile Manager
Log into Google Business Profile.

Once inside Google Business Profile Manager, choose the business you want to get a link to Google reviews for (if you own multiple businesses, that is).

Scroll down to "Share your Business Profile".

Et voilà !: your Google review link is ready to be copied or shared on other platforms.
Option 3: Via the Google Maps app
Open the Google Maps app and click on your profile icon.

Select "Your Business Profiles".

In the Overview section, scroll down to "Get more reviews" and select "Share profile".

Now you can either copy the link to save for later or send it directly via social media and messaging apps.
Important: From July 2022, the Google My Business app will be replaced by Google Maps and Google Search as a way of managing your business.
Option 4: Via Place ID finder
This is a handy solution for people still in the process of claiming their business on Google.
Visit the Place ID Finder in the Google Maps developer platform.

Search for your business in the search bar.

When your business pops up, copy the place ID series of numbers and letters.

Paste the ID in the URL below where it says "place_id" within the brackets.
https://search.google.com/local/writereview?placeid=<place_id>
How to get 'Review us on Google' marketing materials
While it's important to send your Google review link to clients directly (ideally via SMS) to ensure you're maximizing your chances of getting more reviews, you should also explore other ways to promote your Google Business Profile.
Google Business Profile 's Marketing Kit
offers a ton of creative ways to encourage users to leave you a review, including free "Review us on Google" stickers, business cards and flyers.
The platform will even generate ready-to-go social media posts based on the best reviews.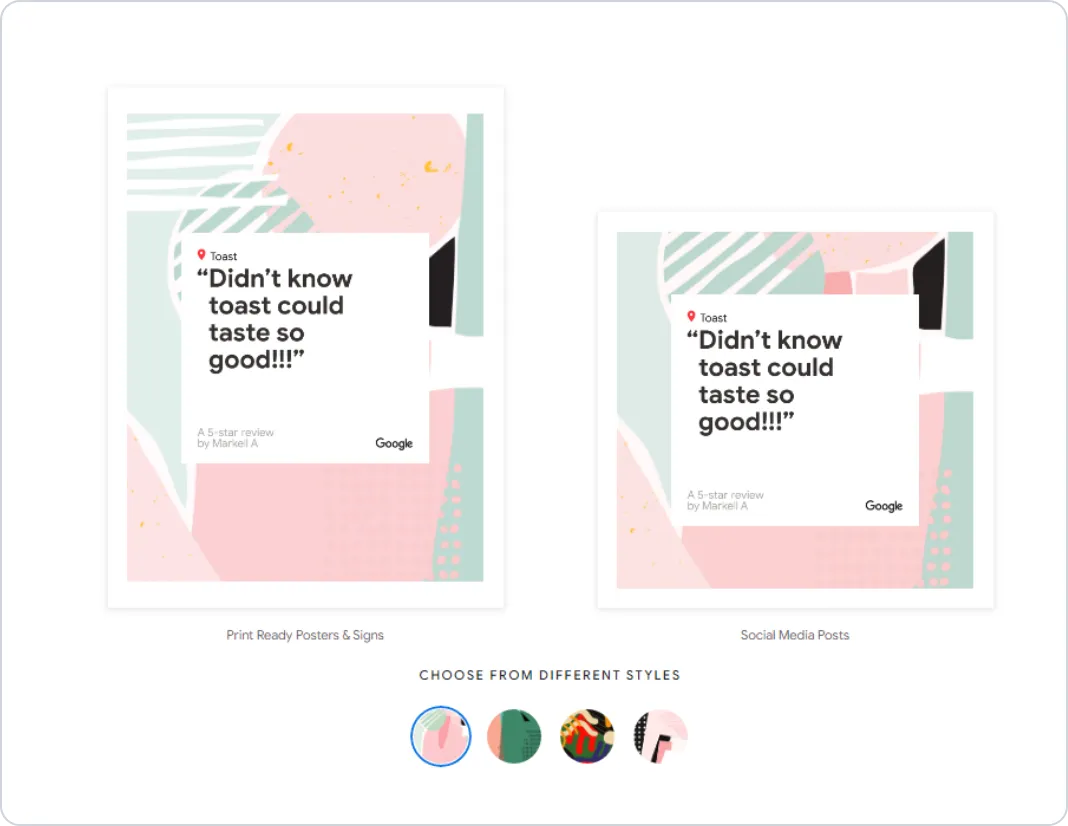 Google Business Profile's Marketing Kit makes promoting your link to Google reviews easy
You have to print the designs yourself - either at home or with a local/online print shop - but it's a fast way to get attractive marketing up in the areas that receive a lot of foot traffic or customer interaction.
If you'd prefer to design "Review us on Google" creatives yourself, you can still use the Google review link QR code that Marketing Kit automatically generates for you.
Encouraging customers to leave a review as soon as you've delighted them with your products or services is a good way to get positive reviews coming in.
Using Semrush's Review Management tool to manage all those new Google reviews
Getting your link to Google reviews out there is only half the battle. Now you've actually got to manage and reply to them.
Once your review campaign is up and running,
Semrush's Review Management tool
takes a lot of the heavy lifting out of your online review management with tons of useful features.
Manage all your reviews in one go
With your Google reviews link out in the world, you'll likely start receiving reviews on other platforms too, such as Facebook, Yell, and hopefully some industry-specific directories.
Semrush's Review Management tool
allows you to manage all your reviews in one place so you don't waste time logging into several different platforms just to say thanks.
Plus, the Reply Rate widget gives you the peace of mind that comes with knowing every customer has received a courteous reply from you and that your business looks professional online.
Take the pulse of your customers' opinion
Your average star rating is a good indicator of how well you're doing as a business, but what do people really think?
Check the Semrush Review Management tool's Sentiments widget for a useful breakdown of the most common words people are using to describe your business and the tone in which they used them.
This is a valuable tool for business managers to use when identifying areas of the business that are going well, and where there might be room for improvement.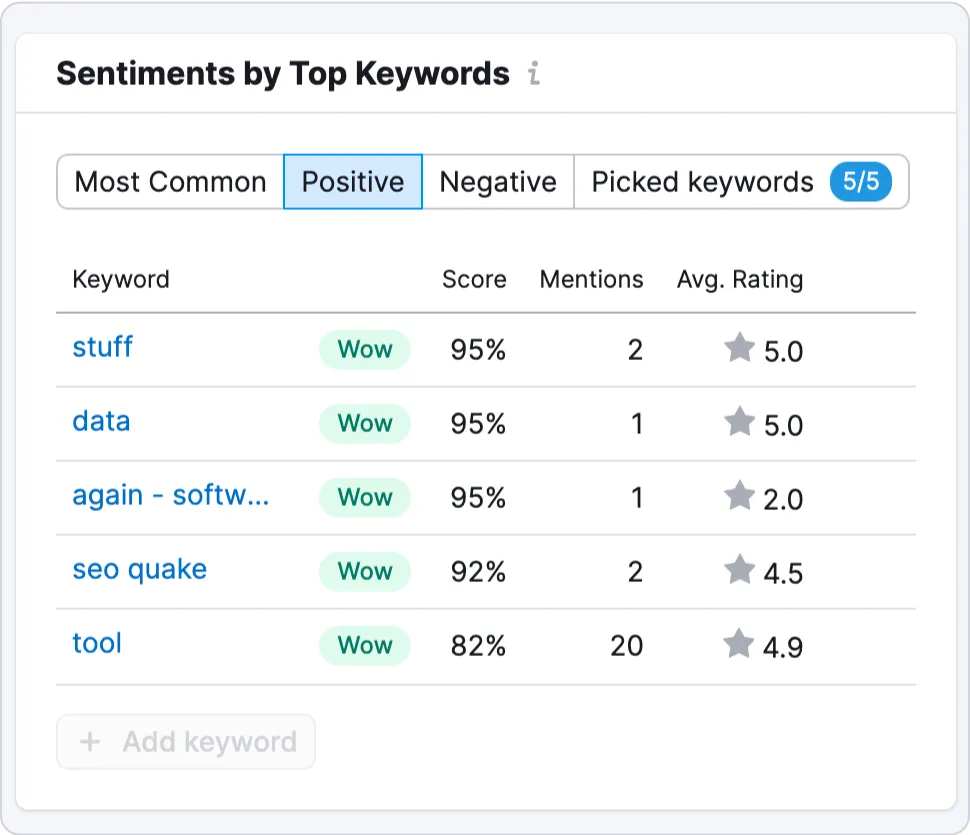 Don't lose valuable Google reviews
Even if you send your Google reviews link to every single customer you do business with, you'll still get the occasional one who searches for it in Google.
When that happens, you'll want to be sure there aren't any duplicate listings for your business that people may write a review for, rather than your prime profile where you want them.
Use
Semrush's Review Management tool
to suppress duplicates in just one click and make sure there's only one Google Business Profile (and that you're the owner).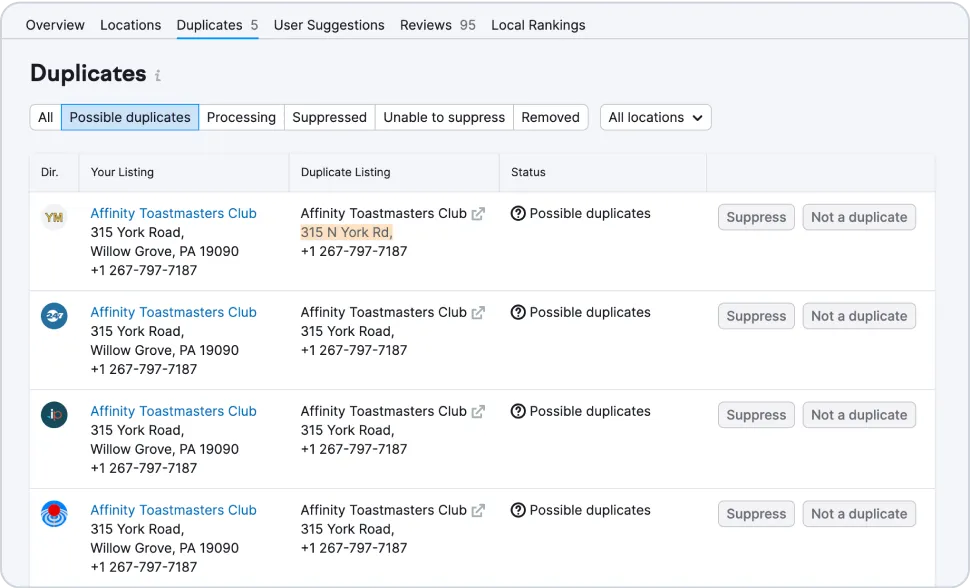 Keep an eye on your average position in local rankings
One of the huge benefits of actively sending out your Google review link is the impact it'll have on your local SEO rankings.
Semrush's Review Management tool shows you where your business appears for certain keywords so you can report on how your review campaign is working.
And for a really granular view, Heatmap displays your positions for up to five keywords so you can quickly see exactly which locations are bringing in views and where you might need to do some more local SEO work.