The Essential List of Business Listings You Can't Ignore
Every directory you need in your strategy to improve search rankings and brand reputation
Quick Summary
Having up-to-date and accurate local business listings not only increases your online visibility, but also builds valuable links and citations to boost search rankings

A local business listing service simplifies the distribution and management of your profiles across all the major directories

Submitting your business to each platform manually is pretty straightforward, but a local business listing service saves time and offers a lot of additional features
How does featuring in the top list of business listings impact your online visibility?
Submitting your business to the essential list of business listings allows customers to easily discover you and find your most important information like phone number, opening times and address.
Some of these platforms are part of large social media websites like Facebook, search engine features like Google Business Profile or dedicated directories like Yelp, while others are specific to your location or industry.

The most important directories allow you to list your business for free, but you may find that niche directories require payment and should be judged on a case-by-case basis.

Having a strong presence in the most important business directories not only gets you visibility in the directory itself, but it also increases your chances of appearing in local search results. Online directories with a high Authority Score feed that link juice to your website and boost your local SEO efforts.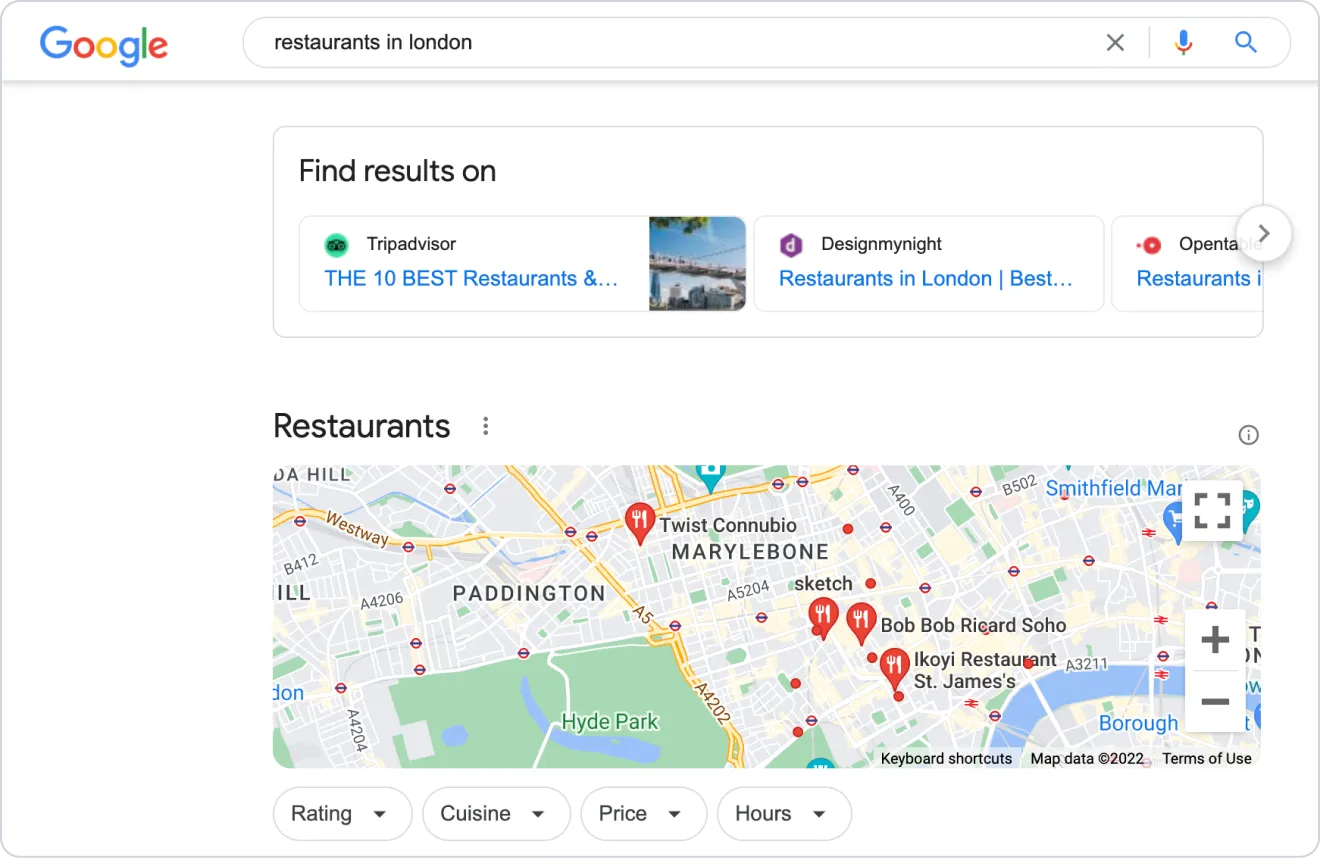 A result from top travel directory Tripadvisor appears in position zero on the SERP for "restaurants in London"
Google Business Profile relies on other local listings to verify all your information is correct, so it really pays to invest in making sure they're all up to date.
A slapdash approach to distributing your listings can lead to lacklustre results. If Google can't confirm your business name, phone number and address (NAP), the search engine giant is unlikely to rank your listing as highly in the snack pack (prime SERP real estate for local searches that you don't want to miss out on).
Semrush's Listing Management tool
, a local business listing service, can monitor every directory your information has been submitted to, suggest optimizations and make updates across the entire list of business listings.
The top local business listings directories you need to know
While there are probably some local and niche directories your business should consider, you definitely need to be listed in the essential ones.
Here's a list of business listings to get you started (a local business listing service like Semrush's Listing Management tool will get your business into all of these - and fast):
This doesn't quite scratch the surface of all the local business listing directories you should submit to, but it's a great place to start if you're uploading all your details manually.
Manual distribution can be incredibly time-consuming and, quite frankly, boring work, so busy marketers use local business listing services to take the leg work out of it.
What is a local business listing service?
A local business listings service is a fast and simple way to get your company featured in all the most important online directories.
Semrush's Listing Management tool distributes your details to a long list of business listings
Managing all these different directories without the help of a local business listings service is incredibly time-consuming, and the chances of inconsistencies and duplicate listings are much higher.
For example,
Semrush's Listing Management tool
asks you to enter your business details - or connect to Google Business Profile - just once so there's no need to update your info dozens of times.
The tool makes suggestions for timetable changes if there's a holiday coming up and alerts you to any directories that need more data, like descriptions, map coordinates or cover photos.
How do I list my business without a local business listing service?
If you've got the time to go through the list of business listings manually and add your details to every directory one by one, you'll find each platform has a slightly different process, as well as requirements for copy and images.
However, they all pretty much adhere to the following steps:
Claim or set up your business listing
You might find your business is already listed so you can simply claim it. If not, you'll have to create a profile and fill out the info yourself.
Fill out all the information
Take your time to make sure you enter as much info as the directory will allow, and don't skip anything to save time.
Verify your listing
You'll need to prove you're the real owner before your listing goes live. For example, Google Business Profile sends a postcard to your location to verify your address.
How Semrush's Listing Management tool takes care of all your local business listings
Whichever way you look at it, managing all your local listings yourself is either expensive or time-consuming - and even then you still can't be sure it's all in order without going through each listing individually.

Semrush's local business listing service - the Listing Management tool - is not only quick and makes sure your details are accurate across all directories - but it's also more cost-effective than spending all that time doing it manually.
Rest assured that all your listings are accurate
Duplicate listings, incorrect phone numbers and inconsistencies in the business name and address - all of these can mean the difference between a quality listings distribution and one that will negatively impact your rankings.
Outdated listings can lose you business when potential clients aren't able to get hold of you or are turned off by your poor housekeeping.
Semrush's Listing Management tool
guarantees your details are accurate and that no one else has claimed your business as their own, saving you from having to open up a dialogue to solve every frustrating incident.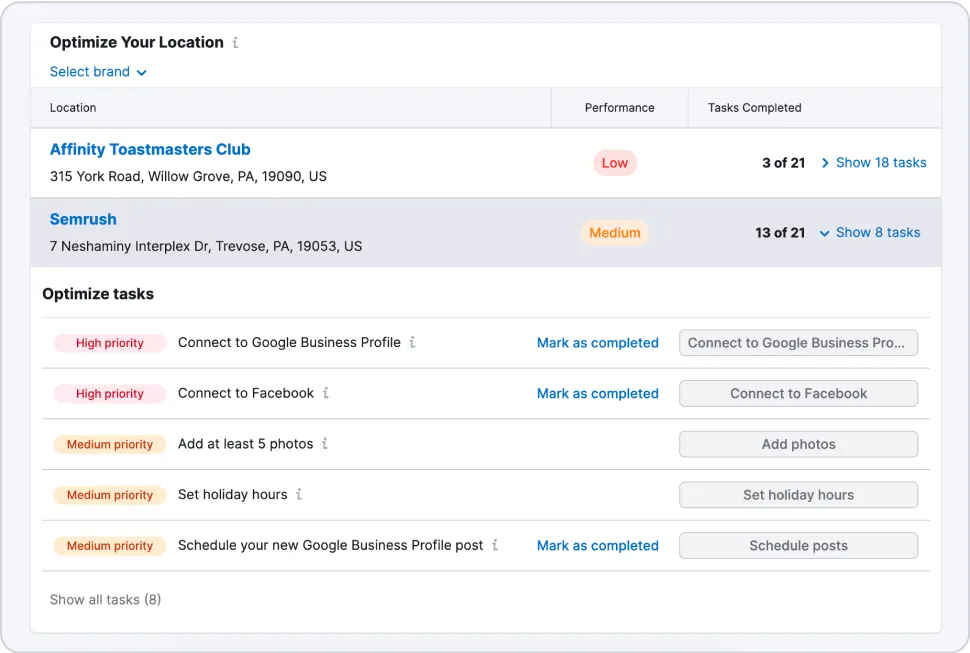 Monitor how you stack up against the competition
Without a local business listing service like Semrush's Listing Management tool, you're missing out on a clear view of where you rank against similar businesses.

Check your average position in local rankings and follow your business' progress over time so you can easily report your return on investment.

For a more granular outlook, invest in a Premium account and use Heatmap to visualize up to five keyword positions so you know exactly where your top-ranking searches are coming from.
Improve your Authority Score with quality backlinks
Getting more citations and links should be part of your SEO strategy and a local business listing service can quickly boost your efforts.

Building links in directories might not be as valuable as authoritative links from websites relevant to your niche, but they're a great start to a link-building campaign.

The more quality links you get, the more chances you have of getting your business in the snack pack (the top local listings), as well as organic results.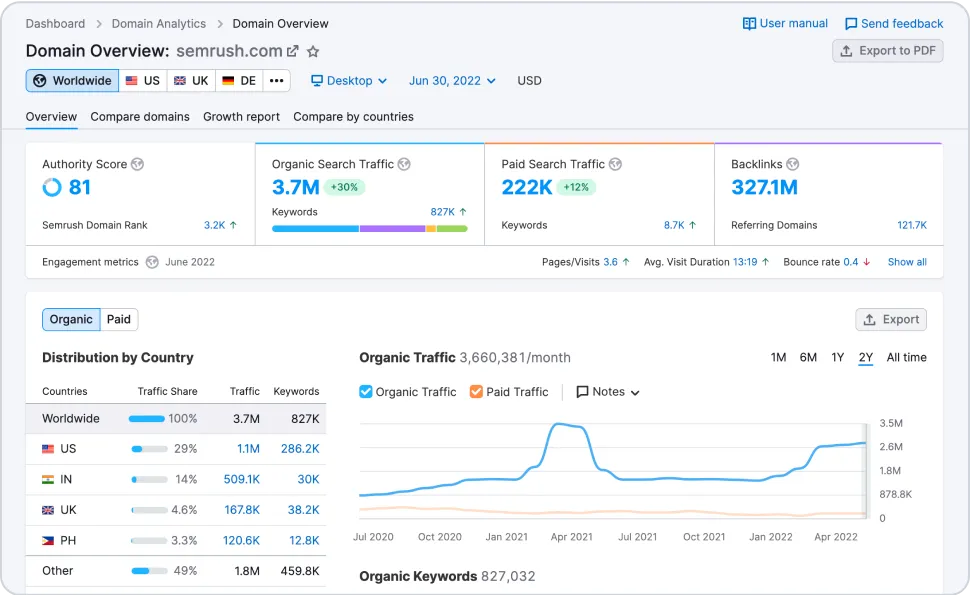 Respond to all your reviews in one place
The more positive reviews you rack up for your business, the more likely a user will choose your business over the competition.
Not only that, Google Business Profile considers reviews a ranking factor and features ratings from other platforms, so you'll want to make sure you're properly responding to all of them in a timely manner.
With
Semrush's Listing Management tool
, you can leave a grateful comment on reviews no matter what platform they were left on. And if you want to gauge customer sentiment across all directories, run a review sentiment analysis for the complete picture.