If you work for or own a digital marketing agency, it's safe to assume you're offering SEO for your clients. You might offer on-page SEO and optimized content creation, which provide great value and can help increase visibility and traffic for your clients' websites.
The vast majority of agencies, however, are leaving out a service that can exponentially improve client results (and your agency's profits). That service? Link building.
Why Do So Many Agencies Skip Link Building?
Truth is, most SEO professionals don't know how to do link building. Of the ones who do, many think it's too difficult or time consuming. Others just believe "Content is King" and that's the end of it.
You might ask "Isn't link building no longer important for SEO?" likely because you've read something sensationalized to that effect. In the SEO world, the existential threat comes from people worrying about SEO not working rather than it actually not working.
Just Google "SEO is dead" and see what I mean.
The truth is that link building is still absolutely critical for successful SEO.
In this article, I'm going to show you why you need to offer link building as a part of your SEO services so you can separate yourself from the pack.
Links as a Ranking Factor
First, let's settle the debate around whether or not links are still a ranking factor.
In 2017 Semrush produced a comprehensive study detailing the first major shifts in Google's search ranking algorithm in years as they implemented AI and focused on newer factors above links. Though a few years old now, it's still the most authoritative available and the findings hold up today.
In their report, you can see how Backlink Metrics are second in line behind User Engagement Metrics and above all other ranking factors in the Semrush study.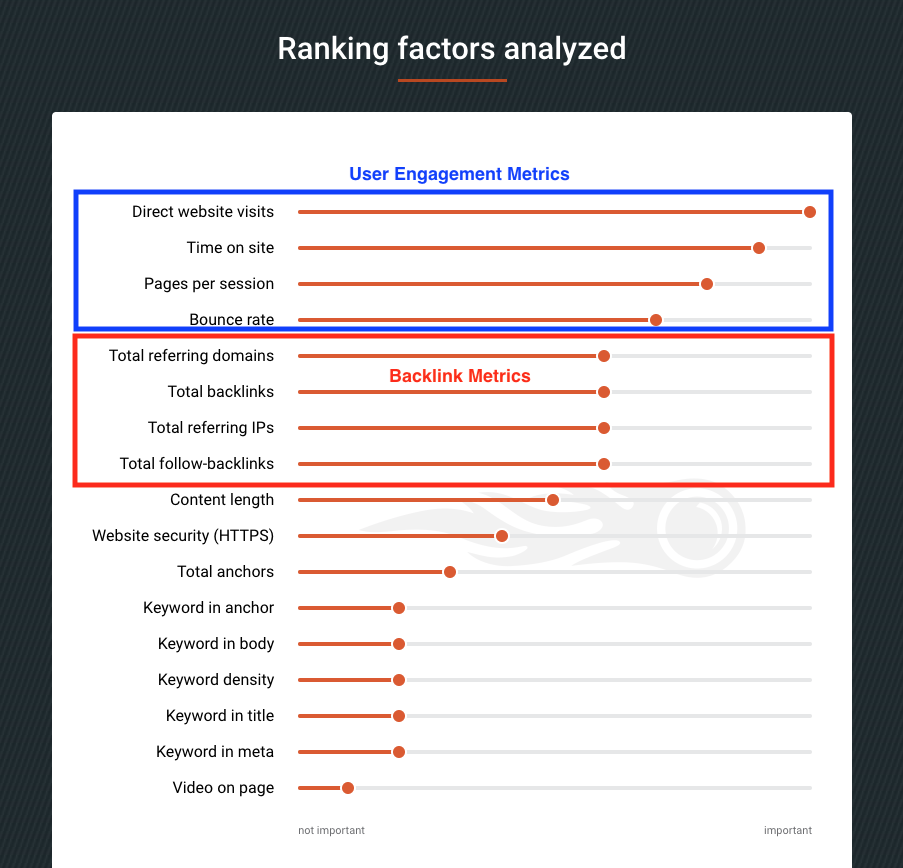 User Engagement Metrics are ideal for ranking well in Google but think about how this could easily be a chicken-or-egg scenario.
If your site doesn't rank well enough in Google for the engine to gather User Engagement Metrics, then those won't help your site rank well even if they're likely to have great user engagement.
This means you need links.
Links get your site from unranked to the first page of Google where User Engagement Metrics can begin taking effect and help to push the site higher in the rankings. Links still matter at the top of the SERPs because your competitor's site may have similar engagement metrics as yours, or the various other factors on the site are helping it rank there as well.
Keep in mind that as Google evolves they're constantly wanting to improve the way their algorithm operates, so considering elements beyond just links will help improve the accuracy and effectiveness of their ranking algorithm. 
One factor that has always served humans (and thereby Google as well) is getting more brand mentions and brand visibility in the SERPs to create a strong "share of SERPs" in the same way traditional advertisers refer to a brand's "share of voice." This is employed perfectly in an SEO strategy known as Surround Sound SEO, where the focus is to get as many consistent brand mentions and links within the first ranking pages in Google as possible thereby creating a strong "surround sound" effect for searchers trying to find a solution.
What's so Special About Link Building and Why Should You Offer it as a Service?
While improving a site's User Engagement Metrics and increasing share of SERPs hits two birds with one stone (improves rankings and awareness AND improves conversions) like technical optimization within SEO, it also has diminishing returns. You get to a point where you can't optimize it much further or any more optimizations don't produce much more results.
Link building, however, offers constant opportunities for growth and improvement and like creating good content on your site, it's one of those laborious ongoing processes that can predictably deliver SEO results.
Through link building, you're empowered to offer an effective SEO service to your clients. You bear the moral responsibility of doing what works for your clients, so make sure if you're selling SEO that you deliver on the promise.
You'll be able to not only deliver results for your clients initially but also help them adjust to the shifting competitive landscape in the search arena for their keywords and new ones that emerge in time. You should predict that the competitive landscape will continue to evolve as top-performing competitors get stronger and newcomers start showing up out of the woodwork. 
This is one reason the Surround Sound strategy works so well; you get your brand mentioned on and linked to in so many areas that are already ranking, thereby creating a moat of protection that your competitors will struggle to overcome. This holds them down while promoting your brand more, cornering them out of the race to the top.
You have goals you need to hit for your clients and you need to make sure you're in control of what it takes to hit those goals. If a client is expecting to rank well in Google for a series of high-intent keywords that show promise for conversions, you need to get them there.
The last reason you should offer link building to your clients is because you're in business to make money. Of course, we want to wake up and do a good job with meaning daily, but we certainly don't want to do that job for free. Link building offers your agency a revenue and profit center that you can tie directly to the needs and desires of your clients. This means you'll be able to set up win-win-win scenarios between your clients, their customers, and your agency.
Three-way win scenarios are always the strongest.
How You Can Offer Link Building as a Service
While there are numerous link-building strategies you can employ. If you're just getting started with link building, it's best to start with the fundamentals.
One age-old technique for link building that comes from the world of advertising is something called the Surround Sound link building technique. In advertising, it's a solid approach to get as many impressions in as many places as possible for your audience in a short period to quickly initiate action and get them to engage with your brand.
The same ideology is applied to link building using the Surround Sound technique, but the idea here is to get links and brand mentions from several top-ranking pages in Google so searchers keep running into your brand everywhere they go while performing organic searches.
The only tool you need for link building with the Surround Sound methodology is Semrush's Surround Sound tool.
This tool is very easy to set up, but don't underestimate its power.
The real value can be seen after you add your project, load in your target keywords, and let the tool get to work pulling back the results.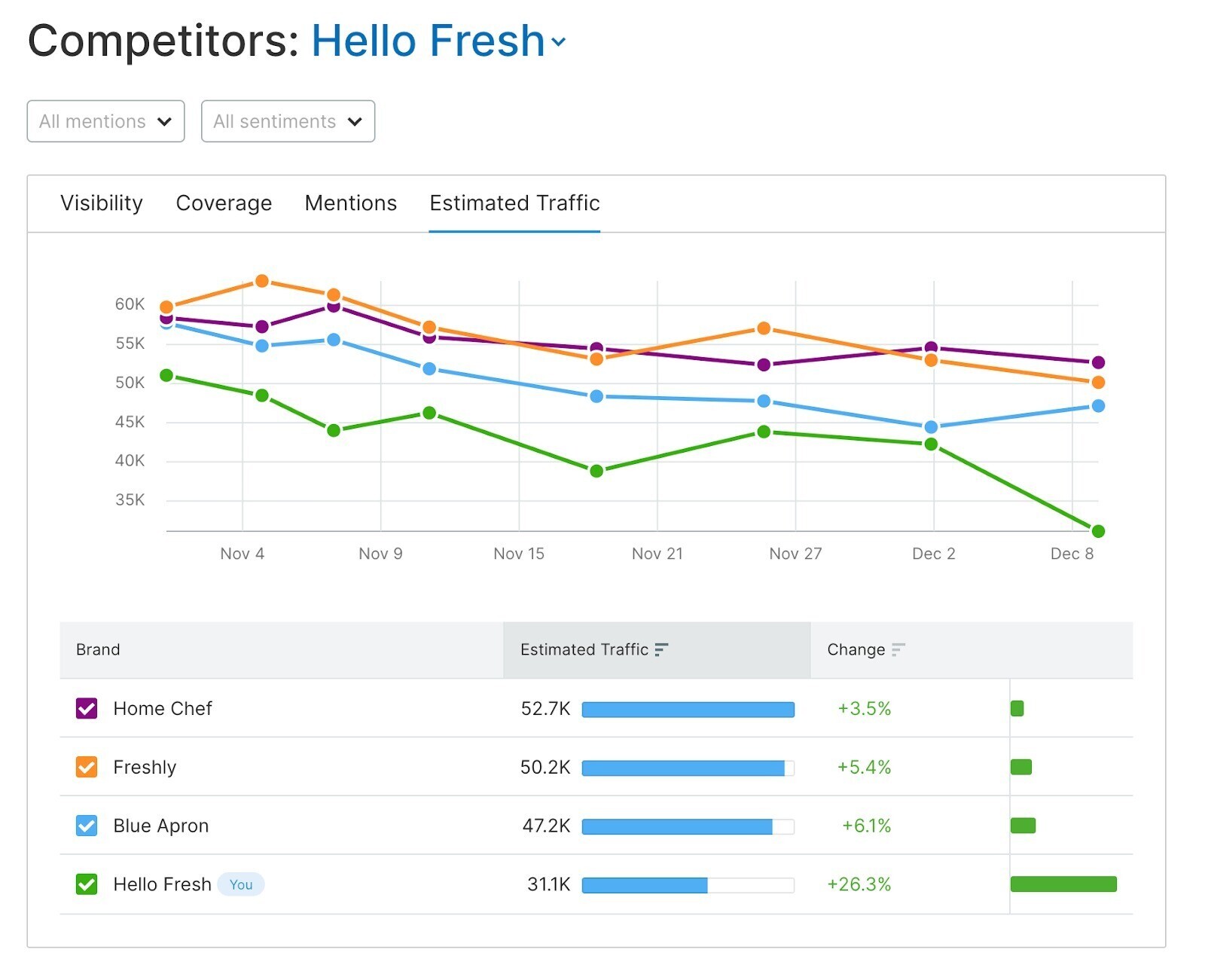 The first thing to look at is how your competitors rank and cover the SERPs in ways that your site does not. This can instantly be used to begin developing targets and strategies for your link building.
Next, you can dig into where your site ranks in Google vs several good results that list your competitors and other sites. These should serve as link targets for your outreach.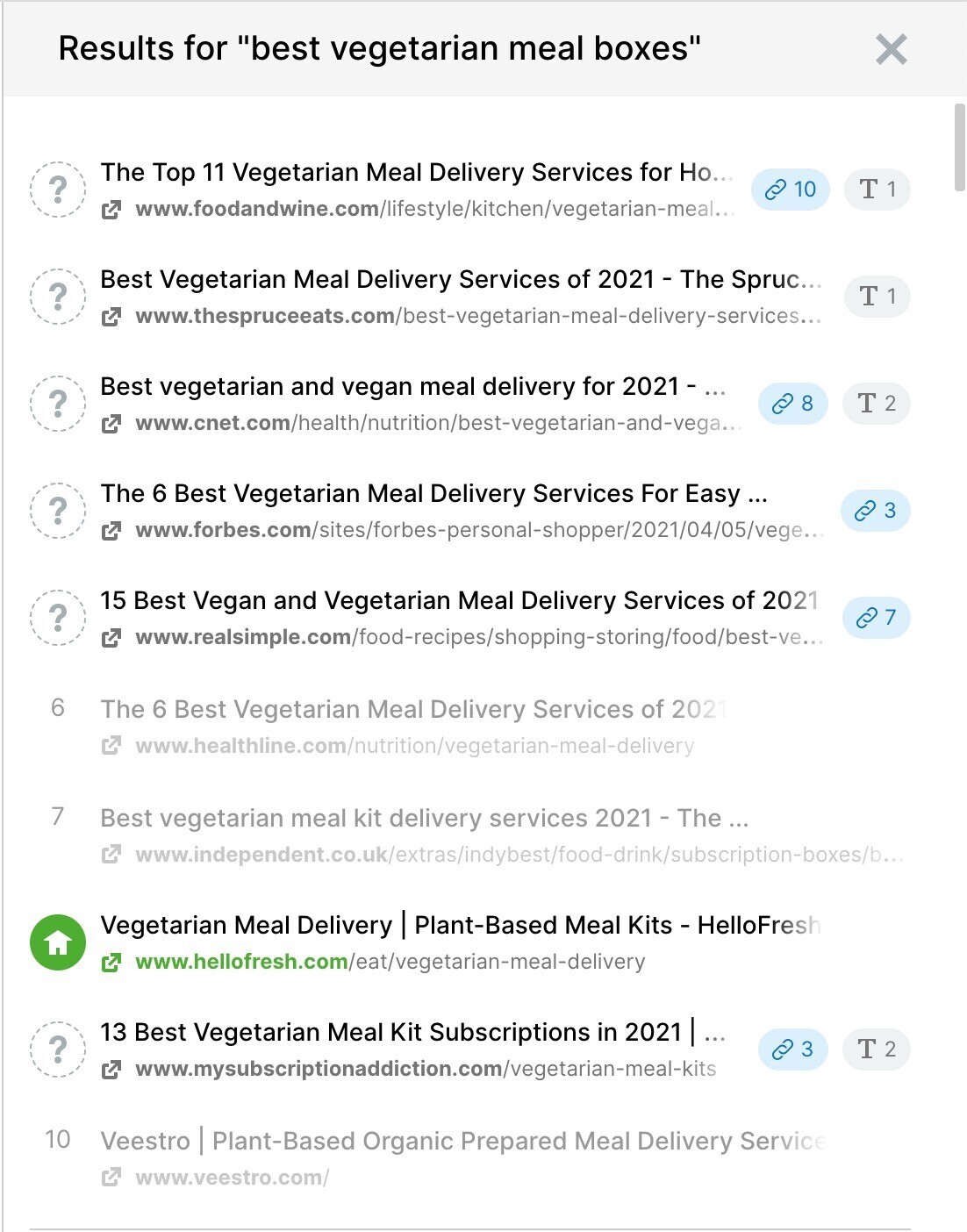 Here we see ranking pages that include mentions and links to our brand, along with several that do not. Spots 6, 7, and 10 are occupied by sites not mentioning our brand. Spots 6 and 7 mention competitors but not us. These are prime targets for outreach and link building.
After finding a few pages that rank well for the keywords you want to rank for, add them to the Semrush Link Building tool as prospects: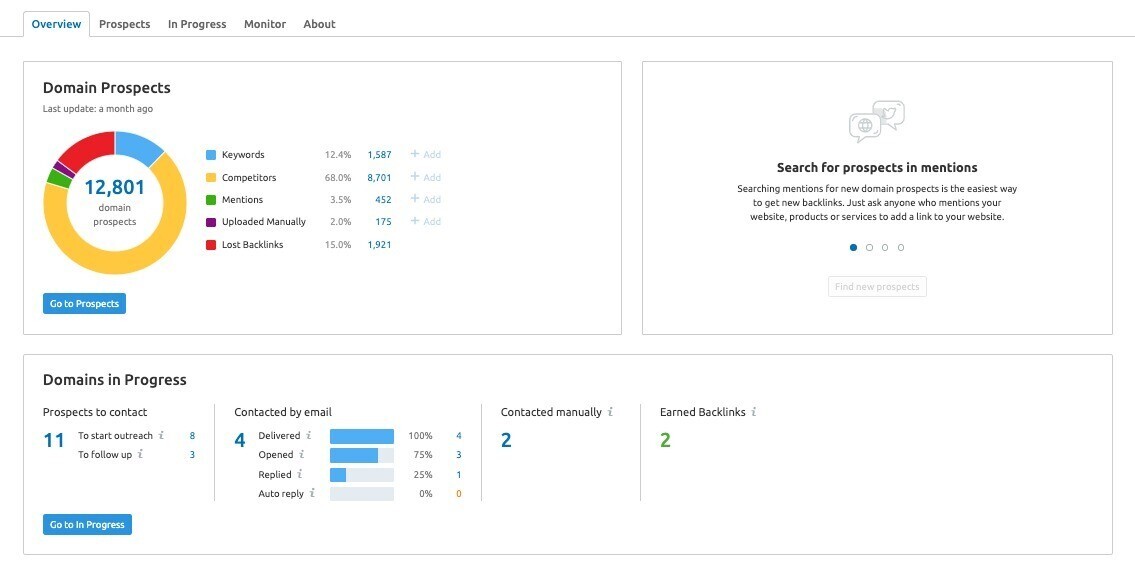 One of the best ways you can ensure your Surround Sound effort is successful is to organize your outreach by keyword, publication, contact, and then messaging. For this approach, I recommend using the Semrush Link Building Tool to organize your prospects by keywords, competitors, mentions, etc.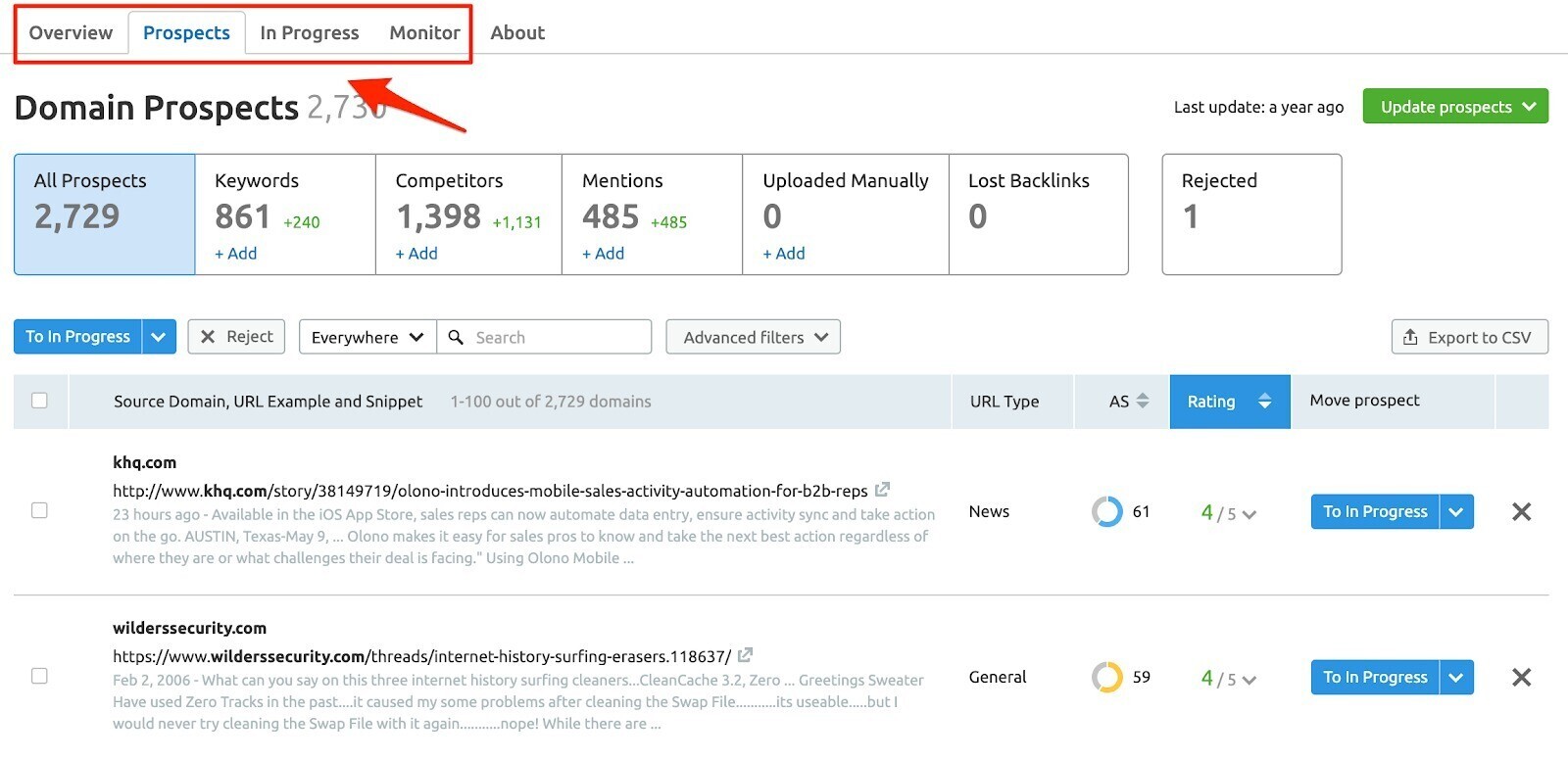 Once they're organized you can begin outreach to your prospects by specifically discussing the piece they're ranking for where they've mentioned your competitors but not your site.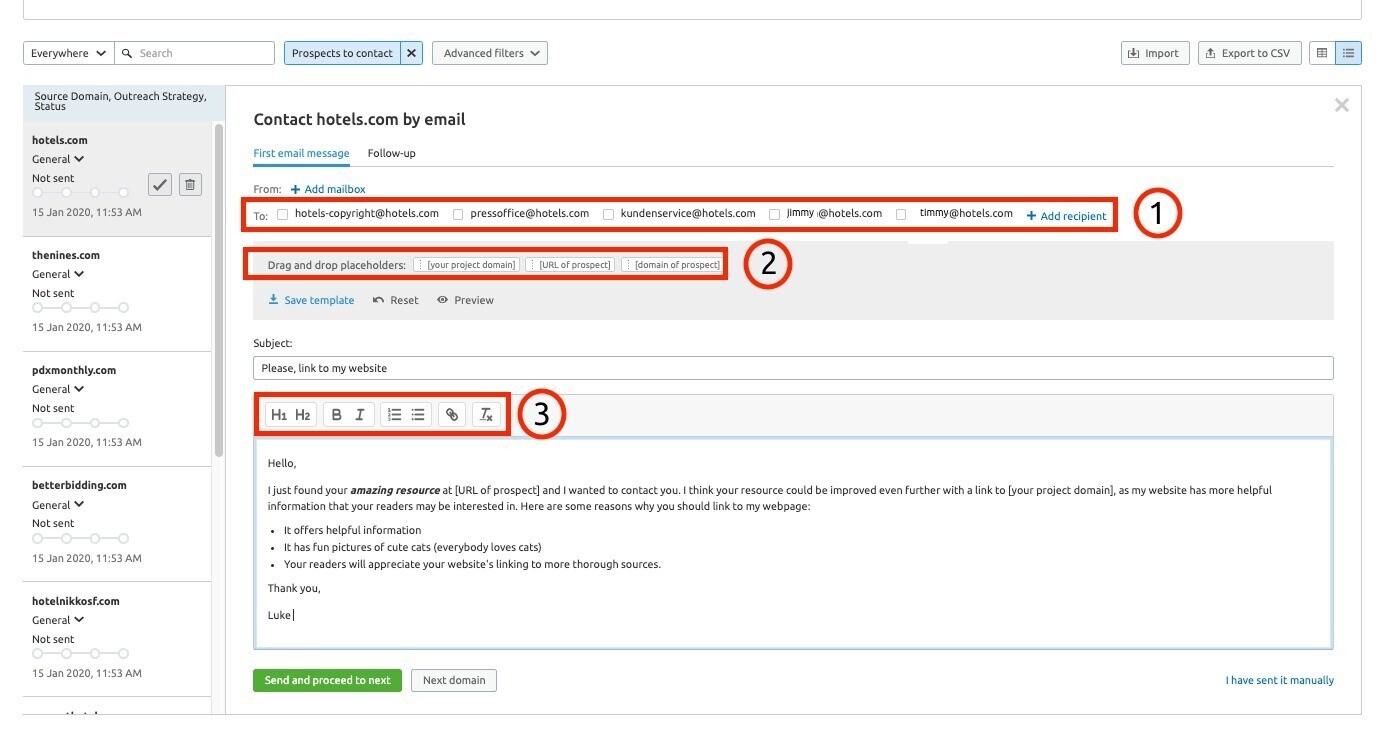 After you've begun your outreach you'll need to follow up to see this effort come to fruition. The Link Building Tool has you covered by tracking your outreach and the status of your emails.
Without getting too deep into outreach messaging (an entirely different subject you can read more about here) you're ultimately trying to point out how your prospect's article is inaccurate, out of date, or incomplete without a mention of your brand, and provide the additional or edited copy you recommend they use to keep it relevant for their users.
Once you start getting responses to your outreach and you can see that links are going live, you'll be able to jump back over to your Surround Sound tool and see what the effect was on your coverage and visibility in the SERPs.
What Are the Results of Link Building?
While the increase in impressions and the visibility of your brand is an important metric for most brands, the hard metric of traffic is a more tangible benefit. This traffic carries with it the added benefit of the social proof effect, and the additional SERP exposure contributes to an increase in brand awareness and direct traffic. 
This means the traffic you'll get from a properly executed Surround Sound SEO strategy will be more likely to convert because their confirmation bias has been triggered and now they carry a stronger brand preference for your company.
Continue executing this strategy effectively and your brand will experience what we call Categorical Dominance. Categorical Dominance is when your brand is so strong and well-represented that it dominates search results for relevant keywords in a given category within your industry or your industry at large. This is why The Law of Category is the second law in the book The 22 Immutable Laws of Marketing. It's an incredibly powerful law.
Ultimately, this is the last frontier of link building in any SEO campaign and what all SEO engagements should aspire to achieve; every authoritative voice in your space consistently stating your name publicly.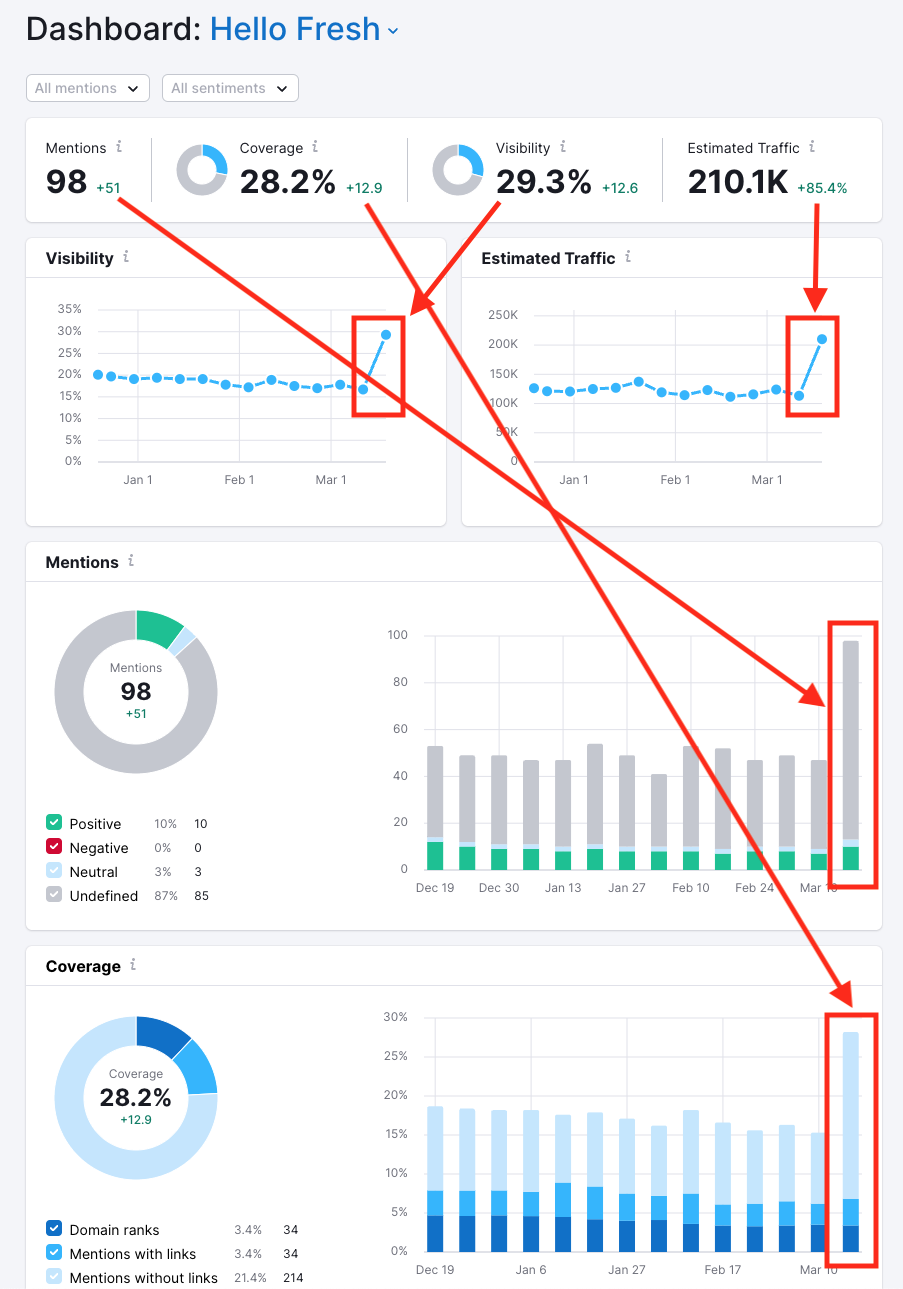 How to Charge for Link Building as a Service
There are several ways your SEO agency can make money selling link-building services, so choose the one that works best for you.
Pay per outreach - This puts more risk on the client's side and takes more off your agency. With this model, you charge per prospect that you outreach to, or per outreach email that you send. The effectiveness here is more important for your reputation as a brand since the client is bearing some of the risk. This is a good model if you're serving a broad audience and may have differing levels of success across different verticals.
Pay per block of prospects - This is very similar to the Pay per outreach model where you charge your client based on a block of prospects you'll reach out to. For example, you may have 200 prospects you want to reach out to, and you agree with the client about what it's worth to go after them before beginning outreach. This keeps the risk on the client-side as well
Pay for time - This is a more common approach and one I only recommend when experimenting with link building. In this model, you charge based on the amount of time you estimate it'll take to perform the link-building outreach. This is a great model to start with because you can just agree to charge per hour first, run the outreach for a certain amount of hours and then see what the results look like. This puts the risk on the client's side as well but gives them a little control to tailor up or down the hours spent performing link-building outreach.
Pay per link - This is the Holy Grail of pricing for link building. With this model, you charge your client based on any links you're able to establish for them. This removes all of the risk from the client and puts it all on you, so be sure your process is solid and your economics are tight. For example, you could charge $500-$1k per link, depending on the types. It's up to your team to establish those links. If you're not able to, then you don't get paid.
How to Get Started
Just like with anything else "A journey of a thousand miles begins with a single step". Link building takes time and effort. It's an ongoing ultramarathon, not a sprint.
That said, here's a great way to begin offering link building as a service:
Start doing it for your agency - I'm a major fan of adding value to client relationships and testing things out on myself before trying them on others. Start the process on your agency and get a grasp of what it takes before actually charging clients money to do it.
Begin with the Surround Sound methodology - Start here for your agency and see where you can get some links. Use something like the "Pay per block of prospects" model above and decide with your team how many prospects you want to go after first. Track their time on this effort as well and afterward see what the results are. Then you can determine that for X amount of prospects outreached to over Y amount of time we should probably charge $Z per link. Now you have the beginning economics of a link-building service you can sell to clients.
Pitch the "Pay per link" model to a client - Since this is the risk-free way for clients to buy link building services from you, and you're new to link building at this point, this is a very fair way to begin seeing what you can do for your client and put your efforts and time on the line. If you're successful here then you get to charge per link, but if you're not then you don't have to feel embarrassed to your client because they didn't have to pay for anything.
Rinse and repeat - Now that you know what it takes to build a link to your client's industry you can better structure your pricing per link, or move into other pricing models that serve your audience better. You should always be improving the effectiveness of your outreach campaigns and link-building offerings so you can stay competitive.
How to Hire for Link Building
If you're just looking to outsource link building, there are a variety of link building service providers in the market with widely varying degrees of success. There are more spammy "services" than there are legitimate ones, and less than 1% are any good, so you have to be careful who you hire. One easy way to do this is to ask for some examples of links they built for a client and analyze those links yourself to see how good they are and how well the page ranks for keywords it's targeting.
SimpleTiger has been successfully providing link-building services for SaaS companies for over 15 years and we've helped hundreds of clients rank well in Google using the SurroundSound methodology and various other strategies in SEO. We practice what we preach so you'll be sure to get all of the above and more in an engagement with us.
Conclusion - Offering Link Building Services
Ultimately, effective link building is the final frontier of SEO, and makes you much more competitive regardless of whether you're doing it for a client or for yourself.
While there are several models available for charging for link building, models above such as "pay per link" may be a good starting point as they offer lower risk and higher value for your clients.
Combining traditional link building with Surround Sound SEO can give you an advantage over other agencies. This method of gaining more share of voice in the SERPs helps your client's brand be found wherever people are looking online. And after all, visibility is the name of the game!