There is only one thing worse than investing in the wrong startup — not investing in a business that later becomes very successful. Reviewing each and every application that venture capital and private equity funds get is not an option, as the number of requests far exceeds what any investment firm can digest. In addition, to get a win in this sphere, an investor has to act quickly, reaching out to the startup before they begin chasing funds.
One commonly used method of scoring potential investees is by evaluating their website traffic. To discover the opportunities of such analysis, we researched 133 startups that graduated from Y Combinator in March 2018, observed their development within a year after the graduation, and analyzed the key points of their marketing and investment success.
Table of Contents
Who We Researched
Y Combinator is one of the most competitive seed-stage startup accelerators in the world. Twice a year, Y Combinator graduates two batches of startups and invests $150,000 in each company for 7% equity.
On 18-19 March 2018, the winter cohort of Y Combinator-funded participants presented their companies to a room full of specially selected investors and press. 133 companies received their capital.
Certain graduates raised more investments from other sources in the following months. Some companies have managed to grow their success online and are now visited hundreds of thousand times a month.
Both B2B and B2C companies made the list. We intentionally did not filter them by industry or product type, because we wanted to highlight the fact that niche businesses, just like general ones, can use creative techniques and generate large amounts of web traffic; the latter was the primary criteria for our ranking.
Among all 133 graduates, we revealed the 20 startups with the highest growth potential.
How We Conducted the Research
We uploaded the web addresses of all 133 startups into SEMrush Traffic Analytics API and pulled data on their monthly traffic for the past 15 months. You can learn about the product's features here. Then we looked closer at the amount of traffic the same domains received in January, February, and March 2019 to build the ranking of top 20 companies that attracted the most traffic.
Why Does Website Traffic Matter?
Investors can refer not alone to the absolute numbers of a website's traffic volume but to its growth dynamics. The idea is to detect a company that can generate lots of buzz first and then convert it into a material benefit. In this sense, significant website traffic may show:
1. Product and Market Fit
The company managed to hear customers' needs and developed a product they love.
2. Marketing Proficiency
The company knows its customers and uses appropriate channels to attract and retain the relevant audience.
3. Sales Excellence
The company set up a partner network that generates traffic and drives sales.
4. Team Coherence
It is not just the project that is being invested in — it is the team. Most likely, the previous experience of a startup's founders will be of public record, allowing initial assumptions on the chances of success of their current business. However, a deeper view of the company's online performance can reveal the promising synergy between team members — or lack of it.
This data will be of use both at the market overview and due diligence stages. When the general picture is clear, an investor can pay more attention to traffic sources, associating direct traffic with the interested audience and estimating the chances to monetize search traffic.
So, How Is It Useful for Investors?
The website traffic data available with SEMrush Traffic Analytics API can be used throughout the investment cycle.
At the Sourcing Stage
To identify startups with exponential growth way before they begin knocking on investors' doors for closing the next round.
At the Scoring Stage
To analyze and score hundreds of startups simultaneously, saving investors' time and money, as well as prioritizing investment applications.
At the Tracking Stage
To keep an eye on the investment portfolio, monitor the companies' ups and downs, and know when to take action.
At the Negotiation Stage
SEMrush Traffic Analytics historical data can be used in negotiations during rounds, M&A, and buyouts in order to maximize the profit from the deal.
A Ready-made Solution
With this research, we draw attention to the Y Combinator graduates with the highest potential, so that venture capitalists can consider them in the next investment round.
Top Startups That Graduated from Y Combinator in March 2018
(By the amount of desktop and mobile website traffic)
Please note that the figures stated in the research are rounded. As mentioned above, it is the growth dynamics (%) that matter the most.
The numbers given in the research are estimations originally collected with SEMrush Traffic Analytics API. The figures may differ from those available with Google Analytics as only the website owner has access to it.
We have highlighted the companies that did not receive any investment apart from the Y Combinator seed round. As you can see, the correlation between investment success and website performance is a fact in three out of four cases.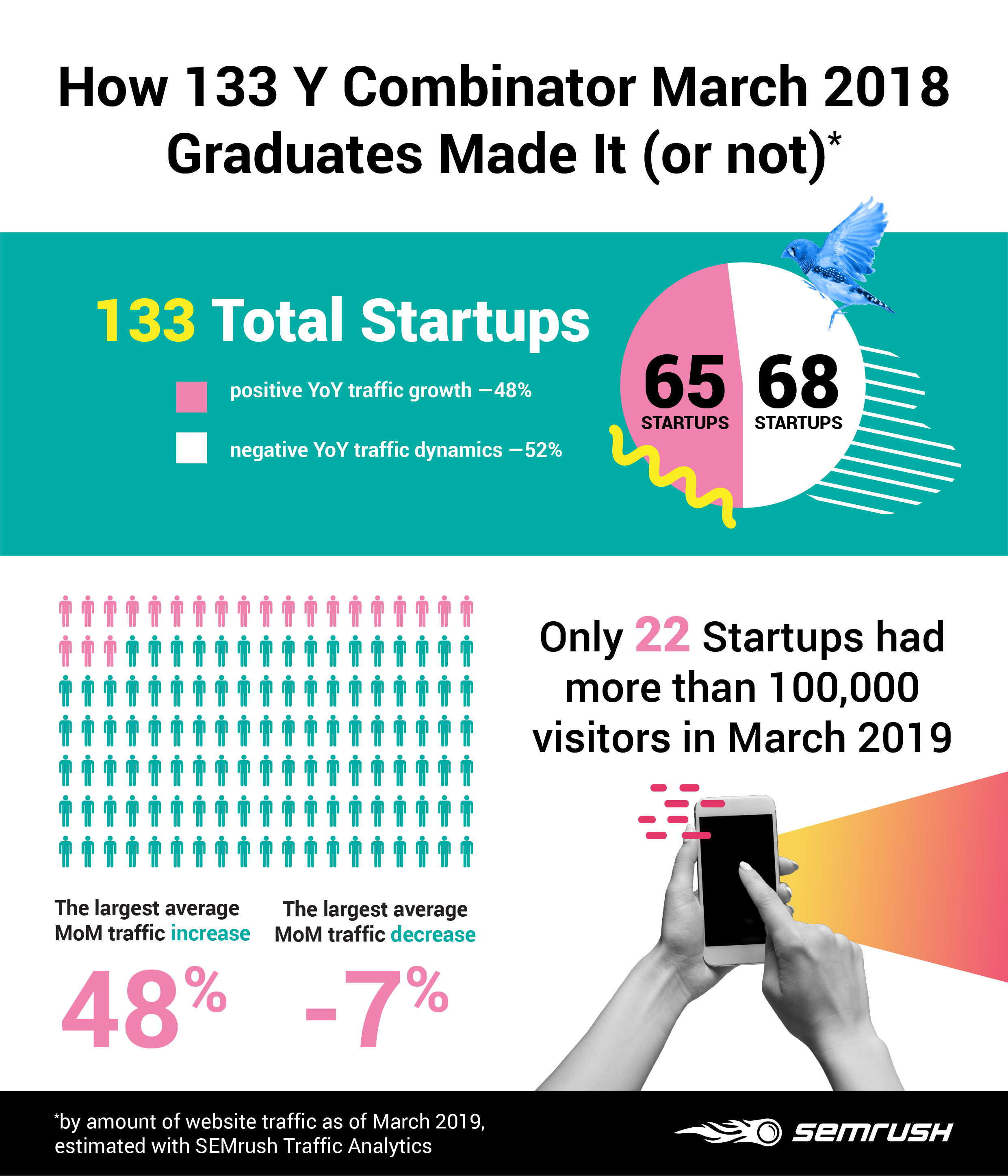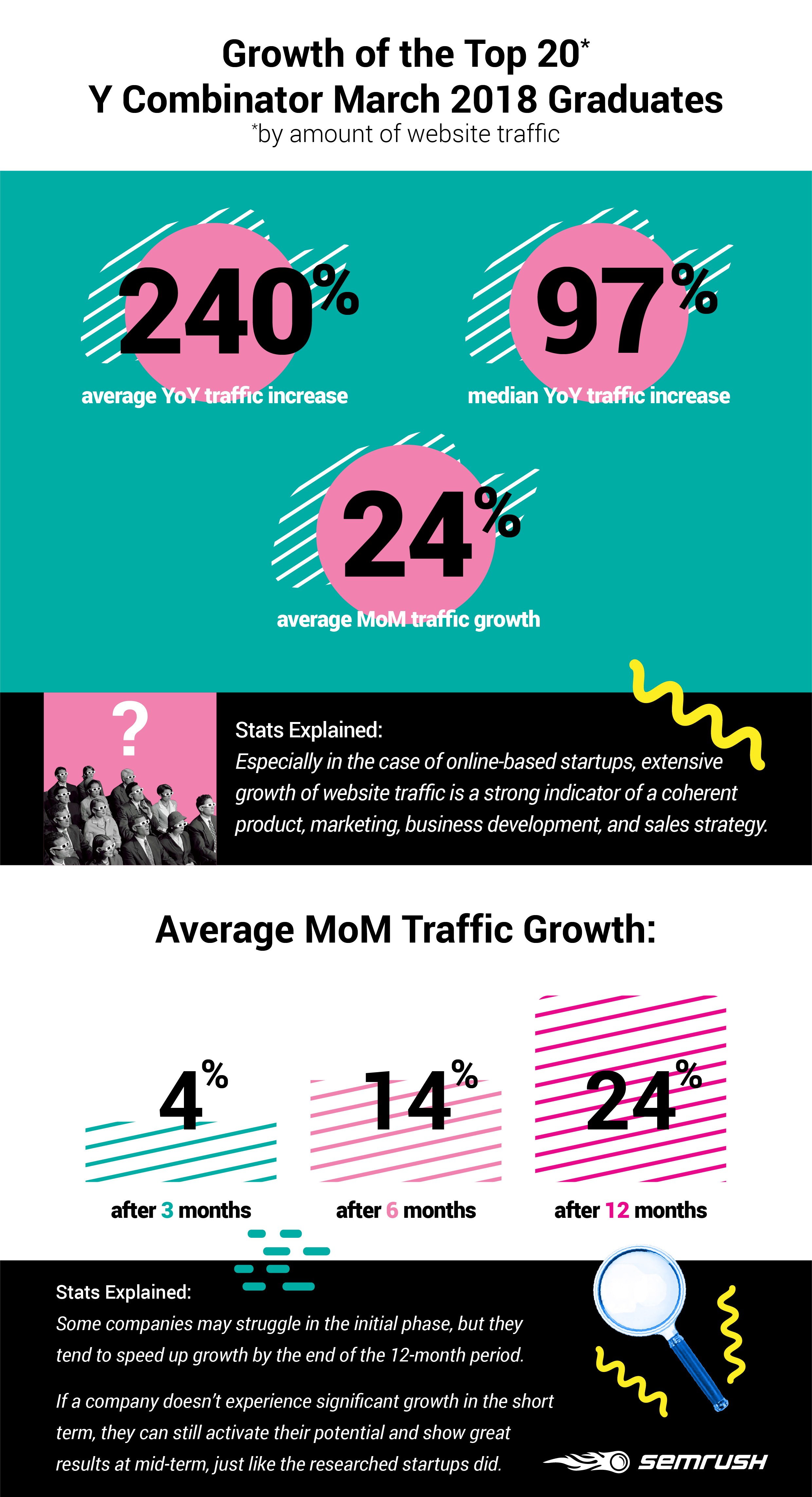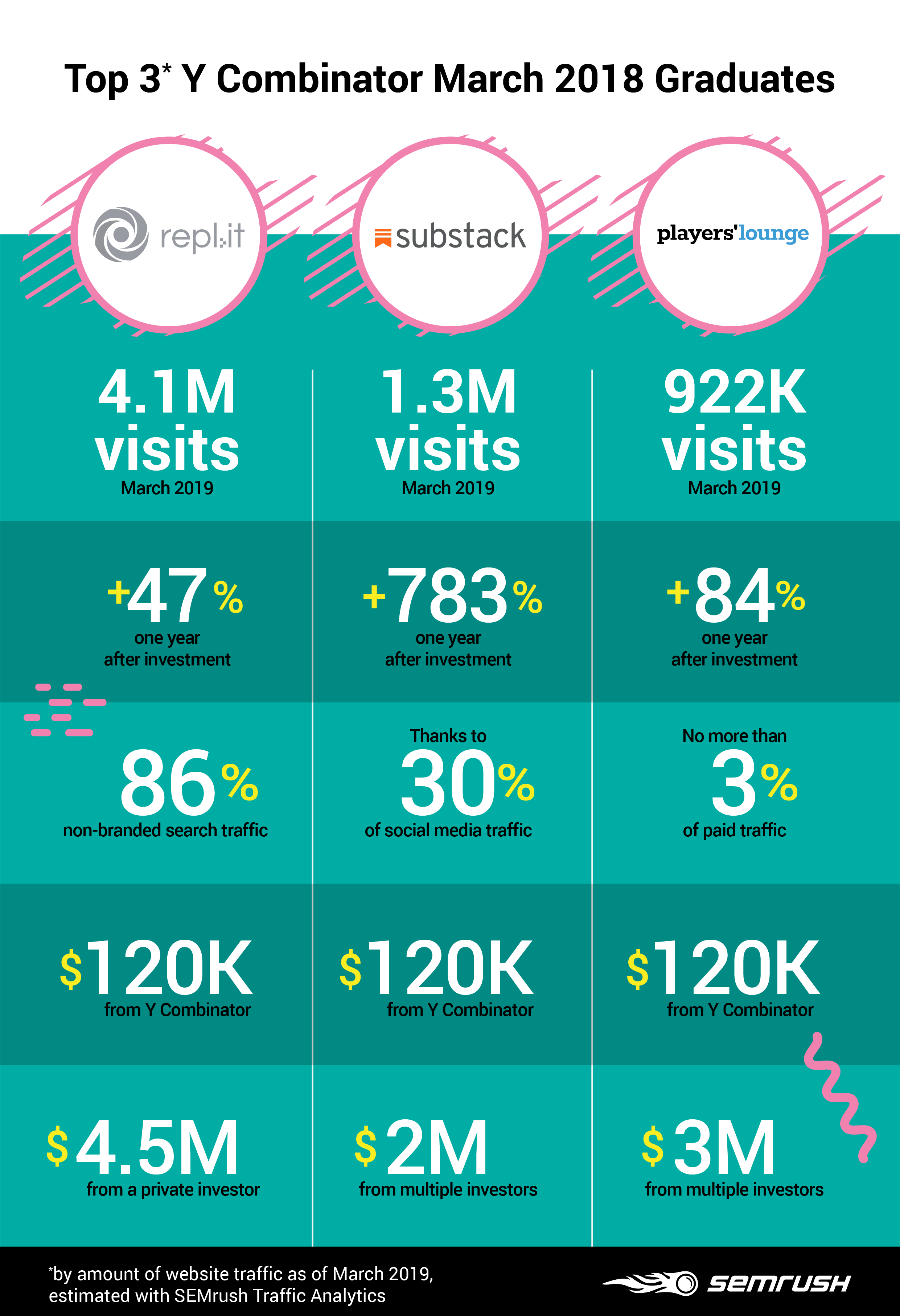 Repl.it topped the list of Y Combinator March 2018 graduates. In March 2019, their website received 4.1 million visits, showing a 47% growth a year after the investments. Month over month, growth came in at 4.8%.
From September 2018, the company's web traffic grew 2.4 times, primarily thanks to organic search. Non-branded web traffic comprised 86% of total traffic, meaning that people discover Repl.it with search terms not directly related to the company; this is a good sign that the company invests in learning about the customers and optimizing its website for customers and their needs. In the long term, it will help the company save money on ads. For example, to attract the same amount of traffic as in March, it is estimated that the company would have to spend over $200,000 for Google Ads.
According to Crunchbase, Repl.it received $120,000 from Y Combinator in January 2018 and $4.5 million from a private investor in October 2018.
Substack gathered 1.3 million visits in March 2019. Growth, a year after the Y Combinator investments was 782.84%, or 25.92% per month, on average.
Since January 2018, Substack.com has been growing steadily, adding 25-50K users every month, but then in January 2019, the startup's web traffic exploded. In three months, the company tripled its number of website visitors and reached 1.3 million in March 2019 thanks to an increase in social and referral traffic.
Social media has been the source of at least 30% of total website traffic every month since the birth of the company; this is the highest social media contribution among all Y Combinator 2018 alumni.
According to Crunchbase, Substack received $120,000 from Y Combinator in January 2018 and $2 million from multiple investors in April 2019.
Players' Lounge reached 922K visits in March 2019. That's +84% visitors a year after the Y Combinator investments, or +8% on average each month.
The company reached tits half-million visits milestone in March 2018 when their web traffic had a 3X jump. From then it doubled to reach a million visits in March 2019. The startup began investing in Google Ads in January 2019, but paid traffic never exceeded 3% of the total web traffic.
Interestingly enough, the volume of direct traffic decreased by about three times from July 2018 to December 2018 but then recovered to the same amount over the next three months.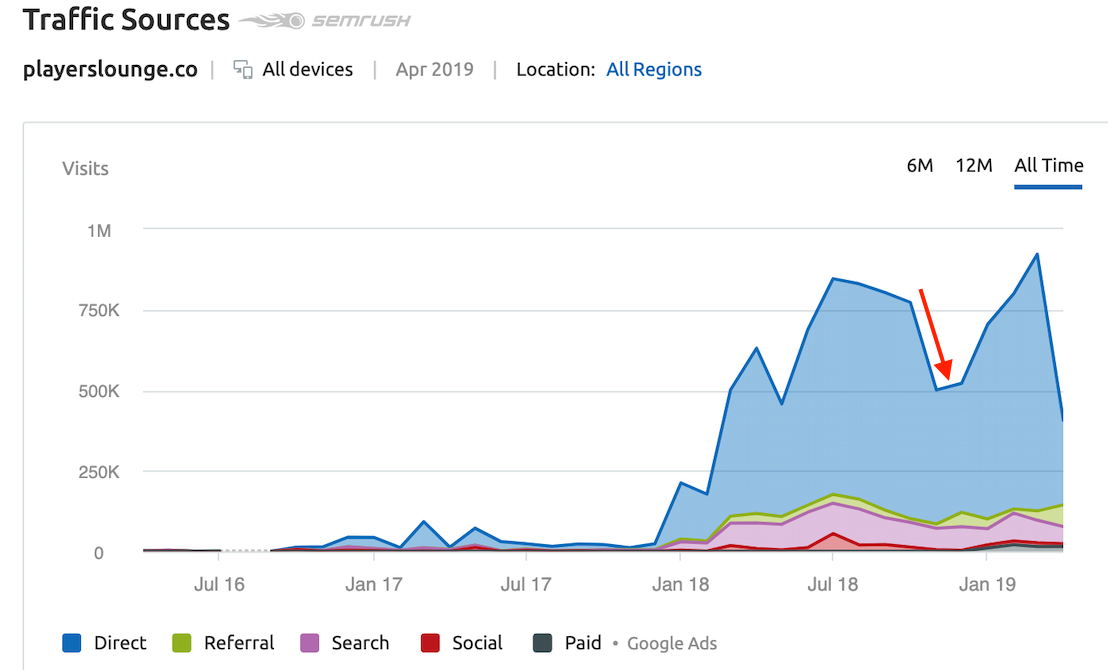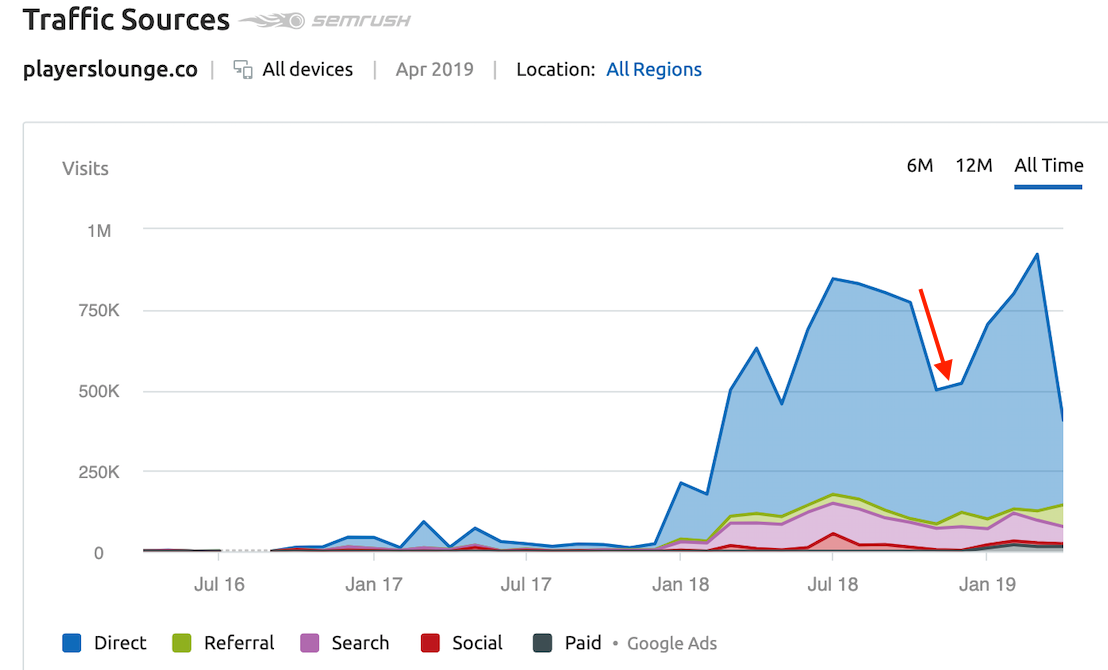 Such a decline could have been caused by the seasonality of the chosen business. Normally, if this is the case, other companies from the same or similar fields would notice the same decrease in traffic volume. We analyzed three competitors of Players' Lounge in the US market, but none of them experienced the same fall.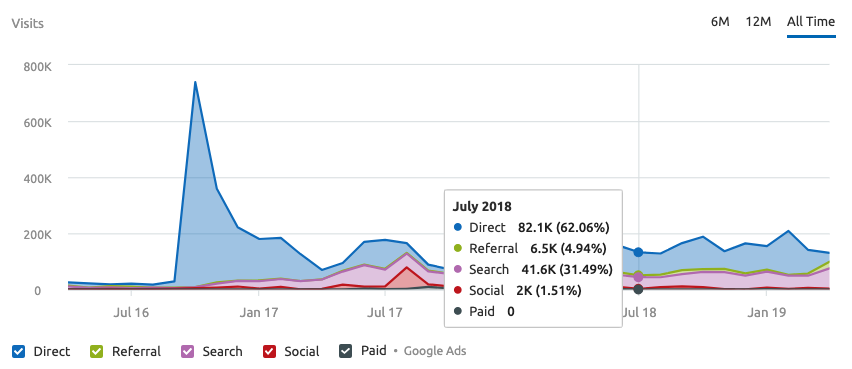 Dynamics of website traffic of WorldGaming
WorldGaming had no visible drops in the amount of traffic during the same period — on the contrary, the company even managed to grow its number of website visits.
Dynamics of website traffic of XY Gaming
XY Gaming went through the traffic volume decrease in the typical vacation period of August 2018 and soon recovered but then suffered their own turbulent period.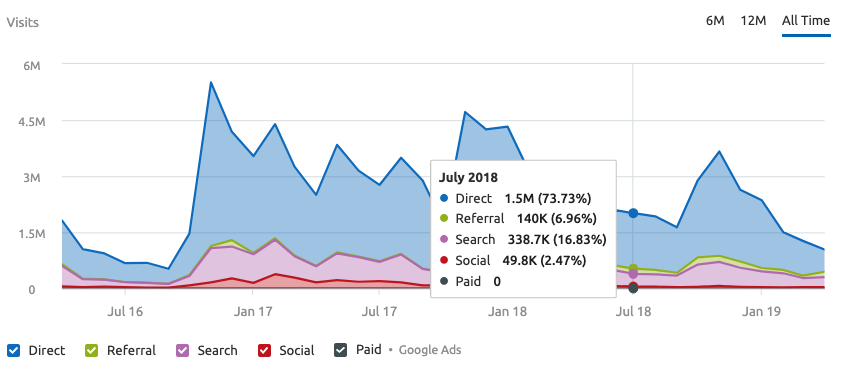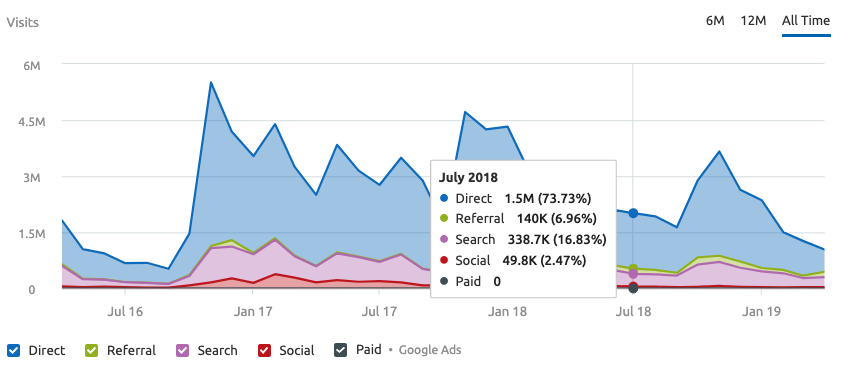 Dynamics of website traffic of Major League Gaming
Like WorldGaming, Major League Gaming only had a decline in traffic volume in the summer months. So, we can't say that seasonal traffic decrease is typical for the field. The true reasons behind it require further research.
As for investment, according to Crunchbase, Players' Lounge received $120,000 from Y Combinator in January 2018 and $3 million from multiple investors, including Aubrey Graham (Drake), in March 2019.
Shareware Growth Techniques from Y Combinator March 2018 Graduates
The following companies didn't hit the top 10 but still made it into the top 20 Y Combinator March 2018 graduates. We decided to highlight these companies as a good example of shareware growth techniques use — PR and SEO.
Look After My Bills enjoyed +408% website visitors a year after the investment, with 61% growth MoM, on average.
In August 2018, the company's website traffic increased by a record high of 663% after Look After My Bills co-founders made their debut appearance on Dragons' Den, the Shark Tank equivalent of UK television. This TV appearance was one of the reasons for a dramatic traffic jump.

The show was followed by a lot of media attention in such publications as BBC, Mirror, The Standard, The Express, The Times, The Telegraph, The Sun, The Daily Mail, and The Bristol Post. After all of these PR activities, Look After My Bills got 90,000 people to sign up to their service, and they also increased the number of unique visitors by 5 times and three months later kept the unique web traffic within 10% fluctuation.
Apart from the $120,000 investment from Y Combinator in January 2018, Look After My Bills received £120,000 for 3% of the company after Dragons' Den.
Runa HR is another example of explosive growth. They added +984% visits a year after the Y Combinator investment.
Initially, the startup invested in SEO and has got great results from it since then. In March 2019, Runa HR had a little over 300K visits, 87% of which came from the search engine.
Since April 2018, when Runa HR got their first 15 keywords to rank in the top 3 of Google Search, their organic traffic started to grow. It reached its peak in November 2018, when there were 88 keywords in the top 3 of Google Search, generating over 227,000 visits, which would have cost $78,000 if spent on ads. That makes Runa HR one of the most successful Y Combinator 2018 graduates in terms of generating organic traffic thanks to SEO.

Organic Keywords Trend for RunaHR.com
They also achieved a number of backlinks growth in October and November 2018, which led to the website traffic increase.
Backlink Analytics for RunaHR.com

Traffic Analytics for RunaHR.com
Conclusion: How to Use This Data
Apparently, the first investment is no guarantee of a startup's success. Nevertheless, the way a company chooses to spend this money can set the tone for their business journey. For online-based startups, the coordinated work of marketing and sales teams, competent management, and the capability to satisfy market needs will naturally lead to website traffic growth; therefore, it can serve as a valid indicator of a company's expertise and potential to bring more value.
Investors: Follow These Startups and Evaluate Your Potential Investees
The stats we analyzed in the research are all available with the SEMrush Traffic Analytics subscription. Similarly, you can study any other company's online performance and make a well-grounded investment decision with this data.
Another option is to use this ready-made list of thriving startups and consider them in the next round of investment.
Startups: Apply the Growth Hacking Techniques
The fastest-growing companies are an excellent example to follow. If you own an aspiring startup, consider some of the boosting techniques that Y Combinator graduates used. PR, SEO, and social media may not cost a single advertising dollar but drive traffic to your website effectively.
Alternatively, enter your closest competitors in the SEMrush Traffic Analytics tool and analyze the same parameters as we did in our research. The dynamics of website traffic growth, the performance of traffic sources, geo-distribution, and desktop / mobile ratio can help you to figure out the promo scenarios that work in your specific field.
Previously, due diligence on companies' online presence was a challenge. Now, it is just a matter of a SEMrush Traffic Analytics subscription. Try all of its features for yourself in the interface or via API.