Local Rank Tracker
Track your local rankings and get the big picture
Check how you rank in local search results and be sure your SEO efforts are paying off.
Measure your local SEO efforts
Check competitor rankings on Google Maps
Find growth opportunities
Do you have a local rank tracker working for you?
While some think that checking your local rankings is as simple as typing your keywords into Google and seeing where your business comes up, the reality is a little more complicated.
For an accurate view of your local rankings, you'll need a local rank checker to know for sure how well your SEO efforts are working.
See your true Google Local Finder rankings
Google Local Finder displays businesses close to the user that match their search intent ("bookshops near me," for example).
And with Semrush's Local Listings Report, it's easy to understand how you're performing in Local Finder results. Choose up to five keywords to track, set your zip codes and let the tool do the rest.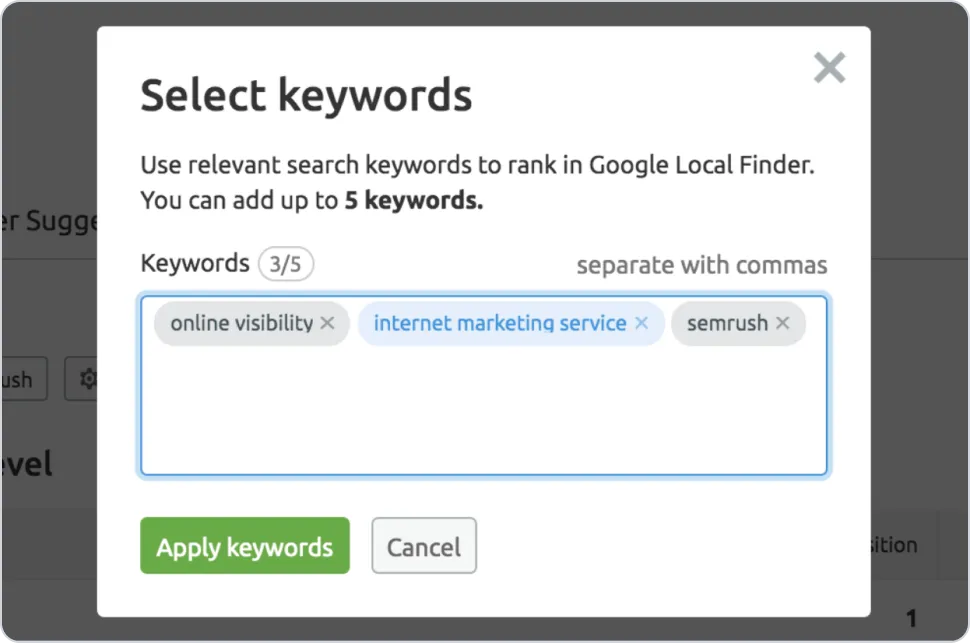 Go deeper with Heatmap
Semrush's Heatmap tracks your local rankings directly on a map of the areas your business is targeting.
The feature also helps you to check in on your competitors, allowing you to see how well you're doing against them in each point of the heatmap.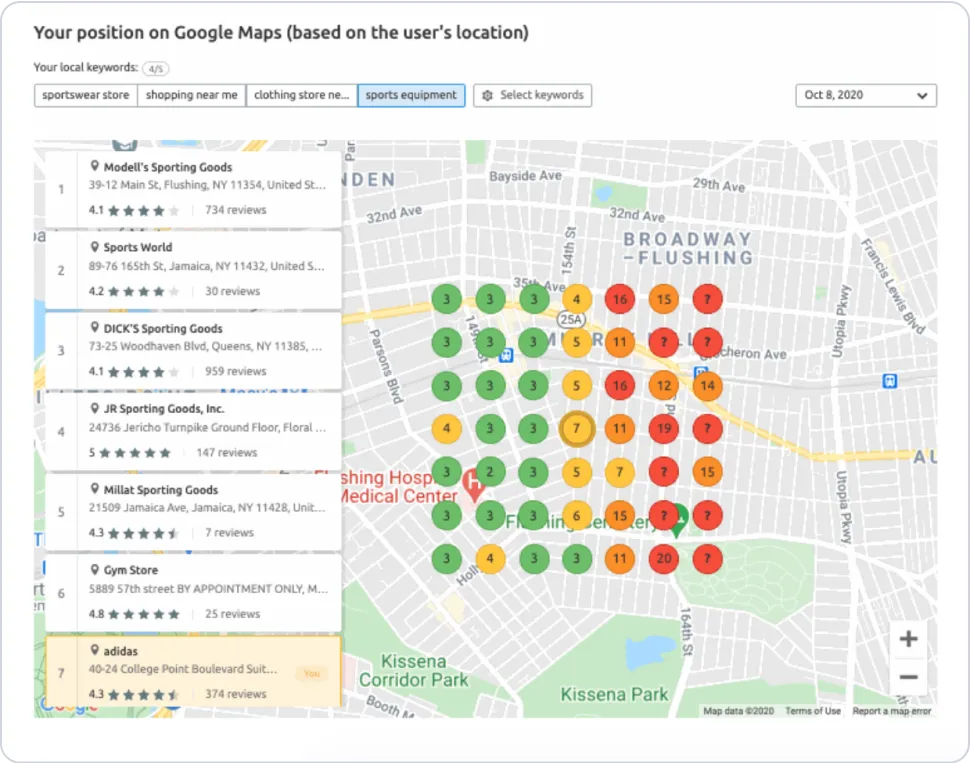 Why is Google local rank tracking important?
Only by knowing how you rank in local search results can you make the right decisions on how to optimize your local SEO strategy and increase your chances of gaining more online visibility.
With constantly evolving algorithms and more people searching local keywords, your company's long-term success might depend on how well you rank locally.
Pricing
Semrush's Listing Management is the ultimate solution for Google local rank tracking.
Local citation scan
Free
Audit five locations per day.
See your status in the top directories.
Check your average rating for all reviews.
Basic Location
$20/mo
All Free features plus:

Distribute business information to 70+ listings.
Suppress duplicates.
Consult user suggestions.
Track local rankings.
Manage your reviews.
Optimize for voice search.
Premium Location
$40/mo
All Basic features plus:

Track your positions in Google Maps with Heatmap.
Respond to reviews directly from the interface.
Semrush Listing Management's basic and premium location plans are available only to
paid
Semrush subscribers.
Still have questions?
We have the answers!
Countries We Support
Australia
Austria
Belgium
Brazil
Canada
Denmark
Finland
France
Germany
Hong Kong
India
Israel
Italy
Japan
Mexico
Netherlands
New Zealand
Norway
Poland
Singapore
South Africa
Spain
Sweden
Switzerland
Turkey
United Arab Emirates
United Kingdom
United States
Our Testimonial
Rob Peck, Director of Client Services at Boonze Media Solutions
Boonze Media Solutions
In my experience Semrush is by far the best all-in-one SEO analysis, management and workflow tool. Competitive research tools are super helpful in quickly understanding the lay of the land and then creating a strategy to bridge any gaps.
Preston Powell, Chief Marketing Officer at WebServ
Webserv
We are obsessed with value — it's a huge part of our services and our company mission. For us, using Semrush Listing Management offers huge value, not just in results, but in terms of saving money and time as well.
Neal Schaffer, Digital and Social Media Marketing Virtual Keynote Speaker
NealSchaffer.com
Semrush is the only tool I need to ensure my SEO efforts are on track. From competitor backlink analysis to keyword research to tracking my search engine rankings, it's the tool that keeps on giving insight — and I still only use a fraction of its functionality!
Frequently Asked Questions
How do I track local rankings?
How do I start using Semrush's local rankings tools?
How do I find my Google Business Profile ranking?
Is Local Pack the same thing as Local Finder?
What's the difference between Google Local Finder and Google Maps results?
Should I buy a Listing Management premium plan to track my local rankings both on Local Finder and Google Maps?
Check your local listings for free