According to The Ultimate List of Marketing Statistics for 2021, 89% of content marketers used blog posts in their content creation strategy in 2020. Blog posts are a popular type of content used to generate traffic and attract leads for your brand. 
Producing original and quality content consistently can be labor-intensive and time-consuming. However, there are tools that help facilitate creating and managing blog content.
The good news is, creating blog content is a worthwhile investment that will allow you to foster a relationship with your audience and target those interested in your products or services. 
This guide explains how to create your own blog topics and which tools can help you in your creation process. Let's start by breaking down why it is important to have a blog on your website. 
The Importance of Blog Posts
Is still worth including a blog on your website? To answer this question, many businesses point to the following when deciding against a blog:
Their social media presence
Current audience engagement
Potential blog topics
Social media content is available temporarily to your audience and usually subject to the rules of each social network. Your blog posts, however, are always available on your website, and you can control much of the topics and types of content featured on your blog. 
If your blog is well positioned on search engines, it will be easier to find by users and could entice them to browse other pages on your website. 
Blog content is a great way to share more detailed information about your industry. You can use your blog to comment on market trends or to answer questions about your services.
Good blog content can make a huge impact on critical business goals, like generating organic traffic and increasing your leads and sales.
But if you're not convinced yet, here are four significant benefits of writing blog posts: 
Increases organic traffic: Writing blog posts helps to find your website when searching for something related to your industry. 
Reinforces the brand's position and credibility: Creating informational content about industry news helps to increase the domain authority and separates you from your competitors. 
Builds a close relationship with customers: Writing blog articles is an opportunity to connect with your audience without approaching them in a creative way. Blog posts can be written less formally and with fewer restrictions than ad or social media copy. 
Generates more sales: A well-written blog can attract leads with the potential to become customers.
Good blog posts can boost traffic, brand awareness, credibility, conversions, and revenue. 
How to Come up with Blog Ideas Using Semrush
It's not always an easy task to come up with engaging blog topics. Even a good writer or blogger runs out of ideas from time to time. 
Luckily, there are many brainstorming and content marketing tools now available to you to assist you with your creative process. For example, the Topic Research tool simplifies the ideation process down to a few clicks.
To get started, you'll open the tool: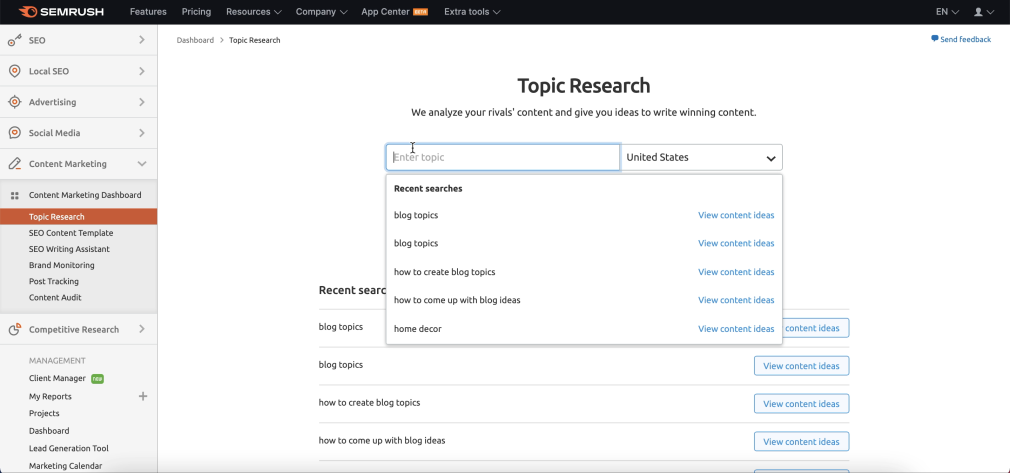 1. Finding the most popular topics
Every business wants to catch the attention of readers. If finding relevant topics for your audience can be a struggle, try writing about what your audience searches for daily.
Type your target keyword or phrase in the Topic Research tool, and the tool will return a list of ideas to explore. You can filter ideas by search volume to find the most popular topics or filter by keyword difficulty to see the toughest keywords to compete for.
The Topic Research tool also shows you hot trending topics in the industry over the last 60 days. Select the "trending subtopics first" prompt to see them. 

If you are interested in writing to a more local audience, you can configure your location in the tool to find the most popular and relevant ideas in your area. Change the location any time to compare different regions or countries. 
You can also check related topics for more ideas for creating content. You just need to click on the "overview tab" and scroll down to the bottom of the page.

2. Discovering the most engaging headlines
After settling on a few topics, the next step is to figure out a headline that resonates with your target audience. 
A headline isn't just a blog title; it's an opportunity to entice your audience to click on your blog post. 
The Topic Research tool also provides headline suggestions based on the number of backlinks and social engagement around your topic.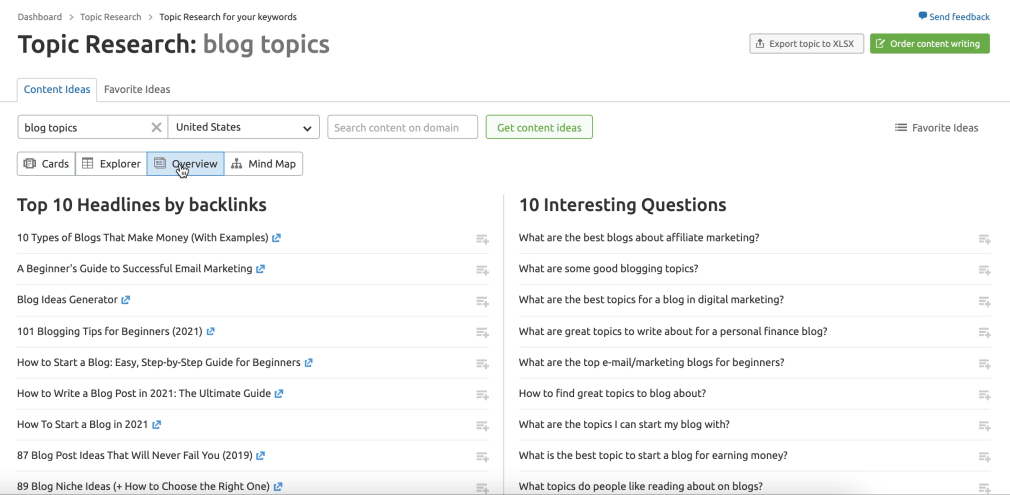 3. Finding the most popular questions people ask
Valuable content focuses on your audience's needs and interests. A good rule of thumb to work with is to answer questions they have and pose a question in the article's headings.
If you choose to ask a question in your headlines, be sure it's a question your audience is already searching for. Use the tool to review popular questions people ask online around a topic.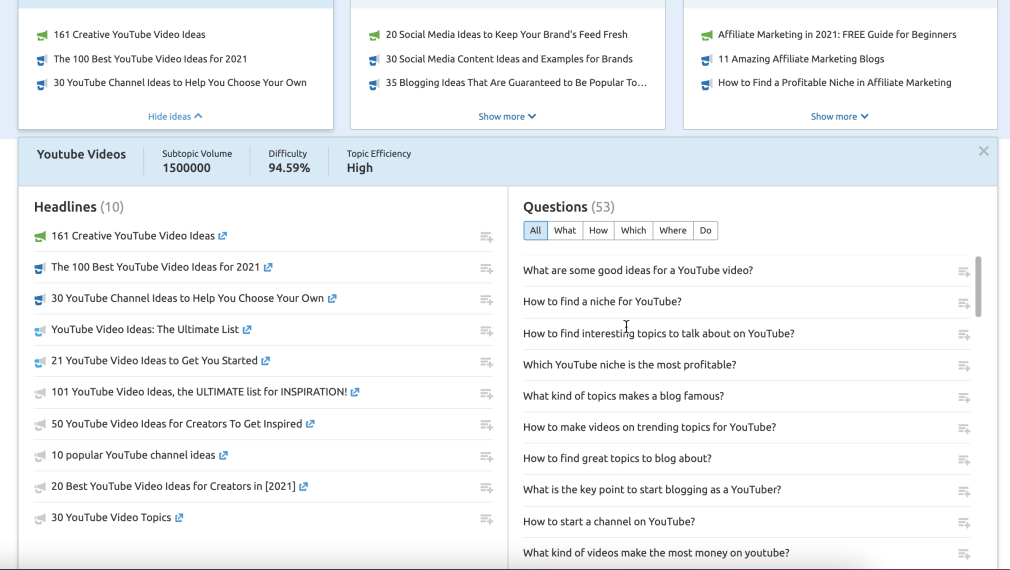 4. Perform content gap analysis
How do we know if we're missing out on any valuable content opportunities? We can use content gap analysis to explore our competitor's current content. 
Content gap analysis is an indispensable step when creating a content plan. You'll find topics that your competitors don't rank for, then fill in that gap with content of your own.
You can use the Topic Research tool to check which subtopics are covered on your or your competitors' websites. Add your domain or your competitors' domain to the text input present. You'll be able to compare your and your competitors' websites in search of any missing topics you could create content for. 
This will help you come up with strategic blog topic ideas that will provide more value to your target audience, attract more traffic and convert more customers.
As we can see, researching blog topics requires strategy. In our guide on how to research topics for your blog's content plan, you'll find a complete workflow for compiling a content plan for your business blog, using a strategic and data-led approach. 
Now that you've discovered how to obtain a huge amount of blog post ideas, it's time to learn how to write a good blog post.
How to Start Writing a Blog Post
In the guide How to Write a Blog Post, we shared some helpful tips on how to write a good blog post that can help your website attract more organic traffic.
After choosing the most engaging topics, try using keyword research and subheaders to develop a successful blog post.
Keyword Research 
As soon as we define the main keyword of each blog topic, it is crucial to compile similar keywords to avoid "keyword stuffing." Try to apply the keywords as you would in natural conversation. 
With the Keyword Magic Tool, you'll save your time and effort as you build your keyword master list. Enter your target keyword, choose your target location, and the tool returns a comprehensive list of all possible relevant keywords and variations.
You'll see a set of related keywords grouped by clusters, types, and questions provided with special filters to help you find long-tail keywords. Choose the most relevant of them to use in the content of your blog post.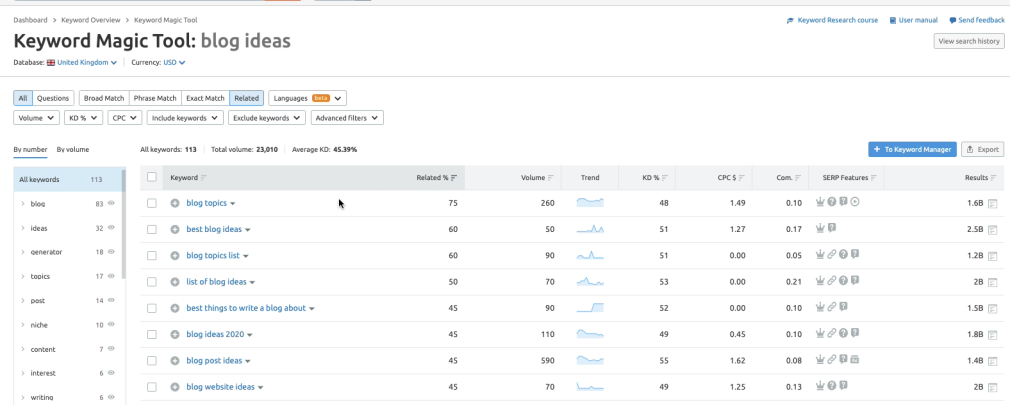 Organize Your Blog Post's Content With Subheadings
A great way to organize your blog post is to include sections with headings (H1) and subheadings (e.g. H2 & H3.)
Using subtitles in your blog post's body will help your reader find the content they need quickly and help search engines crawl your pages more effectively. 
Subheadings can act as a "tour" for the reader by indicating what the post will cover, so readers can choose the sections they want to read.
SEO Best Practices for Blog Posts
Your blog post should follow SEO best practices so that it is highly visible online. Use SEO Writing Assistant tool to check the SEO potential and originality of a piece of content in real-time, based on the top 10 ranking pages for your given keywords in a given location.
To start, add your target keywords for a copy to get a list of actionable SEO recommendations: 
Maintain your brand's tone of voice — make sure that every content piece complies with your overall brand voice on the scale of casualness, neutrality and formality. 
Optimization of the copy — make sure that your content is well optimized by using your target keywords and semantically related keywords; not missing alt attributes to images; Ensure your links are well applied. 
Improve your article before publication — although the SEO recommendations, the tool will also help you to analyze the readability, originality and tone of voice consistency of your content. 
Blogging with consistency will likely contribute to better organic results. But, exactly how often should you publish blog posts?
Unfortunately, there is no right answer to this question. The frequency of blog posts depends on what's best for your company and what works better for you. 
According to a study by Orbit Media, high-frequency bloggers earn better results. Even if you aren't able to post every day, you should still consider communicating with your audience consistently.
Try any of the tips or tools above to develop better and more engaging blog posts, then watch the engagement roll in!