The holidays are upon us, though thanks to Covid-19, they may be looking a little different than before. With more customers turning to online shopping due to safety concerns, 2020 is the year for eсommerce businesses to shine during holiday shopping.
With the holiday season drawing close, it's essential to get your festive emails locked and loaded so that they're ready to run on a set schedule. 
In this post, we're going to look at 6 email writing tips that can help you create festive eсommerce emails to increase sales during the holiday rush. 
Why Holiday Emails are Important for Your Ecommerce Strategy (Especially in 2020)
A Shift In Consumer Behavior
Consumer behavior shifts during this time of year in many industries, typically accounting for at least 25% of the entire year's retail revenue. This year, this is even more likely to be true, especially since ecommerce traffic has been surging since April. Customers are excited for the upcoming holidays, which (depending on what they celebrate) may include multiple important events and gift-giving celebrations, including Hanukkah, Christmas, and New Year's Eve. 
The Rush Factor
There's a rush to purchase everything from new tableware for family feasts to the latest Playstation as a gift, fueled by pre-holiday sales like Black Friday and Cyber Monday. Holiday ecommerce emails, therefore, need to be written specifically to account for this enthusiastic consumer behavior while also recognizing that it's a competitive market. There are several holidays in a row, so there are a large number of items needed in quick succession. 
The Pandemic Factor
It's also essential to note that this year is going to be different, with higher stakes placed on virtual shopping. With people worried about the pandemic all over the globe, more will be avoiding shopping in-store and will be turning almost exclusively to ecommerce shopping options. 
These customers are coming with fuller wallets, too: over half of the customers surveyed said that they were planning on spending more this year after canceling travel plans. 
Strategic, well-written festive ecommerce emails are an excellent opportunity to drive sales quickly. People are often stumped this time of year, looking for quick ideas for everyone on their list, which can include partners, siblings, parents, in-laws, friends, and coworkers. A few helpful suggestions can make a world of difference for them and you. 
1. Write Holiday-Filled, Exciting Subject Lines. 
Right now, everyone will be drowning in an onslaught of emails, but if you can be clear about what you offer while making it feel festive and exciting, you can cut through some of the clutter.
You can use alliterations, allusions to festive puns, and a happy, upbeat, and potentially sentimental tone to grab users' attention when they're in the holiday shopping mood. 
You can see how three different brands do this below.
Duluth Trading encourages users to "Move Your Sleigh!" to take advantage of a discount, putting all the focus on urgency. 

Farmgirl Flowers references the 12 days of Christmas with their "12 Faves of Christmas" to highlight seasonal bouquets and to increase purchases. 

And Tieks makes two references here, both in "have yourself a happy Christmas" and "blue Christmas" with their subject line "Have Yourself a Tiek Blue Christmas." 

These are all great examples of creating "sticky" (or "memorable") brands that your audience will respond to and remember. 
You can split-test different subject lines to see what works best, but remember to always keep them brief and straight to the point. Creativity is great, but it shouldn't come at the expense of confusing customers.
2. Frame Different Products as Perfect Gifts. 
Do you have small, or $20 or less items that would make perfect stocking stuffers? Or maybe a high-value gift that would be the perfect Christmas present for an adventurous spirit? 
Look at your customers and your product lines and see where there is a perfect match to promote the right product lines to the right customers. Frame these items as the perfect gifts, either in individual emails or in a branded "gifting guide."
This email from Pact features six different products, and they specifically frame three as perfect gifts. They have a "for the fam" pack, drawstring pants next to a Christmas gift, and a "stocking stuffer" tag on underwear. These are all affordable, making them strong choices for gifts from partners who are looking for ideas. 
By reminding users that these products would be perfect gifts, it encourages customers to think of items as gifts even if they wouldn't have otherwise. 
3. Let Users Know How Long They Have to Order. 
When certain holidays start to get closer, procrastinating customers typically get nervous about whether or not gifts will arrive on time. They may be hesitant to buy a roasting pan to cook their 15-pound turkey if they aren't sure if it will arrive on time for Thanksgiving. This is especially true with shipping delays due to Covid. 
Let users know exactly how long they have to order in your emails. Not only does this create realistic expectations, but it also flags products that are available for purchase and fast shipping while simultaneously creating urgency. 
Williams Sonoma did this with a holiday email last year, telling users that they had "3 days left to order" and giving users a distinctive timestamp for when those orders had to be placed to arrive in time for Christmas. 
You can see another great example below from Francis Lofts & Bunks, which features a reminder that it's the "last chance to order and receive your bed by the holidays'. 
Source: https://reallygoodemails.com/
4. Send Out Personalized Email Campaigns Based on Past Purchases. 
Segmented and personalized email campaigns can help you increase purchases simply by showing more relevant content to the right users. Personalization should therefore be used across all emails.
If someone purchased an iPhone, you wouldn't want to send them an email promoting accessories for the latest Samsung device. 
By sending out personalized suggestions and "gifts for you" tips, you're increasing the likelihood that customers will see gifts that are relevant to them. Most adults buy themselves something for Christmas or ask a partner to, so this is a great way to get on their radar. 
You can see a great example of segmentation and personalization in the email below from Rover.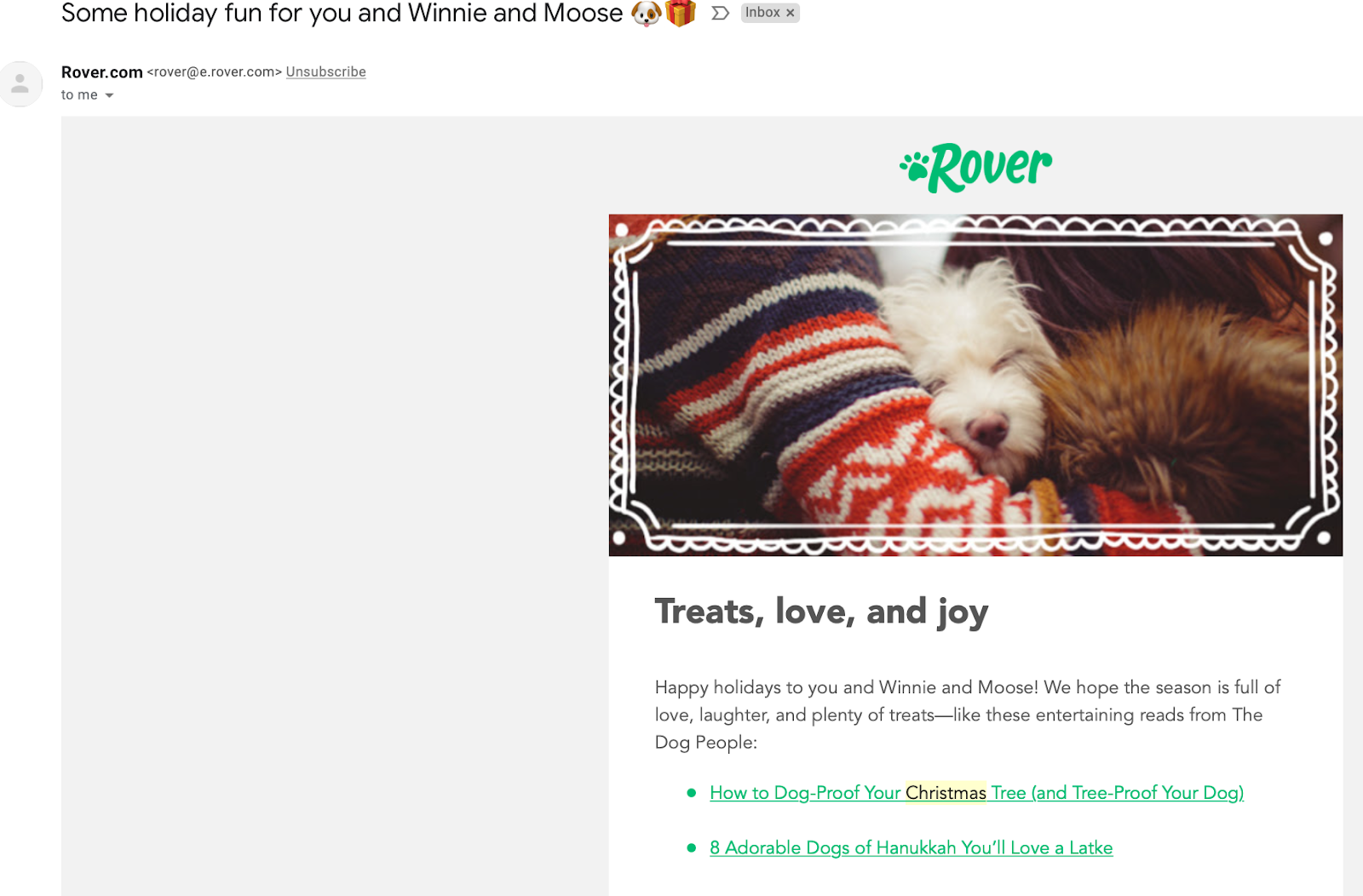 Rover sent out an email featuring the dog's names in the subject line and referenced dog-centric content. Cat owners likely received a similar email with content geared towards their pets. 
5. Encourage Users to Create Wishlists. 
Everyone has a wishlist as we get closer to the holiday season, full of things we'd love to receive. 
Actually allowing users to create wishlists on your site with a dedicated feature can help them add everything they'd love to a list that they can then "discreetly" send to family or friends for "helpful hints." 
If you have a wishlist feature on your site, encourage users to create theirs, and to send the link to friends or family. Since most people are all too happy to receive hints about what to get someone, this will likely be well-received by everyone. 
Tieks traditionally hosts contests around the holiday season that are centered entirely on their Wishlist.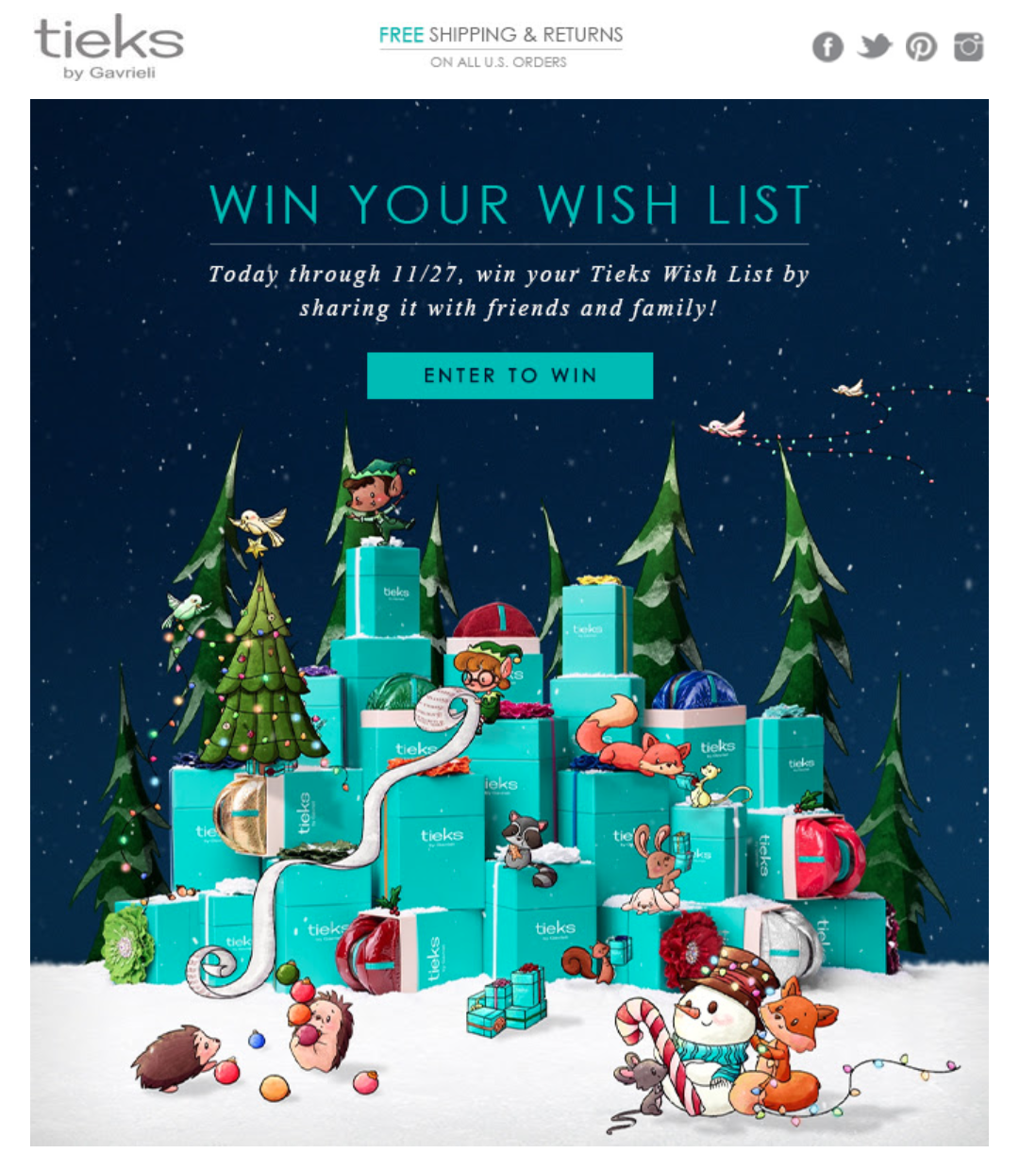 Users can add all their favorite shoes to the list in their size and favorite colors, and then send it to their contacts. When they do, they're entered to win the entire wishlist! It's a win-win, and worst-case scenario they hopefully end up with one new pair of shoes. 
6. Let Your Abandoned Cart and Order Confirmation Emails Shine Too.
The average abandoned cart rate hovers somewhere around 70%, depending on your specific industry, which is a massive opportunity for brands to recapture high-intent audiences for sales. 
Abandonment emails are automatically triggered when a customer abandons their cart after adding at least one item to it. You can set up these autoresponder campaigns to send an abandoned cart campaign within one hour, twelve hours, or twenty-four hours after the cart is abandoned, showing the user the item they "forgot." 
An order confirmation email is a receipt you get after your purchase, with the key transactional details. When used right, these can be used to entice further purchases.
Both types of emails can be used to promote products in the festive season. Here are some tactics to make them even more efficient:
Feature items that a user was looking at earlier

Share similar items that the user may like 

Provide an extra discount on the items left in the cart 

Offer an early free Christmas promo delivery 

Use the fear-of-missing-out technique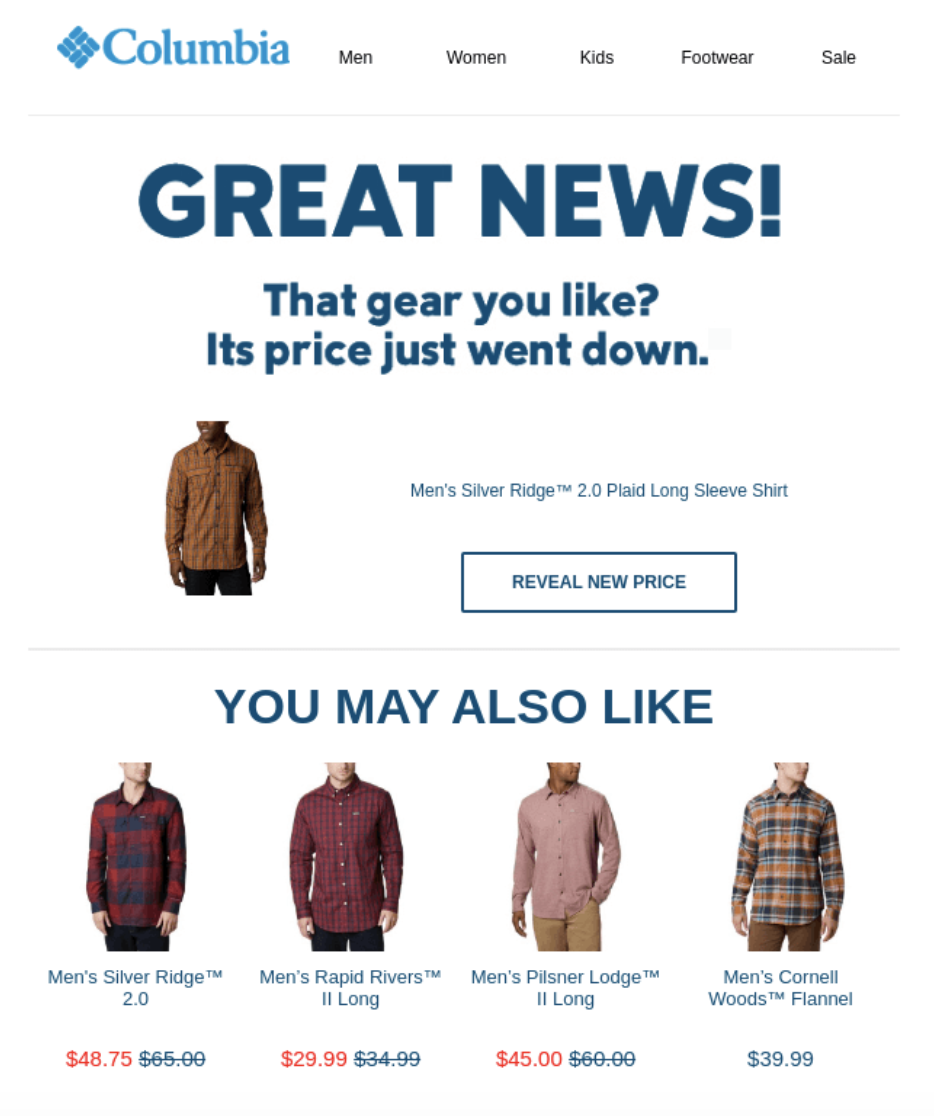 Source: https://reallygoodemails.com/
All of these email writing tactics are designed to increase sales by reminding your customers of the products they liked and positioning similar products they may like more in high-visibility placements. 
Most of these are common tactics for ecommerce email marketing, however. So including the one thing that makes you different might be a good take. A well-crafted product story is a differentiating factor that sets you apart and nudges users to recover abandoned carts. We simply love how EVERLANE uses this technique in the following email: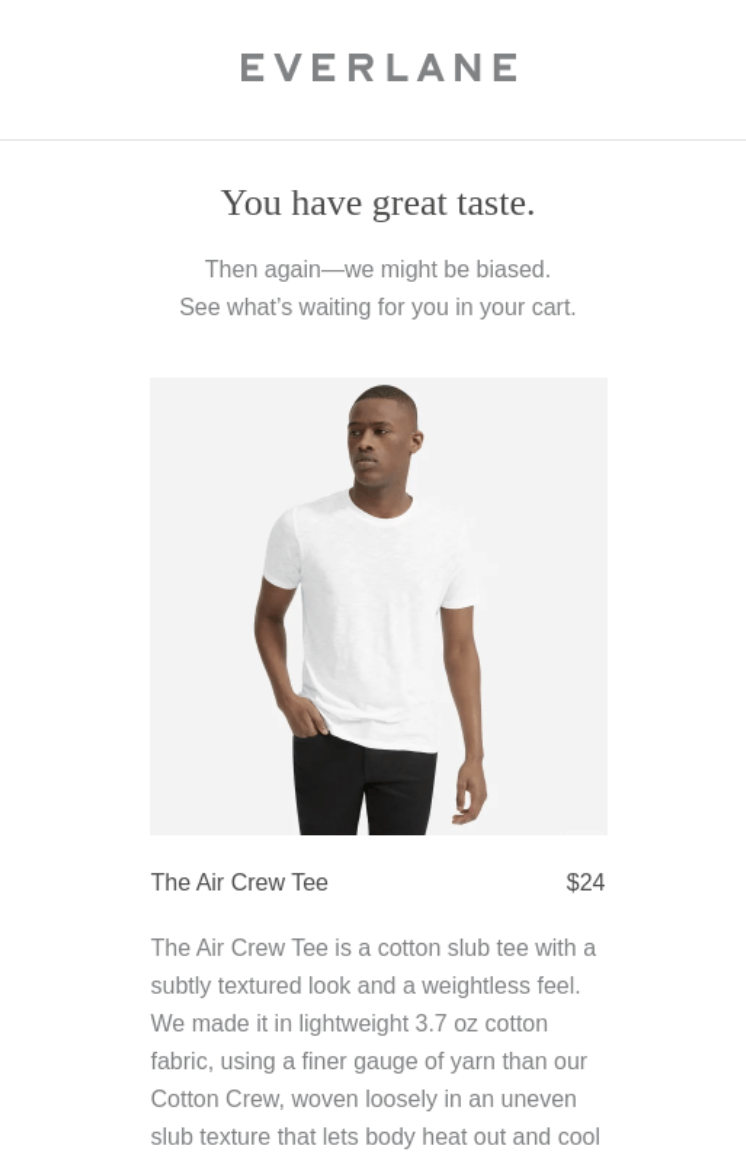 Source: https://reallygoodemails.com/
Brand and product stories can also be powerful in your order confirmation emails. 
Sometimes all it takes is one line, like this example from Casper: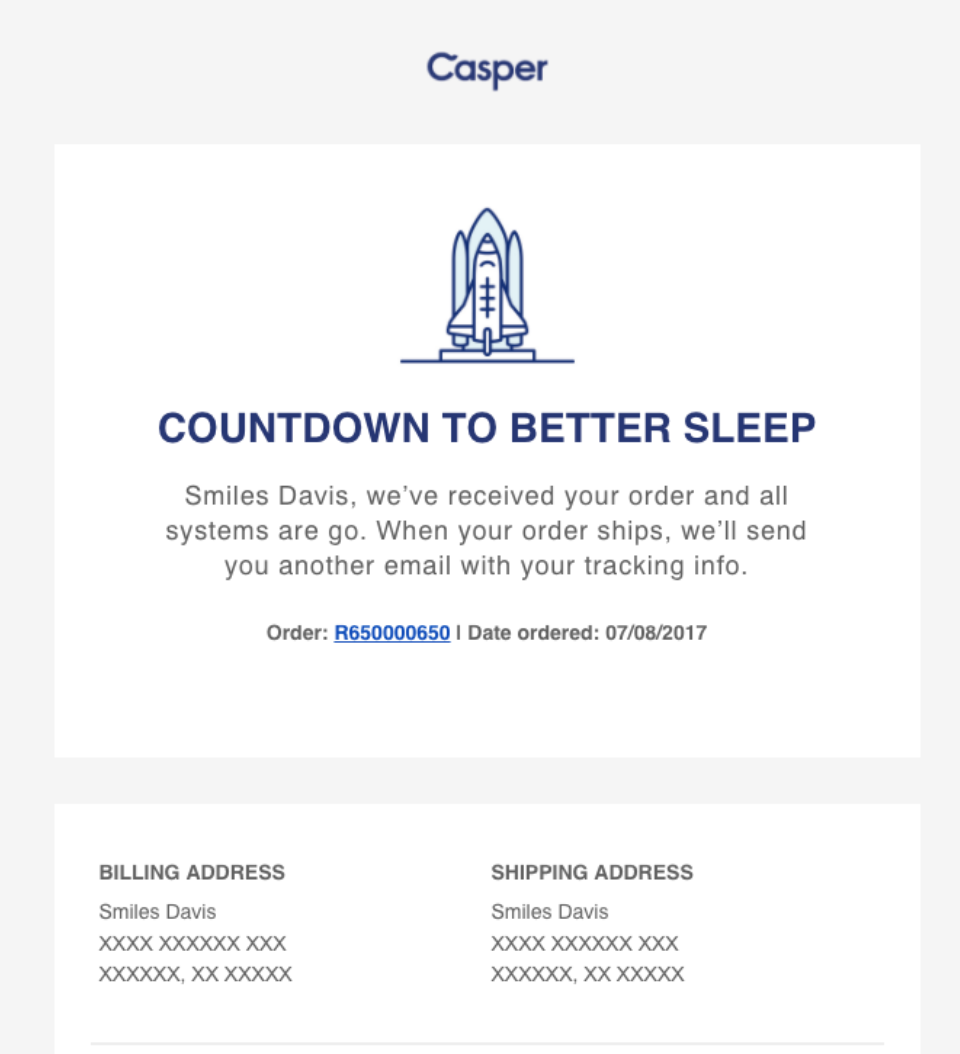 Source: https://reallygoodemails.com/
As you can see, with the right tactics both order confirmation and cart abandonment emails can be used to drive purchases in the festive season. A special discount, an overview of similar items, an early bird free delivery, and a well-crafted product story can go a long way to making your holiday emails shine.
Final Thoughts 
Writing festive holiday emails will use many of the same basic best practices that you already use to create highly engaging ecommerce emails throughout the year, though some of the strategies need to be fine-tuned, adjusted, or amplified in order to make the biggest impact at this time of year.
Remember to keep your email copy as brief as possible, to include high-quality product images, and to always make it easy for users to click on a product image and end up right on that product page on your site. The easier the path to conversion is, the better. 
Do you need assistance writing festive ecommerce email campaigns for your business? Our Content Marketplace offers email newsletters from expert copywriters for as low as $25. Learn more about how we can help you here.