For any ecommerce site, ranking at the top of search engines is a high priority. While paid search can place you at the top of the SERPs you there, the long-term cost to remain there may not be sustainable. You need the number one spot, and ecommerce SEO can help you achieve this.
In this step-by-step ecommerce SEO guide, we will explain everything you need to know about SEO strategy for ecommerce websites and provide tips and strategies that will help you optimize your site effectively. Here are the main topics we will cover.
Why SEO Is Important for Your eCommerce Site
SEO is a critical necessity for e-commerce websites. Your products need to rank higher than your competitors, and they need to display the right way so potential customers can find the products they need in the SERPs and choose your site to click on. 
When done right, ecommerce optimization strategies will help you rank highly, and your pages will provide the best solutions to a user's search intent. Optimizing eCommerce sites can yield an ongoing, free source of high-converting organic traffic to your site.
This means less reliance on advertisement spending, a plus for any online business.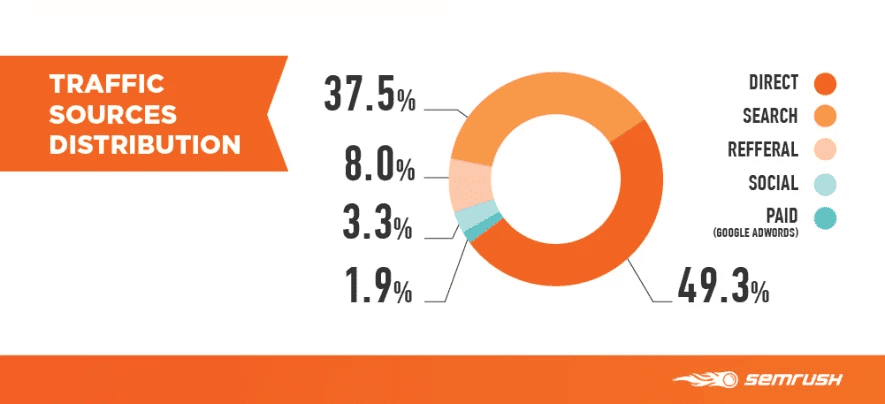 In a 2017 study conducted by Semrush on how e-commerce companies drive traffic to their sites, the results show 38% of retailer traffic comes from organic search. 
SEO will help increase your organic search traffic, and help your ecommerce site rank higher in search engines. With so many users using Google to research purchasing decisions, both at home and on the go, need an optimized website and product pages.
Keyword Research for eCommerce Websites
The core of any effective eCommerce SEO optimization strategy starts with keyword research. Making sure you are targeting the right keywords is essential to your SEO efforts. Focusing on the wrong target keyword can negatively impact your impressions and bring low-converting traffic to your business.
The Initial Steps of Keyword Research
The first part of an ecommerce SEO strategy involves listing your category and product pages and then identifying and mapping, on a page-by-page basis, the keywords to target.
Product-Focused Keywords
For ecommerce keyword research, your strategy should prioritize product-focused keywords, taking into account your homepage, product categories, and blog content — this means also ensuring you are targeting keywords based on a medium to high search volume that are strongly relevant to your brand and not too difficult to rank for. 
Buyer Intent
In a recent SEO Best Practices Semrush post, Sandeep Mallya broke down search intent:
Your focus should be on choosing transactional keywords over informational keywords. Why? Because your main priority is ranking for keywords that lead people to purchase, and transactional keywords typically lead to high conversions rates. 
How do you find them?
Consider buyer intent. Buyer intent refers to the intent beyond the consumer's keywords when searching online, which reflects where they are in the buying cycle.
For example, someone searching for a relatively broad keyword (also known as a 'head' term') such as 'men's shoes' is likely to be at the top of the funnel (the research stage), meaning they are still probably assessing the options available, and not ready to buy yet.
Someone looking for 'black men's running shoes, size 42' strongly indicates they are ready to purchase, due to the specific, detailed nature of their keyword (and would be considered a long-tail keyword). This is what we call commercial or transactional intent, and what your eCommerce SEO keyword research should hone in on.
Use the keyword intent filter to discover new transactional keywords 
The Semrush Keyword Intent Filter makes the task of determining the buyer's intent behind keywords simple and easy. 
Sticking with the example of shoes above, let's say that's what you're interested in selling on your ecommerce website, but you're not sure which keywords to target. You can enter "shoes" into the Keyword Magic Tool and it will give you a series of semantically related keywords.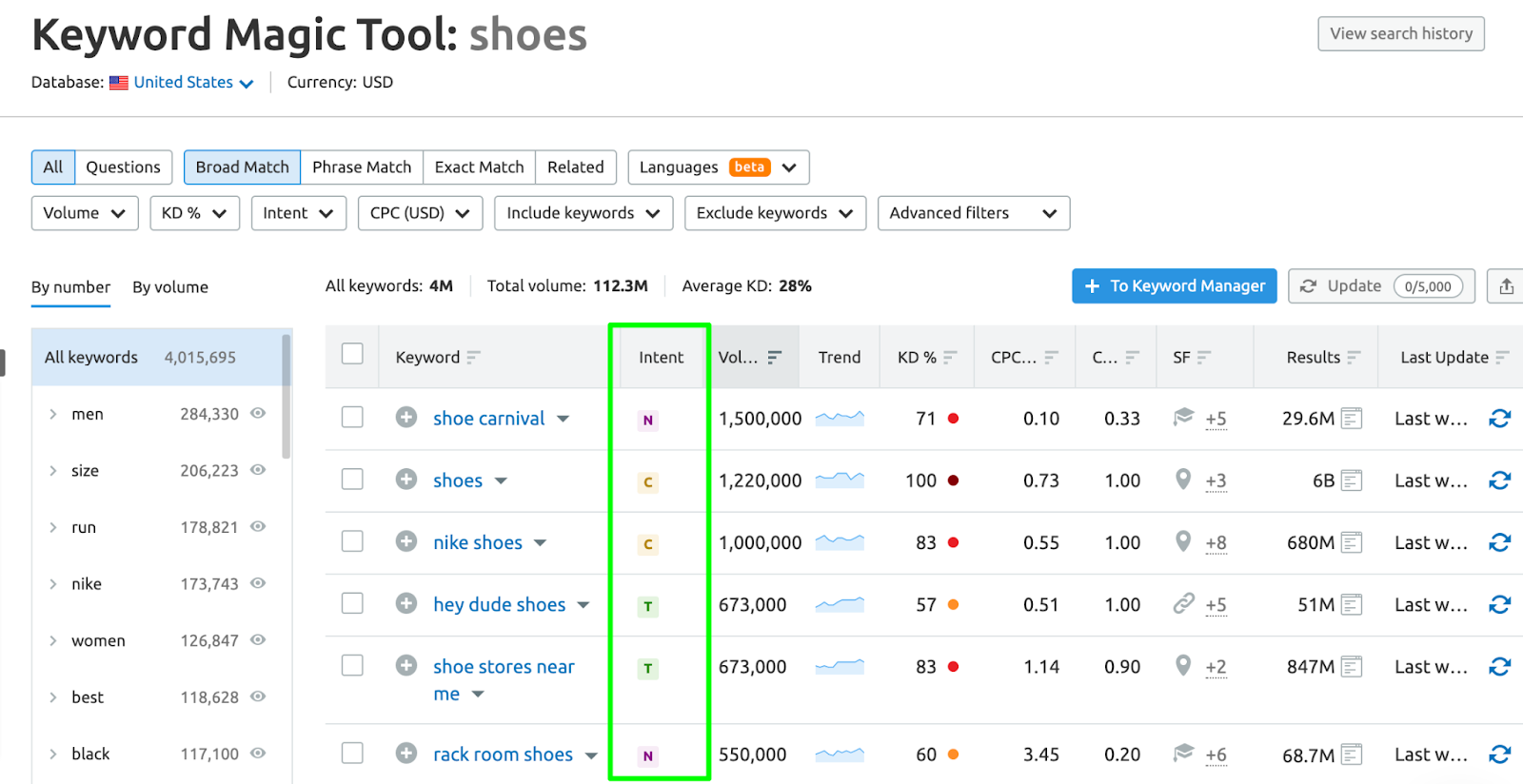 The filter buckets keywords into four categories: Navigation (N), Informational (I), Commercial (C) and Transactional (T). 
You can see which keywords are transactional and therefore potentially lucrative to target. Commercial keywords are also potentially valuable because the searcher is likely further along in the purchasing funnel and might be making a transaction soon.
Product descriptions are key in ecommerce and you need to be sure to explain in detail what it is and think about this from a customer's POV. What would you want to know if you were looking to buy this?
Keyword Research Tools for eCommerce SEO
Using keyword research tools can help dramatically simplify the process of finding keyword ideas when it comes to optimizing ecommerce sites. Let's take a look at some of the most commonly used by the SEO community.
Semrush Keyword Magic Tool
The Semrush Keyword Magic Tool provides access to a global keyword database with over 20 billion keywords and is particularly useful for finding semantically related long-tail keywords. 
These are important to target, as they represent keywords with less competition than broader terms, and they have potentially a higher click-through rate thanks to the intent behind them. 
By using long-tail keywords, you can also slowly build up authority and begin ranking for a valuable main keyword that has high search volume, but competition is reasonably difficult due to ecommerce giants dominating the SERPs for it.
To find these in the Keyword Magic Tool, simply select the Related tab to find keywords related to your main seed keyword. 
In the example below, you can see the search volume, trends, keyword difficulty to rank, CPC, and more for the term 'coffee table.' You also get options for phrase match, exact match, and related keywords, which can help you narrow down terms related to intent.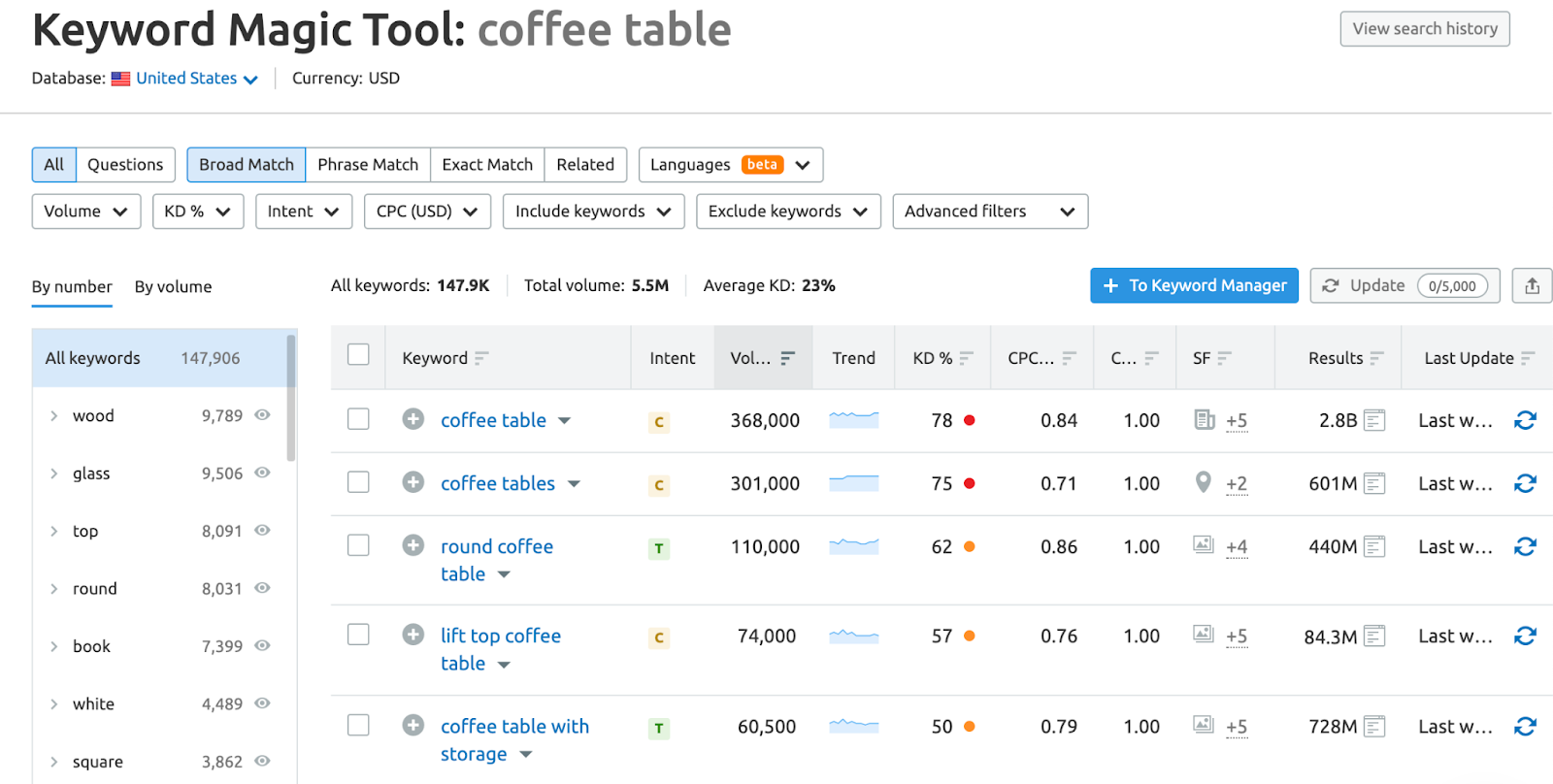 Semrush Keyword Overview
Semrush Keyword Overview, this tool provides an in-depth analysis of a keyword's value, as well as its search volume (national and global). It also shows the keyword's intent, number of results, possible SERP features, competition level, as well as providing related keyword questions and variations.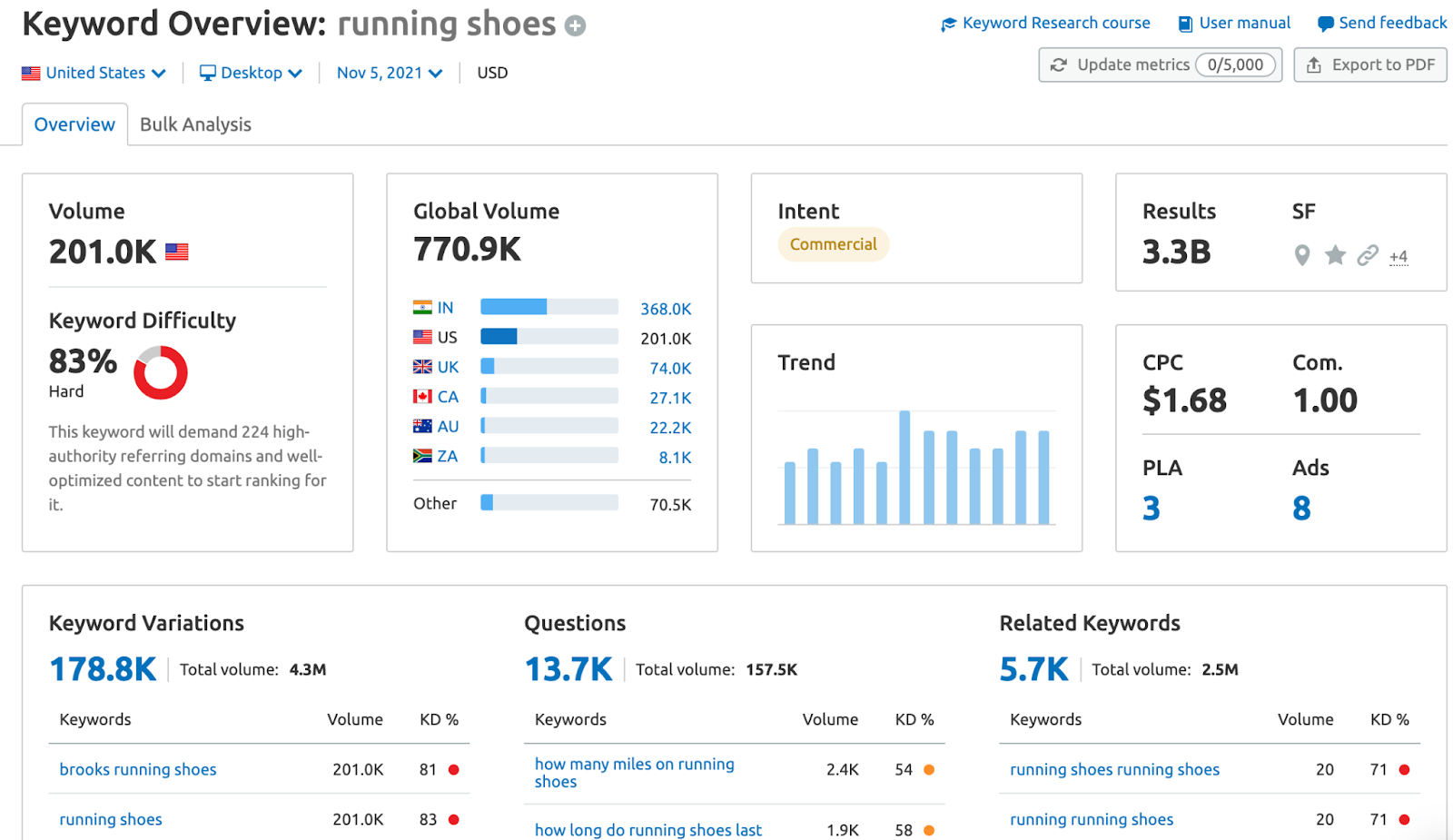 Amazon Suggest
Using Amazon can be an excellent way to generate long-tail keyword ideas. Simply enter a keyword related to your site, and Amazon will provide a list of suggestions surrounding this keyword.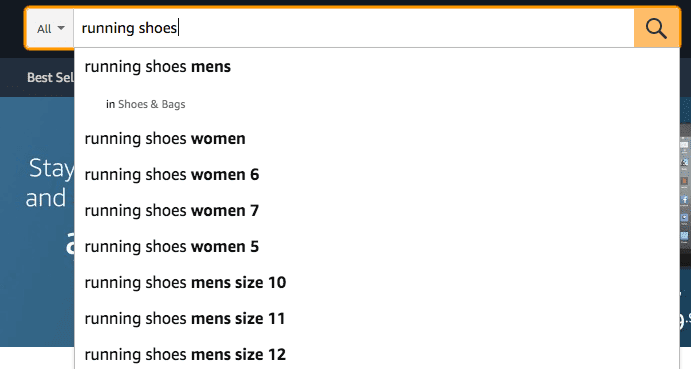 Google Keyword Planner
Google Keyword Planner can be used to look at the commercial intent and search volume of a chosen keyword.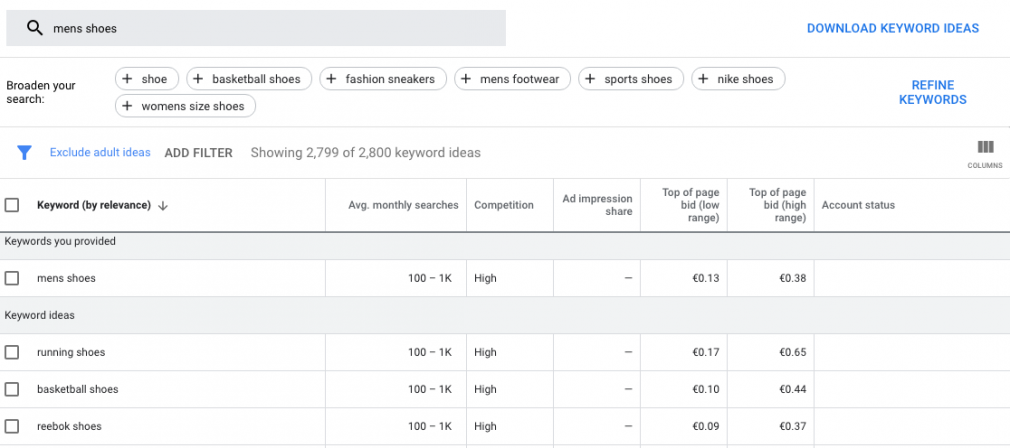 For ecommerce sites, you want to target medium to high competition keywords. You can see this on Google Planner by checking the keywords competition rating, which shows how competitive bids are for that keyword in Google Ads. 
To determine the commercial intent of a keyword, you should also check out the Top of Page Bid, which shows how much advertisers are spending on a single click for paid ads. The higher the bid, the higher the commercial intent.
Related Guide: How To Use Google Keyword Planner for SEO and PPC Campaigns
Google Suggest
Type in your selected keyword in the search engine and find highly relevant keywords to your brand through the autocomplete suggestions. In the example below, you can see that when I type 'mens shoes uk', it provides long-tail terms related to my keyword, based on what users have been searching for.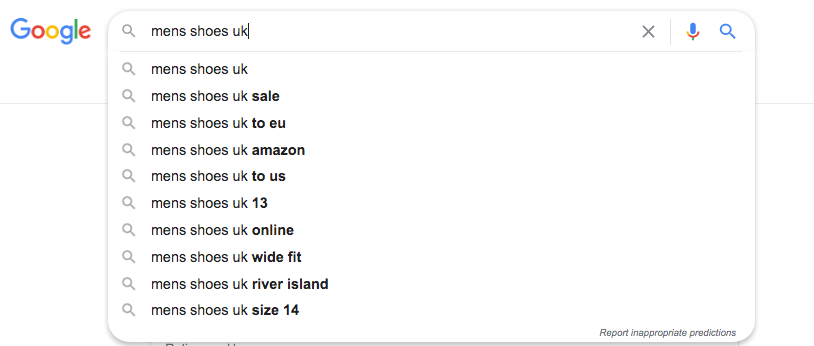 By scrolling to the bottom of the SERPs, you will also find additional related searches based on what users have searched for in relation to your original keyword.
How to Map the Right Keywords to Your Pages
The next step of ecommerce SEO best practices involves identifying which keywords to use from your research that will help you outrank your competitors.
You want to avoid highly competitive keywords that are almost impossible to rank on. When it comes to SEO for new ecommerce stores, this is critical to remember. Instead, prioritize ranking for less competitive keywords on particular product and category pages to get your brand noticed in the SERPs. 
Identifying keywords on a page-by-page basis is recommended but time-consuming. Therefore, it is advised you start with the most important pages on your site, using Google Analytics data or the Semrush Organic Research tool to help you do this.
Where to Start
Start with looking for the primary keyword you want to optimize for by looking at ones you already rank for, which can be done by using the Organic Research tool. The tool also shows you which URLs are ranking, as well as traffic, search volume and traffic percentages, which you should take into consideration when choosing keywords.
Additionally, you can export keywords to see every domain's rankings for competing keywords.
Next, look on the SERPs to verify that product and category pages are ranking for your keyword. If that is not the case, then it is time to select a new head keyword.
Keyword Gaps Between Competitors
The Semrush Keyword Gap tool can also help you identify where to map keywords by providing a keyword comparison of up to five competitors. The tool also shows you where the best opportunities lie, identifying total keyword overlap, common keywords as well as unique keywords you are ranking but that your competitors aren't.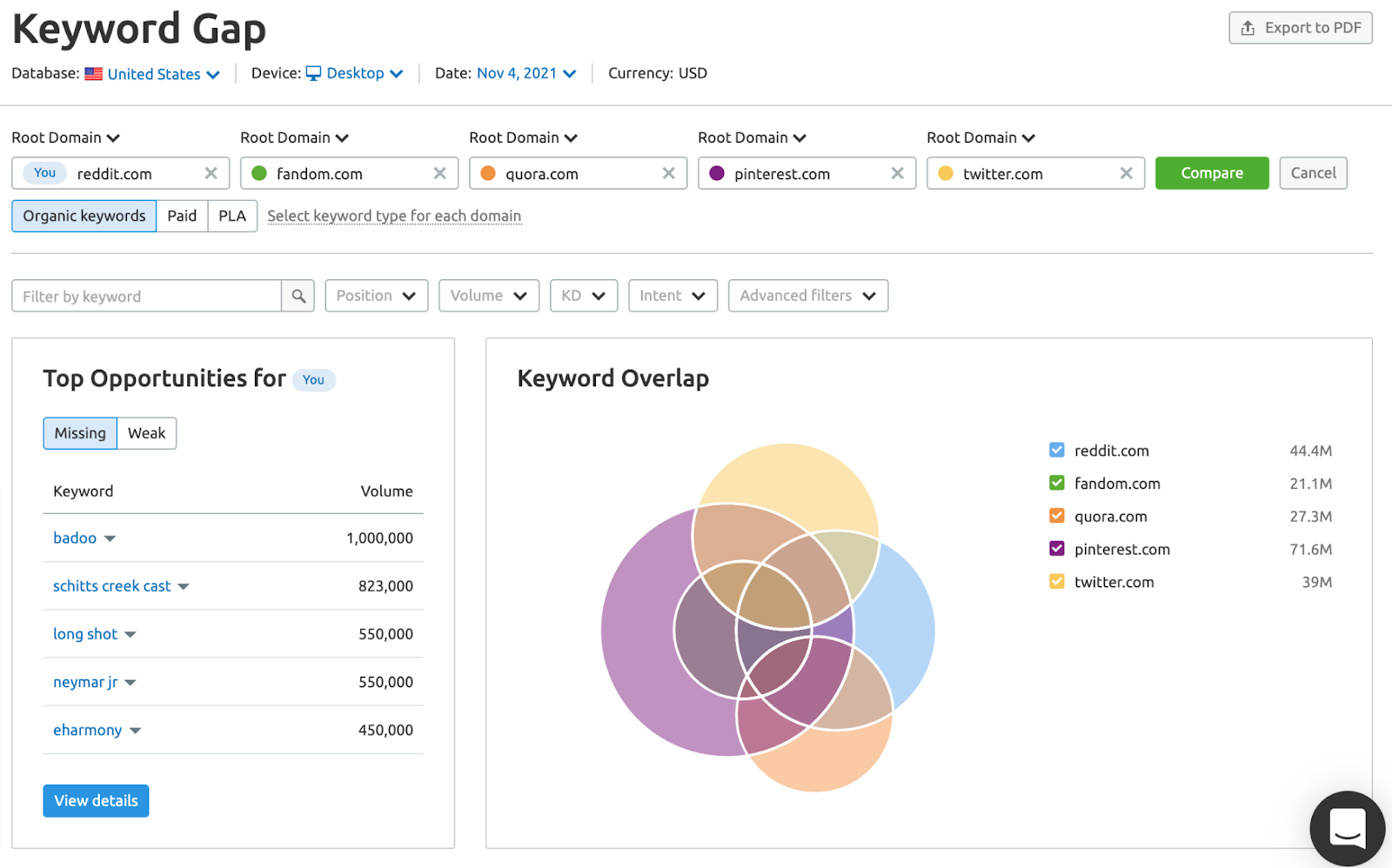 With your final list of chosen keywords for individual categories and product pages, you can optimize them through on-page SEO. Later in this guide, we will explain step-by-step how you can do this. 
Long Tail Keywords for eCommerce Sites
We have mentioned long-tail keywords a few times already, but why are they so important?
Carrying out long-tail keyword research should be seen as just as critical as searching for head keywords. While they are less competitive due to their lower search volumes, they typically have higher conversions, and a greater likelihood of increasing targeted traffic to your site. 
Here is an example of both kinds of keywords to explain the difference between the two:
Head keyword: buy chocolate
Long-tail keyword: buy organic fruit and nut dark chocolate 
Long-tail keyword research also provides an additional ranking opportunity for your ecommerce site. For valuable long-tail keywords found during the research stage that do not weave easily into existing product or category pages, you can use them in your content marketing efforts.
We will discuss effective ecommerce content strategies later on in this guide.
Related Guide: How to Choose the Right Long-Tail Keywords
Site Architecture for eCommerce Websites 
Optimizing your site architecture by simplifying its structure is a fundamental part of any successful SEO strategy, for both usability and crawlability purposes. For eCommerce sites, this means making the navigation of your site user friendly and search engine friendly. 
But how? Organize your site in a way that enables visitors to only make a limited number of clicks (the rule of thumb being three or less) to get to any product from the homepage.
By doing this, you will improve the user experience and help to reduce bounce rates, which can result from frustrating navigation on websites. 
From an SEO perspective, you will also make it easier for search engines to crawl your site (important for ranking) and preserve link authority. This becomes diluted the further a product page is from your homepage, which is typically the most authoritative for ecommerce sites — and concentrated authority is one of the ways you can help your ecommerce pages rank.
Need an example? Below (Source: backlinko) is the kind of site architecture you should avoid: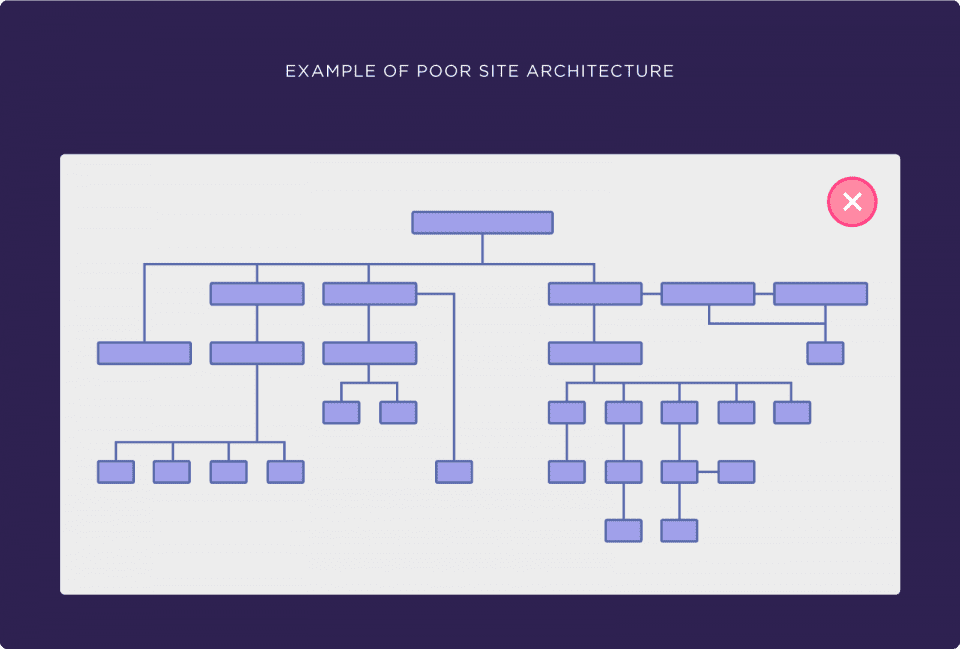 Here is what you should be doing instead: a scalable, flat site architecture that links to the top category pages, which is easy to browse for visitors and also to crawl for search engines.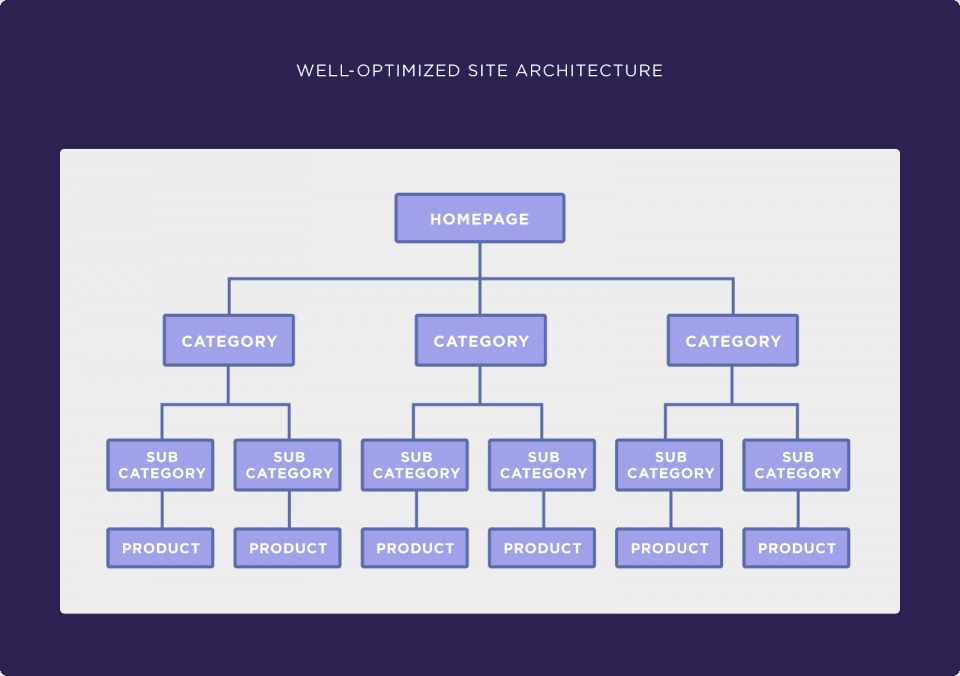 Optimize Your URLs
For ranking higher in the SERPs, you need to optimize your URLs to make them user and SEO friendly too. These should be clear, relevant, and involve your target keywords, if possible. 
You should avoid using long URLs, as they are harder for Google's crawlers to read.
What does an optimized URL look like? Choose a short, to the point URL that follows a similar structure to what is seen below:
www.thebestclothesever.com/sweaters/yellow-sweater-polka-dot
Steer clear of creating a URL that has too many numbers, which makes it hard to read and does not aid the user experience as the numbers do not add meaning for the consumer.
Below is an example of what not to do:
www.thebestclothesever.com/c23/i-12240485859403/yellow-sweater
On-Page SEO for eCommerce Websites
Optimize Your Title Tags
Title tags (also known as page titles) have considerable SEO potential due to their huge impact on a page's CTR, as they inform people and search engines what the page is about. You will have seen them as the blue clickable titles in the SERPs.
An optimized title tag should be between 55-60 characters long, descriptive, and use target keywords. Your store name shouldn't be first; remember search intent. Many ecommerce sites choose to add their company name at the end, as seen below: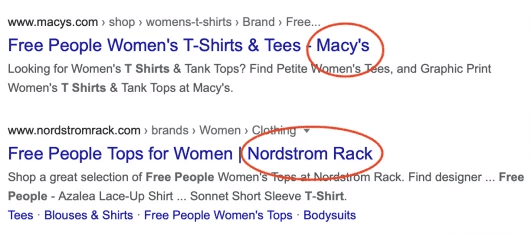 Optimize Your Meta Descriptions
Meta descriptions are the content that appears directly below the title tag in the SERPs, meaning they also play a vital role for click through rates. But how do you optimize them?
We have a full guide here, What Are Meta Descriptions and How to Write Them, but here are some quick tips.
The meta description length should be approximately 150 characters.
Each description should be personalized to the page.
Be precise.
Explain exactly why a shopper should choose your site. Featuring perks (free shipping, save X% on.. buy-one-get-one) is one of the ways you can grab a visitor's attention. 
Optimize Your Images
Page speed has been identified as a ranking signal by Google, and a common reason for slow loading pages for ecommerce sites is large image sizes for product pages. Slow page speeds also affect bounce rates. 
You can fix this by compressing images (preferably using PNG or WebP formats) to reduce their file size, using platforms such as TinyPNG. Aim to keep images under 1 to 2MB in size.
Optimizing images doesn't stop there. You should also look at editing the filename for SEO purposes. By making the file name more descriptive, it makes it easier for search bots to understand what the image is.
Instead of adding an image to your product page called IMG125403.png, use the product name and a relevant keyword (if possible), such as sweater-red-polka-dot.png
Another part of image optimization involves alt-text. This is a line of code that informs the browser what is in the image and SEO crawlers read them. Consequently, when it is relevant, it is recommended to include your keyword in your alt-text for search results. Be concise and avoid keyword stuffing.
Add Unique Content to Each Page 
If your site features thousands of products, adding unique content will take a lot of time, but there is, unfortunately, no way around it. You want and need an optimized ecommerce business given the huge amount of competition. Search engines require content to be able to understand it and rank it accordingly, making it important for SEO.
We recommend focusing on your most important pages first. For category and product pages, you should be looking at writing at least 250-500 words for each of them, and it needs to be unique. 
Content Ideas
Besides the product description and your chosen keywords, you can describe in detail any features the product has, awards won, comparisons to other products, and FAQ sections.
Optimize Your Content for Head Terms and Long-Tail Keywords
When writing high-quality content for your products and categories, this is the time to use both types of keywords for an effective ecommerce search engine optimization plan, using the chosen keywords you compiled in the research stage. Remember that a long-tail keyword has a conversion rate that is 4.15% higher than a short-tail one (source: Search Engine Journal).
Add Schema.org Markup 
Implementing Schema markup is used to help Google understand your content as well as help potential visitors navigate your site. It can also result in a higher CTR of up to 30% ( Search Engine Land), resulting in further sales. 
Below is an example of what Schema markup looks like (source: Semrush)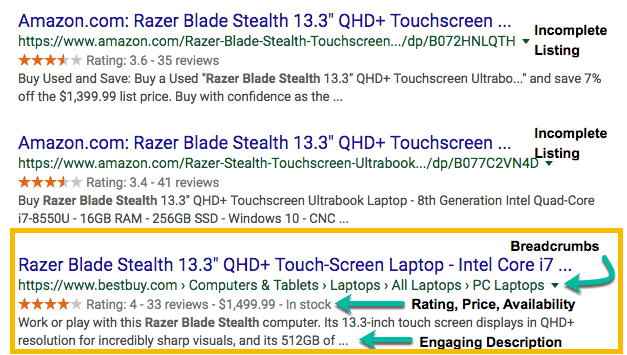 Some of the most common schema properties include:
Reviews and rating schema
Product schema
Breadcrumb markup
Business details including contact
Product availability schema
FAQs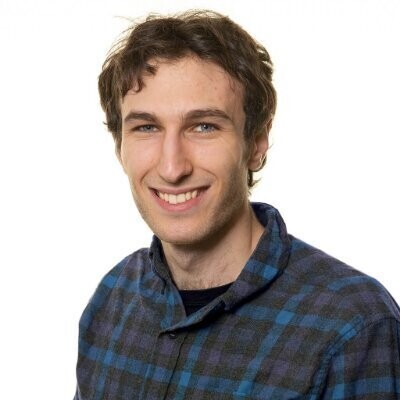 Use FAQ schema on your product pages as that can generate lots of traffic if you get a Featured Snippet.
Second most common error I see: 404s from unavailable product pages. Never take down a page when a product is out of stock!
Focus on Internal Linking
Internal linking involves linking to other pages on your site. It can boost your SEO as you can choose your own anchor text, helping you to rank for your chosen keyword, as well as improve the user experience by suggesting related pages to browsers.
Make sure you are only linking to relevant pages and vary anchor text when you do so.
The Internal Linking report, found within the Semrush Site Audit tool, can be useful for identifying potential problems with your internal link structure.
Optimize CTAs on the Page
Motivate visitors to take action on your site through engaging CTAs that provide benefit to your users. Semrush's On-Page SEO Checker can help you do exactly that, by finding on-page SEO ideas based on the top 10 real-time competitors for your keywords. 
Here is a snippet of what the SEO checker looks like: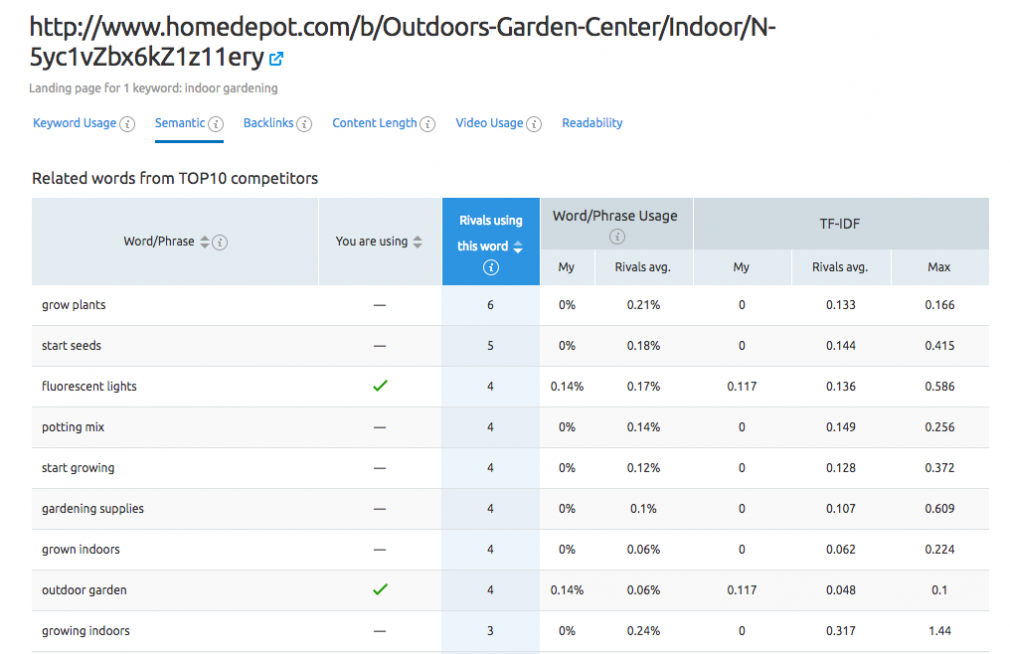 You can also choose the pages you would like to receive ideas for, as seen below: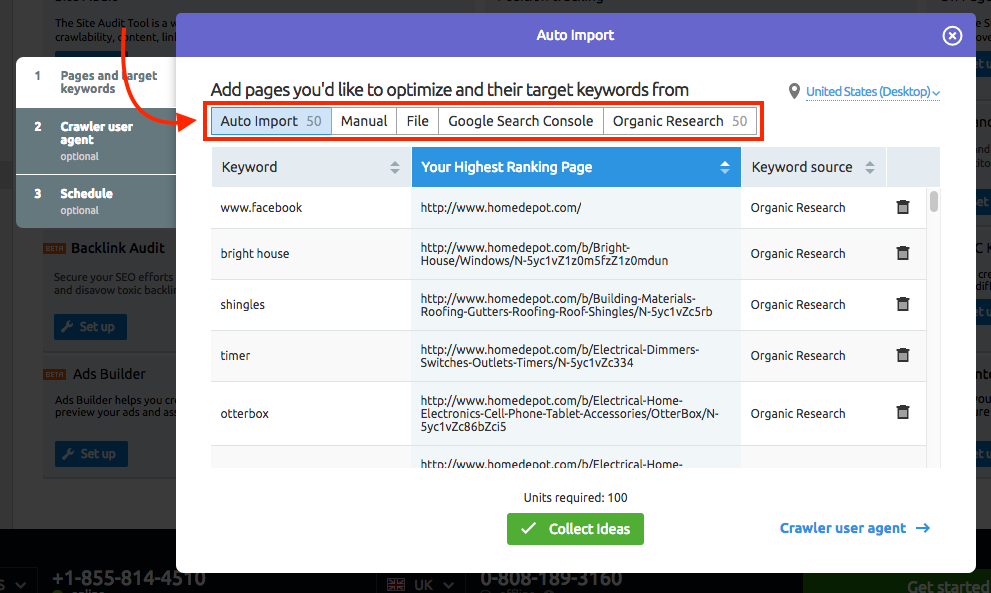 Technical SEO for eCommerce Websites
How to Identify Technical Issues on Your Website
Fixing technical SEO site issues is vital for ecommerce sites, as it can sometimes be the main difference in ranking between you and another very similar competitor. 
Semrush's Site Audit Tool is a website crawler that can help ecommerce owners uncover technical issues their website is facing, of which eCommerce sites can be particularly prone to due to having many product pages.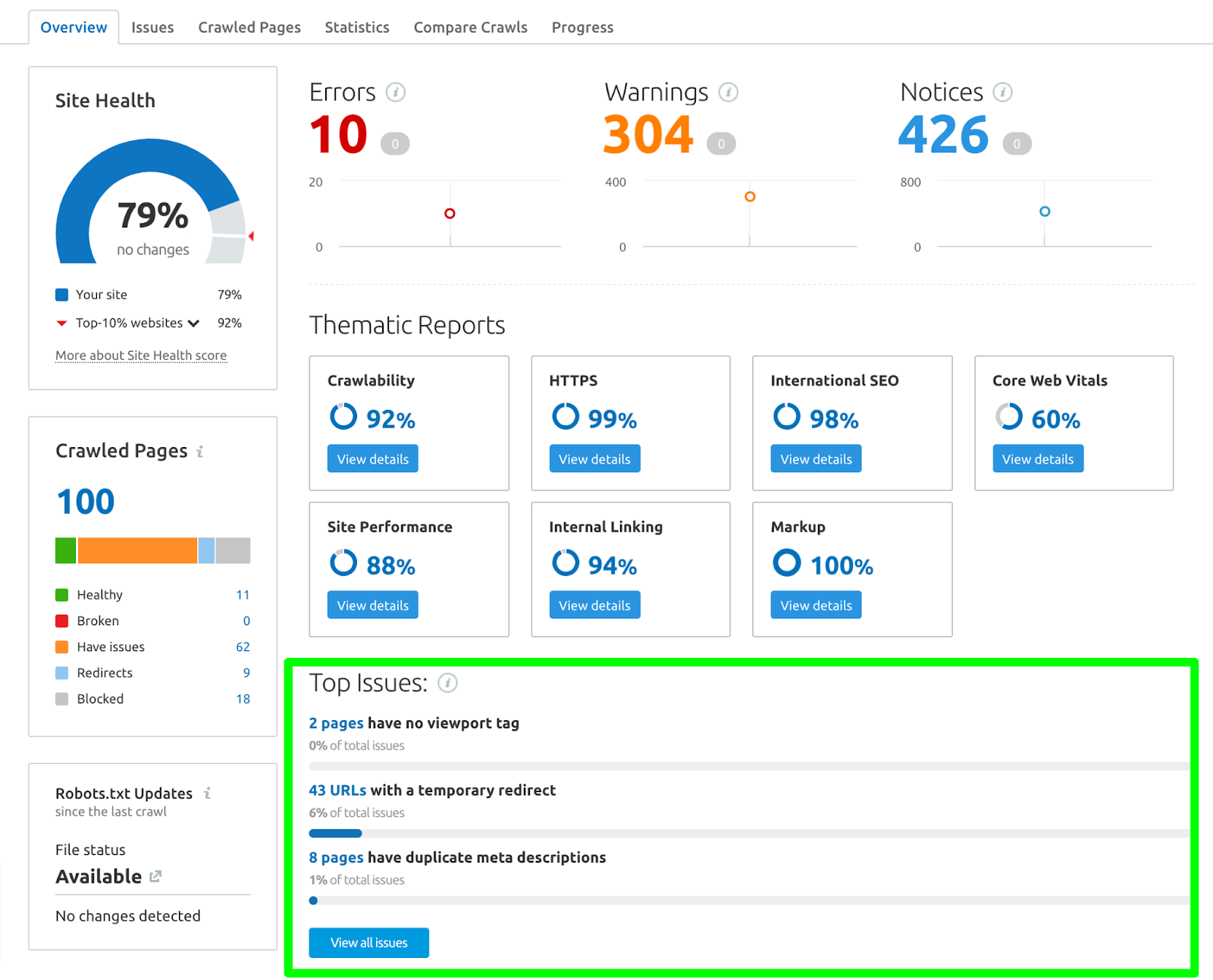 For ecommerce sites, our Site Audit Tool can help you find:
Duplicate title tags and meta descriptions: so they can be updated in order to create unique and relevant tags and descriptions for users and search engines
Duplicate content: which can affect ranking, and link equity, and result in traffic losses.
Slow page load speed: which can impact bounce rates.
Broken internal links: which are bad for usability and can signal to search engines that a website is of low-quality.
Broken internal images: which harm the user experience.
Returning 4xx codes: typically due to broken links, which impact SEO due to crawlability issues.
Low word count: which may not be satisfying the user search intent, impacting ranking in the SERPs.
Links on HTTPS pages leading to HTTP pages: which could negatively affect page ranking.
Pages missing Schema.org markup: having this markup increases the chance of content appearing in SERPS.
Pages containing JavaScript and CSS files that are too large: which impacts page load speed time.
How to Fix Common Technical SEO Issues on eCommerce Websites
Duplicate Content
This issue can be found under the Crawlability reports on the Site Audit tool. Duplicate content is one of the most common SEO issues for large ecommerce issues, as many often have thousands of products on their site, leading to many site pages. But it can lead to crawl waste, impacting the crawlability of your website.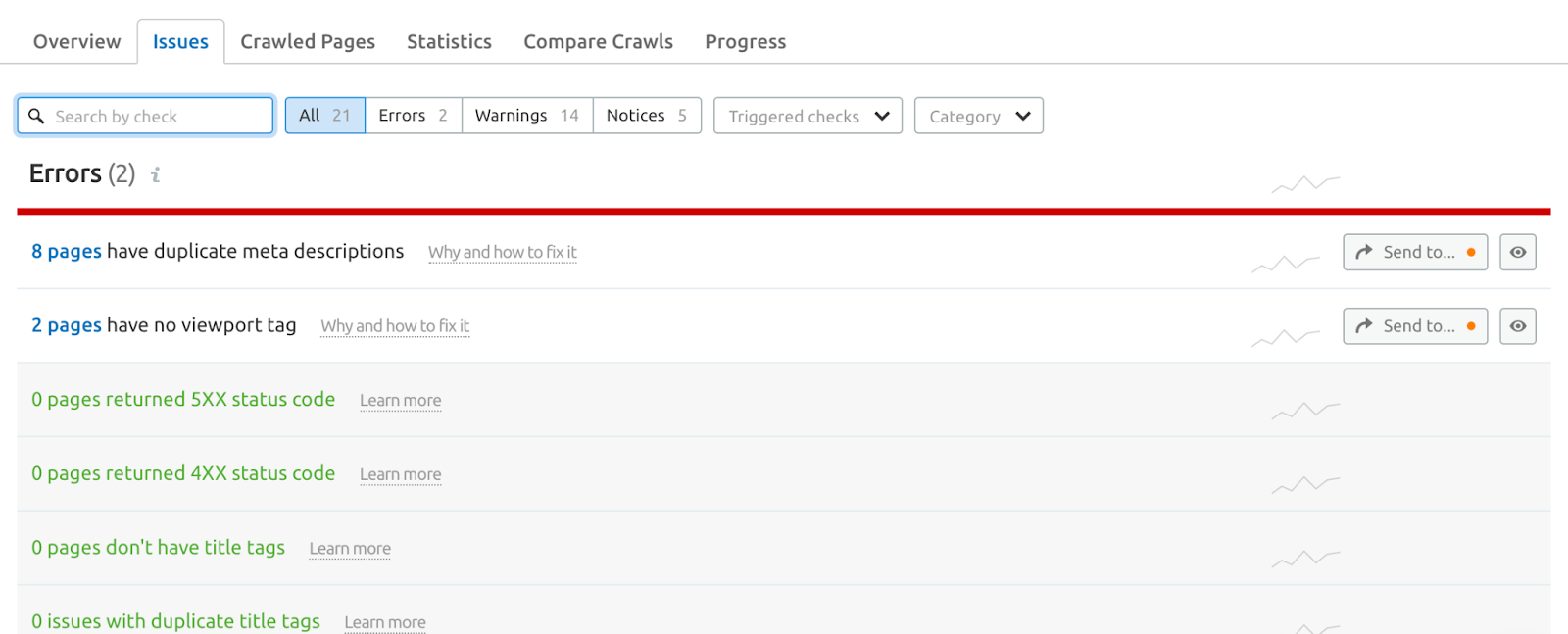 Duplicate content should be avoided when at all possible. If you find them or it is unavoidable having them, here is what you can do:
Use canonical tags to signal to Google which product page is the main page.
Use indexing for pages that do not generate search traffic or robots.txt whilst carefully targeting offending parameters.
Have an up-to-date Content Map to identify where duplicate content exists.
Hide the duplicate within the original.
Thin Content 
Thin content frequently occurs with ecommerce sites, thanks to the challenge posed of writing unique content for many similar products. The Site Audit tool can alert you if this occurs on your own (under 'Warnings') by flagging pages that have a low text to HTML ratio. 
You can fix this by creating detailed product descriptions to make your products stand out to users and search engines alike and aim to make content at least 500 words in length.
Deep Pages 
Pages that are more than three clicks away from the homepage are referred to as deep pages in your site architecture and are to be avoided. This is because a simple flat structure improves the site crawlability and overall user experience.
You can find these by using a filter on Semrush Site Audit (under 'Crawled Pages'> Filter: Crawl Depth' is '4+ clicks') 
There are multiple ways to fix this, including adding feature-based navigation (e.g.. featured products) to your homepage.
Page Load Speed
Page speed issues can be found under Site Performance on the Semrush tool or under Site Audit > Issues.
eCommerce sites can be impacted by site speed issues for a variety of reasons, such as large image file sizes, slow hosting, and bloated code on ecommerce platforms.
Page load speed can be fixed by:
Optimizing images with compression: through sites such as TinyPNG.
Use a CDN: increase your loading speed, as well as make your site more secure.
Learn more at How to Improve Your Google PageSpeed Insights Score.
Missing / Broken Canonical Links
Missing canonical links that have not been implemented correctly can affect crawlability by impacting efficiency. This is because setting a rel="canonical" element on your page can inform search engines of which version of a page you want to show in SERPs, but an incorrect or broken one can lead to confusion for crawlers.
When running the Site Audit Report on your site, there are a variety of checks relating to canonical tags, including flagging pages with a broken link and AMP pages that have no canonical tag.
Most common problem I see is a lack of canonicalization. For shops with many products, category pages, etc. the situation can get out of hand easily.
Wrong Pages Ranking 
This happens when you optimize two product pages for the exact same keyword, known as keyword cannibalization. For example, a category page ranks instead of a product page or a blog post ranks instead of a product page.
This can lead the wrong page to rank, or even worse, not have either page rank at all due to the confusion it causes for search engine crawlers.
Review content beforehand, identify the strongest of the pages (based on metrics including visibility and traffic), and come up with a different optimization strategy for other pages — or you could remove the others (using 301 redirects to their URLs) so that only one page is left.
If removing is not an option, use rel="noindex" tags or canonicalization instead.
HTTP Issues
The HTTPS report in the Site Audit highlights security issues, such as links on HTTPS pages leading to HTTP pages. The tool also alerts users on website architecture problems relating to HTTP.
HTTP issues may occur with eCommerce sites that have moved their domains to HTTPS. HTTPS is an important ranking signal; therefore, addressing HTTP errors is critical for SEO purposes.
No Schema markup
The tool also checks for markups, informing you of what percentage of your website uses Schema (microdata only). 
For ecommerce sites, not implementing rich results is to miss out on a valuable chance to stand out from your online competition in the SERPs. Research by HubSpot shows that it can increase click-through-rates by up to 30%.
Adding relevant structured data from Schema.org can help to boost an ecommerce site's visibility, and it is easy to set up.
Content Marketing for eCommerce Sites 
Create Content Your Audience Wants to Share and Link To
Having a blog to support your ecommerce site is an excellent opportunity to use informational long-tail keywords from your keyword research, and creating high-quality content based on them and existing product pages.
Take online store ASOS as an example; they have created engaging, visual content around its product pages through blog posts and buyer guides: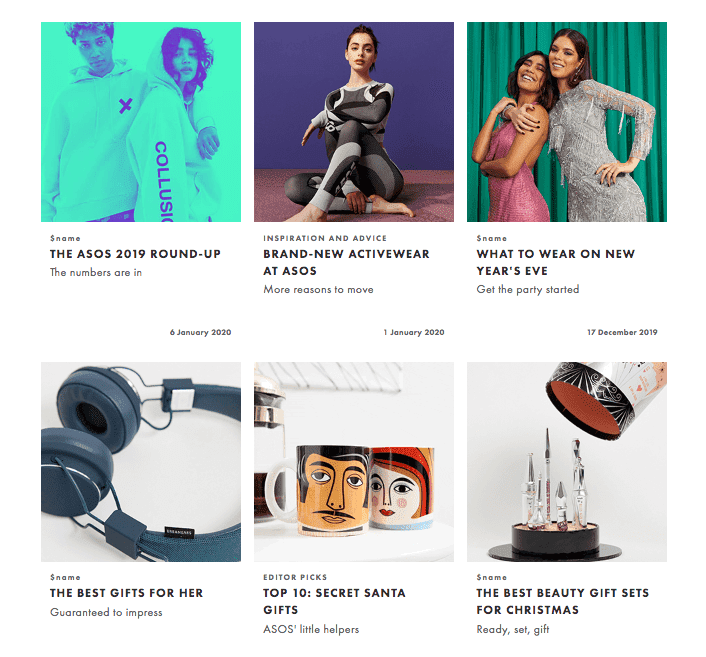 Stuck for ideas? Semrush's Topic Research tool can also help you generate ideas for new articles and topics to write about by finding topics and questions with strong SEO potential. 
Leverage the Power of Social Media
By publishing compelling content often and sharing it across social media (as well as enabling social media share buttons for product pages), this will likely positively impact your product and category pages in the SERPs.
This is because building your social media presence helps create site authority. Growing customer recognition, as well as accumulating backlinks from other sites through these channels, sends the signal to search engines that your site is authoritative.
Partner Up with Influencers and Brand Ambassadors
Influencers and brand ambassadors are those within your industry (that aren't direct competitors) that have either a high domain authority achieved through their website, or have a large following on social media, usually on Instagram, YouTube, or Twitter.
Working with people others trust is worth it for ecommerce sites, boosting sales and traffic. On average, for every $1 spent on influencer marketing, brands make a $6.50 return on investment (source: Tomoson). Influencer campaigns take various forms, such as the one below. 
In this Instagram post, Kimberly Espinel (a plant-based food blogger) partnered with muesli firm Dee Muesli to create recipes using their product and shared them with her followers.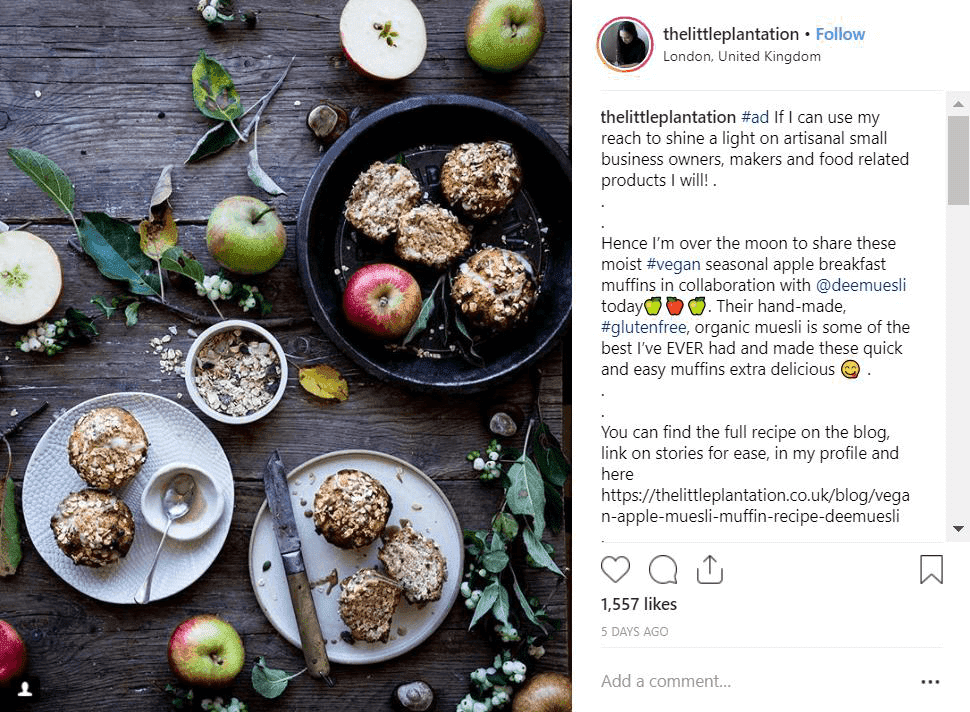 Source: Oberlo 
Influencers also fulfill an important SEO purpose, too — valuable backlinks. The fundamental aim is to have them link your product from their site, which can be achieved by building a relationship with them. You can do this in a myriad of ways, including sharing and commenting on their posts, sending free products, or simply contacting them outright.
Make sure that any links include a rel"sponsored" attribute, as Google views products gifted to influencers or brand ambassadors as being paid. Without this attribute, the link violates Google's webmaster guidelines.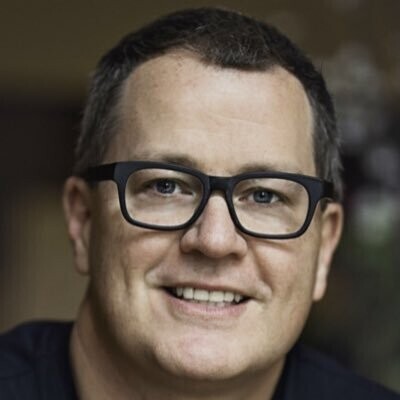 Backlinks (Gift Cards) - Influencers will often work in exchange for free product. It's one of the most natural ways to do link building for e-commerce brands and partnering up with the right influencers can lead to tons of traffic and potential sales.
Using Video Content
Including videos in your content marketing strategy is an absolute must. 90% of consumers say that video content helps them with their purchasing decisions, and in the graph below, it's clear that order values increase in accordance with the number of products viewed.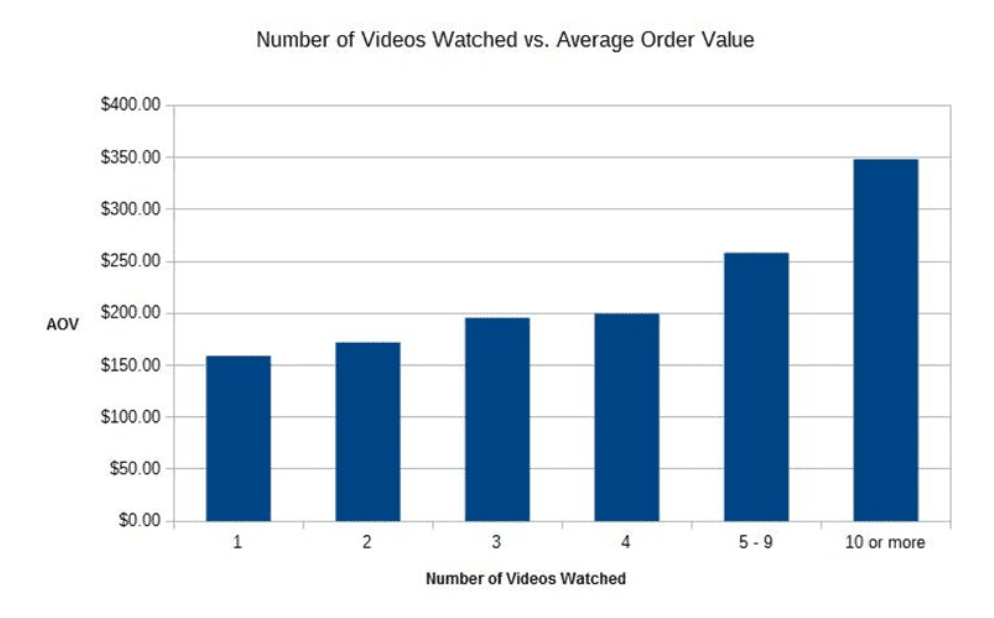 Source: Quicksprout
What's more, these can be repurposed across multiple channels, making them a worthwhile investment.
Link Building for eCommerce Sites
Links remain one of the top three ranking factors for Google, which is why it is critical to have a solid SEO strategy for an online business.
Find Broken Links to Your Pages
Through the Semrush Backlink Audit Tool, you can identify backlinks you have to your site from other authoritative sites, identify any broken links, and then reclaim them.
Find Sites Linking to Your Competitors But Not Your Pages
The Semrush Backlink Gap tool can help you compare up to five competitors' websites, listing the referring domains that are driving links to these sites. This tool also reveals gaps between link building strategies amongst your competitors, providing you with a great chance to reach out and build further links.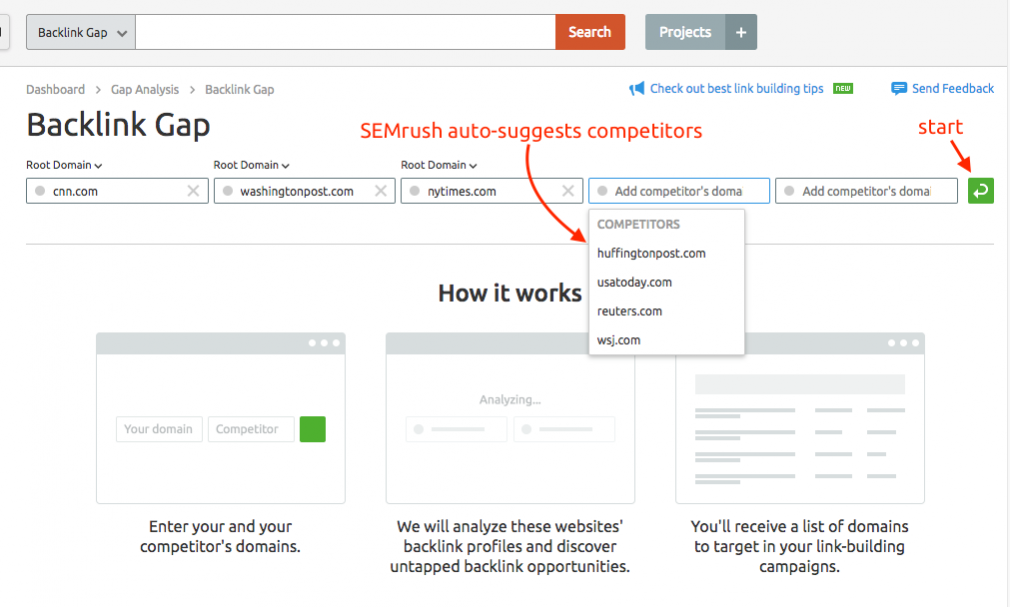 Research Groups and Events on Social Media
Unique referring domains matter when it comes to building backlinks, but how else can you find them besides the Backlink Gap tool?
Finding groups or events related to your niche on Facebook is one route to look into. Similar to using influencers, you can offer your products and ask if these could be featured within the group, or in coverage of an upcoming event.
However, don't forget you need to focus on attracting high-quality inbound links, as you could be penalized by Google if a number of low-quality ones are linking to your site.
Get Links from Your Suppliers or Distributors
This is an easy way to get an authoritative backlink. If you are a reseller or retail eCommerce seller, contact the supplier or distributor that creates lists informing people where they can purchase the products and ask for yours to be included too. This example below of Tabitha Simmons vendors is the type of list you want your site to be on: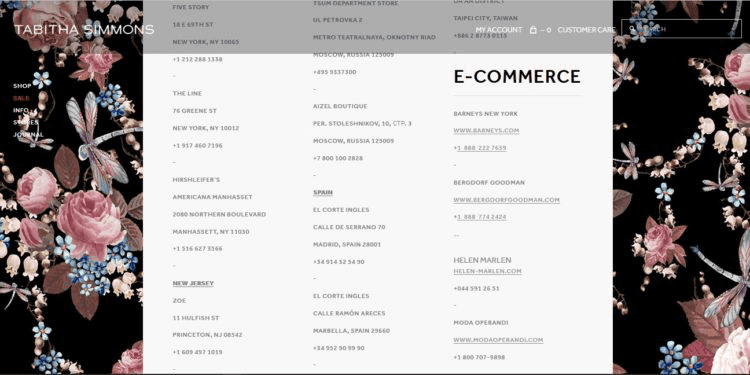 Source: BigCommerce
Organize a Creative Campaign to Promote a Product
Product PR can have a huge impact on SEO if done correctly. Take a look at the Missguided case study created by Rise at Seven PR. Spotting the opportunity to create an engaging story on dog jumpers that the ecommerce site sold (which at the time had a low product URL ranking), the PR found a similar women's jumper on the site and matched them. 
It was an immediate success. After launching online on social media, it landed over 30k engagement in just under an hour, before becoming a full-blown campaign and gaining over 60 links from US, UK, and EU publications.
As a result, Missguided has now gone from position 30 for dog jumpers to the number one ranking position in the SERPs in just a few months.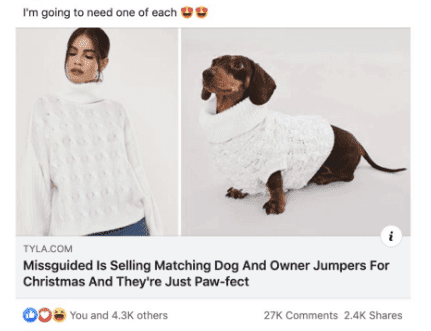 Guest Posting 
SEO for an ecommerce site may include guest posting too. In a recent survey we carried out involving 850 SEO professionals on the most effective link building strategies, guest posting still remained the most popular tactic, recommended by over 53% of those questioned. 
The value of guest posting is that not only can you increase the visibility of your site through this type of link, but you can also link back to them too, making it a win-win for both. But make sure that this guest posting is relevant to your industry or niche.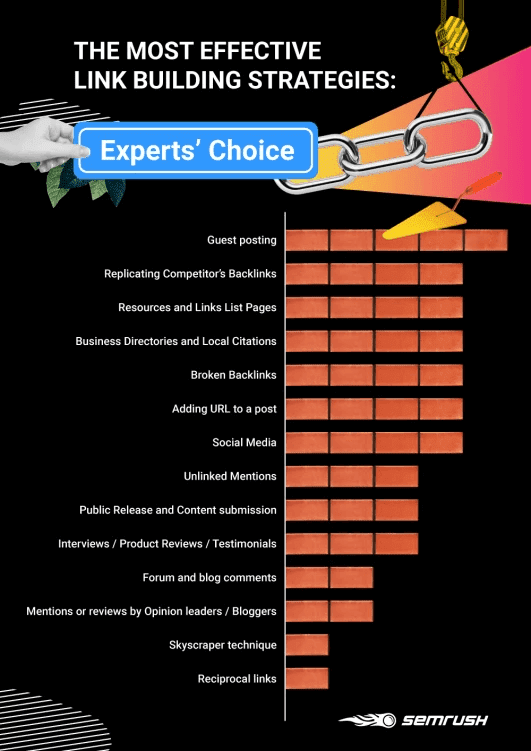 Looking for more link-building tips and ticks? Take a look at our link building for SEO guide to find out more about SEO techniques for ecommerce websites.
Local SEO for eCommerce Websites
Local SEO for an ecommerce website refers to optimizing your products and business for location-specific search queries. Therefore, local SEO is only relevant to those with physical stores. But with 46% for all Google searches looking for local information (source: HubSpot), it is vital for those who do to have a solid local SEO strategy in place.
Here is how to increase your chances of appearing in a local search result.
Create a Google My Business Listing
Not having a Google My Business page is missing out on a huge visibility opportunity for your brand in a local search result. Claim your business and ensure you take the time to fill out all Google My Business sections. 
In the example below, you can clearly see all business information Google has found, and it even includes product information, but the business is not claimed. They are missing an opportunity to add a lot of information.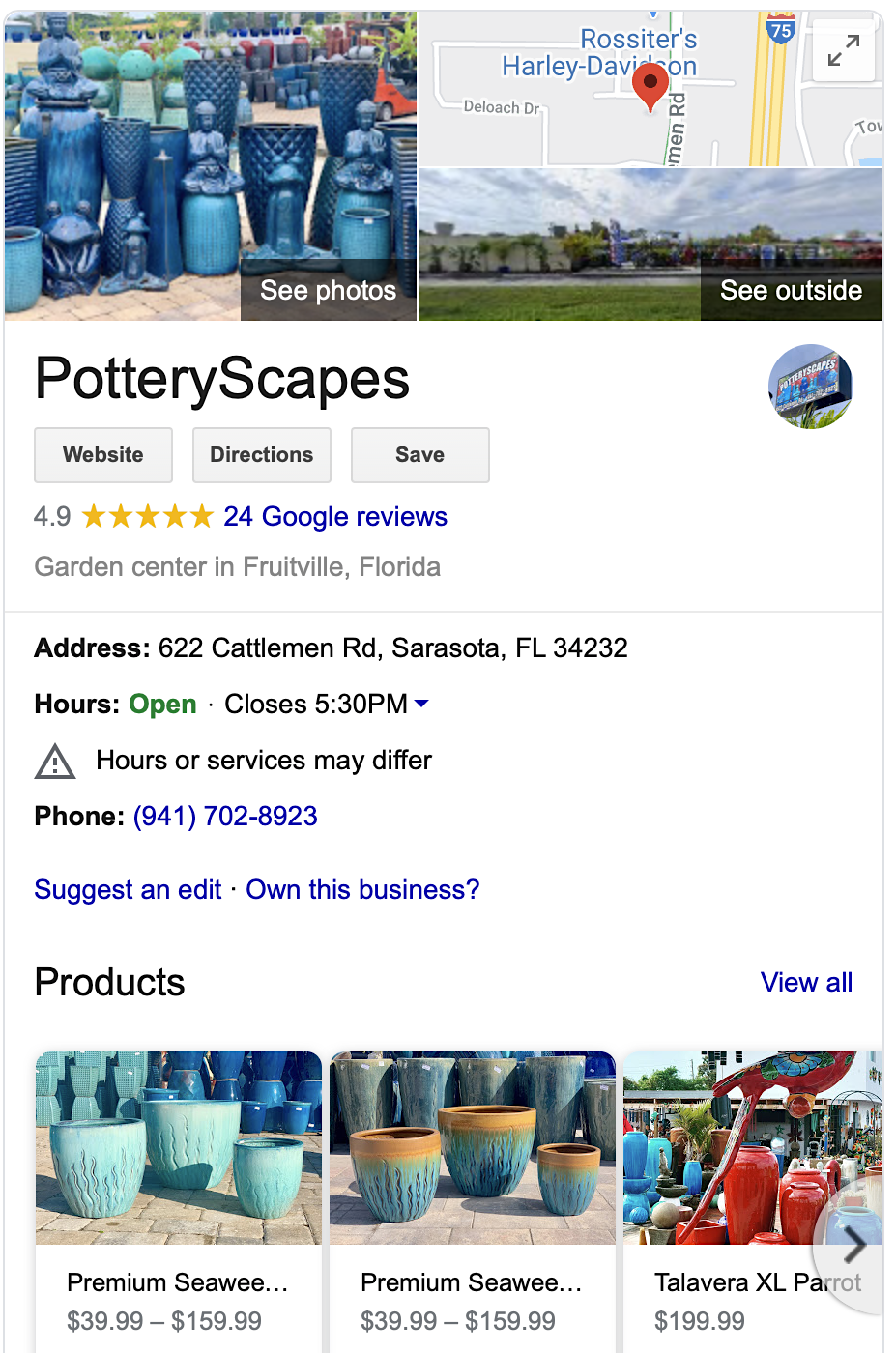 Build Local Citations 
One of the main Google My Business ranking factors is prominence in the local area, which you can build through local citations (online mentions of your company and location). It is recommended to look out for niche-specific directories in your area — you want to aim for mentions from the most authoritative business listings for your site.
eCommerce SEO: Some Final Best Practice Tips 
Ensure Your Site is Secure
Making sure your site is using HTTPS rather than HTTP is critical for eCommerce stores. Not only does it ensure encryption of your site so that users' personal details are secure, but it also counts as a ranking factor.
Optimize for Mobile First
As our research on ecommerce growth shows, mobile traffic now dominates eCommerce globally.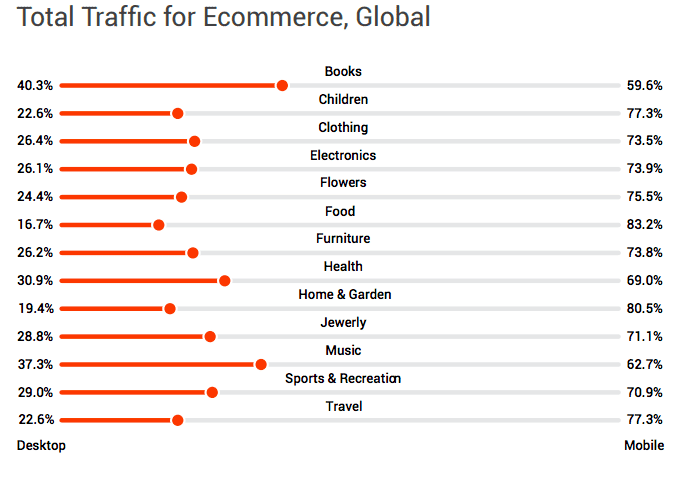 In 2021, mobile-first indexing is vital for ecommerce stores to make sure sites are mobile-optimized now more than ever. 
This means providing users with a fully responsive site on mobile and paying attention to site speeds too. Otherwise, you could lose sales. 
Optimize Pagination
For ecommerce sites, pagination typically comes in the form of 'load more' buttons or numbers of product pages at the bottom of the page. 
Optimizing pagination to be as search-friendly as possible is necessary for eCommerce sites, especially those with many products. These can often have deep site structures, which affect crawlability and should be avoided.
Want to find out how to optimize pagination? Take a look at our advice for SEO-Friendly Pagination Strategies for eCommerce here.
Optimize Your Checkout Process
Providing a great user experience is hugely important for SEO and for return custom. One of the best ways of doing this is by making the checkout process as easy and fuss-free as possible. 
Here is an example of an excellent checkout page by Monki (source: Contact Pigeon)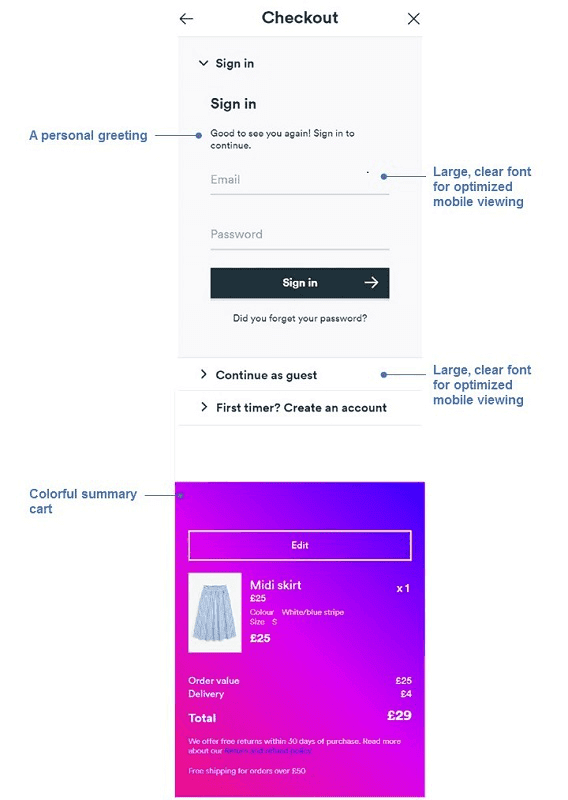 Encourage Your Customers to Review Your Products and Services
Online reputation management counts. For eCommerce sites, that means online reviews matter more than ever before: 85% of consumers trust them just as much as a tip from a friend or family member. They also count as a ranking signal.
Send a follow-up email after a customer has received your product requesting a review or create a small pop-up on your site that encourages users to leave a review without too much effort required (such as a signing-up). 
Semrush's Brand Monitoring tool can also help you keep an eye on your online reputation.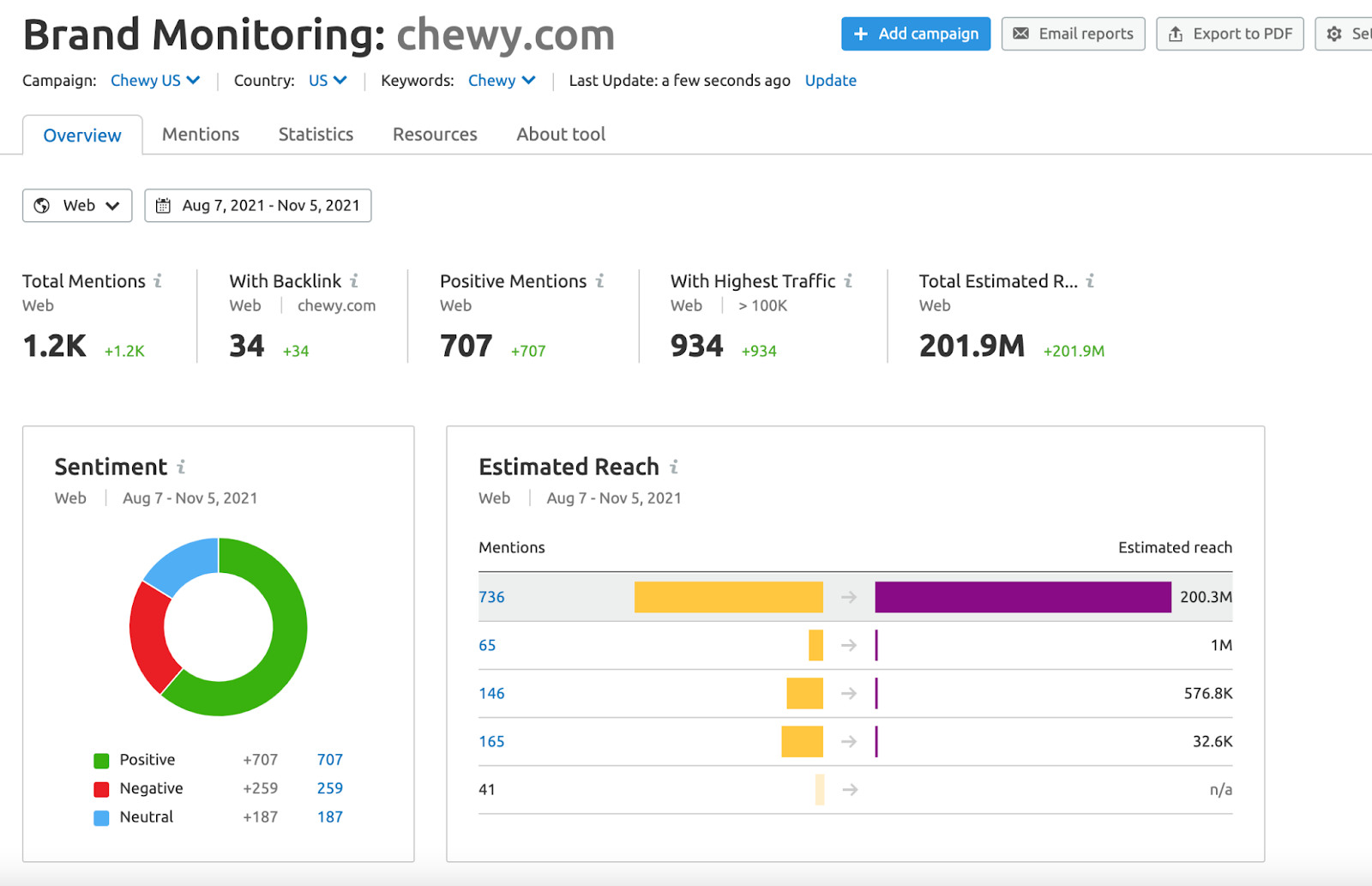 Deal with Out of Stock and Discontinued Products
If an item is out of stock, you want that specified on a page and add a recommendation for similar products. You can also include a "contact me when it is available" option.
Second most common error I see: 404s from unavailable product pages. Never take down a page when a product is out of stock!
#SemrushChat
If an item is discontinued, but the page ranks highly, you have two options:
1). Leave the page and make it a comparison page or a historical page with info about the product that people may need later. Provide options to similar items on your site.
2). Redirect the page to another page.
A 301 redirect takes users and search engines to a new URL. If you delete a page and don't redirect or if you use them incorrectly, it can impact your SEO due to indexing errors — it affects traffic as well as the overall user experience. Check out our guide to learn how to implement 301 redirects.
Summary
SEO strategy for eCommerce websites can be complex and take time to carry out, but if you follow our advice provided in this eCommerce guide, it is certainly worth the effort. Through thorough and correctly-implemented optimization, you can yield potentially far higher click-through rates and sales than through paid search.