Google Display Network (GDN) is a collection of online sites, apps, and digital spaces where image-centric display advertising is deployed. The network helps businesses reach target consumers on the websites and apps they most use as part of their browsing experience. For example, consumers may view ads while watching a YouTube video or checking Gmail. 
While many brands may be well acquainted with Google Search Ads, some are hesitant to expand into Google display ads. It is well worth the leap. Google Display Network has the power to help you reach 90% of the global internet right where your target customer browses. Their ads appear across over two million websites, 650,000 apps, and 65% of comScore's top 100 sites — a renowned resource that evaluates popular media. In fact, comScore reports that 210 million unique visitors in the United States view ads served via the Google Display Network monthly. 
While SEMrush has compiled studies on many subsets of advertisers and their target demographics, this study focuses on ads launched within the business & industrial sector. The data below is broken down into two categories—ads produced by advertisers, which are displayed on third-party sites, and ads displayed by publishers. 
The research is based on more than 96 million impressions from the top GDN advertisers and 24 million impressions from the top GDN publishers across almost all English speaking countries like the US, UK, India, Canada, Australia, and the Netherlands. All of this data was pulled from the  Display Advertising Tool, and it is all fresh, as it was sourced within the last three months.
Research Methodology
SEMrush compiled a list of the top 61,462 GND advertisers and 63,823 top publishers, and then divided them up by industry. With the help of the Display Advertising tool, SEMrush collected relevant data from the past three months and then rated each individual domain on a scale from 1 to 100. This score was based on internal algorithms, which defined how closely each domain related to the industry at hand.
Key Research Findings
Targeting your audience with the right ads is key to ensuring they convert. While the most popular ad types are banners, native ads, and social media ads, they can still turn people off if they are irrelevant. According to VPN Mentor, irrelevant ads are one of the top three motivations for ad blocking in 2019, and Blue Corona reports, they are the leading reason business buyers limit engagement with B2B vendors.
To help you craft relevant ads, be sure you leverage data and insights — such as that included below — on target audience demographics, interests, and behaviors. Here are the top insights from our 2019 report on business and industrial display advertising.
Millennials & Gen Xers Drive Engagement
Advertisers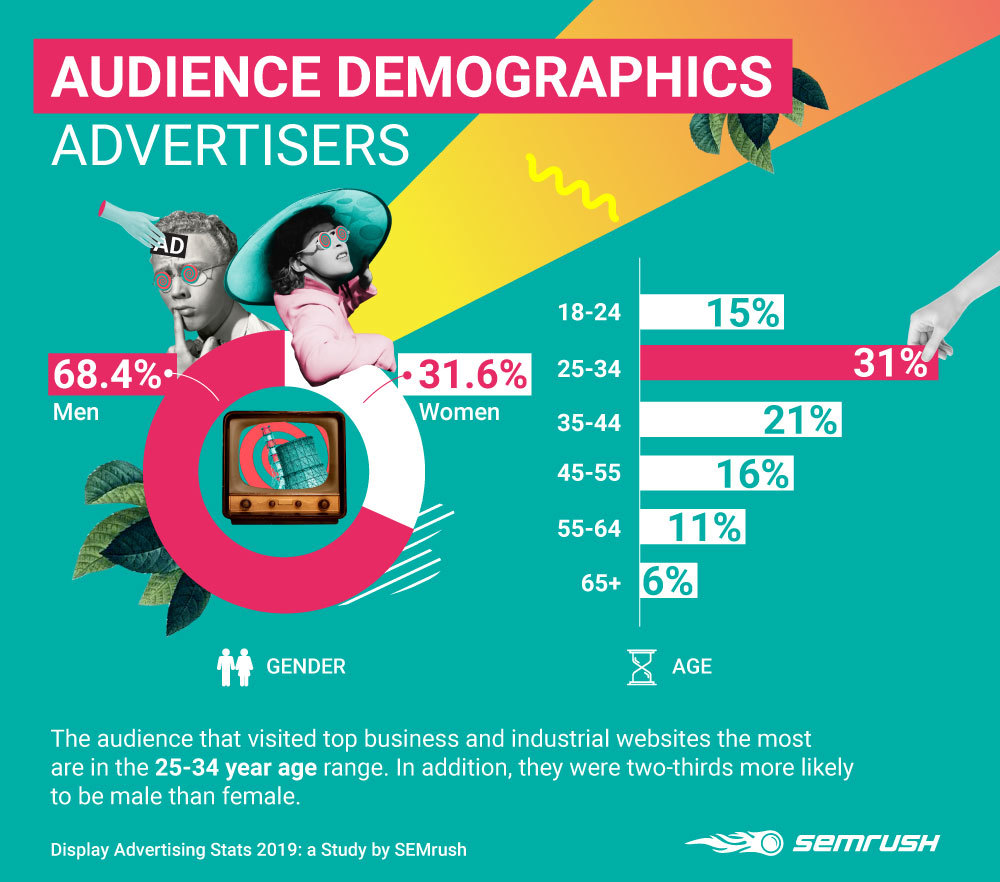 The audience that visited top business and industrial websites the most are in the 25-34 year age range. In addition, they were two-thirds more likely to be male than female. 
As you craft your ads, consider what ad elements make this demographic most likely to convert. For example, in a Brightcove study, 46% of 18-34-year-olds said they preferred video as the primary form of brand communication; 85% of them also reported having purchased a product or service after viewing a video. Moreover, while men prefer bright colors in ads, females prefer softer colors. 
Publishers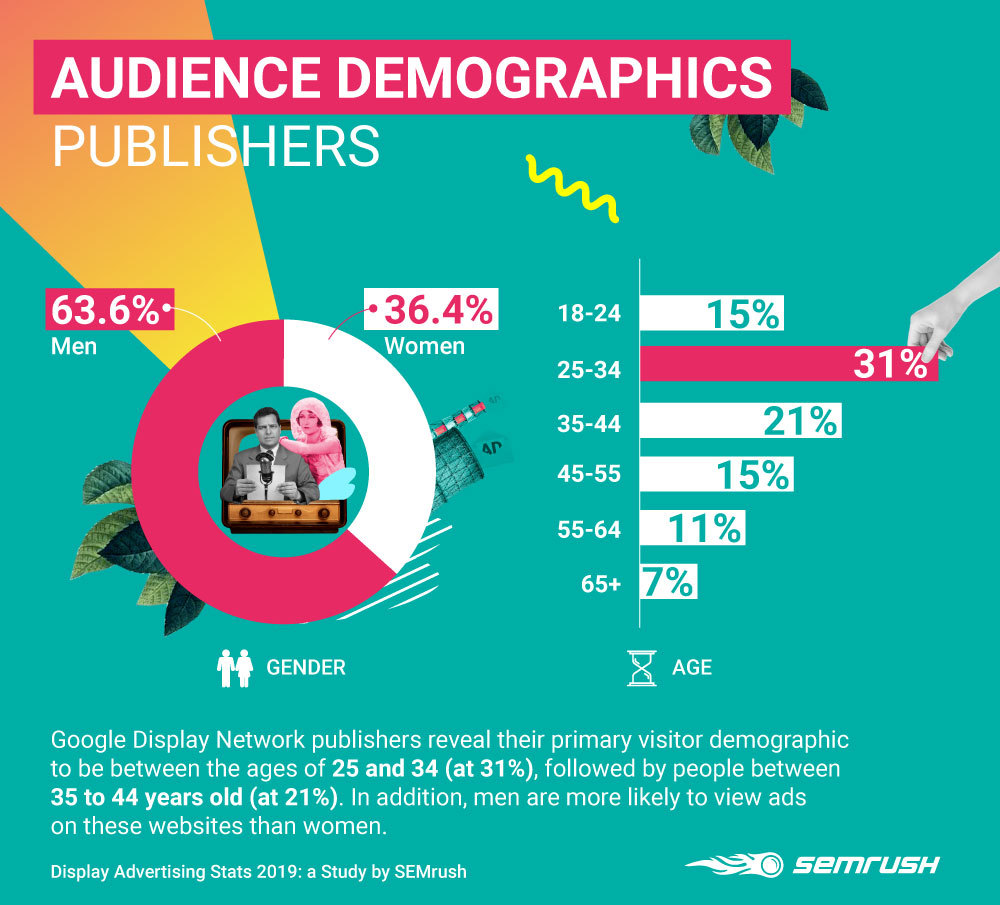 Likewise, Google Display Network publishers reveal their primary visitor demographic to be between the ages of 25 and 34 (at 31%), followed by people between 35 to 44 years old (at 21%). In addition, men are more likely to view ads on these websites than women. 
Expand Your Reach — Target by Common Interest
Advertisers
As your customers work through the customer journey, it is important to look for ways to keep them moving toward a sale with relevant ads that aren't hampered by competition. If you have already saturated your go-to advertising websites or platforms with ads, begin looking for new ones. One way to do so is to look at the sites your target audience often frequents that are outside the business and industrial niche. 
To help you do so, we gathered the top five topics that interest business and industrial advertiser audiences. We found that almost 29% of business and industrial audience members also like the home and garden topic. Another 17% like the topics of internet and telecom. Though these were the top interests, many also like computers and electronics, jobs and education, and autos and vehicles.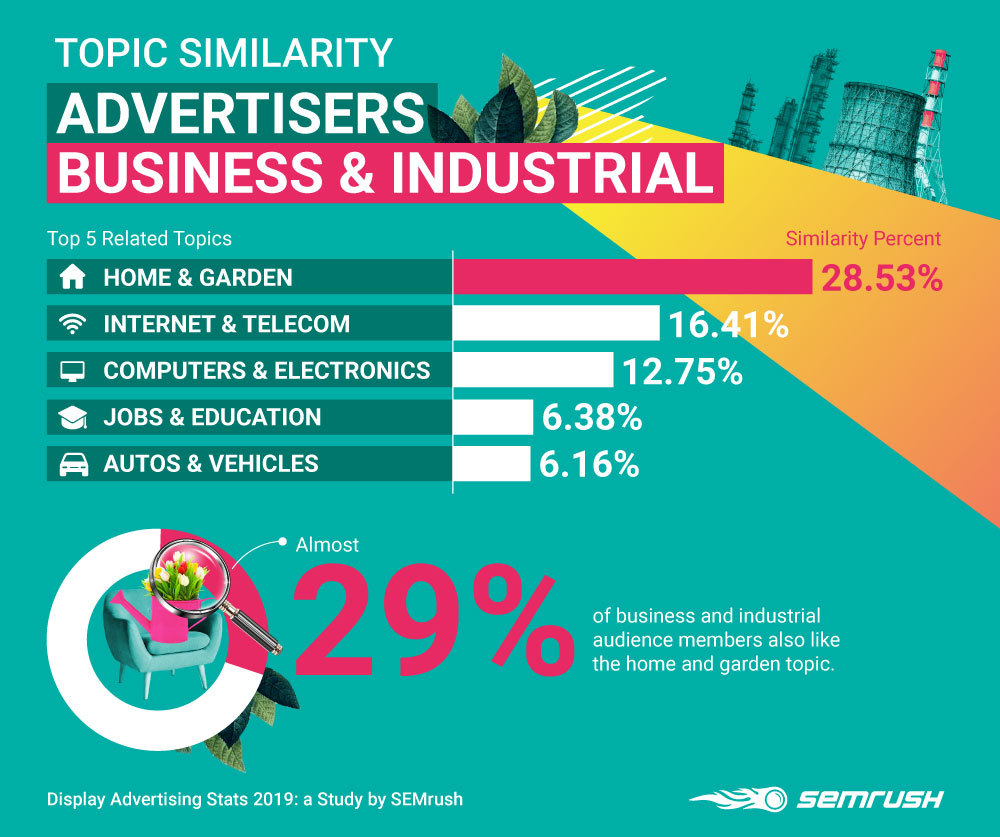 Publishers
Similar to advertiser audiences, 23% of the audiences who viewed ads from the top business and industrial GDN publishers are likely interested in the internet and telecom topic, followed by home and garden (14%). A smaller percentage are interested in jobs and education, autos and vehicles, and travel topics.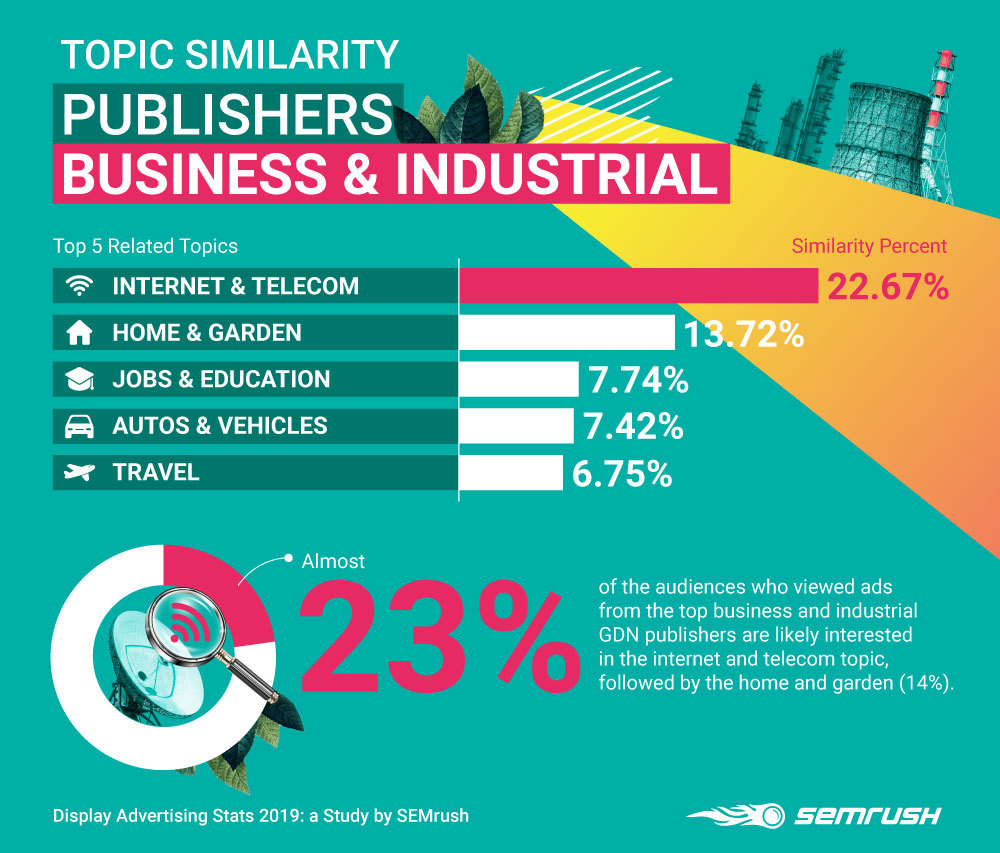 By crafting ads for websites covering these topics, you run a good chance of reaching new members of your target audience. Experiment with ad placements to find the ones that most often lead to conversions. If the audience on similar-interest sites is more often one gender or age group instead of another, learn what their ad preferences are and craft ads that align with them.
Much of this research can be done using SEMrush's Display Advertising Tool. It allows you to analyze which types of ads are used most frequently by niche, and look into other advertisers' GDN strategies. Insights you can gain include the demographics they target, their ad placements and formats, their ad copy and formats, and how well they convert. 
Target All Devices Buyers Use
Advertisers
It has long been thought that different industries and demographic groups use different devices, underscoring the need for device targeting in advertising. Instead of choosing one, business and industrial advertisers should target multiple devices. Our research shows the devices of ad audiences are divided almost equally across Mac, PC, iOS, and Android devices.
Publishers
Compared to business and industrial advertisers' targeting, business and industrial publishers receive about the same distribution of impressions from all devices. That is, devices from desktops and Android phones to tablets and mobile iOS phones are used relatively equally (18-21% each) to view publisher site ads.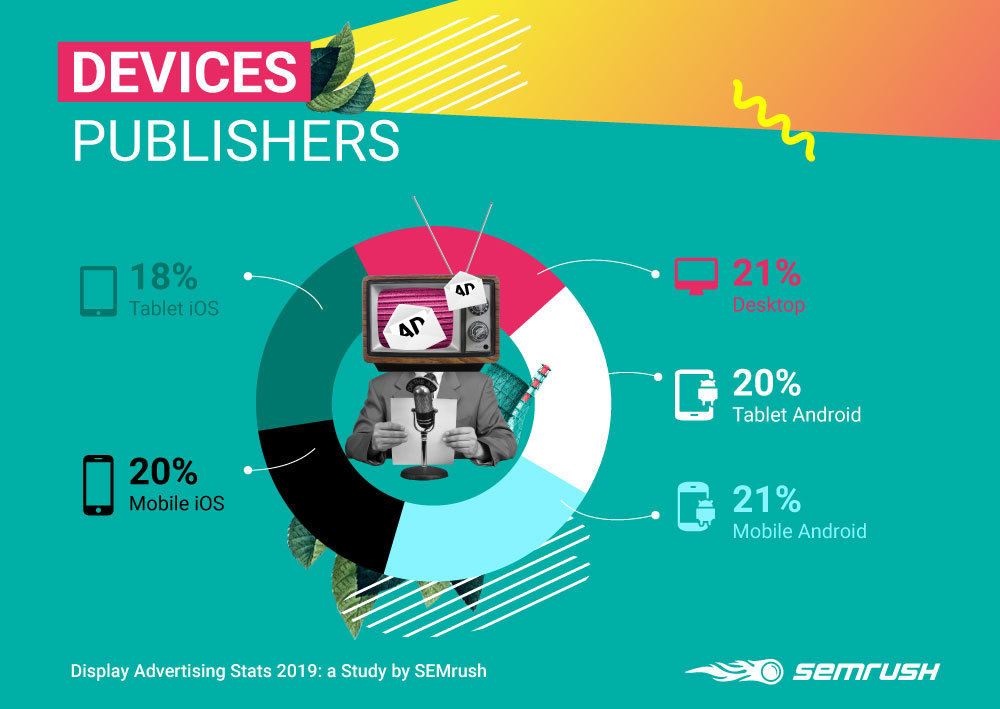 While this data is useful as a starting point, be sure to double-check these numbers for your own business and industry. One way to get an idea of the types of devices your audience uses is to input your closest competitors' websites into our Display Advertising Tool. In the "Display Ads by Device" report, you can see what device mix your most successful competitors target. Consider these insights as you choose the devices your ads target. 
Ad Sizes
Advertisers
The size and placement of ads help advertisers ensure that they capture their target market's attention. Our study revealed that the top-used ad by advertisers in the business and industrial sector was the 728x90 pixel "leaderboard" ad. This was followed by the 300x250 "medium rectangle" ad, then (closely) by the 366X280 "large rectangle" ad, the 488x60 pixel "banner" ad, and the 160x600 "wide skyscraper" ad.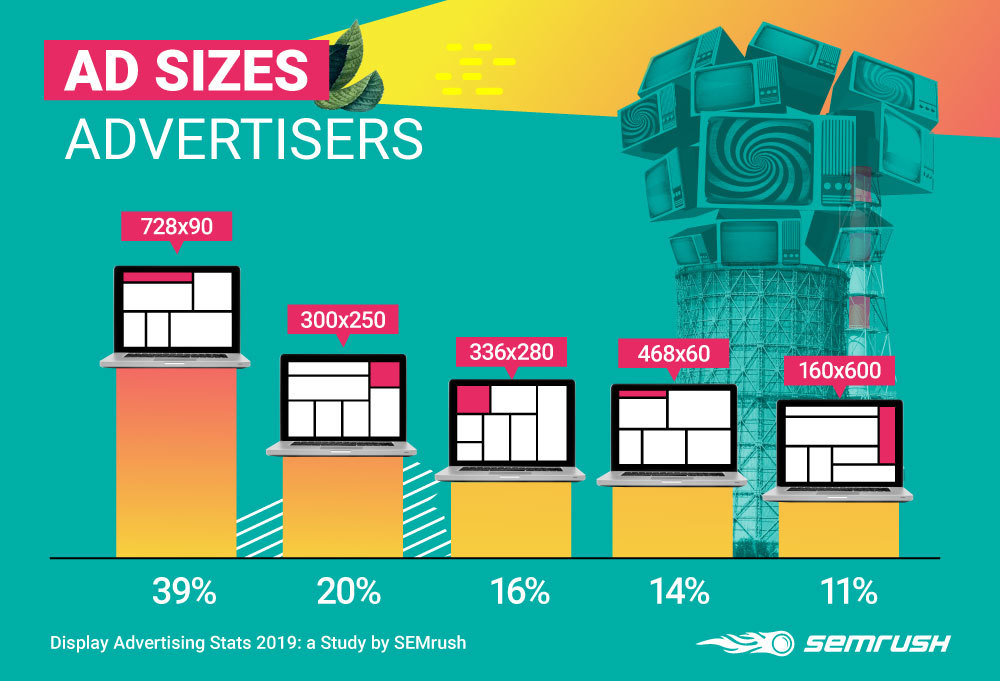 Let's take a closer look at these to highlight the pros and cons.
To start, the 728x90 leaderboard ad was used 39% of the time by advertisers. This kind of ad appears in a large rectangle space at the top of the page. Its advantage is that it often has more inventory available compared to smaller banner ads and is very visible above the fold, making it an attractive option for both text and imagery.
Advertisers use 300x250 pixel "medium rectangle" ads 20% of the time and the 336x250 pixel "large rectangle" ad 16% of the time. These ads tend to perform best when embedded within text content or at the end of articles. They also covert best when both text and image ads are enabled. 
The 488x60 pixel "banner" ad fits in smaller spaces than some of its counterparts, which gives advertisers flexibility. The downside is that its ad space is limited; this makes conveying a complicated ad message more difficult. 
Finally, the 160x600 pixel "wide skyscraper" ad enjoys plenty of inventory. This means it often performs well, especially when text and image ads are enabled. It is best used alongside web page sidebars.
Publishers
Top business and industrial publishers clearly favor leaderboard ads above any other ad type. No surprise; the leaderboard ad offers plenty of advertising inventory, helping to boost its performance and immediately grab viewers' attention, even on mobile devices. In fact, this ad type is one of the top three performing ad types on mobile.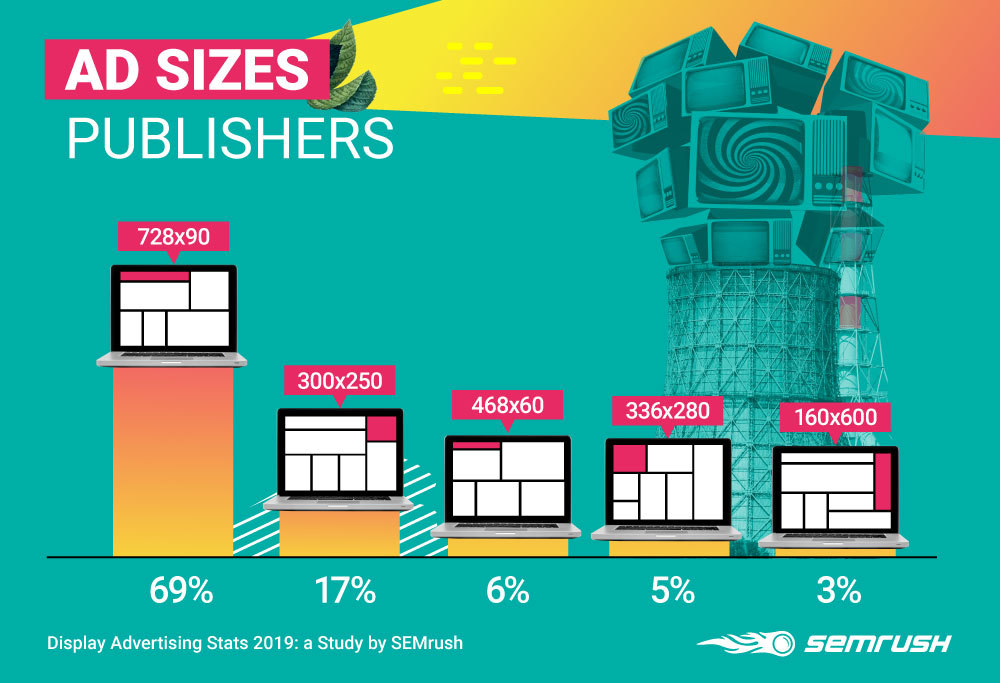 As mentioned above, it is important to check this information against what ad sizes your competitors' are using. This is easy to check in the Display Advertising Tool. Simply type in your competitor's domain, then choose "Display Advertiser for Publisher." Scroll down to find the "Sample Ads" report to view the ad types and sizes your competitor uses and how often. 
Use Responsive Ad Content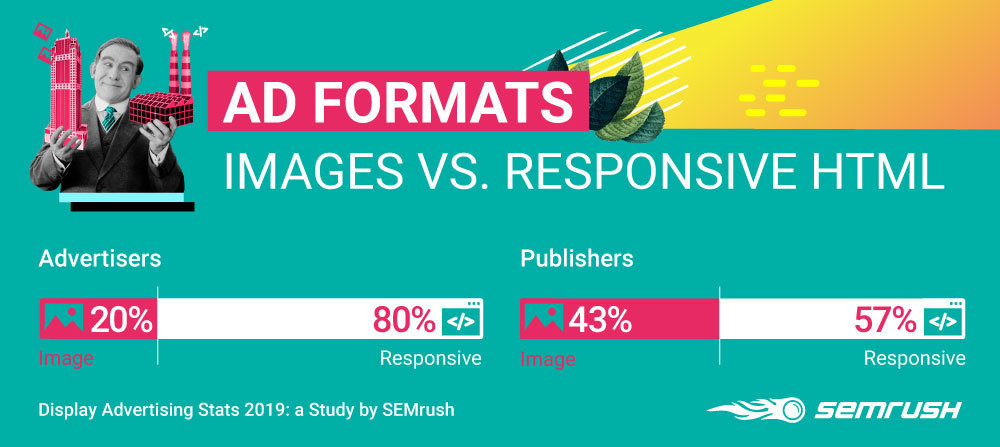 Responsive ads clearly dominate advertisers' choices in the business and industrial sector; image ads are used 20% of the time, advertisers opt for responsive ads 80% of the time. Publishers also favor responsive ads, though not as overwhelmingly as advertisers.
As mobile devices become almost ubiquitous, it is critical that ad content is displayed attractively on smaller devices. While images can be resized, their content merely gets smaller and harder to read. Responsive content, on the other hand, is forced into a mobile-friendly layout and design that encourages conversions.
Responsive ad creation is part of Google advertising. Advertisers can simply upload all of their ad assets, including images, headlines, logos, videos, and descriptions. Then, Google automatically swaps out and combines elements to create ads, ad formats, and ad sizes that are likely to perform the best based on the ad slot and the advertiser's ad performance history. 
Top Publisher To Watch: DoubleClick.net
The following list of the most popular publishers in the industry gives you a place to start when considering and testing ad placements. You can choose these publishers when building setting up ad campaigns on the Google Display Network; they will likely get you the traffic you need to see if your ads are resonating with target audiences.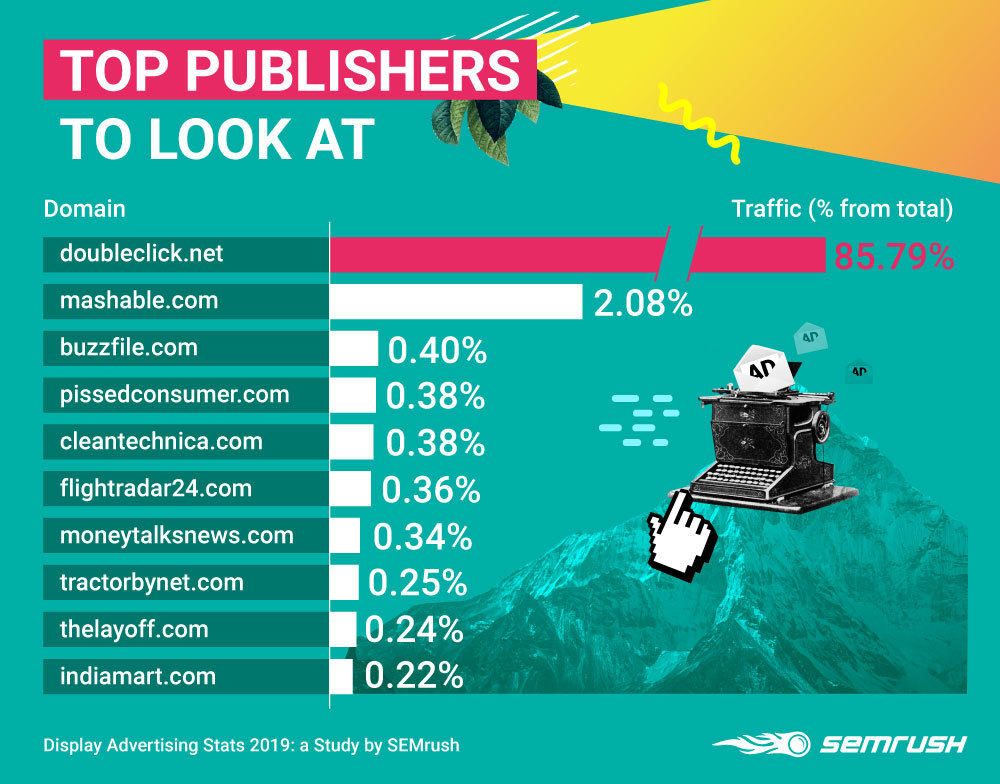 Doubleclick.net seems to be by far the most popular ad placement site among advertisers with an 85.79% usage rate. Mashable.com is the second most popular but is much less so with a 2.08% usage rate. Still, you may find that a publisher with a less saturated space brings you more returns due to less competition.
What This Report Means for You
Advertisers in the business and industrial industry — including both publishers and advertisers — can leverage the above findings on demographics, topic areas, devices, and display sites to secure the greatest returns for their ads in 2019. 
To begin, consider testing some of these top-advertiser practices: 
Target across devices equally. 

Use responsive ads to ensure your ads perform best wherever they are placed. 

Start by testing out leaderboard ads, followed by medium rectangle ads.

Add our list of recommended publishers to your testing placements. 
While these practices work well for top advertisers, do your due diligence to ensure they work for you, too. Use the  Display Advertising Tool to supplement these insights with the best practices of your closest competitors. Then, create and split-test ads to find the devices, ad types, placements, and formats that appeal most to your target audience.
Now it is time to explore the entire infographic!