Increasing ad relevance is the holy grail for digital advertisers. And who can blame them? Better ad relevance helps keep your Google Ads costs low while also granting you more visibility and a higher ROI.
Ad relevance is a one-way ticket to a successful ad campaign. But where do you start improving your ad relevance and how can you hit this marketing jackpot? Let's find out. 
Set Up Your Google Ads Campaign in Your Google Ads Account
You might still be researching whether a Google Ads account is right for you, or maybe you've already started your first campaign. Either way, it's important to review the basics before anything else. Setting up a great campaign with Google Ads enables you to easily optimize it later if priorities change or roadblocks arise. 
How Does a Google Ads Account Work?
Google Ads operates on three levels, organized hierarchically:
Account: If you use any Google product, like Gmail, you already have an account. If you have any doubts about this, consult the Google guidelines.
Campaign: You can create an account even if you don't have a campaign, or you can open a new account and set up a campaign right away.
Ad groups: These let you organize and target your ads. Each ad group contains one or more ads as well as the keywords that will trigger those ads.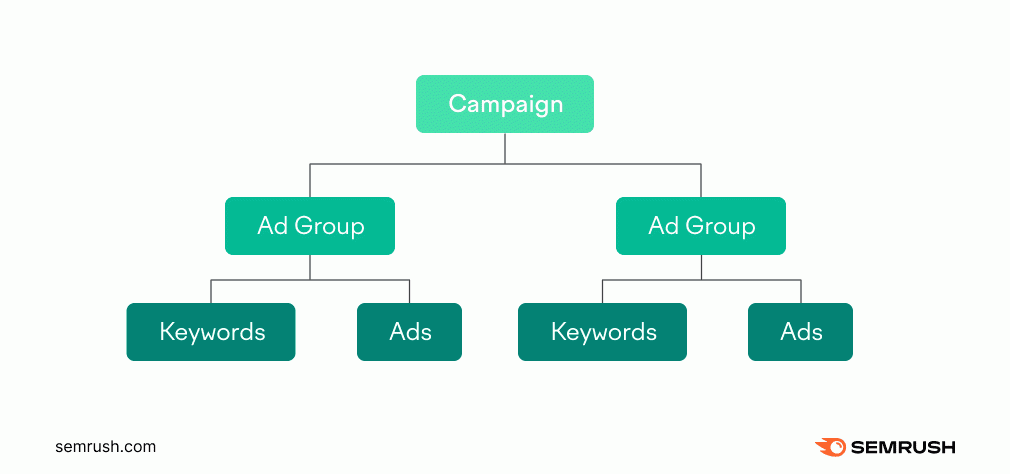 You can have multiple ad groups in each campaign because ad groups represent a smaller and more specific scope of your business in comparison to their campaign.
For example, let's assume you sell mountain sports equipment, and you want to set up an ad-hoc campaign for mountain shoes. You might decide to focus on "trekking shoes" for ad group 1, "climbing shoes" for ad group 2, "mountain boots" for ad group 3, and so on. 
| | | |
| --- | --- | --- |
| Ad Group 1 | Ad Group 2 | Ad Group 3 |
| blue trekking shoes | rock climbing shoes | white mountain boots |
| trekking shoes for kids | climbing shoes sale | mountain boots mens |
| best trekking shoes | women's climbing shoes | mountain climbing boots |
If a campaign represents one category of your business like mountain shoes does in this example, the ad groups represent a specific set of products such as hiking or climbing shoes. It goes without saying that when you create your ad groups you must pay close attention to the keywords you choose. 
Pro tip: You don't need a website to create your first campaign with Google Ads. When setting up your account, choose Smart mode over Expert mode, and you're all set.
Campaigns, Ad Groups & Keywords
To make your ad relevance as high as possible, you don't want your Google ads to pop up when a user searches for something irrelevant to your business. That is, if they search for dancing shoes, you don't want your ad about climbing shoes to appear.
A good rule of thumb is to keep in mind which landing page you want the user to end up visiting when you create each ad group. For example, an ad targeting the keyword "kids climbing shoes" should lead to a page with only kids climbing shoes available for purchase.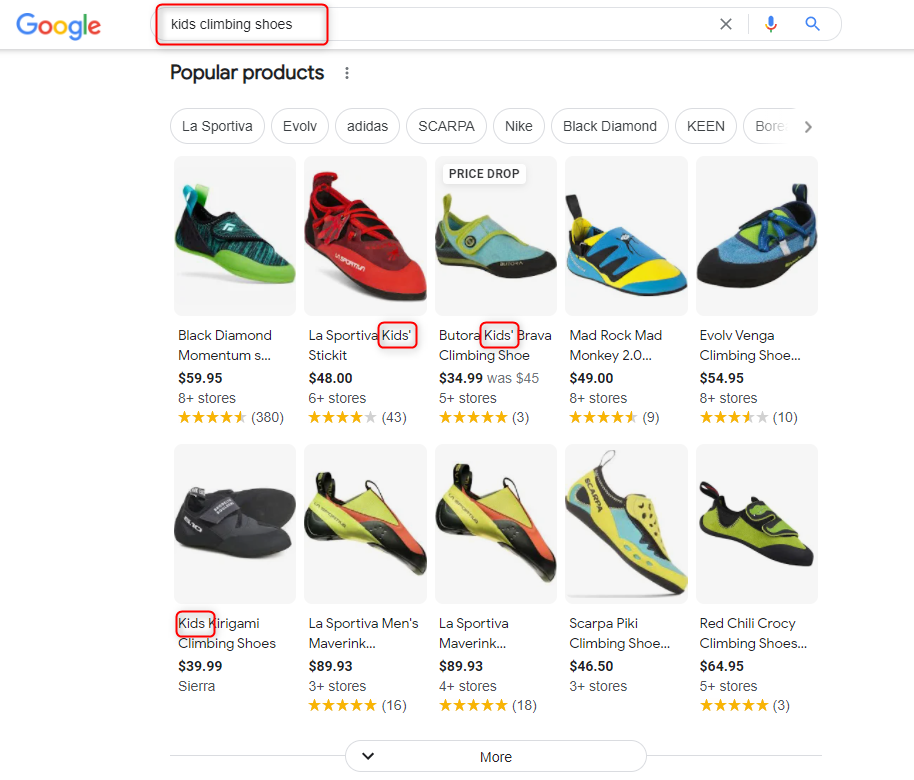 If each ad group is tightly themed, you can use the campaign level in your Google Ads account to keep your ad groups organized. At the campaign level, you can also manage how much you're spending for each business category and how well your Google Ads are performing by checking your daily budget and geographic and language targets.
Pro tip: The ideal account structure should mirror your website menu. If you choose to divide your website menu by mountain sports, then each campaign should cover one sport. 
What Does Ad Relevance Mean?
Ad relevance refers to how Google defines whether an ad campaign matches the user's search intent. If a user searches for "climbing shoes" but your ad for mountain boots appears, that ad is not relevant to the user, and they probably won't click on it. The reason the wrong ad might pop up mostly has to do with the keywords you use and your ad copy.
If the search query is found directly in your ad's headline and if the post-click landing page matches the ad, it is considered to be relevant. The clearer the connection between your keywords and ad copy, the higher your ad relevance will be.
Ad relevance is directly influenced by the keywords you decide to target. This is important because Quality Score is partly measured by ad relevance. Working to boost your Quality Score actively helps you keep your cost per click low.
How to Find the Perfect Keywords for Your Google Ads 
Now that you know how to set up your Google Ads account, it's time to find the perfect keywords for your campaign. Google Keyword Planner is a valuable first step for simple keyword research, but if you want additional resources we recommend our Keyword Magic Tool. 

Build a Generic Keywords List 
The Keyword Magic Tool is a powerful SEO tool to use to build a master list of keywords that can be valuable for your ad campaigns. Select the keywords you'd like to bid on and analyze their search volume and competitive difficulty. Then, organically group the keywords you'd like to target and split them into subgroups. 
Once this preliminary phase is completed and you have a generic list of keywords, it's time to optimize the list using Keyword Manager. Remember that the better your targeting, the higher your ad relevance will be. 
How to Add Keywords in Google Ads
Whatever tool you use to create the generic keyword list, our PPC Keyword tool is exactly what you need for the next step. Feel free to manually add every single keyword into the tool, or decide to take advantage of a few automatic settings: 
Import keywords from an existing Google Ads campaign
If keywords are grouped in Keyword Planner, add the keywords to the PPC Keyword Tool via a file 
or, finally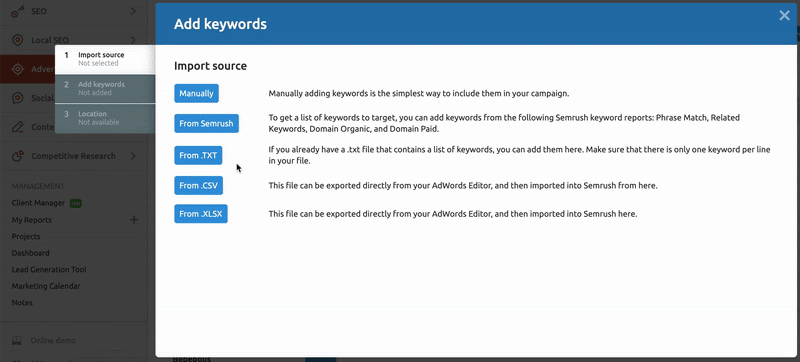 Are your keywords ready? Now let's get into the real challenge.
Optimize Your Google Ads Keyword for Better Targeting
The PPC Keyword tool is an ad-specific resource that will be used during optimization. As mentioned above, the structure of your ad groups and precise target keywords can make all the difference for your ad relevance. 
Here are steps to analyze and clear out your keywords list:
Delete empty keywords, also known as cleaning keywords: remove irrelevant words such as articles, conjunctions, and prepositions
Choose Negative keywords: select keywords you don't want to bid on
Remove duplicates: use the "remove duplicates" button to remove keywords present in more than one ad group
Explore filters: create hyper-focused ad groups by selecting specific filters
Launch your campaign: Export your campaign to Google Ads.
You'll be able to further structure your campaign directly in the Google Ads account interface once you've finished exporting your campaign. But the PPC Keyword tool makes it easy to stay on top of your costs by identifying keywords that are too competitive or even harmful to your campaign and by keeping the focus of each ad group as tight as possible. 
Pro tip: One best practice is to keep your ad groups to less than 20 or 30 keywords per group.
Once you've cleared your keywords and before you export your campaign to Google Ads, we strongly recommend exploring the filters that our PPC Keyword tool offers. Don't forget to group the keywords into narrow and well-focused ad groups.
You can add groups by clicking the "+ Group" in the menu on the left and then proceed to add keywords to the group.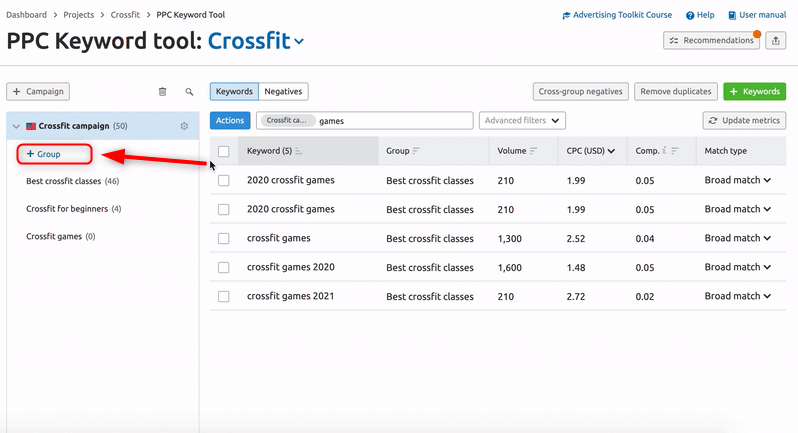 Research What Your Competitors Are Doing
If this is your first rodeo, you might be wondering what the benchmarks are for ad performance in your field. It's always worth checking what your competitors are doing. 
Of course, you can use the Auction Insights Report from Google Ads to find who you're up against in a Google Ads auction, but then how can you monitor your progress against them?
Luckily, we have more than one arrow in the quiver: our Advertising Toolkit. Open up Advertising Research, select competitors, and let the tool record any major changes. 
In addition, you can see if any new players have entered your usual ad auctions and/or an old competitor has dropped out of your marketplace.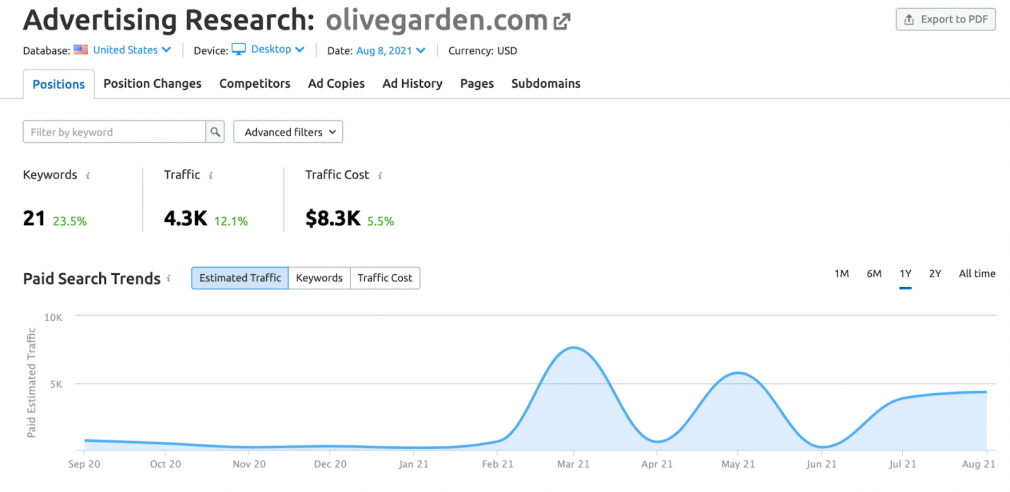 Once you set up one campaign, do the same for the next one and in a couple of weeks, you'll have a precise overview of how your performance compares to your competitors.
Five Tips to Create a Stellar Copy for Your Google Ads Account
The keywords resulting from all the work you've done so far inform you about what you should be bidding on and what you should include in your ad copy. As we mentioned already, the clearer the connection between your targeted keyword and your ad copy, the higher your ad relevance will be. 
1. Check User Intent
Manually check whether your ad copy matches the user's search intent based on your keyword research. If you find misalignment, move the non-matching keywords to another ad group where they can be implemented in more relevant ad copy.
2. Give Each Ad Group a Single Topic
In most cases, the reason marketers experience low ad relevance is that their ad groups are not focused enough. Stick to only one keyword theme per ad group. 
3. Place Keywords Where Relevant
Make sure you optimize your ad copy for relevance. Start by incorporating your main keyword into the headline. Then, move to your secondary keywords and edit the ad copy body as well as the path field, which is the part of the display URL that is visible in expanded text ads.
Remember to make your headline powerful and straight to the point. Include a crystal-clear CTA at the end of the ad copy.
4. Curate the Landing Page
Ad relevance is heavily influenced by Quality Score. You can actively influence the Quality Score by curating the landing page connected to your ad and making sure they both match the intent. In other words, the message of the ad copy needs to match the content on the landing page. 
Matching the intent of the search adds credibility to your business, as it proves you are not trying to trick the user to win an easy click. A matching landing page will inspire trust in your ad.
5. Monitor Ad Performance 
This is probably the most secure strategy for any marketer: monitor your Google Ads account. Open up our Position Tracking tool and monitor your ad position; don't wait for problems to arise. 
Make several ad copies and test them out. Once you gather enough information based on the performance of each ad copy, you'll know which parameters are more relevant than others.
Final Thoughts
If you follow the above tips, you'll be well on the way to increasing your campaigns' ad relevance with your Google Ads Account. 
At the end of the day, the trick to remember is that there is no one-size-fits-all strategy — you should create the ad campaign that works best for you and your target audience. 
So long as you do your research, choose relevant keywords, and keep user intent in mind every step of the way, you'll be good to go.
All you need to do is get started.