Topic hubs and topic clusters have been around at the intersect of SEO and content marketing for a long time. However, with the increasing information overload and PR noise, topic hubs have once more become important in the scheme of things, especially for brand differentiation and establishing authority.
We invited Dan Shure, owner of Massachusetts-based agency Evolving SEO and host of the Experts on the Wire SEO podcast, to shed some light on the purpose, nature, and effectiveness of topic hubs. We also got some useful tips and tricks from other #SEMrushchat participants. Here are the more interesting and advanced tidbits from the chat.
Q1. What is a topic hub, and why would you create one versus a single piece of content?
A topic hub is a single, in-depth resource page on your website that is built (and updated) to satisfy searcher intent around a specific topic. This page is then buttressed by a collection of pages that address sub-topics related to it and link back to the topic hub.
There are a bunch of reasons why you should build topic hubs:
There are some topics that you could never address fully with a single page of web content, or they would become too broad and rambling.

Creating too many pages around a topic with similar weight on your site might lead to keyword cannibalization, and they might compete with each other to rank on the SERPs.

An in-depth piece of content with a lot of incoming links and mentions will cement your authority on the topic and build thought leadership for your brand.

A topic hub will provide a great user experience to someone seeking information on the subject and keep them on your site until they have met their objective. It also increases the probability of them coming back for more information.

With a good internal linking strategy, you can gradually increase the authority of your hub page for competitive keywords and move up the rankings for not just the primary keyword, but a whole lot of semantically related terms.
Dan advises building a topic hub when you want to target a topic that is so broad you could never rank for it with one page. It is better to create a page for each subtopic that you can cover and then optimize the whole set to rank for keywords on that topic.
How should we think of topic hubs in terms of web content?
What type of web pages do topic hubs constitute?
How do we go about creating and implementing topic hubs?
Benefits of creating topic hubs:
Topic hubs have parallels in science and biology: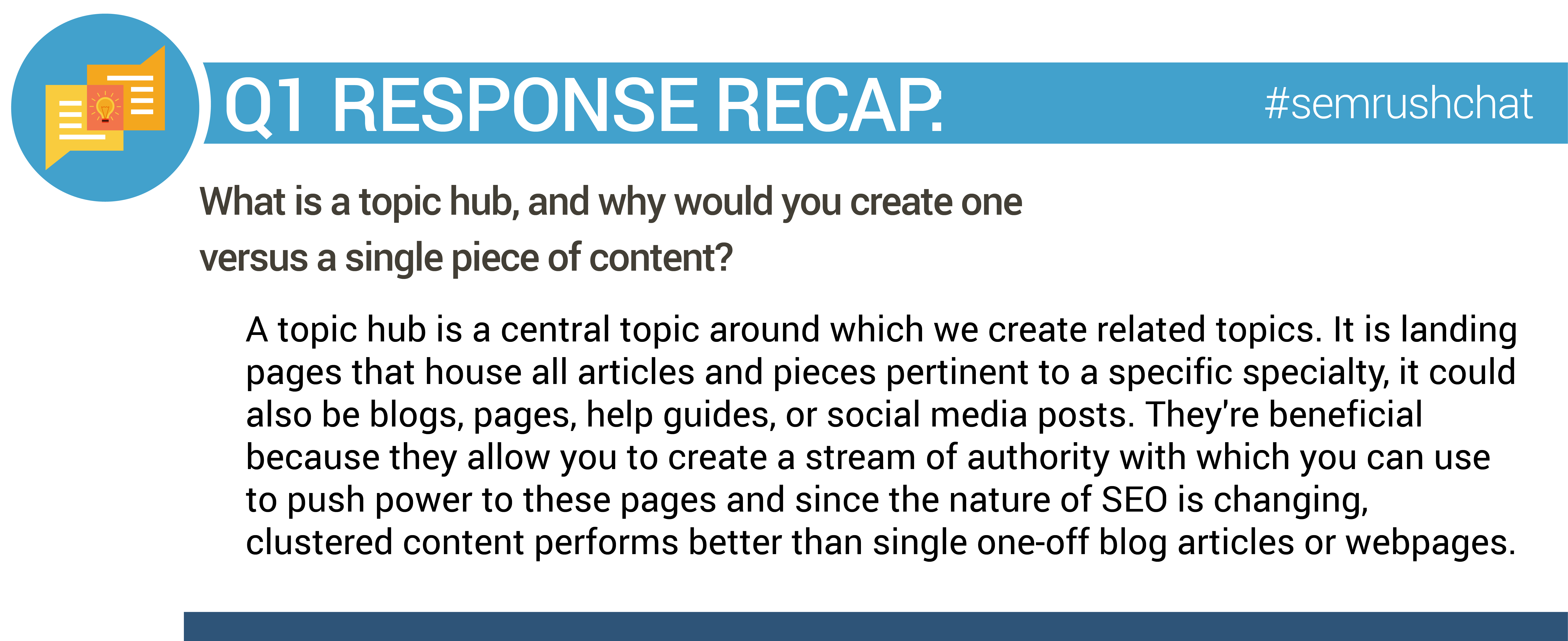 Q2. Is it true Google ranks topics over keywords now? Why or why not?
The concept of topic hubs became more important with the coming of Hummingbird when Google started using entities and topics to determine relevant search results, as opposed to just keywords. After RankBrain, those signals became stronger.
However, we shouldn't confuse keywords with topics. A keyword is nothing more than a part of the search query. Topics are the narrative that you build around the keyword with your content. You need to take into account searcher intent and make use of appropriate semantics in your content for Google to match your topic hub to your target keywords.
SEMrush's Topic Research is the ideal tool to help you do that. It quickly scours the web for articles and conversations related to your primary keyword, sorts them out by subtopic, and presents them in the form of index cards or mind maps (take your pick), so you can prioritize the areas to focus on according to your expertise, data, and resources available to you.
Dan doesn't believe that "topics are the new keywords!" He emphasizes that search engines rank documents that provide the best answer to the user's query; to do that they must first understand the keyword, then the topic, followed by the intent. 
Keywords and topics are not the same:
Google understands topics and categories better, and this fact might lead us to think that they are prioritizing them over keywords:
Marketers should understand how target keywords relate to topics and then build content that ranks for those keywords:

Q3. How do you do keyword research for topic hubs?
Traditionally, SEOs have done keyword research with the aim of optimizing content on one page or with the objective of ranking for different variations of the same term. Topic hubs change the game by enabling optimization for intent – they cater to an entire theme by guiding users along the purchase journey, with content covering every relevant subtopic in the appropriate formats.
You can use the SEMrush's Keyword Magic tool to list out a wide range of keywords related to your theme and then prioritize them according to their relevance to your products or services, and potential traffic that you could get by creating content around those terms.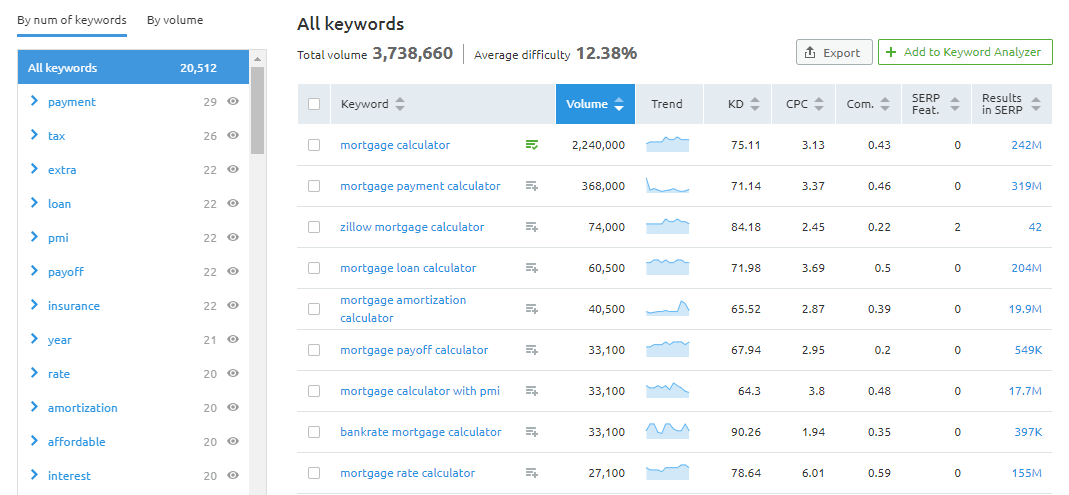 While every page would still target one or two primary keywords, the keyword research process itself needs to address entities central to your product or service, customer objectives, the various types of data available to you, and meaningful semantic terms used frequently in your niche. Therefore, you will need to match keywords to topics and subtopics (which would automatically correspond to pages or URLs.)
Dan begins by identifying a not-so-competitive seed topic that is relevant to the business, domain, and brand. He then uses a bunch of keyword tools to create a list of long tail keywords, after which he goes on to categorize and order them by relevance, competition, traffic potential, and other parameters. Finally, he decides on the set of pages he will create and prioritizes them by SEMrush traffic estimates of similar content.
It is a good idea to start rummaging in your own site and internal business data for keywords…
Not to mention your audience and competitors…
Then go over the Google SERPs with a magnifying glass.
SEMrush by far has the most popular set of keyword research tools!
Alright, there are a few other keyword tools, albeit best used in conjunction with SEMrush!
Q4. How do you determine what pages should be included in topic hubs?
The best way to go about this is to start with the data and content you already have on hand. If need be, you can change the structure and information architecture of your website to reorganize it by themes and page clusters around specific topics.
A content audit will help you revisit why you created each piece, how exactly it helps convert customers, and which topic or theme it could fit into. Then determine whether you could turn it into a hub page (by adding in-depth content) or whether it could be a nice addition to a cluster. And if you are not sure about either, don't hesitate to kill it altogether.
SEMrush's Content Analyzer can help you assess the relevance of your pages to the topic in question. Further by measuring the performance of these pages for a set of keywords, you can determine whether to use them as hubs or spokes and what sort of content to build around them or update them with. You can also identify where exactly you stand vis-à-vis your competitors in terms of organic visibility.

Once Dan has a list of potential pages (ordered by estimated traffic) to create, he takes it back to the client for business relevance. Then he does a quick competitive analysis and aligns keywords to pages using his own list of pre-defined parameters.
Audit your existing content and find themes within it.
Group it by the purpose it serves on the user journey.
Find Questions to Answer
There are a lot of platforms and sources where you can find questions to answer, including forums, other sites, industry media, competitors, and customers.

Q5. What are the key SEO elements to include in creating the content for each page of a topic hub?
As we discussed in our last #SEMrushchat, technical SEO influences to a large extent how Google crawls, indexes and returns content. With frequent updates to the core algorithm that specifically deals with the quality of information on your site (think Hummingbird, RankBrain and the now ubiquitous "core updates"), it is clear that content, meta content, as well as HTML code, are crucial in keeping the on-site SEO running.
The SEMrush Content Template tool analyzes the top ranking pages in Google's search results for the keywords you want to target and helps you create SEO-friendly content on the topic with correlated recommendations on semantically related terms, page titles, the ideal content length, and so on.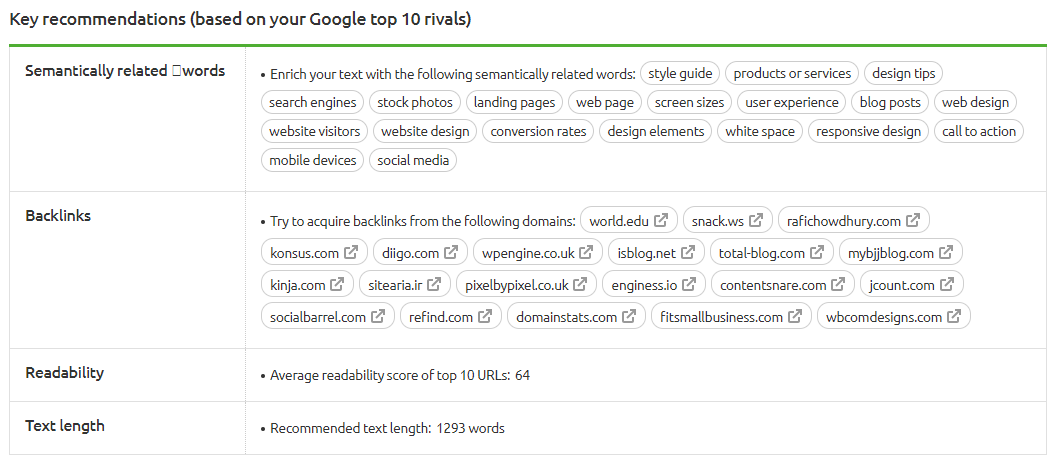 The key SEO element is your content itself if you ask Dan. You can wax eloquent on the structure, length, design, headings, and so on, but at the end of the day, it has to be "great content."
Make sure you have the basic HTML tags in place.
The right internal linking strategy with appropriate anchor text will serve you well.
Finally, create content based on in-depth research.
Make sure it answers any and all questions your customers might have.

If you made it this far, you probably noticed our new format for these posts, with to-the-point advice and more original insights – do let us know if you like it! If you have any ideas on how to create topic hubs and cluster your site content more effectively for better rankings and conversions, we are all ears in the comments!
Dan Shure's Key Takeaways:
Carefully review your site's content be sure you don't cannibalize keywords when creating your topic hub.
Use metrics like search volume and keyword difficulty to help prioritize.
Search engines still care about keywords - topics are just a good way to organize related keywords on your site.
We'd also love to have you on this Wednesday's #SEMrushchat at 11 AM ET/3 PM GMT, where Jen Cole will be sharing tips and tricks on "Community Building: How To Win Fans And Influence Users."