FREE online course

Semrush Content Marketing Toolkit Course

Get expert tips and advice on using our toolkit to really maximise your content marketing efforts.
9 lessons
Exclusive video lessons with passionate digital marketer Ashley Ward
3 hours
Become a confident user of the Semrush Content Marketing toolkit in just 3 hours
100% free
The course is 100% free. Save your money for your future marketing activities
Who is this course for?
If you consider content marketing an indispensable part of your marketing strategy, and want to learn how Semrush can help you out with it, take this course. Watch video tutorials and get tips from content marketing pros in a series of free video lessons.
About the author
This course was prepared by a team of skilled Semrush professionals. To provide you with the most relevant and up-to-date knowledge on Semrush Content Marketing tools, we designed it together with the creators of the Content Marketing Toolkit, who know Semrush tools better than anyone in the world!
Lesson structure
Video lessons
Watch easy-to-follow video lessons
Read further
Study the specially picked materials to dive deeper into the topic
Quiz
What to do after the course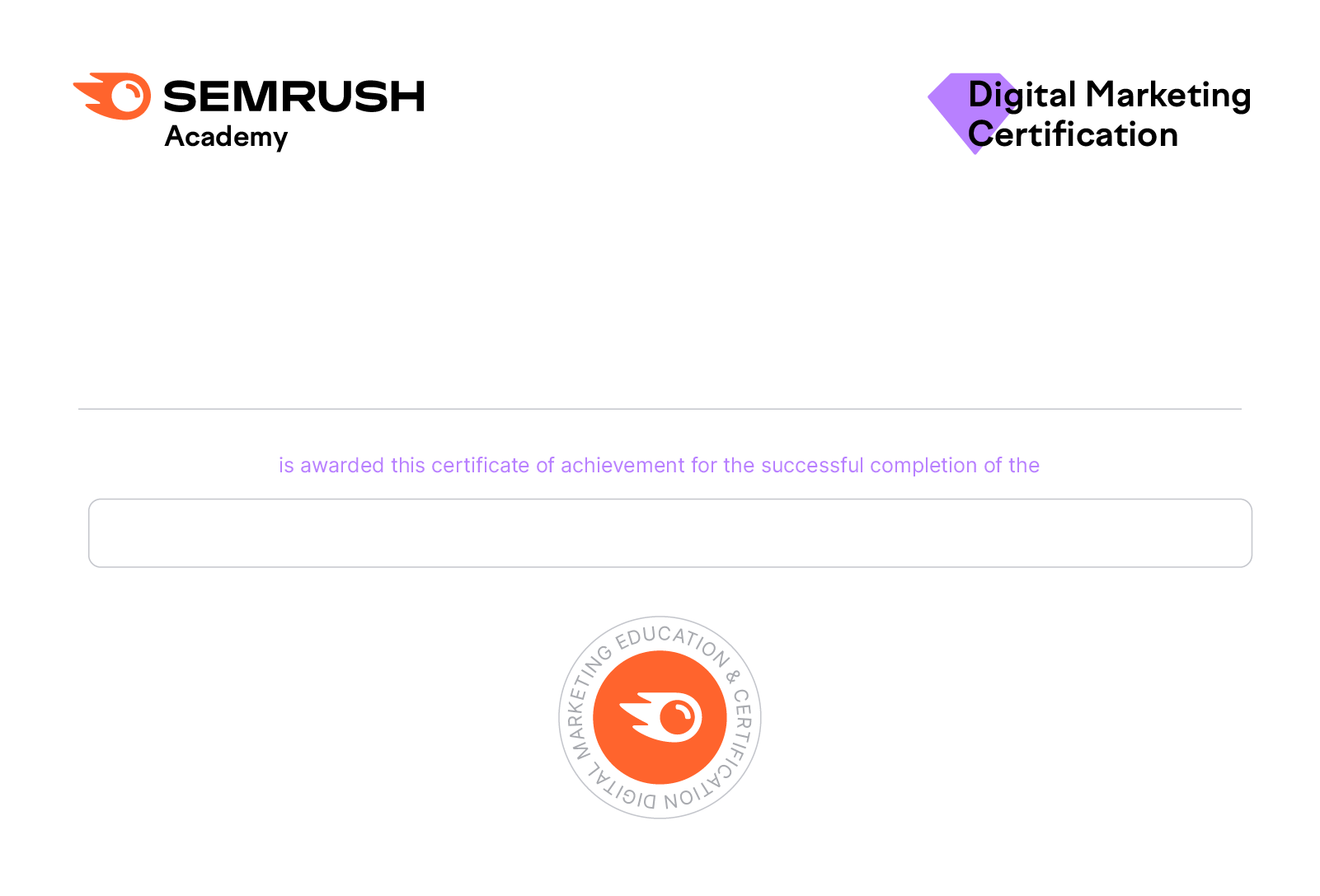 Get certified by Semrush
Try to pass the Semrush Content Marketing Toolkit Exam and earn your personalized certificate.
If you already have sufficient knowledge of the Semrush Content Marketing Toolkit, you can bypass the educational part and test your skills right away by taking the exam. Upon passing it, you'll earn a certificate, proof of your Semrush Content Marketing Toolkit mastery.
You might also like
PPC Fundamentals Course with Joel Bondorowsky
36 lessons5 hours
---
Learn what it takes to become a confident pay-per-click specialist from field expert Joel Bondorowsky in a series of video lessons. Learn more.
SEO Fundamentals Course with Greg Gifford
31 lessons4 hours
---
Learn all that you need to know about SEO from prominent industry expert Greg Gifford in a series of video lessons. Learn more.
Semrush Content Marketing Toolkit Course
9 lessons4 hours
---
Learn how to tailor your content marketing strategy with Semrush by watching video lessons and get practical advice from digital marketing pros. Learn more.
You are going to start the !
Important! You won't be able to change your name on your certificate once you receive it.
Before you start, review the information below:
Please note that the certificate issued with your name will be accessible by direct link. By clicking 'Proceed to exam', you agree to make your certificate publicly available.
Certify your team request
Want to rest assured that your employees' knowledge of the Semrush toolset is up to the mark?
If you're interested in making a request, please leave your email.
Become a contributor
Want to join the Semrush Academy expert community? You will have the opportunity to reveal your own tips and tricks on Semrush tools. If you're interested, leave your email.